Probably, you are looking for buying GreenGeeks hosting.
If yes, you are in the right place.
It is a web hosting that gives you a 99.9% uptime guaranteed. If you are looking for affordable web hosting, you may check out GreenGeeks Hosting.
Here in this detailed GreenGeeks Review, I'll tell you why you should go with GreenGeeks Web Hosting.
GreenGeeks Hosting: Overview
GreenGeeks is a web hosting company founded by Trey Gardner in 2008. If you look at GreenGeeks Database, then you'll get to know that they have hosted over 500,000 websites.
If you look at their website, you'll find the following claims-
99.9% uptime
100% Customer Satisfaction
Do they really live up to the claim they mentioned?
Well, for the answer, look at this detailed review and decide for yourself whether you should buy it or not.
GreenGeeks Review: Affordable Web Hosting for Beginners
GreenGeeks claims 300% Carbon offsetting from the energy used and prides itself to be the Eco-Friendly Web Hosting service provider. Don't scratch your head at the math involved. Actually, it means that GreenGeeks returns 300 times the energy they use.
Simply picking up GreenGeeks as a host, your website will help in creating renewable energy.
Along with being environmentally friendly, GreenGeeks is also budget-friendly web hosting. As GreenGeeks Hosting starts from $2.95/month.
GreenGeeks Review 2023: An affordable hosting for beginners
GreenGeeks Web Server Location
Web Server Location is a crucial feature that many webmasters look for. While targeting a specific country, it is beneficial if you choose the Server Location of that country or nearer to that country.
Here, you are lucky that GreenGeeks web servers are in top-tier countries.
Chicago, United States
Phoenix (Valley of the Sun), United States
Montreal, Canada
Amsterdam, Netherlands
GreenGeeks provides various plans, starting from Shared Hosting to VPS, and Reseller Hosting.
Though the GreenGeeks hosting is the most affordable, it comes with some prominent features too, including free SSL, free CDN unlimited bandwidth, etc. I briefed here on every unique feature in this detailed review of GreenGeeks.
GreenGeeks Hosting Review: In-depth features explored
GreenGeeks is unique as compared to other web hosting companies, as they help in protecting our nature and make it cleaner.
But, it might not be the single reason for you to pick up GreenGeeks Hosting for your website. Definitely, you would like to know about its reliability, pricing, customer support, bandwidth, etc. to decide whether it is the best hosting for your website or not.
So, here are some of the best and most robust features of

GreenGeeks Web Hosting

–
Unlimited SSD Storage (Advanced Feature)
It really affects your site's performance, and how and where your web data is stored. Unlike other web hosts, GreenGeeks Hosting offers you unlimited SSD Storage.
We may note that in the same price range, you get Hard Disk Drive storage on another hosting, but with GreenGeeks you get a Solid-state Storage Device.
No doubt that SSD servers help boost your site's performance, which is helpful for Search Engine Optimization (SEO).
Free Domain Registration
Though it is very common nowadays to get a free domain with web hosting. Following similar industry practices, GreenGeeks Hosting provides one domain free of cost for new customers.
You need not register a domain from a different registrar if you're planning to be with GreenGeeks hosting.
Free SSL & unlimited email accounts
After the recent Google update, it has now become necessary for a website owner to have an SSL certificate installed to keep up the site.
Yes, SSL Certificate is the need of today's generation to build trust among the users that visit our sites.
How would you feel if you get the SSL certificate free of cost?
Yes, it is really accessible for GreenGeeks hosting.
How would you feel if you've got a custom email address, i.e. info@yourdomain.com for your clients? Well, along with this, they provide unlimited custom email accounts to make your online presence more branded.
Free CDN & Site Migration
A webmaster always interacts with Content Delivery Network (CDN) to improve his site's performance. It is the fact that if you use CDN for your website, then it speeds up your site to load pages and ultimately improves its performance.
With Green Geeks Hosting you get a Free CDN powered by Cloudflare.
👉 A2 Hosting Review: Is it the best web hosting?
So, what actually a CDN does?
It basically provides the cached content to the users from the nearest web server. As a result, the user got much faster results than normal surfing.
Along with CDN, GreenGeeks provides you with free site migration. That means if you have your site hosted with some other host, then its technical team will support you to get your site migrated from that host to GreenGeeks with no scratch.
Nightly Backups
The backup of the data is the ultimate need in today's time. Every next day we got some issues with the sites which may affect our data. So, what happens if your host provides you with a free website backup?
Whooaa!!
GreenGeeks Hosting offers you free Nightly Backups. So, you could sleep calmly regardless of what happens as your site data is being backed up regularly.
Customer Support
Customer support is a big element to review any product or service. GreenGeeks reviews are quite good only because of its reliability and customer support.
GreenGeeks offers you 24/7 customer support, which will help you sort out your technical issues with the host.
Though, the company has provided many articles, videos, and tutorials to help the customers with their own. Still, if you face any issues, you can contact their customer support. Customer Support is available via Phone, Live Chat, and Email ticket.
GreenGeeks Hosting Plans & Pricing
To help you out, GreenGeeks Hosting provides a variety of hosting plans to you. It totally depends on you which plan justifies your needs.
Here in this extensive review, I'm briefing different hosting plans offered by the company.
Shared Hosting
Shared Hosting is the basic hosting type that a web hosting company provides. Purposefully, it is the best-suited plan for beginners.
GreenGeeks provides 3 types of plans in Shared Hosting, i.e., Lite, Pro, and Premium. As the name shows, you get the basic features in the Lite plan and some extra features in the Pro and Premium plans.
What features will you get in Shared Hosting?
The following figure answers the best. As everything about the features is mentioned in the figure. Just look at this.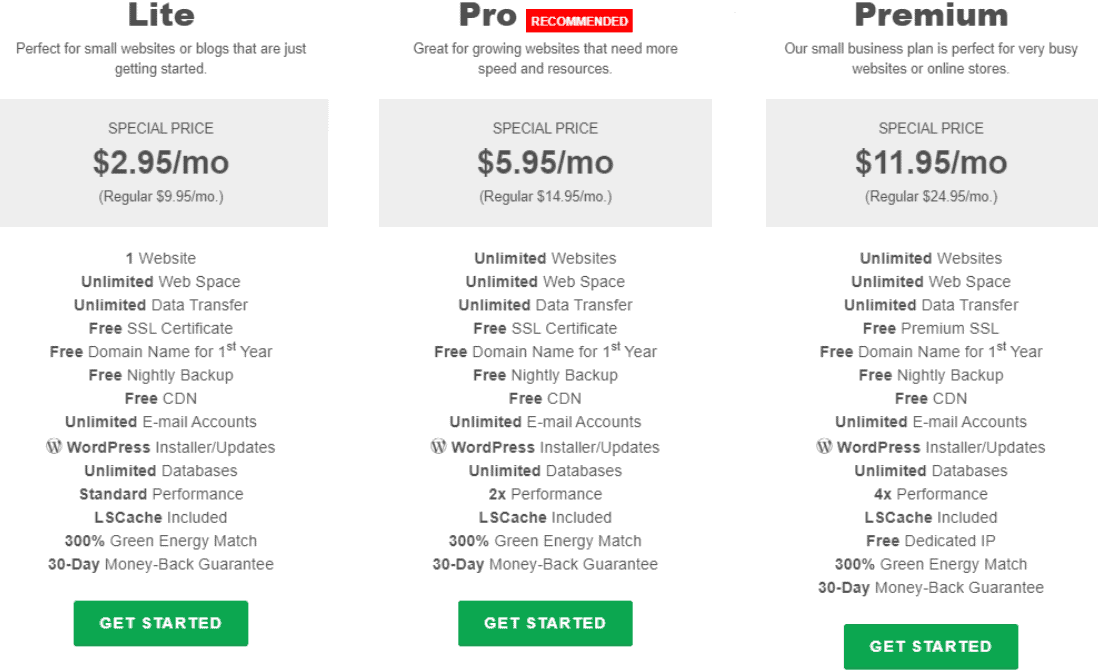 VPS Hosting
The next hosting type that GreenGeeks offers is Managed VPS Hosting. Yes, you get Managed VPS to drive your site smoothly even if you have a huge amount of web traffic. The server manages itself during high traffic spikes.
This is the best choice for those who need vast resources for their sites, which are not available in Shared Hosting.
You get 3 types of hosting plans in Managed VPS i.e., 2GB, 4GB, & 8GB. With each plan, you get free SSL, 10 TB Transfer, and free site migration. However, you get 2 GB, 4 GB, and 8 GB RAM for your hosting plans.
In the figure below, you can see the specifications of GreenGeeks Managed VPS Hosting.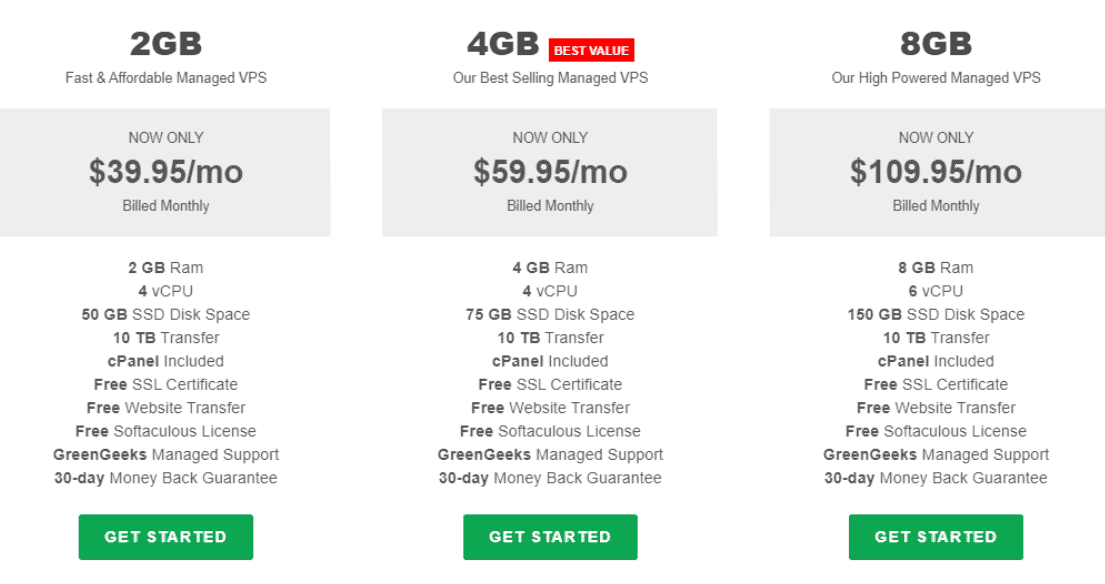 Reseller Hosting
Reseller Hosting offered by GreenGeeks is useful if you want to host 3rd party sites. This is really useful if you want to generate some extra revenue in your pocket.
GreenGeeks provides 3 types of plans in Reseller Hosting, i.e., RH-25, RH-50 & RH-80.
In all plans, you get managed support from GreenGeeks along with free cPanel migrations. However, you get 60 GB, 80 GB, and 160 GB SSD Disk Space respectively in Reseller Hosting.
For more specifications, you should look at the figure below.
GreenGeeks Hosting 2023: Is it the best web hosting?
You get a one-click WordPress install with all plans of GreenGeeks Hosting. Besides this, you get 24/7 full customer support.
So, till now with this detailed review of GreenGeeks, you get to know about GreenGeeks very well. So, you can choose any of the above-mentioned GreenGeeks Hosting as per your need.
GreenGeeks Web Hosting: Is it the best hosting for you?
So far, we have discussed the robust features of GreenGeeks hosting in this review. Still, there might be a question that hinders you from deciding.
Is GreenGeeks Hosting Good? Is it the one I'm looking for?
Well, this is the most logical question that arises in everybody's mind if he's spending some money to purchase the best hosting for himself.
Don't worry!!
We have something special that helps you decide whether GreenGeeks Hosting is suitable for you.
We cannot decide to involve money as strongly if we don't know about the pros and cons of the product/service in which we are investing.
In fact, it's about the trust you do in us. So, it's necessary to describe everything about web hosting in this detailed review.
So, here are the advantages and disadvantages of GreenGeeks Hosting-
Pros
It is best to keep in mind the environment
GreenGeeks is a web hosting company that truly values the environment. With GreenGeeks Hosting, you can support renewable energy.
One thing that is assured with GreenGeeks Hosting is its uptime. Yes, you got the best uptime with GreenGeeks. Though they claim about 99.90% uptime, it sometimes as well as to be 99.99% uptime.
Most affordable in comparison with other web hosting companies
GreenGeeks provides the best price for the features they offered in comparison with other web hosting companies.
Robust features at a logical price
You get the unique robust features at this price range that are offered with GreenGeeks only. Along with free SSL, free emails, and SSD storage, it provides free CDN as well. You got a good page loading time with GreenGeeks.
Everyone needs help or support to get rid of the issues. They provide high-quality customer support whenever you need them.
We may note that phone support is not available 24/7. You may use Live Chat or Email support if you get some issues from midnight to 9 am EST.
Cons
Just like other web hosting companies, GreenGeeks also provide you a free domain at registration.
But, my friend, nothing is free in this world. These are the complimentary offerings from the companies. If you just look at the Money-Back Guarantee, then you have to be aware.
No doubt, GreenGeeks offers you a Money-Back Guarantee but, remember the free domain that you choose while signing up for the hosting.
When you demand a refund, you'll be refunded back but after deducting the domain registration amount. So, I advise it to register your domain already, or else you'd have to pay some higher fees for it.
Set up fee if choose monthly billing
There is nothing extra if you choose the annual plan of GreenGeeks hosting. But, if you choose the monthly billing system, then you have to pay $15 extra as a setup fee.
GreenGeeks Coupons
DabasBlog users get a special discount on GreenGeeks Hosting. You get a free domain and 75% Off on regular GreenGeeks Hosting plans with our GreenGeeks Coupons Code.
GreenGeeks Alternatives
There is tremendous competition everywhere you go. Similarly, you find many hosting companies in the market. But there is a thing that worries you about taking any action.
The thing is insecurity about our investment. Is the GreenGeeks hosting right for me? Or should I look at some alternatives to it?
What are the best GreenGeeks alternatives available in the market?
Well, there are many web hosting companies available, but the thing is required by you? To help you out of the situation, I've listed some of the best GreenGeeks Alternatives that you may like.
Frequently Asked Questions
Wrapping up
So, Should I recommend GreenGeeks Hosting to you?
Well, so far in this review, you have got to know about everything. Definitely, there are many other hosting companies you may find out better than GreenGeeks.
But, yes. GreenGeeks do provide outstanding features on a limited budget. They offer SSD storage that is not offered by many other hosts at this price. Along with this, they provide unlimited storage, free SSL, CDN, custom email accounts, and many more.
Looking at these reasons, you may consider GreenGeeks Hosting for your website.
Just make sure that if you're planning for the long term, then the free domain is beneficial for you otherwise, it will cost more.
I think I covered everything in this detailed GreenGeeks Review.
Still, if you have any doubts or queries regarding GreenGeeks Hosting, then please let me know in the comment section below.
👉 If you like the review of GreenGeeks hosting, then please share it.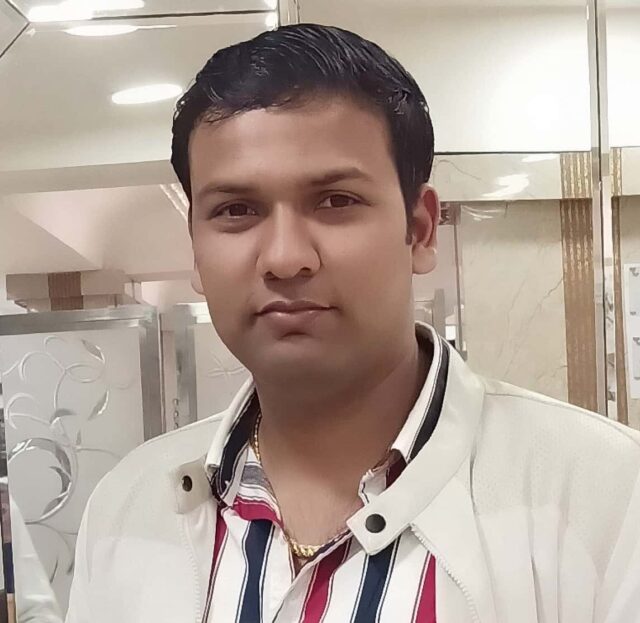 About Author
Nitin Dabas is your SEO guide. Expert in keywords, on-page SEO, and link-building, he has boosted rankings for countless clients. Read his blog and join his success stories.