Are you looking for the best blogs for women?
Ladies' blog often provides ideas to people who are looking for home decor, cooking, lifestyle blogs, health, fashion, or beauty.
It doesn't matter, whether you are a student or a working woman, these blogs could be very beneficial and inspirational for you.
Whether you are looking for advice, want to be entertained, want to get tips on fashion over 40, how to sustain your relationship, how to manage the money, you don't need to worry even a second.
There are many popular blogs for women over 40 and fashion blogs over 50, you get everything on the internet.
I have compiled a list of the best blogs for women covering lifestyle, career, relationships, finance, health, cooking, along with woman empowerment blogs.
15 Best Blogs for Women You Must Follow in 2021
Are you curious about reading the best women's blogs?
Without further delay, let's dive into the list of top blogs for women to follow in 2021.
👉 Note
As I've already mentioned that there are tons of women's blogs covering a variety of topics. We've shared a handful of ladies blogs out of the best women's blogs available. So, there may be a case when you find women blogs that are not covered in this post.
If you find any, please share the names in the comments section, so we can cover those blogs in our next session on popular blogs for women.
15 Amazing Blogs for Women to follow in 2021
Women blogs discussed below can be an inspiration for you to start a blog. After all, the Internet is a gift of technology that does not limit anybody to start what he/she wants to do. So, just sit back and read these best women blogs and be inspired.
#1. Cup Of Jo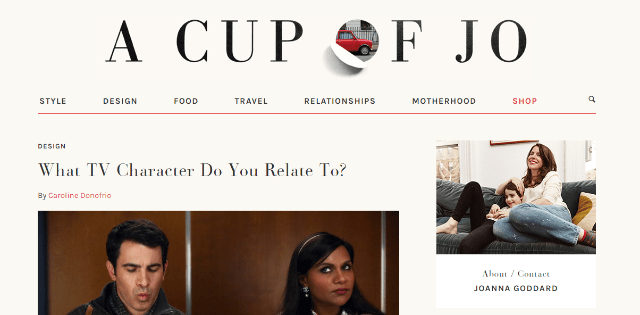 A Cup of Jo Blog is one of the good lifestyle blogs for women.
Joanna Goddard launched this women empowerment blog in 2007. It covers all the topics like lifestyle, fashion, relationship, travel, health, design, and even motherhood.
A Cup of Jo blog was started out as a weekend hobby which now named as one of the best women blogs to follow. It has been featured on Forbes under "Top 10 Lifestyle blogs for women".
#2. Hello Giggles
Life is full of disturbances and a smile is something that washes away all the problems in a second.
If you wish to live a happy life and be entertained, then this is perfect for you. It makes your life hassle-free and entertaining.
The Hello Giggles is a blog that focuses on real-life issues and talks about beauty tips, career development, entertainment tips, women empowerment, and money advice.
Hello Giggles is an online community for women that offers a solution to most of the issues in a woman's life. No matter, if you are looking for blogs for women over 40 or 50, it is a single stop to all your queries.
#3. Your Story
YourStory is a brand itself that covers topics like entrepreneurship, startups, women empowerment, etc.
Basically, it is a story-teller blog launched by Shradha Sharma in 2008. Ladies' blogs are always an inspiration for all of us, but the real-life stories described in them can be a perfect inspiration for you.
It is named as one of the big-branded blogs for women in India.
#4. Nisha Madhulika
Nisha Madhulika is a name that is well known to the person who is a gourmand.
Yes, Nisha Madhulika is a blog that primarily focuses on a variety of foods and Indian cooking styles.
If you wish for Indian vegetarian recipes in Hindi, then it is a single stop for you.
Nisha Madhulika started her journey by providing video tutorials of Indian veg recipes on YouTube. Her YouTube channel has more than 10 million subscribers and receives millions of views daily.
Nisha Madhulika is 61 years old and it shows that age doesn't matter in the way to success.
If you are wishing for blogs for women over 50, then it can be a perfect inspiration for you.
#5. Sixty and Me
The Sixty and Me blog is the best blog for women over 60.
Margaret Manning launched Sixty and Me blog in 2013 with an aim to help other women. It primarily focuses on how a woman over 60 can live a secure and healthy life.
Here, Margaret talks about the issues that affect women over 60 like retirement, dating, financial savings, fashion, health, and travel, etc.
If you want to know how to develop a positive mindset at this age, then you should definitely follow this blog.
👉 30+ Infographics Submission Sites List to Promote your Content
#6. Living Better 50
If you're on a hunt for blogs for women over 50, then you have got it.
Living Better 50 is another blog about women over 50. This is founded by Carol L. Doyel where she talks about beauty, health, retirement plans, travel, money, and business.
If you are a woman over 50 and wondering how to plan a better living after retirement, then you'll enjoy following this blog.
You may get an idea on how to be fit at this age, what should be your business plan, etc.
#7. The Blonde Abroad
The Blong Abroad is another blog on this list of blogs for women.
It is one of the best lifestyle blogs for those who wish to travel the world. Yes, The Blonde Abroad is a blog founded by Kiersten who quit her corporate job to travel the world.
It is one of the most popular blogs for women that talk about travel ideas.
Here, you get ideas on packing, what resources you should carry, female travel tips, and a full travel experience.
If you're struggling to pack your luggage for a weekend trip, this is a blog you'll love absolutely.
#8. The Corporette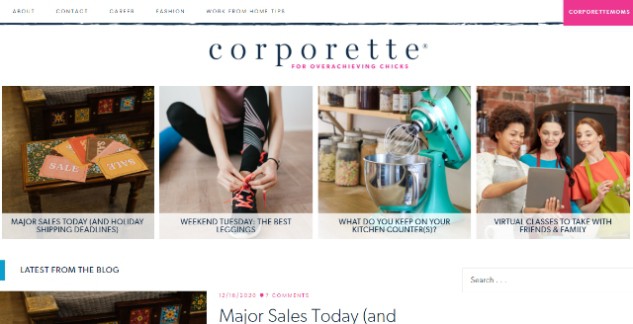 The top women blogs list can't be completed without including "The Corporette" blog.
It is a perfect lifestyle and fashion blog for women over 40 who wish to live a fashionable life alongside their professional jobs.
It is one of the widely followed blogs for women that deal with a corporate lifestyle.
If you are a lawyer, consultant, or banker and wish to merge fashion with your professional lifestyle, then "The Corporette" is for you.
Kat Griffin has shared a lot of ideas for working women related to fashion, career advice, corporate events, client meetings, etc.
#9. Workout Mommy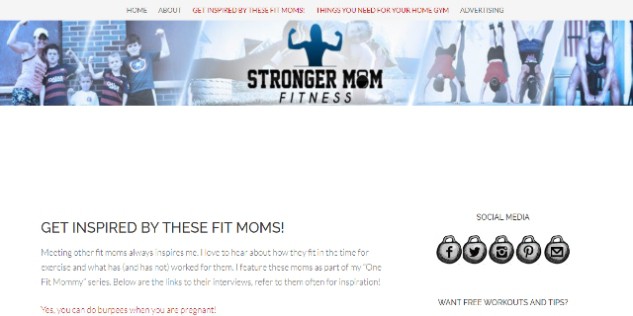 Mommy blogs are the perfect inspiration for women bloggers.
Workout Mommy is another best blog for women who wish to lose belly fat. As the name suggests, it is a blog about health and fitness.
It is one of the women's blogs that talk about fitness tips for mommies. It inspires you to be fit mommies by the workout tips defined on the blog.
Workout Mommy was launched by Lisa in 2007. She is a personal trainer certified with ISSA. Here she encourages other mommies for health and fitness.
If you are looking for blogs for women who are mothers, then it is perfect for you.
15 Blogs for Women You Must Follow in 2021
#10. Cherish 365
When we talk about the inspirational blogs for women and consider mommy blog names, Cherish 365 is another popular woman blog.
Former journalist Jennifer Borget started this blog in 2008. She talks about the daily challenges of women, the upbringing of children, etc. on her blog.
Cherish 365 has won the "Best Mom Blog" of the year award in 2018.
#11. Fab After 50
Looking fabulous always is a dream of every woman. Keeping this in mind, we looked up various blogs for women over 50 and found this one.
If you are looking for fashion blogs over 50, you should definitely take a look at the "Fab After 50" blog.
Ceri Wheeldon founded this blog where you can interact with other women and talk about health, fitness, lifestyle, relationships, money advice, etc.
In this online community, you can get tips on how to lose weight after 50, how to grow your relationships better, etc. You can get career advice and money advice after 50.
So, you should follow this blog if you're looking for blogs for women over 50.
#12. The Every Girl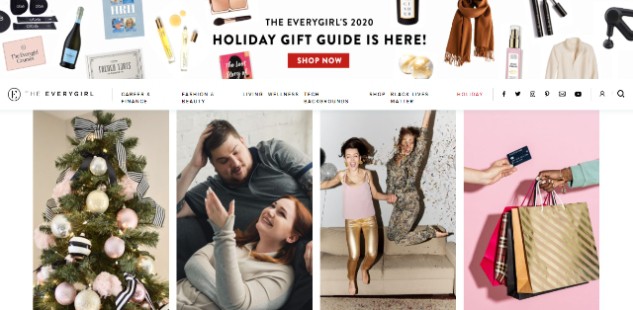 The Every Girl occupies a special mention in this list of blogs for women in 2021.
Whether you're looking for health, a career, a restaurant, business, relationships, travel, or anything else, it is the blog that solves your every query.
Alaina Kaczmarski and Danielle Moss run this blog and inspire other women to live a healthy lifestyle.
The Every Girl blog is one of the favorite blogs for women including career-oriented, health-oriented, and fashion-oriented women.
#13. The Financial Diet
The Financial Diet is a blog that mainly focuses on financial advice. You can get several financial tips about food, business, career, and of course, the lifestyle.
If you have to make a start personally and financially, this is one of the good women blogs for you.
Chelsea Fagan started "The Financial Diet" in late 2014 to track her own budget and since then, it has become a single stop for women to talk about their financial planning.
The blog share tips on how to become financially independent and grow as a confident woman.
#14. Barefoot Blonde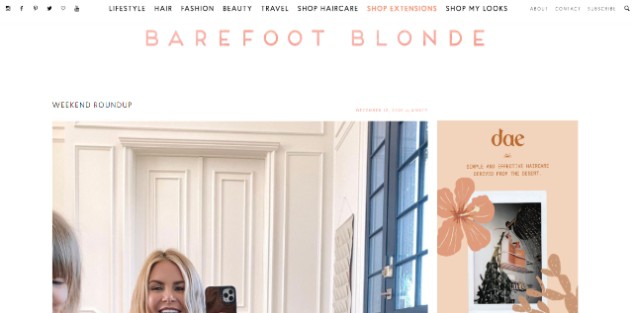 Barefoot Blonde is a personal lifestyle blog.
Amber launched this blog to share her hairstyles and daily outfits. Well, it not only talks about hairstyles and outfits, but it shares tips about travel, beauty, and fashion also.
She shares everything that's going in her life that can inspire other women.
You'll love this blog if you love to read inspirational blogs by women.
#15. The Mom Edit
If you are looking for all-in-one blogs for women that cover everything like fashion, beauty, travel, lifestyle, health, cooking, shopping, and design, then this blog is for you.
Yes, The Mom Edit blog covers everything you wish to look upon.
Shana Draugelis founded "The Mom Edit" in 2008. You may look for shopping, travel, or parenting tips on this awesome woman blog.
If you are a mom, you have to take care of the home, the health of your family, and of course the beauty tips. Everything related to a mom is shared here that can inspire you to read this blog.
👉 13 Amateur Blogger Mistakes That Won't Let You Succeed!
Wrapping up: Blogs for Women
So, these are the 15 best blogs for women!
The ladies' blogs mentioned here provide you a ton of tips and information related to women empowerment, beauty, design, travel, lifestyle, health, and fitness.
Just pick the perfect blog for you that inspires you to start a healthy lifestyle. You may start your own blog too as these women bloggers do.
👉 Read: How to Start a Blog in 2021 (Step by Step Guide)
If any of the above-mentioned blogs for women proves to be an inspiration for you, then you should definitely subscribe to them.
Is any of your popular blogs for women missing here? Leave your thoughts about the same in the comments below.
📣 Subscribe to the DabasBlog