In this blog post, I will explore Invideo pricing plans — and help you decide which is the best plan that suits your business.
Invideo is the leading online video editor that is used by experts to create engaging videos. It is a tool that, if used correctly, can improve audience engagement in your video.
If you are a YouTuber or vlogger, it is more important for you to create impressive videos for your audience and a video editor plays a crucial role in it.
If you're looking for the best video editor, I'd highly recommend InVideo to you. Besides this, it is really important to choose the right plan for your project and that's why I created this post.
Invideo Pricing Plans
Apart from a free plan, there are two premium plans for Invideo online editor. Try Invideo for free now.
Business: $30/month
Unlimited: $60/month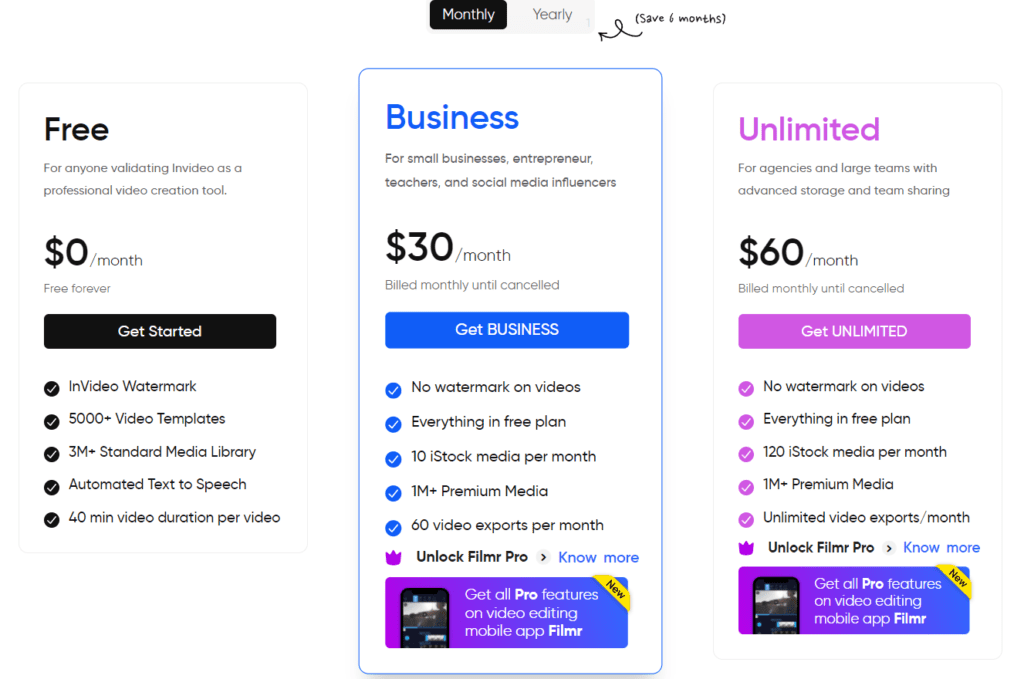 How much does Invideo costs: Which is the best plan for you?
Invideo Overview
Invideo is an emerging online video editor tool that is used by industry experts and appreciated by all. Videos are fruitful when these are edited beautifully, and that's where Invideo helps you.
There are many benefits of using Invideo, as you can create:
Brand Intro/Outro
Bite-size ads
Video testimonials
Apart from these, you can use Invideo to create:
Offers and Coupons
Video presentations
Listicles
Video collages
Webinar promos
Branding templates
Quote videos
Greetings
Posters
Memes
Slideshows
Similar to these, there are many features that are available for InVideo users and help them create outstanding videos for their audience.
Join 800,000+ Invideo users including Microsoft, CNBC, P&G, and Dropbox for creating beautiful videos.
Let's look at the different pricing plans of Invideo and find out which one is the best plan that suits your needs.
Invideo Free Plan
You may have heard of Invideo free trial. But I want to clarify that it is a myth and there is no Invideo free trial available. Instead of it, they provide a free plan for their users that you can use for a lifetime. Let's look at the features you get in the free plan.
With this plan, you get the following features in your hand:
5000+ video templates
3M+ standard media library
automated text to speech
40 min video duration per video
60 video exports per month
If we make it more clear, then you get pre-built video templates for your video intro/outro and other uses. You can convert any text into voice and create a video of a maximum of 40 min duration in the Invideo free plan.
Read this detailed Invideo review to evaluate the tool for your need.
Limitations of Invideo Free Plan
you get watermark in every video
no access to premium templates
720p video resolution
can not remove background images
no reseller rights
no priority support
Despite these limitations, it is a brilliant plan for those who are passionate about creating videos and want to check the ability of an online video editor.
Do you know what is the best thing about it? Invideo does not require credit card details for using the free plan.
You can start with the free plan if it sounds like you.
👉 I crafted this article using ProWritingAid grammar checker, use this link to grab an exclusive ProWritingAid discount.
Invideo Business Plan
If you are ready to spend some budget on increasing your followers, you can create exceptional videos with no watermark in the background.
Yes, the business plan allows you to create outstanding videos with no Invideo watermark. Let's look at the features you get in the Invideo Business Plan.
You get the following features in this plan:
you get everything that is available in free plan
watermark free videos
10 iStock media per month
1M+ premium media
40 min video duration per video
60 video exports per month
remove background for 20 images per month
priority support
Limitations of Invideo Business Plan
only 10 iStock media per month
you can export only 60 videos per month
you can remove 20 background images per month
10 GB cloud storage
If you are a blogger or video creator who is mostly engaged with tutorial videos, Invideo Business plan is best for you.
If you want to take your vlogging career to a next level, look at Invideo Unlimited plan.
Invideo Unlimited Plan
This Unlimited Plan is the top-notch plan of Invideo online editor. Let's look at the features you get in this pricing plan.
With this plan, you get the following features in your hand:
you get everything that is available in business plan
120 iStock media access per month
unlimited premium media access worth $1500
unlimited video exports
1080p video quality
remove 40 background images per month
100 GB cloud storage
Limitations of Invideo Unlimited Plan
I've used the tool, and it seems there are no limitations to this plan except the one mentioned below.
They should lift the limit of removing background images.
Apart from this, I didn't find any limitations in this plan.
This plan is perfect for a video editor and gives him much freedom to create an engaging video. It is also very beneficial for agencies that want to create influential ads to promote their products/services.
So before you decide which Invideo pricing plan is best for you, consider what and how many functionalities you want to scale your business.
FAQs: Invideo Tool Pricing
Wrapping Up
After using Invideo editor tool, I can proudly say that it is a better option to use the tool for creating exceptional videos. You can create outstanding intros for your videos, ads, and video testimonials.
Agencies can use it to create webinar promos and video presentations.
If you are looking for a video editing tool, go to Invideo online editor and save a flat 15% on your purchase using the special Invideo coupon code i.e. "DabasBlog15".
If you love this article and the exclusive deal excited you, then please share it with others too.
If you are already an Invideo user, then share your experience in the comments section.