Brainstorming for relevant keywords of a topic is the foremost task of any search engine optimization strategy. Still, many amateur bloggers ignore it in a hurry. There are many SEO tools available for proper keyword research.
Here, we are talking about "Keyword Revealer". I have personally used the keyword research tool and, as per my experience, I'm giving an unbiased review of Keyword Revealer.
You must have heard about Keyword Revealer– the ultimate keyword research tool. But does it live up to the hype?
I will unveil everything in this extensive Keyword Revealer Review. In this detailed review, we will discover the major feature of the Keyword Revealer tool that is absent from many SEO keyword generator tools.
Keyword Revealer Review: Does it live up to the hype?
Keyword Revealer Review: Is It The Best Keyword Research Tool?
There are many keyword research tools in the market, such as SEMrush, Ahrefs, UberSuggest, KWfinder, etc. No doubt that SEMrush and Ahrefs are the topmost choices for most users. It is also a fact that for many bloggers, these are quite expensive too.
In this competitive world, "Keyword Research SEO" has now become a necessity to outrank your blog from the crowd. And here comes these SEO tools which help you in optimizing your content for Google or any other search engine.
Keyword Revealer is also one of the Top Keyword Analysis Tools. But how does it work? How efficient it is? What is Keyword Revealer Price? I will disclose everything in this detailed review of the tool.
👉 Top 20+ Dofollow Social Bookmarking Sites List 2022
What is Keyword Revealer?
As the name suggests, it is a tool specially made for Keyword Research. Keyword Revealer helps you in finding low-competition keywords with high search volume.
This not only makes your article traffic driven but also helps in targeting the long-tail keywords that easily rank. What would happen if you write an article doing no keyword analysis?
You might target the easy-to-rank keywords but there are high chances that your efforts will be in vain if the keywords you targeted are highly competitive. The reason is high competitive keywords can't rank easily.
Here, the best keyword research tool helps you in ranking on major search engines like Google.
But, how does Keyword Revealer works? How can you use the tool for finding long-tail keywords with low keyword difficulty? Let's check that out here.
👉 SEMrush Free Trial: How to get SEMrush Free Trial?
How to build the empire using Keyword Revealer Tool?
Keyword Research
Keyword Revealer offers a very simple dashboard dedicated to Keyword Research.
In this keyword analysis dashboard, put the main keyword that you want to rank for. You can choose the target location and language for your focus keyword as per your need.


Check out low-competition keywords on Keyword Revealer and create well-optimized content for your blog.
You can use the filter option available here to filter the search results.
If you want the keywords to range from a set of particular words to count then, you can use the filter to provide you the desired keyword results.
You can also choose the keywords with High CPC by using this filter option if you monetize your blog with Adsense or any other type of ad.
Then you are provided with your SEO keyword research results. Here, you can see the table with keyword suggestions with some variations.
You can choose the best one suited for you under the Search Volume, Cost Per Click, and Keyword Difficulty Checker.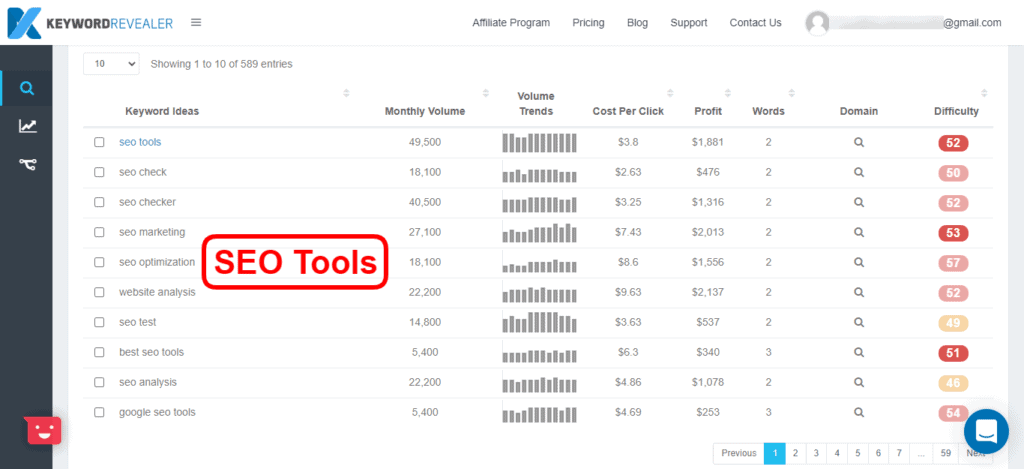 Keyword Difficulty
For a new blog, target the keywords ideas which show a Keyword Difficulty Score of less than 30. Of course, Keyword Difficulty Checker will help you in choosing the best keyword for your article. Keyword ranking mainly depends on how efficiently you did your keyword analysis job.
Here, in the example shown above, you can see the Keyword Difficulty of the phrase "SEO Tools" is 49% which is showing top competition for that keyword. So you should choose the keywords wisely for your project.
Keyword Difficulty Checker also shows monthly search volume for the last twelve months and Google search trends for the chosen keyword. You can easily analyze the trend of the keyword you want to choose.
Here, in this example, the search trend shows the keyword is going to have many more searches in the coming days. In this way, you can analyze the keyword searches in the coming days.
Of course, the search volume and search trends convince us to choose the keyword. But the Keyword Difficulty score stops us from choosing the keyword for a new blog that has low DA and PA.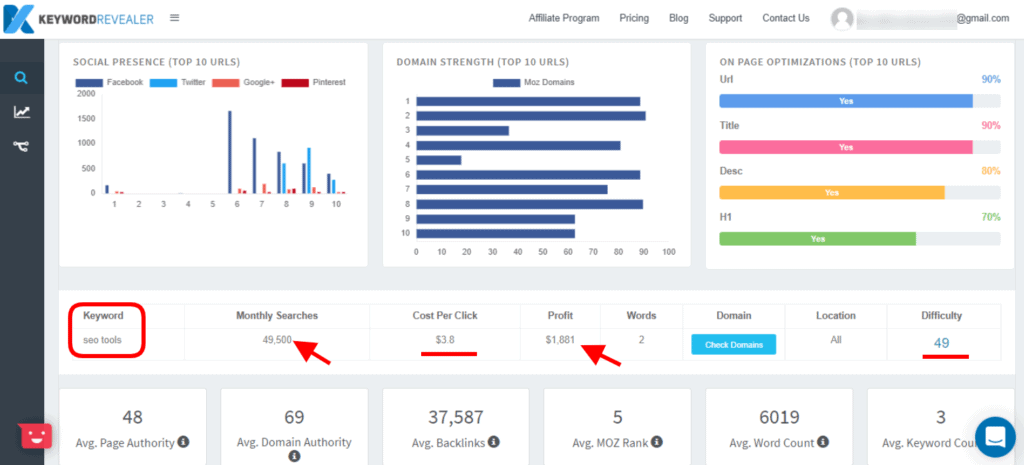 You can easily do keyword research on any phrase by using its Keyword Research interface. As the above figure shows how much CPC the particular keyword gets, besides that, you can analyze the monthly profit for that keyword.
Social Presence, Domain Strength, and ON Page Optimization are the key features that you should take into consideration while doing Keyword Research.
It's difficult to rank for the targeted keyword if your competitor is having comparatively more social shares and higher domain authority than yours.
Keyword Revealer Review
Keywords Word Count
One feature of the keyword research tool I liked the most is its word count feature.
It shows average word counts along with DA and PA of the Top 10 URLs showing on Google SERP. This is a plus point of the tool that helps you understand how many words we should target in our content to compete with the top blogs in that niche.

The free keyword research tool lags in this word count feature when compared with the Keyword Revealer tool.
You can analyze the top ten search results for the keywords you want to choose. The dashboard shows PA, DA, Moz Rank, Trust Flow, Citation Flow, social shares, etc. which helps you analyze your competitors for that keyword.
However, this was the traditional method of keyword research.
In this competitive world, only keyword research doesn't guarantee you rank high on Google. You need to have a competitive analysis approach as well.
You can use competitor-based keyword research by using the tutorial shown in Keyword Revealer Review.

In the keyword research dashboard, use a URL instead of a Keyword tracker and spy on your competitor's blog.
This option helps you find which keywords your competitor is getting traffic to and which type of SEO strategy he uses. Your competitor's keywords show you the keyword database, including its keyword position and social shares.
👉 How to start a blog that makes money (step-by-step tutorial)
Keyword Brainstorming
Keyword Brainstorming is one of the essential features that the best keyword research tool should have. This feature provides you with a variety of keywords for your seed keyword that you can choose accordingly. You get all the relevant keywords of your niche with a single click.
The Keyword Brainstorming feature shows you average monthly searches along with CPC for the keywords.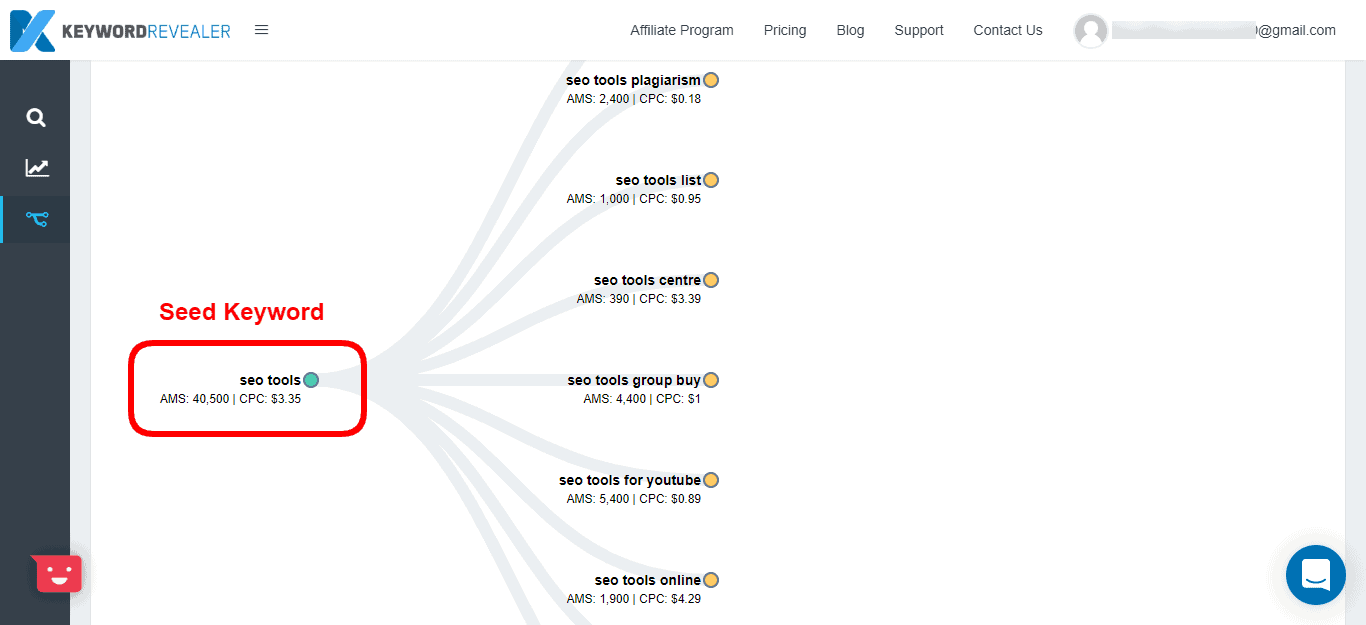 Keyword Revealer Pricing
Keyword Revealer offers a free plan to try out the basic features of the keyword research tool.
It provides you daily with 3 keyword analyses with 3 brainstorming usages. I recommend you check out this Keyword Revealer Trial and decide if it fits your needs or not.
However, if you want more features, then you have to upgrade your free plan to a suitable paid plan.
If you're a newbie and just started out your blogging career, then the BASIC plan is the best-suited plan for you. You can do 50 keyword analyses per day with unlimited keyword suggestions. Besides this, it includes 50 keywords for Rank Tracker and Brainstorming in the plan.
👉 SE Ranking Keyword Research Tool: Grab a 14-day free trial
For SEO Experts and Digital Marketers, PRO and ELITE plans are the plans they should try. These plans give you many more daily searches than the BASIC plan offers. Also, you get daily competitive analysis and backlinks analysis with the upgraded plans.
You also get a discount on Keyword Revealer price if you choose an annual subscription instead of a monthly subscription.
Keyword Revealer Lifetime
If you don't want to pay for a monthly subscription to Keyword Revealer, then it also offers a lifetime deal with a one-time payment option.
Yes! Keyword Revealer Lifetime Deal
It provides 3 types of plans- CONSULTANT, MARKETER, and AGENCY. You can choose the plans as per your need.
Keyword Revealer offers a full money-back guarantee within 7 days of signing up. I think it's enough time to analyze the tool as per your requisition.
Is Keyword Revealer an alternative to SEMrush?
Well, Keyword Revealer provides you a lot of features on a limited budget. Still, there are some lags in the tool.
So, you can use it in place of free keyword research tools, but it does not compete with Keyword Research Giants.
👉 In a single line, it is not a SEMrush alternative.
Keyword Revealer Review: Does it live up to the hype?
Keyword Revealer: PROS and CONS
So far, you get to know about all the features of the tool in this extensive Keyword Revealer Review. But a question still arises in your mind.
"Is it a suitable keyword research tool for me?"
Well, the answer couldn't be complete without knowing the pros and cons of the Keyword Revealer Tool. So, let's look at it.
Pros
The simple and easy interface of the tool is really a plus point of the Keyword Revealer tool. Unlike other tools, it provides all LSI and long-tail keywords in a single place.
The keyword Brainstorming feature is another feature in Keyword Revealer that attracts the user towards it. You get all related keywords in a wink.
Above all, Rank Tracker is an essential feature that helps you evaluate the progress of your project by providing you with a real-time keyword position of the keywords you want to track.
You can save keywords and projects.
A free trial plan is available.
Cons
You have to manually evaluate the Keyword difficulty of every keyword. That is really an annoying task when you do keyword research.
Limited keyword searches per day. It really hinders your keyword analysis if you find more keywords than those mentioned in the plan.
Final Verdict
So, now you get to know about the pros and cons of the tool. Now, it is quite easier for you to decide whether Keyword Revealer suits your needs.
If you are looking for the best keyword research tool with all features in your budget, then Keyword Revealer is definitely for you.
If you are a beginner and have a limited budget, then you must try it. It makes your keyword research easier with a BASIC plan.
Don't waste your time!
Just try this SEO keyword research tool and decide for yourself.
I've tried to put out every piece of information in this Keyword Revealer Review to show the tool to you.
I think you discovered a good and beginner-friendly keyword analysis tool here. Please, share your views in the comment box.
And please, don't forget to share it.
If you liked the article and want more updates, please subscribe. You can follow us on Facebook, and Twitter (@DabasBlog).