Are you struggling to write clear and concise content? Do you want to improve your writing skills but don't know where to start?
If so, then you need to check out Linguix! I've crafted this detailed Linguix review where you learn how to avoid feeling embarrassed due to silly grammar mistakes.
Linguix is a powerful AI writing assistant and grammar checker that can quickly help you write better content. It can help you with grammar, spelling, punctuation, style, and clarity. In addition to this, it can also help you generate new topic ideas and improve your overall writing skills.
This helps you feel confident about your writing style and impress your readers.
Read this detailed review of Linguix AI to learn more about it and to check if it is worth it.
Linguix Grammar Checker
What is Linguix?
It offers real-time grammar and spell checking, ensuring that your written work is free from embarrassing errors. It goes beyond simple corrections, providing style suggestions that help improve the overall readability and coherence of your content.
Who can use Linguix?
It helps students improve academic papers, professionals communicate without errors, and content creators create polished articles and blogs.
Linguix AI aims to streamline your writing process and boost your confidence in written communication.
Linguix Review
Everyone wants to write error-free content for their audience and grammar checker tools definitely help in this a lot. You must have heard of Grammarly and ProWritingAid; as they are well-known brands in checking your content for grammatical errors and writing styles.
Though these grammar and punctuation checker tools are outstanding, you have another practical option as well to use the Linguix grammar checker tool. What differentiates Linguix from others is its unique specifications, as explained below.
Linguix's User Interface
The user interface should be easy even for people who are not familiar with it. The Linguix AI user interface is clear and easy to use. You can easily find the features you need and make the necessary corrections.
The grammar-checking suggestions are presented in a clear and concise way, with the errors highlighted and the suggested correction displayed.
The suggestions for each error are helpful and easy to understand, even for novice users who are not familiar with grammar rules.
In the Linguix dashboard, you can type or paste the text and get advanced grammar checks and writing style guides.
Overall, Linguix AI's user interface is intuitive and easy to use, making it a valuable tool for anyone who wants to improve their writing skills.
Grammar and Spelling Correction
Silly grammar mistakes may embarrass you in front of your readers and this becomes a badtar when you are a non-native English speaker.
This is where you need a grammar and spelling checker tool to assist you in writing because you can't leave your readers with a poor impression.
The Linguix grammar checker module is quite intuitive and provides you with a practical approach to correcting your grammar mistakes. It is important to note that Linguix is a good choice for basic grammar checks; however, it doesn't detect advanced grammatical errors.
I've tested it by writing a paragraph intentionally with errors, and it found just basic errors in it.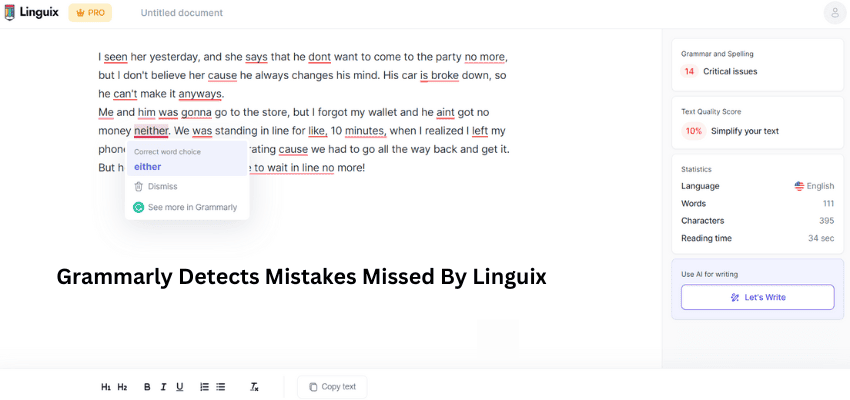 Still, you may use it, if you have a tight budget to spend on Grammarly or ProWritingAid. It helps to detect minor grammatical errors.
Accuracy is something that everybody wants to build an authority on. You'd also definitely not want to have errors while proofreading the content. After using Linguix AI, I can say that it is safe to use for error detection.
Writing Style Suggestions
Every person wants to write content that leaves a good impression on their readers. And of course, your writing style plays an important role in it.
Sentence rewriter is the advanced feature of Linguix AI which understands your text and provides you with suggestions to improve your writing style. It rewrites the sentence by providing you with a better replacement for an already written sentence.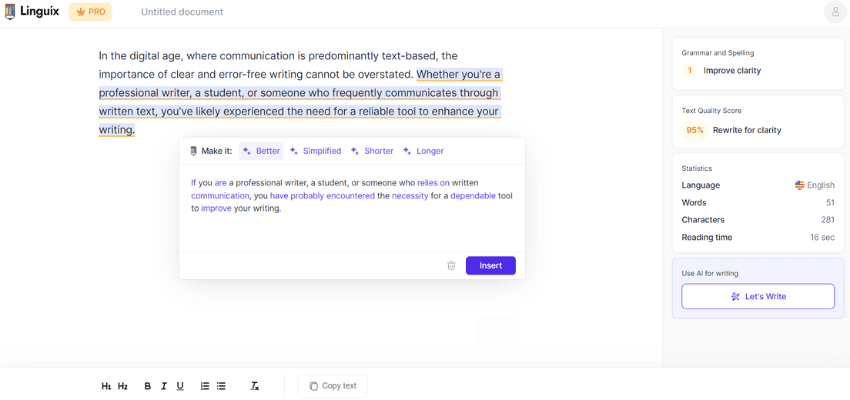 With the help of artificial intelligence, Linguix AI enhances your sentence structure. It simply goes through your content and reflects with a result that is more engaging and clear. You can definitely ask for it to write a shorter or longer form of the sentence.
Also, the real-time suggestions are just a feather in the cap.
Plagiarism Detection
Evaluation of Linguix's plagiarism detection feature
Explanation of the importance of detecting and preventing plagiarism
Whether you are a content creator or a student, you must have a reliable plagiarism checker to check for duplication of content.
It helps you to check for duplicate content which can leave you with a bad impression. So, you can use the Linguix plagiarism checker to improve your content's uniqueness and impress your audience with genuine content.
The Linguix AI plagiarism detector is a valuable tool for website content creators. It quickly replaces duplicate words to avoid search engine penalties.
Unfortunately, the plagiarism detector is not included in any pricing plan of Linguix AI. Actually, it is in partnership with Copyleaks, so you need to buy credits for using it. You get ten credits for $10, which allows you to check 2500 words ten times.
Integrations and Extensions
Linguix provides a versatile browser extension compatible with popular platforms like Gmail, Google Docs, and Slack. It offers real-time writing suggestions, enhancing your convenience, especially when composing emails or documents online on a regular basis.
Browser Extensions: Whether you're surfing the web, drafting an email, or crafting a social media post, Linguix has got you covered. With browser extensions for popular browsers like Chrome, Firefox, Edge, Safari, etc., you can enjoy Linguix's grammar superpowers on nearly any website you visit. Say goodbye to embarrassing typos in your emails or tweets!
Microsoft Word Integration: Are you a Microsoft Word enthusiast? Linguix Grammar Checker has a slick integration with Word. No need to copy-paste your text into a separate app – just let Linguix do its magic right there in your Word document. It's like having a grammar-conscious editor on standby.
Desktop App: Linguix isn't confined to the browser. They've also got a standalone desktop app for Windows and macOS. Whether you're writing a novel, a research paper, or just jotting down your thoughts, Linguix ensures your prose is polished to perfection.
Mobile App: Need to proofread a message on your smartphone? Linguix has a mobile app for both Android and iOS. So, whether you're composing a professional email or a witty text message, Linguix has your back on the go.
Linguix's Pricing and Plans
You're in the flow, writing an important document, and suddenly you hit a grammar roadblock. It's frustrating, right?
But here's where Linguix steps in as your grammar savior, and guess what? Its pricing plans are just as adaptable and beneficial as the tool itself.
Pricing is a significant consideration when it comes to grammar checker tools.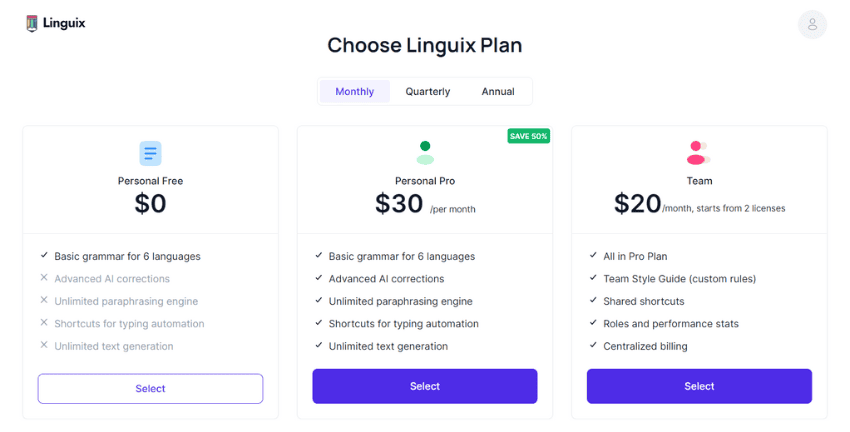 Free Plan – The Perfect Starting Point:
First, let's talk about Linguix's Free Plan.
It's your entry ticket to the world of grammar checking without any cost. It's a fantastic option for those looking to start improving their writing without committing to a subscription. Linguix offers more than other grammar checker tools with its free version. It provides essential grammar and spelling checks, as well as style suggestions.
Pro Plan – Elevate Your Writing Game:
Now, let's talk Premium. For the serious wordsmiths out there, this plan takes your writing to the next level.
It's priced competitively, often lower than what you'd expect to pay for similar tools.
Upgrade to our premium membership today to unlock a wide range of exclusive advantages. Enjoy access to enhanced vocabulary suggestions, genre-specific checks tailored to suit the needs of bloggers and content creators and a powerful plagiarism detection tool that guarantees the originality of your work.
Business Plan – The Professional's Choice:
If you're looking for a grammar checker for your business or team, Linguix's Business Plan is a standout option. It offers comprehensive features and team collaboration tools at a competitive price point.
Enjoy all the perks of the Pro plan, plus team collaboration, detailed statistics, and personalized style guides. Streamline your communication efforts and ensure consistency across your organization.
Linguix offers pricing plans that are not only competitive but also customized to fulfill the individual requirements of writers, professionals, business owners, and students alike. It's a wise choice for grammar checking that leaves you with both well-crafted sentences and a smile on your face.
Pros and Cons of Linguix
Pros of Using Linguix: Your Writing Ally
In summary, Linguix is a remarkable tool that significantly enhances your writing.
Conclusion
In this comprehensive review, we've explored the ins and outs of Linguix AI, examining its strengths and potential limitations. Now, let's wrap up with a summary of the key takeaways.
Linguix AI is a robust writing assistant that offers a variety of features to enhance your writing. It excels at grammar and spelling checks, provides valuable style suggestions, and encourages vocabulary enrichment. Its seamless integration into various platforms makes it a convenient tool for writers of all kinds.
Is Linguix the Best Grammar Checker in 2023?
While Linguix AI shines in many aspects, it may require some fine-tuning to match your writing style perfectly. It's a reliable choice for those seeking a writing assistant, but the definition of "best" varies from person to person.
Still, its effectiveness cannot be denied. It is quite a good writing assistant for bloggers and writers.
Try Linguix AI today and experience the difference for yourself. Sign up, explore its features, and watch your writing flourish. Whether you opt for the free plan to get a taste of its capabilities or dive straight into the premium features, you won't be disappointed.
Remember, words have the power to inspire, inform, and influence.
Elevate your writing, leave a lasting impression, and embark on a journey towards flawless communication. It's time to let your words shine brightly with Linguix AI.
Happy writing!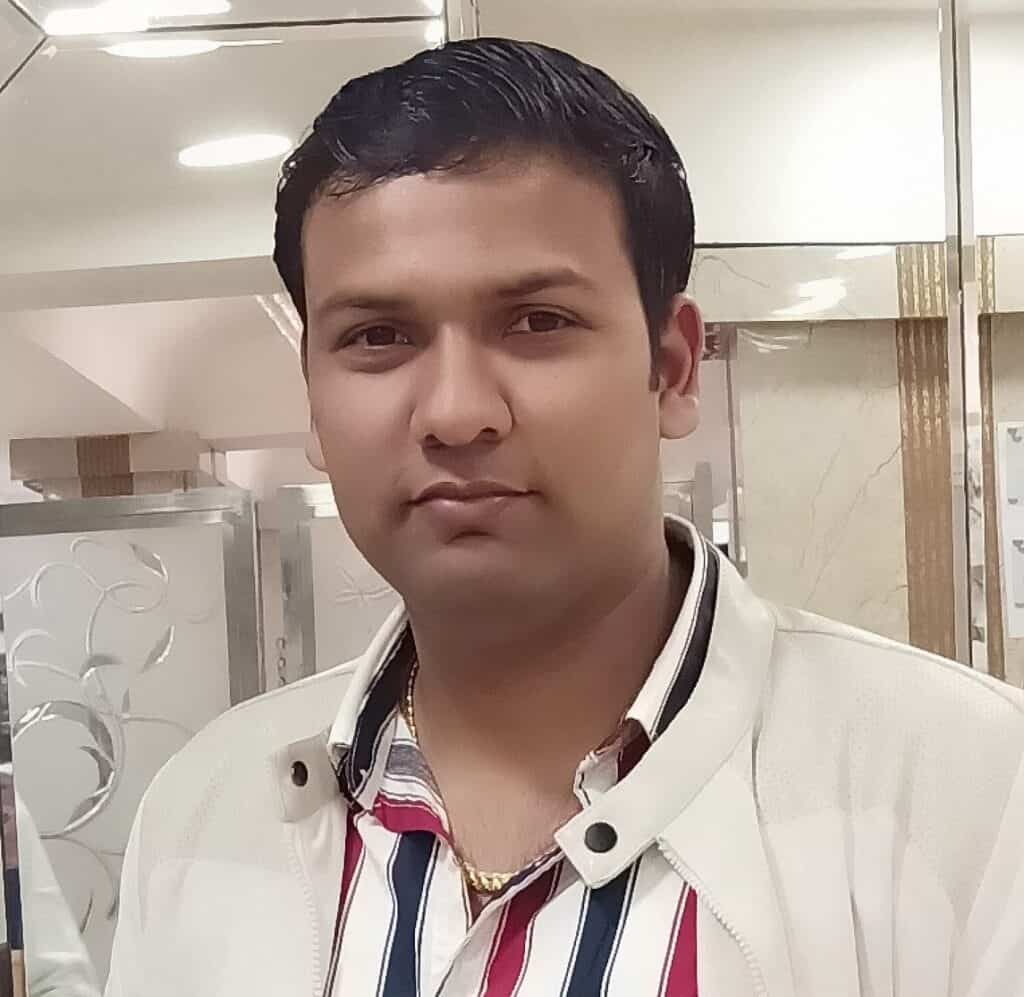 About Author
Nitin Dabas is a professional blogger from India. He is the founder of DabasBlog & SEOSachet. He is an SEO and content marketer who writes about Blogging, SEO, WordPress, and Online Marketing with the aim to help fellow bloggers get succeed in blogging.