You landed on this page, which means you want to rank higher on Google. SE Ranking SERP Analyzer makes it easy to analyze SERP results.
Because ranking on page #1 on Google is not so easy. That's why most amateur bloggers fail and experienced bloggers make their way to success.
Have you ever wondered what different they do to achieve a high rank on Google?
They actually analyze the SERP before creating a blog post. It includes what keywords should they target and how many backlinks they require to outrank their competitors. If you do so, you can easily evaluate whether the keyword is accessible or not, how much effort it requires, and how much time it would take to rank.
But it is quite difficult to do manually.
Fortunately, we have SE Ranking SERP Analyzer tool.
It provides you with all the information about the keyword that helps you to build a robust strategy to outrank your SERP competitors.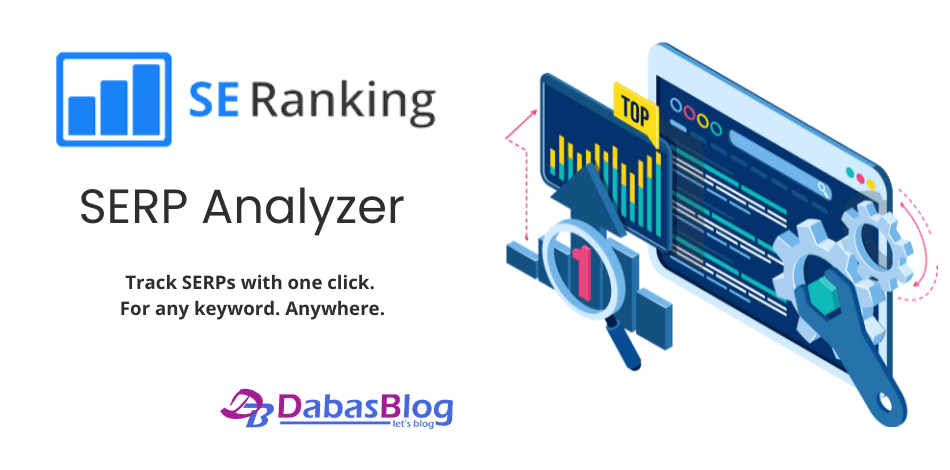 How to analyze the search results to rank higher?
What does the SE Ranking SERP Analyzer tool do?
This tool shows you the top search results like all search engines. But, it is not limited to only titles, URLs, and meta descriptions. Besides this, it provides you with tons of crucial information necessary to outrank your SERP competitors.
It analyzes the SERP results against 110+ On-page and Off-page parameters. As a result, it provides you some vital metrics as given below:
SERP insights of top pages related to the query
Page quality score
Backlinks
Page authority
Content breakdown
Domain age
Number of external/internal backlinks
How to use the SE Ranking SERP Analyzer?
It seems quite amusing to outrank your competitors by analyzing the top 10 SERP results. Let's see how to use the tool to decide which keyword we should target.
In the generated SERP report, you get all information about the top SERP players on a single dashboard.
Now, let's learn and build a winning strategy from the report we received.
How to take benefit from the SERP analysis report?
We start from the top and see how can you take benefit from the information. At the top, there is a graphical representation of the report for the keyword you entered.
I show you an example of what I analyzed using this tool. You may see in the screenshot below, I researched the keyword "SEO tools" on 02 Aug 2022 and my target location is the USA for a desktop SERP.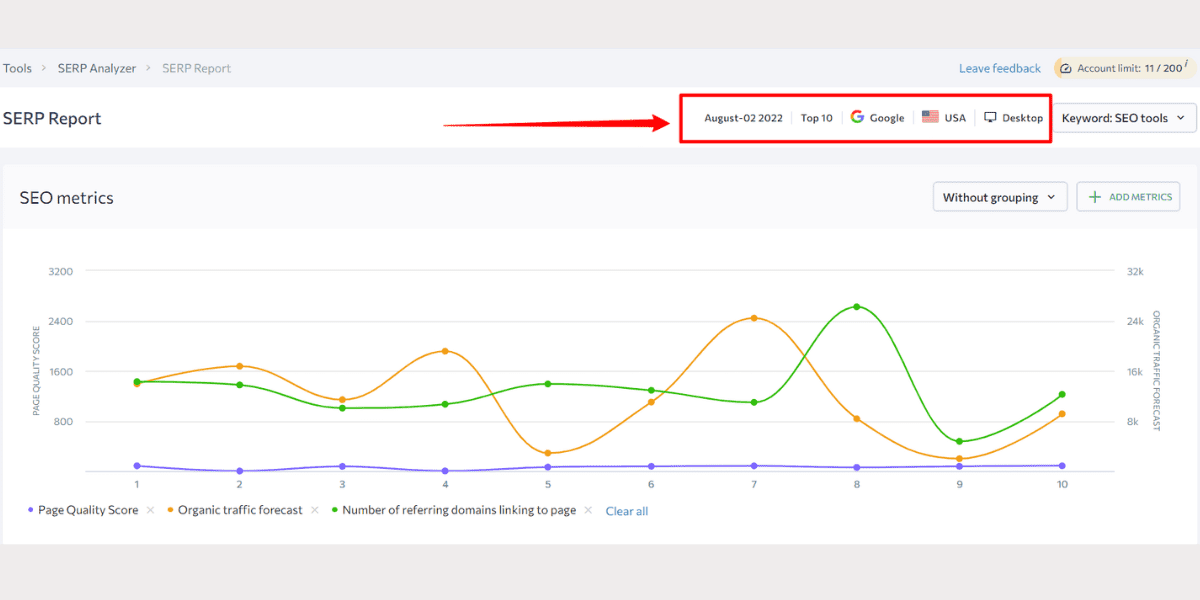 You may select the keywords and generate a report accordingly. I think if we discuss this graph later, it would be easier for you to understand.
Besides this graphical representation, the SERP report shows you the information of all the top players containing SERP metrics in a tabular form as well. Let's see what it contains:
Shows the position of your competitors on SERP for a prime keyword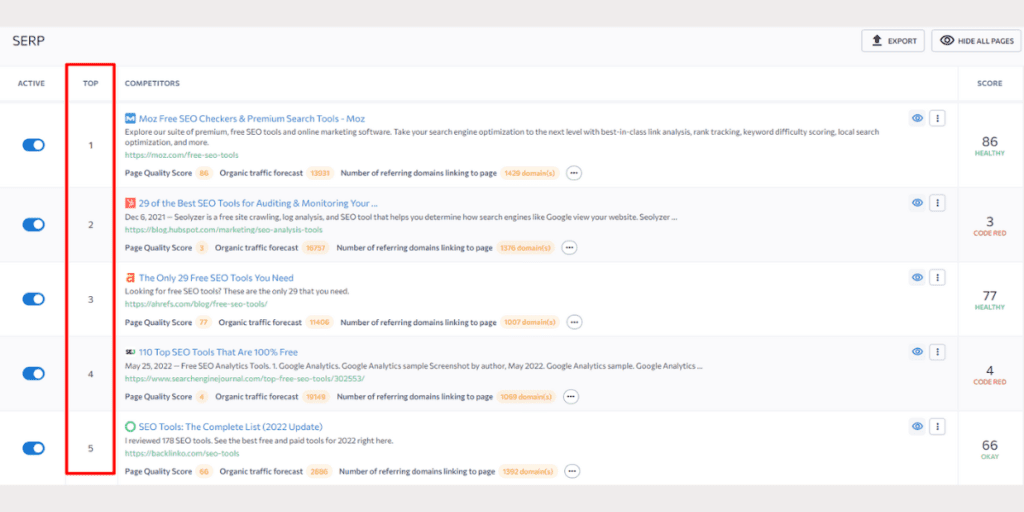 SERP snippet with the page title, URL, and meta description

Important metrics of each SERP player like page quality score, backlinks, estimated traffic, etc.
If you click on the three horizontal dots, you get more details about your competitor like meta description length, grammatical mistakes, readability score, keyword density, domain age, page experience report, etc.
If you click on the three vertical dots, it shows you the content breakdown. This means it shows you the page title, description, and structure like how it uses H2, H3, and H4 tags in the content. It's really crucial to analyze the content breakdown of your competitor.
On the right-hand side, you get the page quality score. A high score means the particular SERP player is more authoritative. The score depends on the competitor's on-page SEO, content, and technical metrics.
How to read the SERP Analyzer graph?
As mentioned earlier, let's discuss the SERP graph. The tool provides you an easy-to-read graph that helps you to compare the top SERP competitors.
In the picture below, you see that the graph shows the number of backlinks, page quality score, etc. in a single click making it easy to compare the top players on the search results.
The tool lets you allow to change the parameters for the search results. Just click on "Add Metrics" and select the checkboxes against the parameters that you want to show on the graph.
You can group the top pages to get the average value for the top 5/10/50 pages. For this, just click on "Grouping By".
For more clarity, just look at the screenshot below. I grouped the top 5 URLs and next, I grouped the top 6-10 URLs.
You may see that the top 5 pages have an average of 12826 traffic forecast while the top 6-10 pages have only 10999 traffic forecast.
If you want to analyze particular pages, you may hide other pages from the graph. Just click on the eye button to show/hide pages.
How to use SERP Analyzer to create a winning page?
So far, you have got all the crucial information about the top pages for your target keyword. Now, you have to create a page that is stronger and provides value better than the pages shown on search results. To create such a page, use the Competitive comparison section.
It allows you to analyze the top competitors side-by-side by comparing their keywords, structures, etc.
The Competitive Comparison section allows you to discover where and how many times a particular keyword is used in the content. Thus, you can balance your keyword density and create a better version of the information.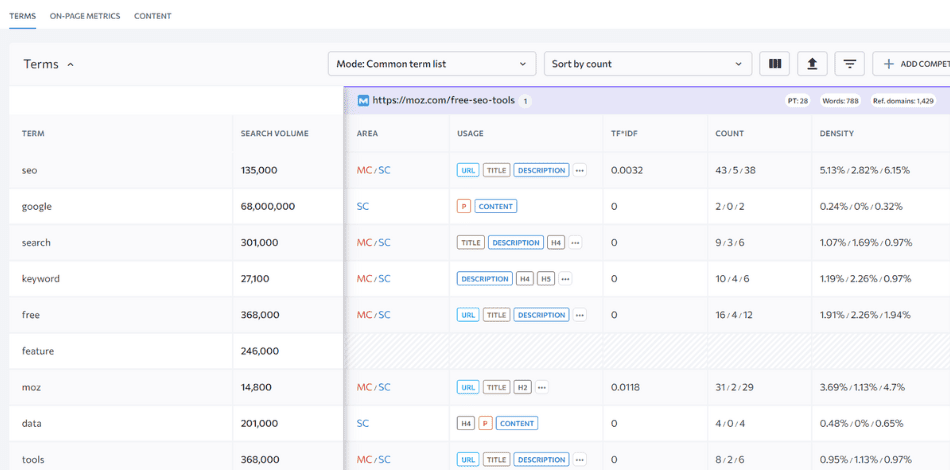 You may analyze the SERP results by evaluating the 30+ On-page metrics simultaneously. For instance, in the screenshot below you may find out the title tag length, description length, number of words in the content, number of internal/external links, etc.
On the next tab, you may analyze the content structure. It shows you the content breakdown as to how your competitor organized his content by adding necessary H2 and H3 tags.
You can combine this valuable information with SEO tasks that is present in the next section. It basically provides you a to-do list arranged in the order of their importance. It includes the issues and the suggestions to fix them.
Of course, you can change the priority, and add/remove new tasks.
These suggestions and the data provided by the SERP analyzer help you to create a high-quality page that has a maximum chance of over-rank your competitors.
What makes the SE Ranking SERP Analyzer unique?
So far, you have seen how it helps you to create superior content than your competitors. Let's see what makes it unique from other SERP trackers.
Instead of creating the content blindly, it allows you to focus on what actually is needed to beat your SERP competitors.
SE Ranking SERP Tracker offers you all vital data on a single screen.
You can compare top competitors side-by-side on the same page using this tool.
It allows you to choose your target country and sub-region.
The flexible settings of the tool allow you to build a robust strategy.
It provides more accurate data than any other keyword rank tracker.
You may get the most out of this SERP Tracker by doing primarily keyword research. I have written a detailed article on SE Ranking keyword research, you may follow it.
FAQs: SE Ranking SERP Checker
Try It Now
I hope you liked this review of the SE Ranking SERP analyzer. I have tried to show you every aspect of the tool and guided you on how to use it.
You have gone through the benefits of the tool, and now it's your turn to hit the ball out of the boundary. Just give it a try, you may use SE Ranking free trial for 14 days. During this time, you can explore the tool to decide whether it is useful or not.
I hope you will find this tool useful. What do you think? Let me know in the comments section.
If you liked this article and want to appreciate my efforts, please share it with others.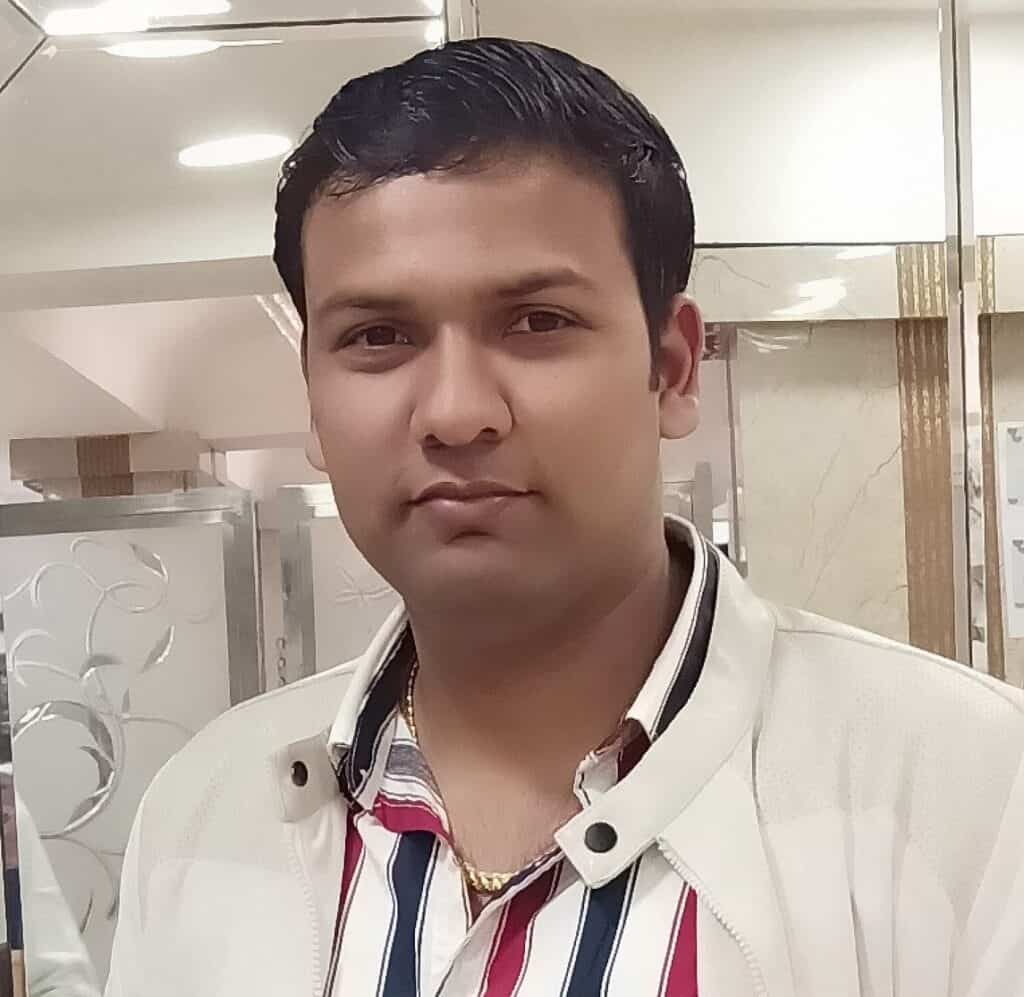 About Author
Nitin Dabas is a professional blogger from India. He is the founder of DabasBlog & SEOSachet. He is an SEO and content marketer who writes about Blogging, SEO, WordPress, and Online Marketing with the aim to help fellow bloggers get succeed in blogging.