Probably, you are looking for Semrush pricing plans in 2021.
Semrush is an all-in-one SEO tool that delivers the best results in comparison with its competitors.
In this article, I'll talk about SEMrush pricing in detail and help you decide which plan makes more sense for you.
You are searching for the topic, so, I can assume that you are familiar with many other SEO tools. If you don't then you may take a look at Semrush competitors.
SEMrush is a tool when used correctly can provide you a massive output regarding visibility on search engines.
No doubt, Semrush is expensive but it really worth it. So, if you are starting up a business or a blog, then it becomes crucial to check which plan suits you the best.
That's why I created this post and by the end of this post, you should know which Semrush plan makes more sense to your business.
Let's dive into the article with a quick overview of SEMrush to choose the best plan for you.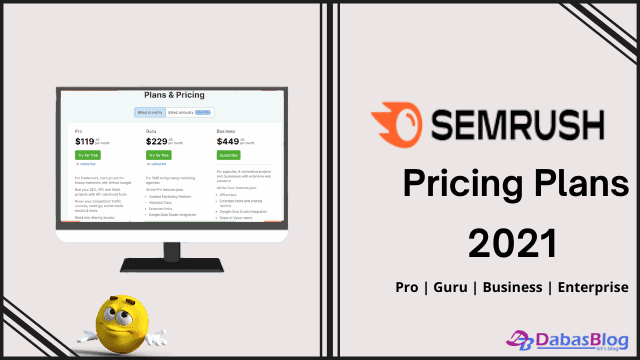 Semrush Pricing: Overview
As you know SEMrush is a tool specially designed to help you achieve high rankings on search engines. There are many features that it offers like-
Keyword Research
Competitive Analysis
Backlinks Audit
Website Audit
SEO Writing Assistant
Position Tracker
Traffic Analyzer
Link Building Tool
On-Page SEO Checker
SEO Sensor
Well, all these crucial features help you in making a robust strategy to boost your web traffic. And it can't be denied that all these features require a huge amount. But, it is the fact that if you want to get some output, first you need to invest in it.
How much does Semrush cost?
Looking at the above-mentioned features, we have the following Semrush pricing plans:
Pro: $119.95 per month
Guru: $229.95 per month
Business: $449.95 per month
Enterprise: Custom Price
If you choose the annual payment option, you get 16% savings on your plan.
Well, you can avail of the benefit of Semrush free trial and get all these premium features free of cost for 7 days.
This is the new pricing table of Semrush that is effective from 4th January 2021. Now, the lowest plan starts at $119.95 per month which was $99.95 monthly.
Every successful company has to grow and expand, that's why Semrush changed its pricing and plans. The tool has improved and evolved over time and decided to change its pricing plans after 4 years i.e. since 2017.
Now let's look at what the different Semrush plans offer?
SEMrush Pro
It is the entry-level plan of Semrush which starts at $119.95 per month. Now look at what does it offer?
Keyword Research – It helps you in discovering the best keywords. It not only shows you different metrics of a keyword but also provides you similar keywords that might be worth trying. You get the following tools that are concerned with keyword research-

Keyword Overview
Keyword Magic Tool
Keyword Manager
Organic Traffic Insights
Competitive Research– It allows you to analyze how strong a domain (your or competitor) is? Basically, it helps you get the domain overview based on the number of links, keywords, and traffic. You get the following tool in the competitive research section-

Domain Overview
Traffic Analytics
Organic Research
Keyword Gap
Backlink Gap
Link Building– This feature offers you the opportunity to build backlinks for your website. You can analyze the backlinks of any domain (your or competitor's) to find opportunities to build authoritative backlinks. If you find some bad links for your domain, you can disavow them to make your website penalty-free. Tools available for link building are-

Backlink Analytics
Backlink Audit
Link Building Tool
Bulk Analysis
Rank Tracking– This feature is especially helpful in search engine optimization. As you can not make any strategy if you don't know your previous experiment is successful or not. The keyword rank checker feature allows you to monitor your keywords ranking at different search engines. You can avail yourself of the benefits of the following tools to rank higher on Google-

Position Tracking
Sensor
Ranks
On-Page & Technical SEO– This is a feature without which you can't succeed in making an online presence. On-Page SEO refers to how optimized your titles, meta descriptions and content is? However, technical SEO helps you in finding issues related to your website. You get the following tools to improve search engine optimization-

Site Audit
On-Page SEO Checker
SEO Content Template
Listing Management
Now some metrics showing the limits of how much data you can fetch? What does this mean?
Semrush Pro plan allows you to get 3000 reports per day with 10,000 results per report for your domain & keyword analytics.
You get 500 keywords to track per month.
Pro plan allows you to create up to 5 projects. Using these projects you can track your keywords ranking, backlinks audit, On-Page SEO monitoring, etc.
1 user is allowed in the Semrush pro plan.
You get 50 social profiles to monitor.
Is "Semrush Pro plan" right for me?
Semrush Pro Plan is best for those-
who are beginners and just started up
who don't need to track thousands of keywords daily
who have a limited budget
who don't handle multiple SEO projects
Is there anything that relates to you?
Yes! Then go for it, as it is the most recommended tool for keyword research and domain analytics.
If No! Then, Semrush provides another lucrative plan for you, that may fit your needs.
👉 SE Ranking Review (2021): Should You Try It?
SEMrush Guru
The next plan that comes under SEMrush pricing is "GURU" and it starts at $229.95 per month.
So, you might be thinking that how is it different from the Pro plan?
It includes all features of the Pro plan, but the basic difference is that the Guru plan includes the content marketing platform. So, what is special about it?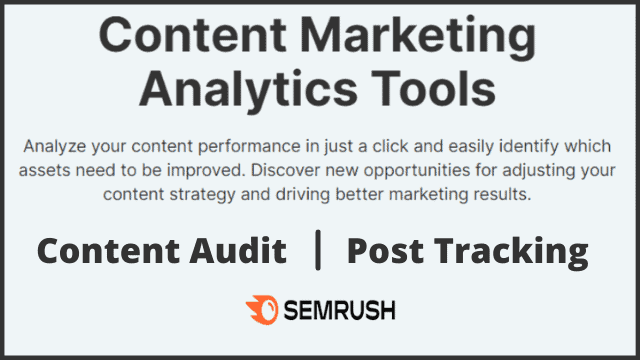 Actually, the content marketing platform allows you to find the topic ideas for your content, optimizes your content to perform well on search engines. Along with this, you get 5 plagiarism checks per month.
In addition to the content marketing platform, you are allowed to fetch the historical data since 2012 for any domain and keyword.
In the Guru plan, you get extended limits to fetch the data per result.
In the Guru plan, you get 5000 reports per day with 30,000 results per report.
You get 1000 keyword metrics updated per month, which means you can get fresh metrics for your seed keyword 1000 times. It is 4x of what you get in the Pro plan.
You get 1500 keywords to track.
You can create up to 15 projects in the Guru plan.
Is "Semrush Guru plan" right for me?
SEMrush Guru plan is right for you if-
You want to explore more keywords for your projects
You want to go one step ahead of your competitors using the content marketing platform
You work on multiple websites and want to extend the limits given in the Pro plan
You are running an agency and want to deliver branded reports to your clients
🤩 SEMrush Free Trial
You get a standard 7-day free trial. You can try all features in this Semrush trial.
You can use SEMrush free of cost even after the trial. What do you get in SEMrush free account?
You can create 1 project
Post tracking for 5 URLs
10 keywords position tracking (updated daily)
On-Page SEO checker for 10 keywords per month
Domain & Keyword Research (10 reports per day with 10 results in each)
SEO writing assistant (1 template)
Let's move towards the Business plan and know more about it.
SEMrush Business
Semrush Business plan is somehow different from the previous two. It is not for individuals or small business owners.
Its starts at $449.95 per month and clearly indicates that it is for large business owners who handles many clients. You can use Semrush Guru to handle projects of a few SEO clients but if you have a large requirement, then you should opt for SEMrush Business plan.
How is it different from the previous plans?
Basically, it includes all that Guru plan provides and offers something more. It includes API access, Google data studio integration, and traffic of voice share along with extended limits.
You get 10,000 reports per day with 50,000 results per report.
5,000 keyword metrics updates per month, i.e. 5x of what you get in Semrush Guru.
You get daily 5,000 keywords to track.
You can create up to 40 projects.
2,000 SEO content templates.
Other APIs access.
You can import your keywords ranking from third-party tools.
You get white-lable reporting.
Is "SEMrush Business plan" right for me?
You can choose Semrush Business plan if-
You run a large business that requires thousands of keyword researches per day
You manage multiple websites or blogs
You need white-label reporting to provide your branded report to clients
You require access to Semrush's API
The Business plan is the top plan in the Semrush pricing model, but if it doesn't fulfill your needs, then you can request for Enterprise plan which provides you the custom solutions.
It is a tool that can handle your all queries related to SEO. So far in these Semrush pricing plans, we have discussed everything that help you decide which is the best plan for you.
Now, it's up to you!
Being in this field, I can strongly say that SEMrush is the best tool to outrank your competitors.
Try SEMrush to kickstart your SEO journey!
FAQs related to Semrush Pricing
How much does SEMrush cost?
Normally, the lowest plan in Semrush pricing table starts at $119.95 per month, but you can get a 16% discount if you subscribe to the annual plan. This makes the Semrush Pro plan available to you in just $100.75 per month.
Is Semrush free?
No! SEMrush is a paid tool, you need to pay for it. If you need to try SEMrush free, get access to the SEMrush trial.
Is Semrush good for my SEO projects?
SEMrush is an all-in-one SEO tool. It has a database of more than 20 billion keywords and it is the most recommended tool for keyword research and domain analytics. So, of course, it is good for your SEO projects.
How do I get Semrush for free?
Well, it is a paid tool and you can not use SEMrush free of cost. You may use Semrush free trial to evaluate its features.
I'm already a SEMrush user, do I have to pay the increased fees?
The new cost of SEMrush is applicable to the new users who purchase the tool after 04 January 2021. If you have subscribed to it earlier, then you have to pay the fees on which you subscribed to it.
I've compared SE Ranking vs Semrush, you may read it to find similarities and differences between these two prominent SEO tools.
Is any of the SEMrush pricing plans fit for you?
Is there any plan that makes more sense to you? Please share it in the comments section, we at DabasBlog would be very happy to know.
Do you like this overview of SEMrush pricing? If yes, please share it with others too.
If you've any doubts or observations feel free to ask me via comments.