Are you struggling to get your website to the #1 page on Google SERPs?
Probably, you are lagging in implementing proper search engine optimization techniques. It is really tough to optimize a website if you don't know what to do, as there are a lot of tasks to do. However, it is quite easy if you follow a proper strategy. That's where the concept of the SEO checklist arises.
SEO Checklist is a single way to analyze why you're not getting the desired SEO results.
In this article, you'll get to know about the SEO checklist by SEOBuddy.
There are many free guides available, but they are not updated regularly and do not go on par with the latest SEO trends.
Let's dive into this SEO Checklist.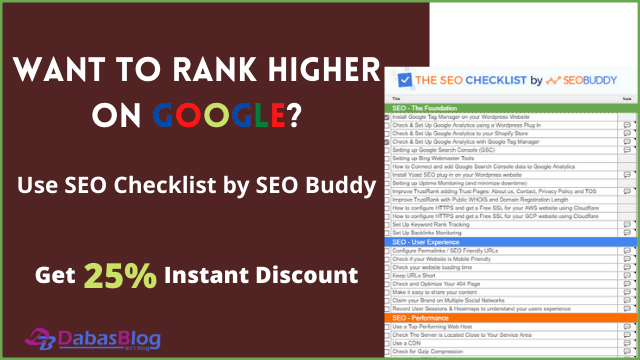 What is SEO Checklist by SEOBuddy?
SEO Checklist by SEOBuddy is basically a guide created by Romain Brabant that guides you on various resources needed to optimize your website.
The checklist comes with a detailed step-by-step guide to assist you in search engine optimization. Using this SEO Checklist you can easily analyze your website for various SEO factors and easily optimize it.
You may easily track what you have done and what more is required from your end.
That's the prime goal of this guide.
So, if you want to increase organic traffic and focused on achieving the #1 rank on Google, then you must get this SEO checklist from SEOBuddy.
Use promo code "DABASBLOG25" while checkout to get a flat 25% off SEO Checklist. We have got this exclusive coupon code only for DabasBlog readers.
Why SEO Checklist?
Imagine you are portraying someone without seeing him, it'd be 100 times harder for you to design a perfect portrait of him. Of course, it will be time-consuming too.
The same happens with search engine optimization.
Without knowing every aspect of search engine optimization, you can not optimize your website for the search engines. That's where the SEO checklist comes into play.
SEO checklist by SEOBuddy is a comprehensive checklist that guides you step by step to improve your blog SEO.
What's on the checklist?
What does SEO Checklist by SEOBuddy include?
You get many SEO factors on which you can work to optimize your website. Here is what you receive from this checklist:
62-page eBook (PDF)
52-week planning calendar
50-point content distribution checklist
So, instead of hiring up an SEO expert, you may use this checklist to improve your blog presence. Regardless of the fact that you are new or experienced in blogging, this guide will help you.
Even if you stand on good rankings you may find some gems in this guide.
Benefits of SEO Checklist by SEOBuddy
How SEO Checklist by SEOBuddy can help you?
The checklist provides you step-by-step guidance from setting up your blog foundation to the latest SEO techniques. Let's see some of the prime areas in which it works-
#1. Foundation
After setting up a blog, the next thing is connecting it with Google or other search engines. This is the first step to follow and the same you get in this checklist too. It provides you a step-by-step guide on how to set up Google Analytics and Search Console for your site.
The SEO Checklist by SEOBuddy includes the following foundation aspects:
Google Analytics and Search Console integration
Trust pages like About, Contact, Privacy Policy, etc.
WordPress SEO Plugins
These are the crucial factors affecting your site, and these need to be managed efficiently. The SEO Checklist keeps you reminded of these factors so that you can enhance your blog SEO.
👉 SE Ranking Review 2022: The Best Keyword Rank Tracking Tool
#2. User Experience
Blog layout is not concerned only with the visitors, but Google also cares about it. Definitely, your readers will be more engaged with you if your blog layout is impressive and identical.
This affects your blog SEO if your blog gets more shares and more visiting time. So, you must work on your blog layout to enhance your online presence.
To improve user experience, you must follow this SEO Checklist guide-
SEO friendly URLs
Mobile friendly optimization
Fast loading speed
Custom 404 pages
Social sharing buttons
#3. Content
Content Is Always The King!
For SEO, valuable content always wins. Though only good content isn't enough, you need to update it regularly with the latest information.
Write SEO-optimized content
Do proper keyword research
Long and detailed content
Avoid content cannibalization
You may use Semrush, SE Ranking, Ahrefs, and UberSuggest for keyword research and competitive analysis.
You can't get readers and convince Google if you don't have appealing content that engages users. So, always write content that provides value to the readers.
Use Discount Code "DABASBLOG25" to get an instant 25% OFF
#4. Performance
Your blog performance really matters in ranking on Google.
But what actually a good performance means? Is it only limited to fast servers or there is something else?
Definitely, a fast-loading website gets a good ranking, but how to achieve an ultra-blazing fast speed? Here are a few tips given by Romain in SEO Checklist by SEOBuddy–
Choose your host wisely
Use a CDN
Try to have web servers nearer to your targeted visitors
Use a cache plugin
Minify CSS files
Compress Images
#5. ON-Page SEO
On-page SEO refers to the optimization of the web page, which means every effort that you make to optimize your web page.
In earlier days, keyword stuffing was a practice by many webmasters that lead to coming up with Google updates like Panda, Penguin, and Hummingbird. It is a poor practice and needs to be avoided if you dream of a long-term plan.
SEO Checklist by SEOBuddy encourages you to implement the following strategy:
Target readers instead of search engines
Include the focus keyword in the title, heading, and the URL
Include your target keyword in the first paragraph
Captivating meta description and title
Use headings and interlink your content
Link to other relevant authoritative websites
Proper naming of images and using alt text
Avoid keyword stuffing
#6. OFF-Page SEO
As the name suggests, it is just the opposite of ON-Page SEO. It basically covers all SEO activities done on the backend of the website. For a better understanding, OFF-Page SEO is more related to link building.
Apart from On-Page SEO, link building is a crucial factor that improves your blog's rank. Here are a few things that you may look at to build a strong OFF-Page SEO strategy:
Link building (blog commenting)
Foundational link (social sharing)
Guest post in your niche
Approach fellow bloggers to link your relevant posts
👉 Dofollow Backlinks: A Beginner's Guide
#7. Technical SEO
So far you have seen ON-Page and OFF-Page SEO tips. Now move forward to the Technical SEO. Here are some crucial tips that you must follow in order to improve your blog search engine optimization:
Switch to HTTPS (Google also recommends it)
Make sure to have only one www version
Create a sitemap and submit it to the Search Console
Create a Robots.txt file for easy web crawl
Consolidate duplicate URLs with canonical tags
Check for broken links
Use redirection properly
Check for index coverage issues and manual penalties in Search Console
Disable irrelevant pages from being indexed to save the crawl budget
So these were some of the important features that improve your website's rank on Google.
SEO Checklist by SEOBuddy is not a course but a proper guide that reminds you what to do while optimizing your website so you don't ignore the important ones.
SEOBuddy Pricing
How much does the SEO Checklist by SEO Buddy cost?
You get the whole spreadsheet with lifetime access with a payment of just $97. Though SEO is growing from time to time, you'll get free future updates in this course.

Use Discount Code
For DabasBlog readers, I've got a flat 25% discount (exclusive) on the purchase. So, you'll get this SEO Checklist for just $72.75 if you purchase from here.
Use "DABASBLOG25" as a coupon code while checkout to avail of the discount.
Pros and Cons
So you get to know everything about SEO Checklist by SEOBuddy, but a review is not complete without discussing its merits and demerits.
Here are some advantages and disadvantages of the SEO Checklist-
Pros
An essential guide for bloggers to keep track of their SEO actions
Includes ON-Page, OFF-Page, and Technical SEO Tips
A step-by-step guide with processing docs
Value for money (cheaper using discount)
Cons
Verdict
SEO Checklist by SEOBuddy is a roadmap to fulfill your SEO actions and optimize your website. SEO is not such a hard task, but if we keep on manual monitoring, then definitely we miss a lot of things.
Manual monitoring is helpful if we have an SEO Checklist like this. I have got my copy of the SEO Buddy checklist and improved a lot.
After a detailed analysis of the SEO Checklist, I can say that it is value for money. It will assist you in every step of optimizing your website and improving your organic traffic.
As per my experience, you must have this SEO Checklist to beat your competitors. You can use DABASBLOG25 as a discount code while checkout to get an extra discount.
I hope that this detailed analysis and review of the SEO Checklist will help you in choosing the best tool for your business.
If you liked it, then please share it with others.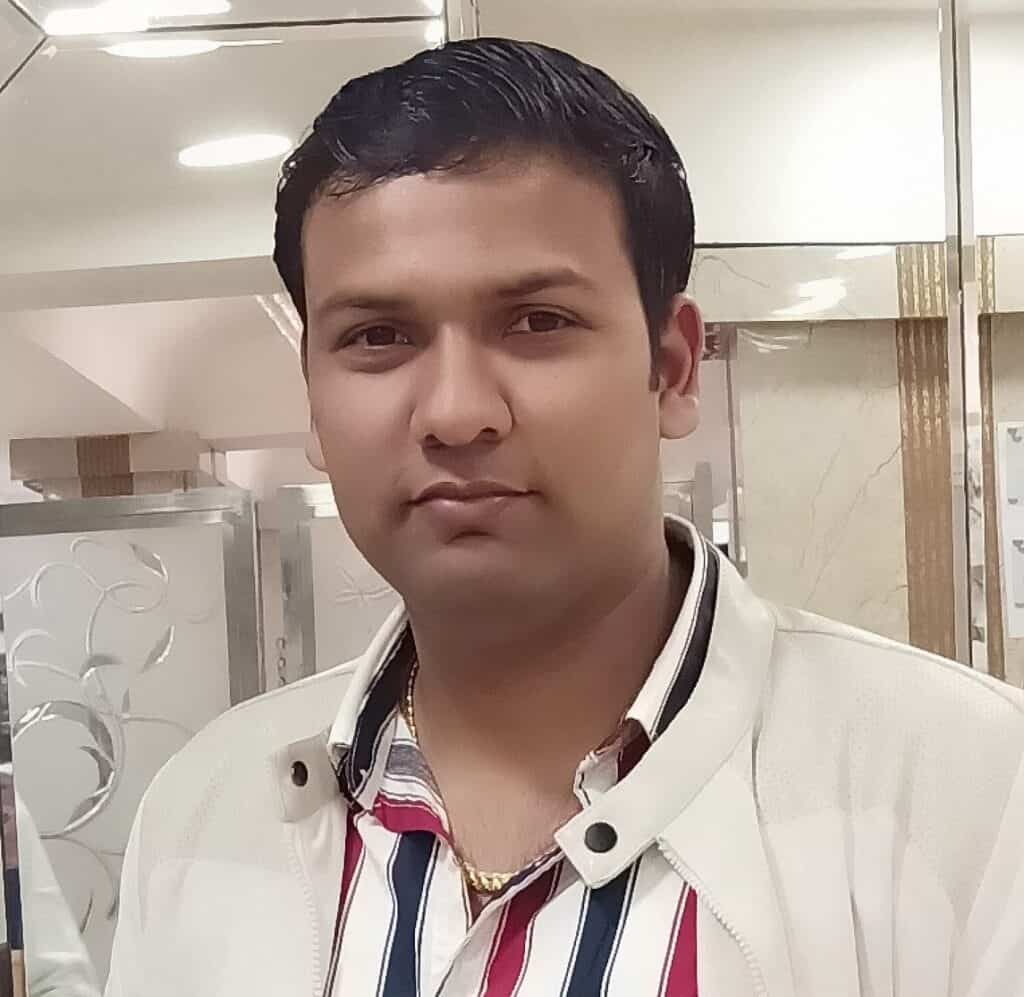 About Author
Nitin Dabas is a professional blogger from India. He is the founder of DabasBlog & SEOSachet. He is an SEO and content marketer who writes about Blogging, SEO, WordPress, and Online Marketing with the aim to help fellow bloggers get succeed in blogging.