GeneratePress vs Astra
GeneratePress and Astra are the two most popular WordPress themes. There is a huge user database for each of them. Still, a question arises as that which one is the best theme.
I've created this comparison article to help you decide which is the most suitable WP theme for you.
Are you trying to decide on the best WordPress theme but at a loss about which is better among GeneratePress vs Astra?
Both are the most popular and highly rated WP themes, so it is quite tough to choose the best between the two.
Both of them offer exceptional customization options and make it easy to use for everything from a blog to an eCommerce website.
Sometimes, Astra works better while in some places GeneratePress is well suited for some webmasters.
In this article, I'll compare GeneratePress vs Astra and help you decide which is the best WordPress theme for you.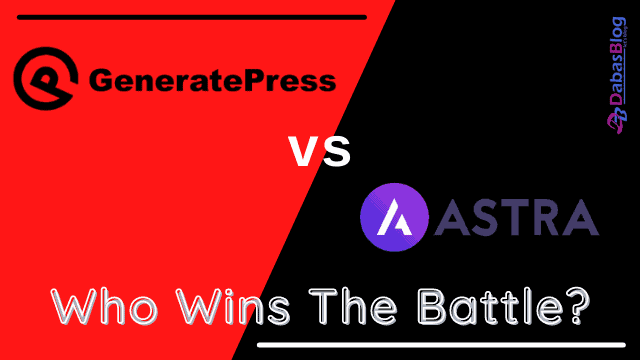 Note: This website is using a GeneratePress theme, but the comparison is purely unbiased and helps you decide your best WordPress theme.
GeneratePress vs Astra: A Quick Introduction
Well, a wise man said to have an introduction before comparison between the two. So, let's have a quick introduction to both themes.
GeneratePress
GeneratePress is a lightweight multipurpose WordPress theme created by Tom Usborne.
Over 400,000 active WordPress installations
Less than 10 KB in size
Free while the premium version starts at $59 annually
Checkout GeneratePress theme review here
Astra
Similar to GeneratePress, Astra is also a lightweight and multipurpose WP theme designed by Brainstorm Force, the team behind Elementor, Gutenberg, and Beaver addons.
Over 1 million active installations on WordPress.org
Less than 50 KB in size
Free while pro version starts at $59 per year
Checkout Astra theme review here
Astra vs GeneratePress: A Quick Comparison
GeneratePress vs Astra: Which is the best WordPress theme?
If you're looking to make the best WordPress site, you can not go wrong with either of the themes. But, if you want to really compare Astra vs GeneratePress, this article is for you.
There are many similarities in both themes as both are freemium themes, and adopt a modular approach to customize the website. However, these are definitely not identical.
Actually, the distinct features and usability make them two different themes. And which one is most suitable for you totally depends upon what you want for your website.
As you can use only one theme on your website, choose the one between GeneratePress and Astra.
In this GeneratePress vs Astra comparison, we'll look at the following key areas:
Design/Layout
Templates
Pricing
Page Builder Compatibility
Widgets
Header
Performance
WooCommerce Integration
Support
Let's dive into the topic.
Design/Layout
The user interface is something that can not be ignored. If your website design is good, you have already won half the race.
Both themes provide you with features to make your website more attractive.
GeneratePress and Astra both rely on the WordPress customizer to offer you a unique UI. Though it is good, it offers you a live preview of the changes that you make to the blog layout.
Both themes offer you extensive customizer options. But the customizer section of both themes helps you distinguish the themes.
Let's look at each of them-
GeneratePress
GeneratePress is the most light-weight WordPress theme that I've ever seen. It offers you a variety of customization using WP customizer options.
You may see the options page of GP Premium for the modules that it offers-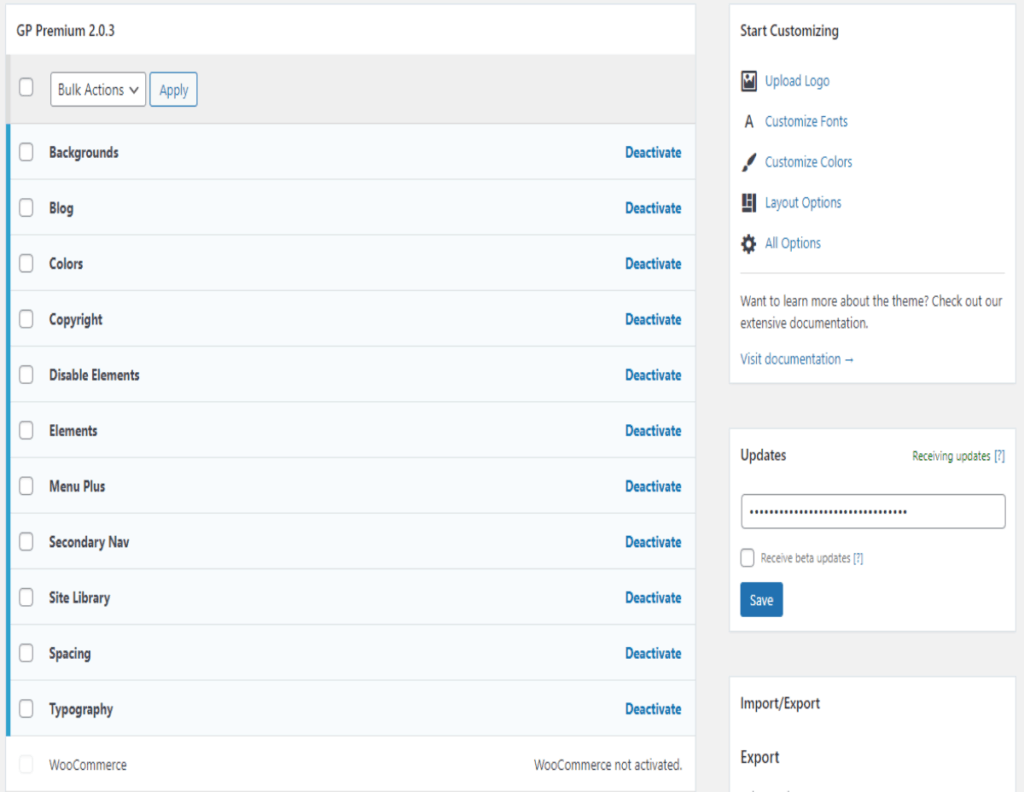 You may change the background of your theme, its color, and layout using the customizer option. Also, at every single point, be it widgets, header, navigation, etc. you may change its typography and spacing.
You may customize your website theme by using the elements section using hooks or blocks.
But all these features you get in GeneratePress premium theme, the free version of GP doesn't offer you such a feature. As you get only basic customization options.
Also, in the GP premium theme, you get access to the 60+ templates that are not offered in the GeneratePress free version.
👉 GeneratePress Review 2023: Is It The Best WordPress Theme?
Astra
If we talk about the Astra theme, you can play along with the theme using some brilliant customizer options.
Besides the similar features that GP offers, you get some extra functionalities like a superior mega menu, white-label, WooCommerce integration, easy digital downloads, etc.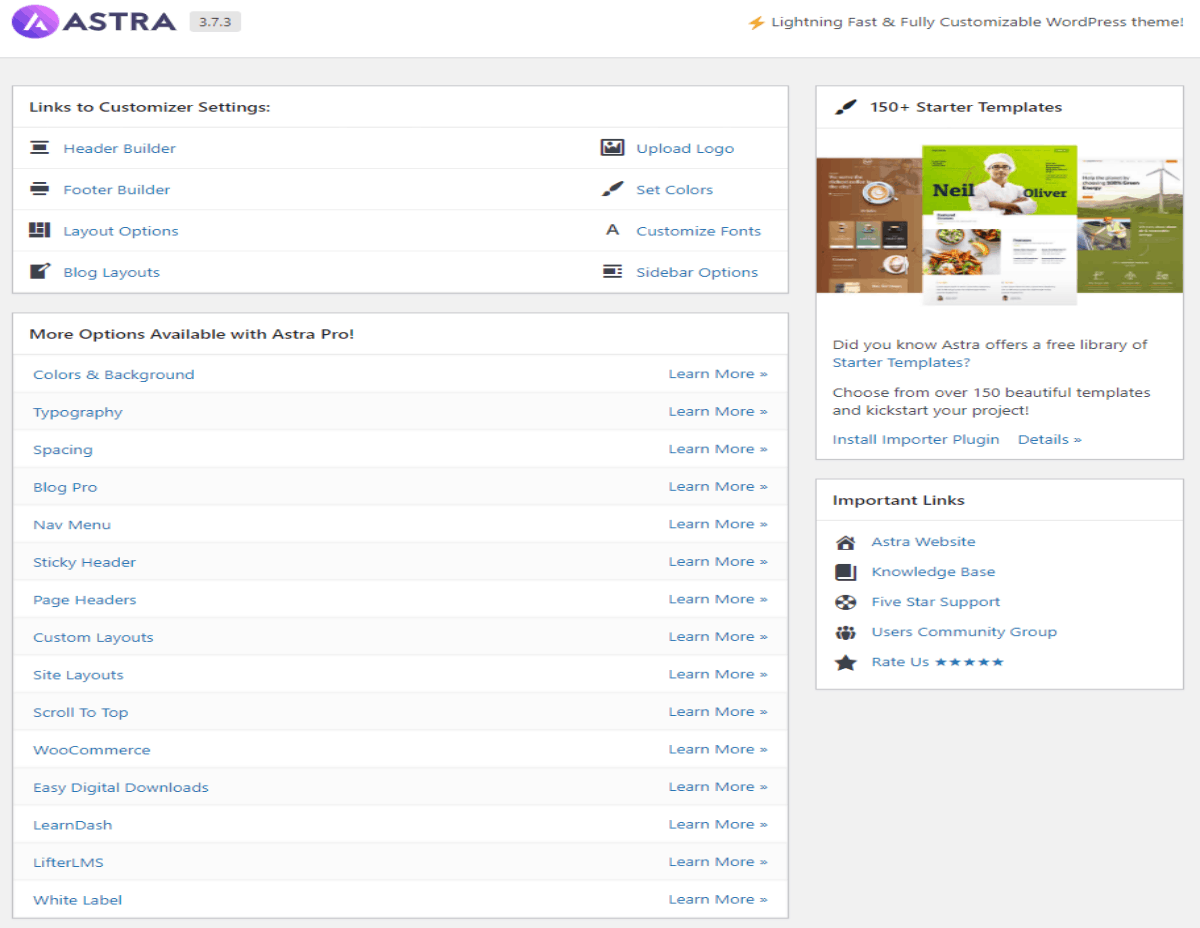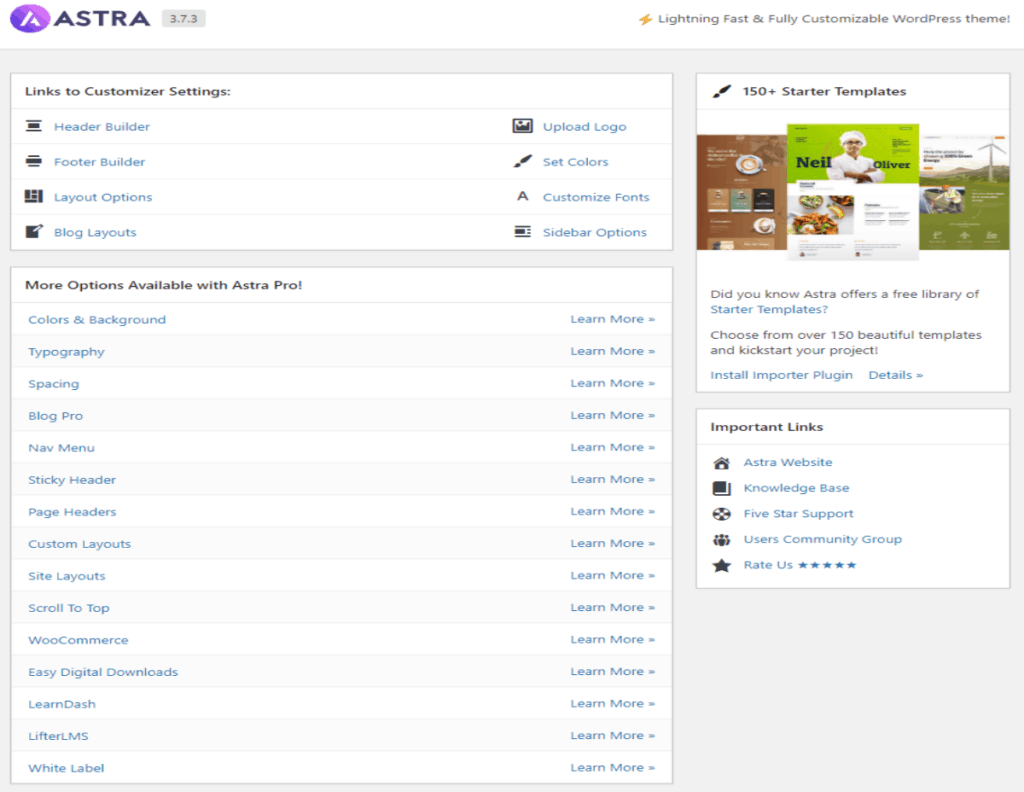 You may create an attractive website using free Astra add-ons, whereas GeneratePress free version doesn't offer much customization.
Astra offers you custom layouts that replace the elements section of GeneratePress.
Above all, you get 180+ starter sites in the Astra Pro theme.
Winner: Astra
Pricing
Though both themes allow users to speed up their performance using free versions, they can play along with customization using their paid versions.
GeneratePress
GeneratePress offers two types of payment modules:
GP premium allows you to use the theme on up to 500 websites for $59/year
however, a lifetime plan is also available that offers you the same at $249 for a lifetime.
We must note that in GeneratePress premium you get access to all the themes in the site library and premium features along with the premium support.
If you wish to renew your GP Premium plan, then you get a flat 40% discount on renewal.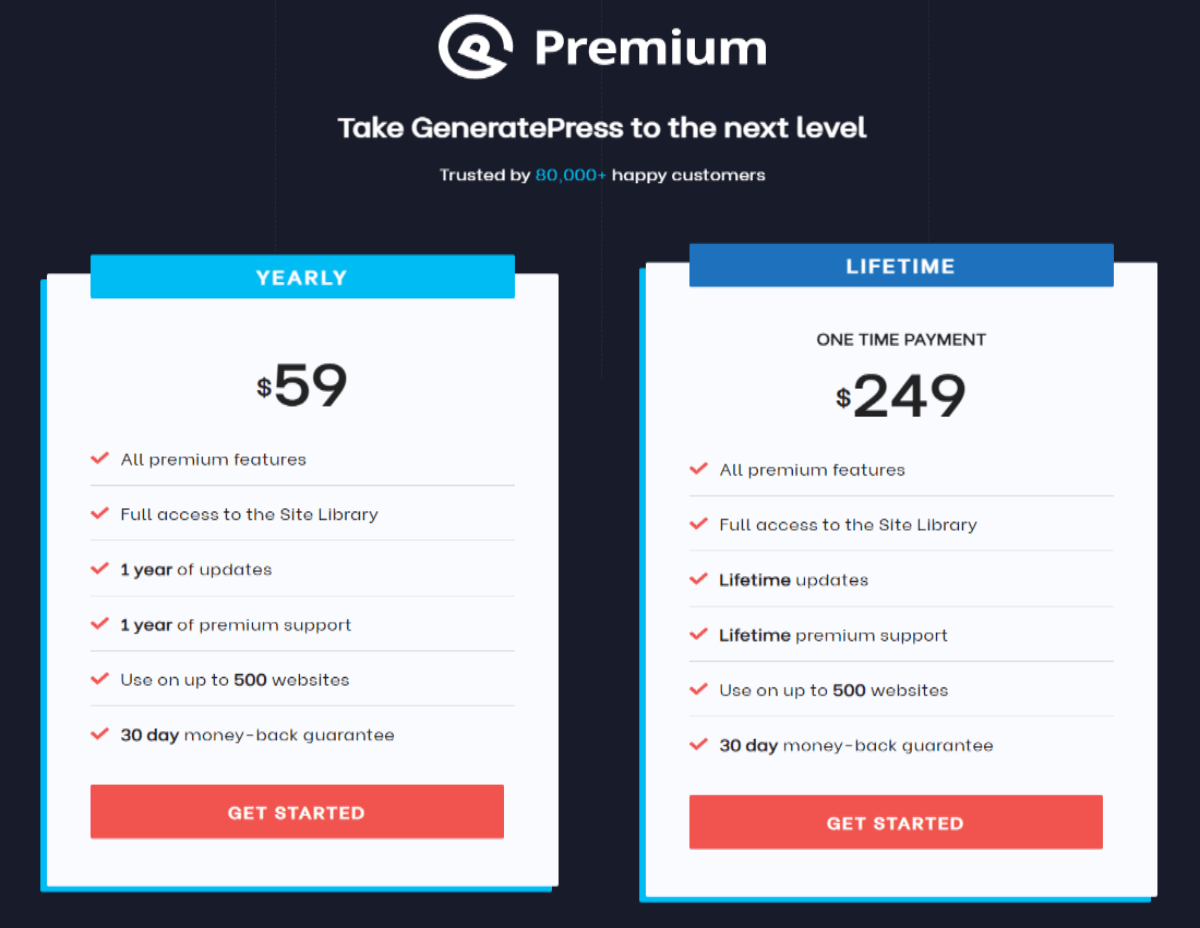 👉 GeneratePress vs Astra: Which is the best theme for you?
Astra
Astra pricing is like GeneratePress pricing, but it differs a little.
You get 3 types of plans for Astra-
Astra Pro offers you all the premium features for just $59 a year, but you do not get access to the premium starter sites in this plan
Essential Bundle offers you access to all the premium starter templates along with a one-page builder addon for $276 for a year
However, Growth Bundle allows you to use Convert Pro and Schema Pro plugins along with all that you get in Essential Bundle for $523 for a year.
You get access to these features for a year, and then you have to renew the plan if you want to continue it.
Also, you get full premium support and lifetime free updates.
The lifetime plans of Astra are as under-
Astra Pro- $523/lifetime
Essential Bundle- $996/lifetime
Growth Bundle- $1893/lifetime
So, if we compare GeneratePress vs Astra in terms of their pricing, GeneratePress premium is more affordable than Astra Pro.
Winner: GeneratePress
Templates
When we talk about pre-built starter sites, then obviously Astra has a larger area of selection.
We must note that you can use some starter sites in Astra free version but with GeneratePress you have to pay for it.
GeneratePress
GeneratePress premium offers you 60+ starter sites compatible with different page builders.
WordPress Editor– 44 sites
Elementor– 14 sites
Beavor Builder– 6 sites
So, you get 60+ different pre-built importable starter sites in GP Premium.
To import these sites, you'll need access to the site-library that you get in the paid version.
Astra
You get more sites in Astra of which some templates you get in the free version while some starter sites are available in the paid version.
You get starter templates compatible with 4-page builders:
WordPress Editor– 52 sites, all available in free versions also
Elementor– 133 sites, of which 60 sites are available for free, while 73 are available for the paid version
Beaver Builder– 106 sites, 38 are available for free while 68 are available in Essential Bundle
Brizy– 40 sites, 17 sites are accessible in the free version while 23 are accessible in the Essential Bundle.
You have more sites available in Astra while fewer in GeneratePress.
Above all, Astra offers some starter sites in the free version, while in GeneratePress you can get access to the site library only in the paid version.
Winner: Astra
Modules
The modular structure of these themes is the foundation of Astra and GeneratePress and stands them out from the crowd.
Though the premium modules are available in the paid versions, Astra allows you some modules in the free version as well. While in GeneratePress, you get access to these modules in the GP premium.
Still, the question in your mind is unanswered!
Which one is the best theme in terms of customization?
Let's figure out it in the below section.
GeneratePress
GeneratePress offers you 12 premium modules that make your website fast and attractive. You can customize a website according to your needs using these modules.
Whether it is typography, spacing, or color, you can change everything as per your needs. You get sticky navigation, an advanced hook system, and features like copyright control, etc.
Astra
The Astra theme offers you 15 types of different modules for customization.
Astra offers some more brilliant modules like Mega Menu, White Label, better WooCommerce integration, etc.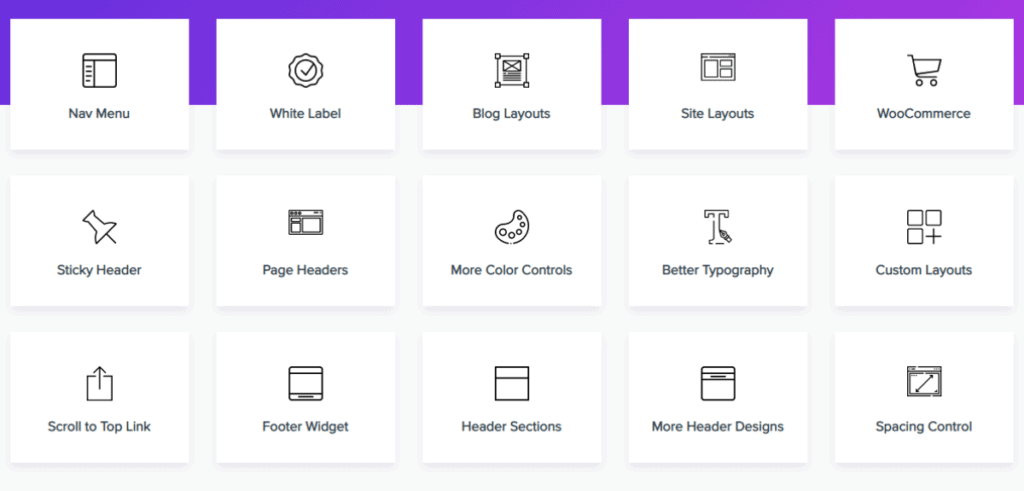 Also, the header builder that it offers is outstanding. It doesn't matter if you are a techy guy or not, even amateur bloggers can also use this feature to create a captivating header for their website.
Though you can get access the features like Header Builder, Hooks & Filters, WooCommerce customization, etc. in the Astra Pro version.
The Brainstorm team also provides you some free Astra Addons like customizer search, custom Typekit fonts, sidebar manager, and ultimate addons for Gutenberg, etc. These free plugins add a feather to the cap.
Winner: Astra
Page Builder Compatibility
Both the themes are prominent for customization, but you should check their page builder compatibility to choose Astra or GeneratePress.
GeneratePress and Astra themes both pair perfectly with major page builders like Elementor, Beaver Builder, etc.
Even their pre-built starter sites are made using such page builders to offer your page-level controls.
GeneratePress
GeneratePress premium allows you to edit any webpage while working on any piece of content.
You may adjust any feature like the sidebar, footer, widgets, container, disable elements, etc.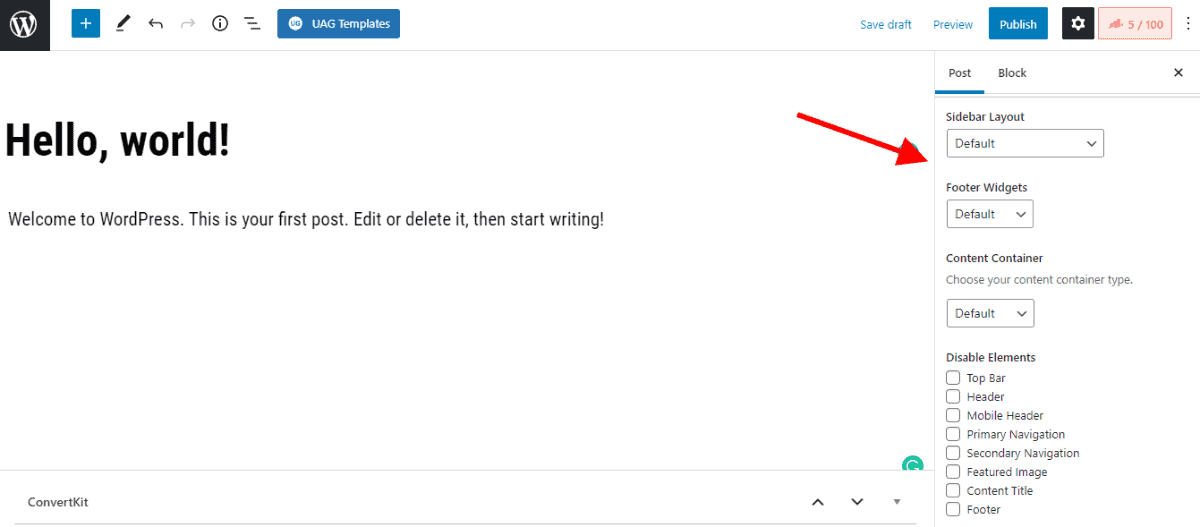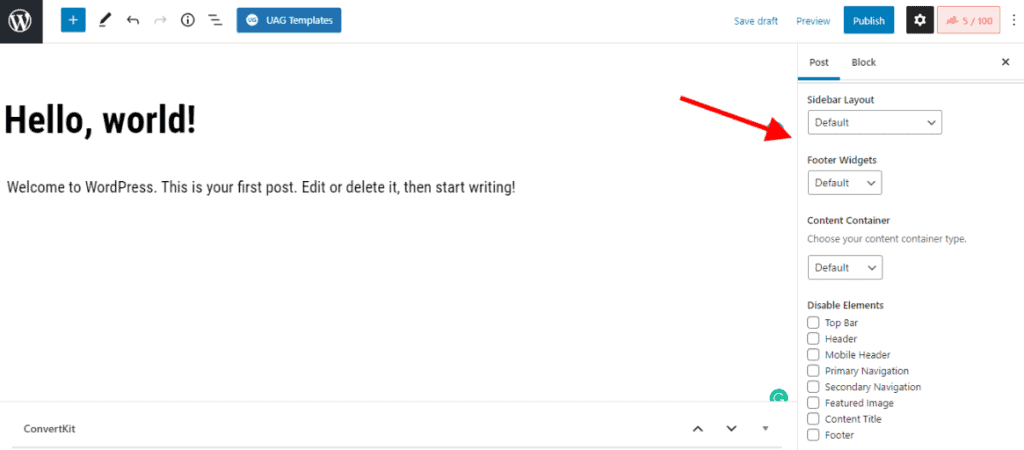 You can use page builders like Elementor and Beaver Builder to create a custom landing page. Elementor officially recommends using GeneratePress.
However, you can not use Elementor while using GeneratePress elements or custom layouts.
Astra
Astra theme takes an edge over GeneratePress when we talk about page builder compatibility as it is fully compatible with Elementor, Beaver Builder, and Brizy.
Also, the team behind the Astra theme is the same Brainforce team that is behind the popular Gutenberg editor. So, you are under a team that has a substantial track record of page builders.
Similar to GeneratePress, you can use custom layouts to create an engaging landing page and it is fully compatible with Elementor.
It also offers you to customize any piece of content using its layout filters like disabling elements, adjusting sidebars and content width, etc.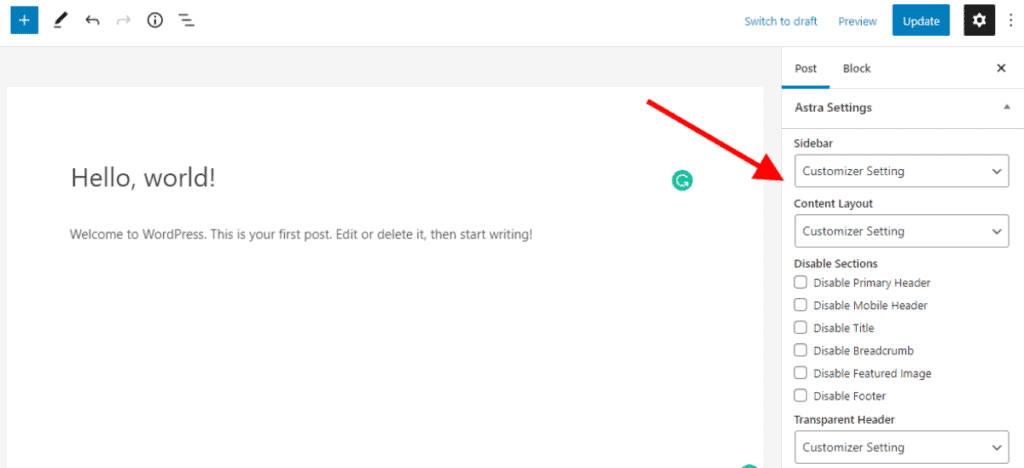 Winner: Astra
WooCommerce Integration
Astra and GeneratePress both themes are compatible with eCommerce integration as each of them has a WooCommerce module.
However, it may be noted that the module only works if you have installed and activated the WooCommerce plugin.
Using both themes, you can easily customize the product page, and change its color, design, background, typography, etc.
We may note that Astra also offers Easy Digital Downloads besides WooCommerce integration and features like LifterLMS and the latest WooCommerce designer add the feather in the cap.
built-in product quick view
dropdown shopping cart
LearnDash integration (distraction-free checkout)
sale indicator
These are some features that make Astra win when compared with GeneratePress WooCommerce integration.
Performance
Astra or GeneratePress both themes are both well-optimized and quick than other WordPress themes.
As both are lightweight and provide you an ultra blazing-fast page-loading speed. However, GeneratePress takes a little edge over Astra when talking about their performance, as it is much lighter than Astra and offers you a great score on GTmetrix.
I've tested a demo site on GTmetrix after installing both themes here are the results-
GeneratePress
Astra
Apart from these two results, I'd like to show the GTmetrix score of my website- DabasBlog.com It is based on the GeneratePress theme.
Winner: GeneratePress
Support & Documentation
When you purchase some product, support is something that is very crucial. GeneratePress and Astra both provide really great customer support.
👉 But, if we compare Astra vs Generatepress support, the one theme that provides outstanding premium support is GeneratePress.
Though both themes provide you well-researched and in-depth documentation, that is enough to sort out your many issues related to the themes. Still, if you have any issues, then you can use their support forum.
With premium support, GeneratePress takes an edge over Astra support.
Their support is quick and even Tom Usborne, the man behind the GeneratePress theme, answers your questions. Astra support got some negative reviews because of a delayed response.
As the support forum is public, you can see answers to many questions, but to ask any question, you need access to the GeneratePress premium theme.
Frequently Asked Questions
Verdict: GeneratePress or Astra?
After going through this comparison article, you have probably found your WordPress theme. Though most times Astra wins, it doesn't mean that GeneratePress is a bad theme.
I've created this GeneratePress vs Astra article just to distinguish both themes. You also got to know that both themes are worthy, and it totally depends on the user's need and how he customizes his website.
Both themes are competent to design and customize your website.
If you're looking for a fast WordPress theme, GeneratePress is a good choice.
If you are specifically looking for designing an eCommerce website, Astra is the best theme for you.
Astra or GeneratePress are both suitable for freelancers, or personal blogs.
However, if you want me to pick one theme that is suitable for everyone, I'd recommend Astra for everyone. The reason is that it offers a lot of starter sites in the free version and allows you to customize your WordPress site using its modular features.
It integrates well with WooCommerce websites.
Have you used any of the themes? If yes, please share your experience.
👉 If you find the comparison of GeneratePress vs Astra useful, don't forget to share it with others.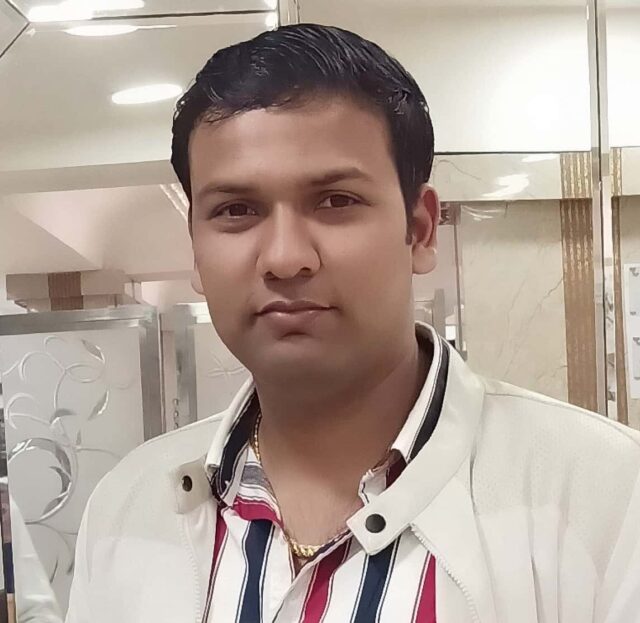 About Author
Nitin Dabas is your SEO guide. Expert in keywords, on-page SEO, and link-building, he has boosted rankings for countless clients. Read his blog and join his success stories.