If you're a blogger or affiliate marketer looking to boost your website's visibility and improve your search engine rankings, you've likely come across SE Ranking.
But is it worth investing in?
In this SE Ranking review, we'll take an in-depth look at SE Ranking and explore its features, benefits, and pricing options. We'll also discuss why SE Ranking may be the perfect tool for bloggers and affiliate marketers looking to optimize their websites and increase their online presence.
So if you're on the fence about whether or not to buy SE Ranking, keep reading to find out why it may be a game-changer for your online business.
Search Engine Optimization is nothing but understanding how search algorithms work and what strategy we require to beat our competitors to outrank them.
SEO tools play a vital role in building a robust strategy to outrank your search competitors.
Why do I need SEO tools?
SEO tools assist you in finding the keywords on which your competitor is ranking, how many backlinks he made for a particular post, etc. The key factors an SEO tool includes are topic research, competitor analysis, backlinks analysis, and obviously the site audit to check for issues.
There are many SEO software in the market to help you but an all-in-one SEO tool costs too much in this case.
So, you need one that can perform all these tasks at a reasonable price. Here comes this All-In-One SEO tool that helps you in analyzing the competition using keyword research, backlinks analysis, site audit, and competitive research.
It provides every feature that a premium SEO tool offers but it is comparatively cheaper than other tools like Semrush, Ahrefs, SEO Powersuite, etc.
It provides you a 14-day free trial to evaluate its performance before you buy a paid plan.
SE Ranking Review: Why should you buy it?
For a blogger or marketer, it is very necessary to know every aspect of the SEO tool before buying a paid plan. Though this extensive SE Ranking review is not focused only on its pros, you also get to know the cons of the tool.
Let's just start with this detailed review of SE Ranking to know more about it.
SE Ranking: Is It Better Than Other SEO Tools
What is SE Ranking?
SE Ranking is a cloud-based SEO software that is used by many bloggers and online marketers to boost their website ranking.
You guys must be well aware of SEMrush-the SEO giant. This tool is just similar to SEMrush. It performs all functions like keyword analysis, competitors' research, backlinks analysis, website audit, etc.
In addition to these SEO metrics, it has some more features like White Label and Marketing plan that is quite helpful for digital marketers and SEO agencies.
Why should you use SE Ranking?
This is the foremost question that hits your mind when you look for an SEO tool. As per my experience, it is a tool that can improve search engine optimization. But, just my verdict isn't enough to find it useful for you You should read this SE Ranking review further.
Let me ask you a few questions that will help you decide why should you use it despite so much SEO software in the market.
What do you think a good SEO tool is?
Your Answer– A good SEO tool should be able to make a powerful SEO strategy for you to rank higher on Google. Moreover, it should be in your budget, else how better an SEO tool performs is of no use.
My view– The SEO tool must provide me with long-tail keywords that resonate with my audience. It should provide in-depth insights into my competitor's backlinks, ranked keywords, etc.
This software is quite similar to other SEO tools to build up an unbeatable SEO strategy for you. So, you need not worry about it. Another benefit of the tool is that other SEO tools offer you around $99/month it offers you at a much lower price.
The low price doesn't mean that it compromises its quality.
Other tools offer you a 7-day free trial but it offers a 14-day free trial.
Just click here for SE Ranking free trial.
How to rank higher on Google?
This is the very first question of a newbie – how to improve search engine ranking? This tool is the solution for this query. As discussed above, it offers you a wide range of ideas needed to implement along with your search engine optimization strategy.
Keyword research is the foremost step to improving website ranking. This tool helps you in finding long-tail keywords that are easy to rank.
How can you use the SE Ranking tool to beat your competitor?
Though only keyword research can't get your desired results unless you spy on what your competitors are doing.
The competitive research tool helps you to spy on your competitors' URLs and provide you the keywords on which they are ranking. You can track their backlinks using the backlinks checker tool.
I think you have enough reasons to try this ultimate SEO tool.
SE Ranking Discount Code
If you missed the SE Ranking Black Friday deal, still you can avail yourself of the benefit through this article.
Yes, apart from the basic SE Ranking discount offer i.e. flat 20% OFF on an annual subscription, you can get an extra 10% OFF at the checkout.
You need to use the following SE Ranking coupon code to get an extra perk.
Coupon Code- DABASBLOG10
How can SE Ranking help you?
Though some of the features I've already mentioned, take a look at the benefits that this SEO tool provides-
These are the core features that it provides you at a reasonable price. SE Ranking pricing plans are described later in this article.
Keyword Research
The keyword research tool offers you a variety of long-tail keywords from its database.
In case you don't know, topic research is an extremely important part of search engine optimization. You can't aim to outrank your competitors if you don't know how many people are searching for your targeted word.
You need to do proper keyword research and use the main keyword in your article, title, URL, and image alt tag to improve your SEO ranking.
👉 To start with the keyword research, first sign up for SE Ranking.
Now, click on the keyword research tab in the header section of the dashboard. Now, type your main watchword in the box, select the targeted region, and hit the Analyze button.
Just after you hit the Analyze button, you will see the overview of your seed keyword. This means, what is its keyword difficulty, monthly search volume, and what is its CPC in different countries.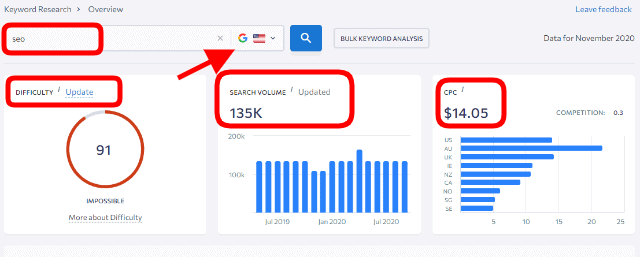 When you scroll down the page, you'll see a column of keyword ideas containing similar, related, and low-search volume keywords. This tool groups these ideas in a way that is easy to monitor. These metrics help you in discovering long-tail keywords with low competition.

Just click on keyword ideas>view the detailed report. This will open the keyword suggestion tool and you'll get brainstorming ideas for your content.
Just below the keyword ideas tab, you'll see a tab showing organic results for that particular watchword. In this way, you can see the top 100 URLs that are ranking for that keyword.
So, that's the keyword research tool that provides you a big list of keyword ideas related to your main keyphrase.
How to perform keyword research using this SEO Tool?
Here is a video tutorial available for you that describes all steps and strategies for proper keyword research.
As earlier I said in this SE Ranking review, you'll explore all its features in detail. Now, move on to the Competitive Research toolbar.
Competitive Research
To compete with your competitors on SERPs, you must understand their strategy, and that's where competitor research comes in. Use this tool to gain insights into their tactics and stay ahead in the game.
Remember, thorough competitor research is crucial for success in the online marketplace and I found SE Ranking Competitive research quite strong and fruitful.
You can analyze which keywords your competitor is targeting and how much traffic he is getting.
SE Ranking improved its competitive research and added a few new metrics like Domain trust, page trust, linking domains, and backlinks of your competitor's domain.
You can discover which country he is targeting for his site and how many visitors he is getting from that particular country.
👉 For competitive analysis, just click on the Competitive Research toolbar in the header section.
Now, if you want to spy on your competitor's site then, select domain from the dropdown menu and enter the domain name. Else, you can select the URL from the dropdown menu and just spy on your competitor's URL. The multiple sources provide in the tool help you in achieving a robust report of your competitors.
You'll see different countries and the number of keywords that are ranking in that particular country. Along with key phrases, there are metrics that show how much traffic he is getting and an estimated traffic cost.
When you scroll down, you see a column of Organic keywords, just click on view the detailed report and get insights into phrases that your competitors are using.
Historical data is something that is a more interesting part of your competitive research and is clearly visible there. You can see historical data for up to the past 4 years which is quite impressive. It helps you to analyze how your competitor is growing in the past couple of months/years.
Just below it, you will see everything that you want to spy on your competitor's domain. Yes, here are the keywords list, keyword difficulty, CPC, search volume, keywords position, and estimated traffic.
The most interesting part of this competitive analysis is that you can apply filters to these results and can get the targeted result.
All these features and metrics are available to you at a very high price when you opt for other premium SEO tools. But, it offers you all premium features at quite a reasonable price.
You can try SE Ranking and get a flat 10% off on any plan.
Backlink Checker
Backlinks are just like the backbone of a website. Definitely, Do-follow backlinks pass link juice that boosts the website ranking. Alongside this, No-follow backlinks are also important to check search engine ranking.
Though which type of backlinks are important is a different topic, yes the backlinks from authority sites help in SEO.
Fortunately, the Backlinks Monitoring tool provides you with enough metrics to spy on your competitors' backlinks and build up a strategy accordingly.
👉 To check the backlinks of any site, first, click on the Backlinks Checker tab.
Here you can check the backlinks of any domain or URL. This does the job to monitor backlinks similar to SEMrush, Ahrefs, etc.
The Plus plan allows you to check backlinks reports of 100 domains/URLs per day.
When you enter the domain to check backlinks, it shows metrics like Domain trust, page trust, anchor text, number of backlinks, referring domains, do-follow and no-follow backlinks ratio, etc.
In addition to this, you can find out how many backlinks are from TLDs like ".com", ".edu sites", and ".gov. sites", etc.
Backlinks' history can be analyzed up to the past 12 months.
So, this is a backlinks checker tool that has every crucial feature to spy on any domain. The information that it shares helps you in building a powerful strategy to outrank your competitors.
Just enter any of your competitors' domains and discover the opportunity to create high-quality backlinks for your site.
👉 I personally recommend SE Ranking Backlinks Checker tool, as it helped me build some high-quality links.
Keyword Rank Checker
Search engine optimization is incomplete without analyzing the SERP position. Yes, how better topic research you do, but keyword performance or position tracking is necessary to sustain a good ranking of your blog.
Keyword position checker not only provides your keyword ranking but also offers you an opportunity to improve the position of low-performing key phrases.
SE Ranking as the name suggests offers you the exact position of keywords on Google, Bing, Yahoo, YouTube, and Yandex.
Position tracking is a vital part of SEO that amateur bloggers often ignore.
👉 You need to create a project to start a keyword rank checker.
First, click on the projects tab and create a project to start tracking your keywords position.
Just fill in details like website URL, word to track, search engine name, and the targeted location.
After that add up to 5 competitors' names and the rank tracker provides you the data of these competitors too along with yours.
You can access the data showing keywords rank up to the past 6 months.
Just track your keywords position via this tool and improve search engine ranking by building high-quality backlinks and adding quality content.
Website Audit
To perform better on search engines, it is necessary to regularly check your site for issues.
Yes, a regular website audit is a need for modern SEO. Google has already said that page experience will be a ranking factor from June onwards. So, if your site has too many issues or poor page loading speed, it may negatively affect your blog SEO.
Many times, we can't find out what is obstructing search engine optimization. It can be broken links, page load speed, missing alt tags, h1-h2 tags, etc. A website audit helps us to check for these issues.
SE Ranking as I already said is a complete SEO tool with all the features that provide a robust website auditor tool.
Important features of the Website Audit tool-
In this section, you will find reports about URL redirection, XML sitemap, robots.txt files, etc.
Here, you can discover issues related to your site's pages like pages with long URLs, pages that are blocked by robots.txt, no-index pages, canonical URLs, etc.
This analysis shows you pages with duplicate titles, missing descriptions, too long or short descriptions, etc.
Here you can find the pages that have duplicate content, content having low word count, pages with empty h1-h2 tags, etc.
Here you can discover links that are broken, missing an anchor, no-follow or do-follow, external and internal, etc.
Image analysis provides you with reports about missing alt tags in images, images with 4xx errors, etc.
In this section, you get a report basically about how well your site performs. You can discover where your site needs improvement like properly sizing images, minifying CSS, eliminating render-blocking resources, etc.
SE Ranking Exclusive Features
SE Ranking Content Marketing Module
The SE Ranking Content Marketing Tool is a valuable resource for anyone looking to enhance their content strategy.
With this tool module, you can easily generate content ideas that are optimized for search engine optimization (SEO).
By analyzing popular keywords and trends, the tool provides insights into what topics are currently in demand and can help you identify gaps in the market that you can capitalize on. Additionally, the tool offers recommendations for optimizing your content to improve its visibility in search engine rankings.
From keyword suggestions to on-page optimization tips, the SE Ranking Content Marketing Tool has everything you need to create high-quality, SEO-optimized content that will attract and engage your target audience.
SE Ranking SERP Analyzer
The SE Ranking SERP Analyzer is a powerful tool that can assist you in developing a strong strategy to surpass your competitors on Google's search engine results pages (SERPs).
By analyzing the SERP data, this module provides valuable insights into your competitors' rankings and performance. With this information, you can identify areas of improvement and devise effective tactics to outrank them.
Whether it's optimizing your website's content, improving your backlink profile, or enhancing your website's user experience, the SE Ranking SERP Analyzer offers valuable guidance to help you achieve higher visibility and success in search engine rankings. With this tool by your side, you can stay ahead of the competition and drive more organic traffic to your website.
The features discussed above are not the only features that this tool offers.
With this tool, you get some exclusive features that are not available with other SEO tools at such an affordable budget.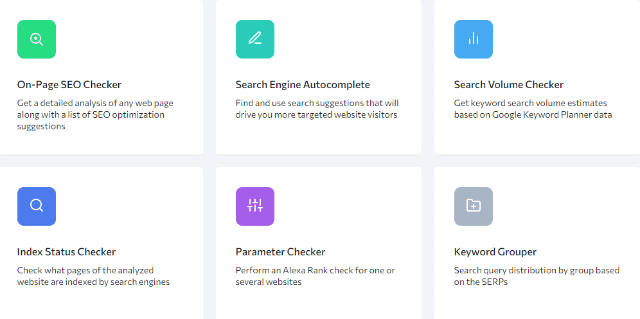 Yes! There are some more features in the queue like Social Media Management, SERP Analyzer, White Lable, On-Page SEO Checker, Page Changes Monitor, Index Status Checker, Marketing Plan, etc.
You can easily integrate your social media accounts like Facebook and Twitter with it and automate the publishing on these channels.
If you run an agency, you can avail of the benefit of White Label by providing your clients with reports with your personal logo. Yes, you can upload your company logo in the white label section and generate a report with your logo.
On-Page SEO Checker detects your web page and provides you with a solution to fix the errors that can affect your blog optimization. The parameters that it checks include URL structure, titles and meta tags, image optimization, content optimization, keyword density, links, social signals, etc.
So, what do you think now? Does any feature remain?
It provides you all the necessary features at a comparatively low price than other SEO giants.
I enjoyed it a lot while writing this SE Ranking review as I personally use this tool and highly recommend it to you guys.
SE Ranking Review – Pros and Cons
So, we discussed everything in this in-depth review of SE Ranking.
What do you think about the tool? Is there anything that we haven't discussed yet?
Yes, absolutely! An honest and unbiased SE Ranking review can't be completed without exploring its positive and negative sides.
Let's move toward the pros and cons of this all-in-one SEO tool.
So, these were the pros and cons of the SE Ranking tool that I noticed. Apart from the above-mentioned cons, I didn't see anything that could hinder you from trying this tool.
If you are looking for a perfect and affordable SEO tool, then I would strongly recommend you SE Ranking tool. I personally use this tool and I enjoyed it a lot while writing this SE Ranking review.
SE Ranking Pricing
SE Ranking pricing model is something that I found unique and impressive. While other SEO tools charge you for the same metrics for a subscription period, here you can pay for what you want.
SE Ranking Software: Is it the best SEO tool?
SE Ranking offers a variety of pricing plans to suit the needs of businesses of all sizes.
Each plan includes features such as keyword tracking, website audit, backlink analysis, and competitor research, among others. With SE Ranking's flexible pricing options, businesses can choose the plan that best fits their budget and goals, ensuring that they have access to the tools and insights needed to optimize their online presence and drive success.
You get a flat 20% Off on yearly plans.
SE Ranking vs others
SE Ranking is an all-in-one SEO tool with great features but due to tough competition in the market, it is difficult to make up your mind. So, here is something that you should take a look at-
SE Ranking vs Semrush: Which one is a better SEO tool?
SE Ranking vs SEMrush
SE Ranking
14-day trial
$18.6/month (annually)
Keyword Research (✓)
Keyword Rank Checker (✓)
Website Audit (✓)
Backlinks Checker (✓)
Competitor Analysis (✓)
Unlimited Projects (✓)
Additional accounts (free)
Marketing Plan (✓)
10/10
Semrush
7-day trial
$83.28/month (annually)
Keyword Research (✓)
Keyword Rank Checker (✓)
Website Audit (✓)
Backlinks Checker (✓)
Competitor Analysis (✓)
Up to 200 projects (✓)
Additional accounts (extra fee)
Marketing Plan (✓)
8/10
SE Ranking vs Moz
SE Ranking
14-day trial
$18.6/month (annually)
Keyword Research (✓)
Keyword Rank Checker (✓)
Website Audit (✓)
Backlinks Checker (✓)
Competitor Analysis (✓)
Unlimited Projects (✓)
White Lable (✓)
Marketing Plan (✓)
09/10
Moz
30-day trial
$79/month (annually)
Keyword Research (✓)
Keyword Rank Checker (✓)
Website Audit (✓)
Backlinks Checker (✓)
Competitor Analysis (✓)
Up to 100 projects (✓)
White Lable (⨉)
Marketing Plan (⨉)
7/10
There are many tools to be named as SE Ranking competitors like Ahrefs, KWfinder, Keyword Revealer, SEO Powersuite, Raven tools, etc. But in my opinion, only SEMrush is a tool that can be a perfect SE Ranking alternative.
SE Ranking vs Ahrefs: Which Tool Is Better in 2023?
SE Ranking Review: Verdict
If you are looking for the best SEO tool and confused about what to choose or what not? Then, put the SE Ranking tool in the priority.
I think after reading this SE Ranking review, there would be no reason to ignore this tool.
I have been using it for the past couple of months and can proudly say that it is the best SEO tool at a reasonable price.👍
Above all, it offers a 14-day free trial, you can take advantage of SE Ranking's free trial.
All features of the tool have been explored in this extensive review of SE Ranking, if you find something missing, then let me know via comments.
If you find this detailed SE Ranking review useful to you and planning to try it, then take benefit of the special discount on annual plans and get a flat 20% discount + 10% exclusive discount for DabasBlog readers. Use promo code- DABASBLOG10
Have you tested the SE Ranking tool? What is your overall experience with the tool? Please share it in the comments section.
👉 And please, don't forget to share it.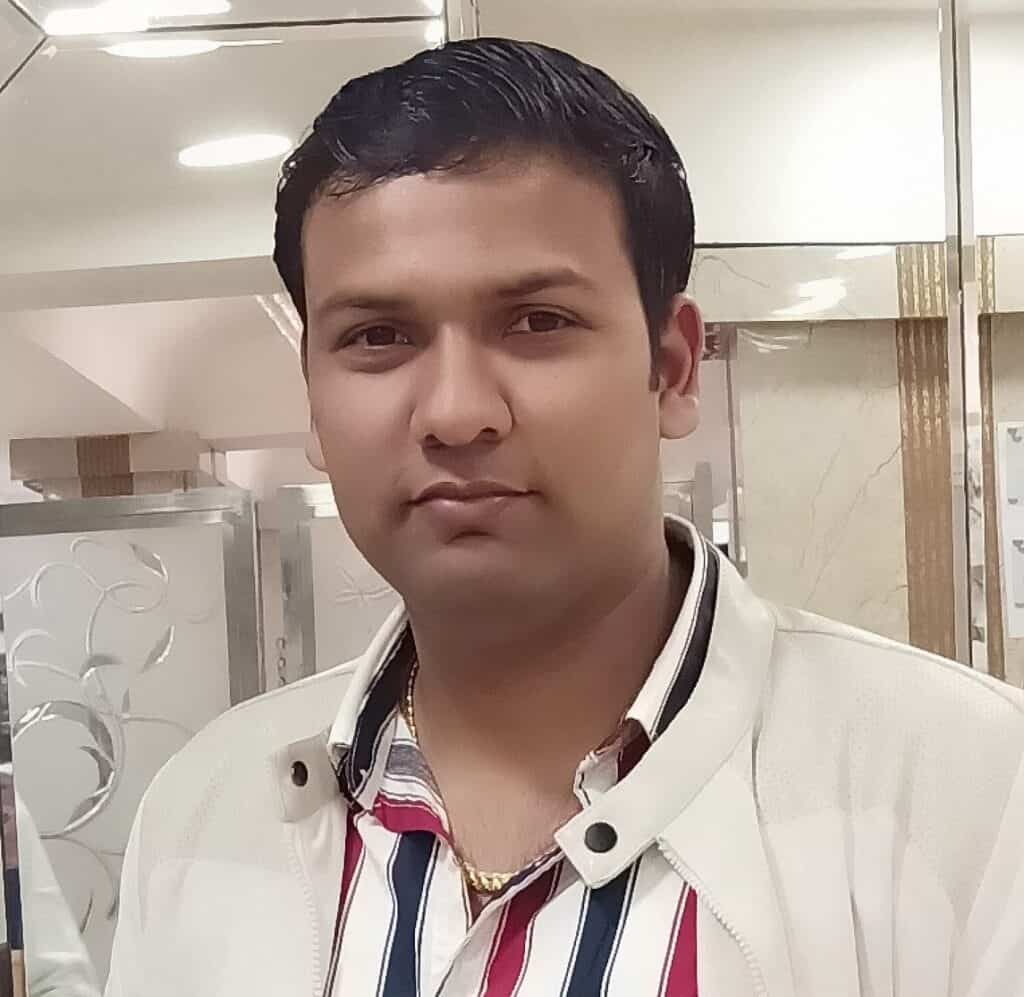 About Author
Nitin Dabas is a professional blogger from India. He is the founder of DabasBlog & SEOSachet. He is an SEO and content marketer who writes about Blogging, SEO, WordPress, and Online Marketing with the aim to help fellow bloggers get succeed in blogging.