Though you landed here, definitely you are looking for the best SEMrush Competitors in 2022?
Well, your search has been completed and here you find 11 Best SEMrush Alternatives (free and paid) that don't suck!
But!!
First, analyze why are you searching for alternatives to SEMrush?
Is Semrush pricing the reason or you don't need all the features & tools available in SEMrush?
While doing SEO and Keyword Research, Semrush is one of the best SEO tools you can ask for everything. It has a powerful keyword database and a comprehensive analytics tool.
We can say that SEMrush is one of the most prominent SEO tools that can fulfill all your SEO needs.
👉 SEMrush Free Trial: Discover low competition keywords easily
Instead of so many features, it doesn't fit everyone. It seems to be very costly to some bloggers. While for some bloggers, SEMrush pricing is justifiable to their needs. On the other side, those with small businesses may find SEMrush features to be extra for their campaigns.
The reason can be anything, but you are here to find some of the best alternatives to SEMrush.
This is the prime reason that I created this post.
I'm briefing the 10 Best SEMrush alternatives that will help you achieve your SEO goals.
SEMrush Competitors Pricing Comparison [2022]
Let's start with a comparison of the cost of SEMrush Alternatives. As it is the foremost thing to check for anyone when choosing the Best Keyword Research Tool or any SEO tool for their projects.
Most often, people want to check the competency of the tool by using their free trials. That is the reason many bloggers ask – "Is there any free SEMrush Alternative?"
So, allow me to give you a quick price comparison of Top SEMrush Alternatives (free and paid) that will be discussed in this article.
| | |
| --- | --- |
| Tool | Price |
| 1. Ubersuggest | Free* or $12/month |
| 2. SE Ranking | Free* or $18.6/month |
| 3. Keyword Revealer | Free* or $7.50/month |
| 4. KWfinder | Free* or $29.90/month |
| 5. Serpstat | Starts at $55/month |
| 6. Searchmetrics | Free* or custom price |
| 7. SpyFu | Free* or $33/month |
| 8. Moz | Free* or $99/month |
| 9. Ahrefs | Starts at a $7/7-day trial or $99/month |
| 10. SEO Powersuit | Free* or $299/year |
Except for Ahrefs and Serpstat, all tools mentioned above provide a free trial.
10 Best SEMrush Competitors & Alternatives in 2022
How do I find my SEMrush competitors?
Well, this definitive guide will help you decide which SEMrush alternative is worthy of you. So, spend no more seconds just exploring these tools.
SEMrush Alternatives Free of cost
We all like to have things free of cost. But it is the fact that we can't compare free resources to paid resources.
SEMrush justifies its price with what it offers to bloggers.
Though, we can't find everything free of cost, especially what SEMrush offers. As it's not only a keyword research tool but also useful when we search for domain analysis tools and ON-Page SEO checkers.
How do you use SEMrush competitors?
All we can do is we can choose the features we want from SEMrush and then search for free SEMrush Alternatives.
Free SEO tools are great for newbie bloggers to start their blogs, especially when they have a limited budget. These SEMrush Alternatives will definitely help them grow their blogs with a small budget, as they are quite similar to SEMrush.
So, why don't we start with competitors of SEMrush Keyword Magic Tool, which many bloggers search for?
SEMrush Alternatives for Keyword Magic Tool
I know that many of you will pay for SEMrush's "Keyword Magic Tool", but it is available only with a SEMrush subscription. So, the only thing you can do is look for a SEMrush Alternative that offers this service free of cost or at a low cost.
Let's explore some of the free SEMrush alternatives.
1. Ubersuggest by NeilPatel
The first tool that immediately comes to my mind when I think about the Best Free SEMrush alternative is – Ubsersuggest.
This is the tool that answers the query of many bloggers – Which is the Best SEMrush Alternative free of cost?
Initially, the tool was free to use when Neil Patel launched it. But, now it offers a 7-day free trial, and then it is provided free with limited usage.
It has all the features that a premium keyword research tool or competitors of SEMrush should have.

The interface of Ubersuggest makes it easy to use even by a novice. The best thing about this tool is that you don't even need to have an account to use it. Just enter your seed keyword and get hundreds of keyword suggestions within seconds.
The results displayed will show you the average monthly search volume, CPC, SEO Difficulty, and Paid Difficulty. It comes with a feature that shows searchers' age range and how many people click on SEO results.
For a newbie, the SEO difficulty should be less than 20. Along with this, the filters section of Ubersuggest helps you get your desired result in seconds.
You get keyword suggestions such as questions, prepositions, and comparisons. This is indeed an important feature that helps you increase your blog traffic by using keywords as questions and comparisons.
Ubersuggest is certainly a great tool for keyword research, but it doesn't beat SEMrush's Keyword Magic Tool.
Confused?
Here are the facts that will help you understand what I'm saying. Just check out the advantages and disadvantages of Ubersuggest in comparison with SEMrush.
Pros
Free to use even after a 7-day free trial
Hundreds of keyword ideas
Free site audit
Create a project for keywords rank tracking
Cons
The keyword difficulty score is not up to par
Can't store keywords list on cloud
2. SE Ranking
While talking about tools similar to SEMrush, how can we forget about SE Ranking Tool?
SE Ranking is an all-in-one SEO software that has all the features related to SEMrush. It has different tools to take a lead in search engine optimization.
Keyword rank checker, keyword suggestion tool, website audit, ON-Page SEO checker, Backlinks checker, and social media management are the salient features that a blogger asks for. They offered all these features in this tool at a comparatively low price.
With the increased competition in every niche, you've to check your blog's rank to make it better than that of your competitors. If you find discrepancies in keyword ranking, then it is the perfect tool for you.
You can use its "Keyword Rank Tracker" feature to detect on which page your post ranks for a particular keyword. It shows the 100% actual rank of your blog for that keyword.
The pricing model of SE Ranking attracts much more than any other SEO tools compared to SEMrush. Actually, it offers you some discount on a per 3-month basis plan. However, other SEO tools offer a discount only on annual plans.
🤩 All DabasBlog readers can use "DABASBLOG" as a promo code to avail of an extra 10% discount on SE Ranking pricing.
This is the plus point of the SE Ranking SEO tool that makes it an affordable SEMrush Alternative.
The SEO/PPC competitive research feature of SE Ranking offers you to track your competitor's organic and paid traffic. If you're running a small business or project, then SE Ranking is the best-suited SEO tool for you. However, for enormous projects, you may have to pay extra.
You may read the SE Ranking review for better utilization of the tool.
What makes SE Ranking an excellent alternative to SEMrush?
Though it is a great tool that can be used in place of SEMrush, everybody has different needs. To better understand this, you'll have to look at its advantages and disadvantages first.
Pros
You can use SE Ranking for keyword research even without creating an account
It provides you an affordable pricing model on the 3-months basis
Cheaper than SEMrush
Shows Google SERP up to the top 100 URLs
Great customer support
Cons
Takes time to update the list of big data
The keywords Rank tracking limit is less if you have many projects to work upon
I've personally used SE Ranking and I can say that it is a great tool.
3. Keyword Revealer
Similar to Ubersuggest and Google Keyword Planner, Keyword Revealer is also one of the top SEMrush competitors.
It is one of the best free keyword search tools for new bloggers to get some ideas for their seed keywords.
All you have to do is create an account and just put your seed keyword in the keyword research section and hit enter. You get insights into hundreds of keyword suggestions with average monthly volume, CPC, and keyword difficulty.
The keyword brainstorming feature of the tool is an incredible feature that allows you to collect all long-tail keywords with low difficulty.
Unlike Ubersuggest, it shows average word count along with average DA, and PA of SERP results, which is essential for keyword research and SEO purposes.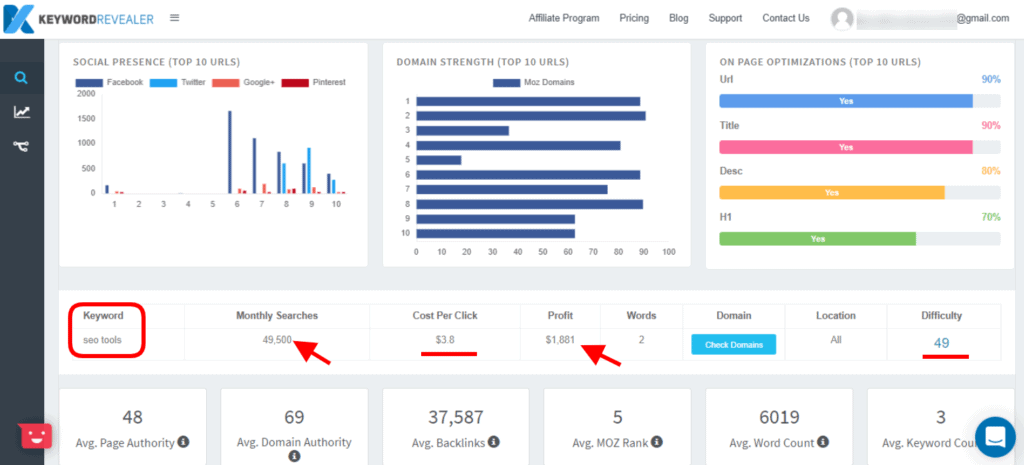 Keyword Revealer Price works as a plus point for it. As its monthly subscription costs around $10 and you get a 20% discount for the annual subscription. So, it is beneficial for those bloggers who have a low budget for their projects.
Read- Keyword Revealer Review: Discover Unlimited Keyword Ideas
Is there any downside to Keyword Revealer?
Yes, despite having such good features, it has a downside too. You have to manually calculate the keyword difficulty for your keywords.
So, does it live up to the best alternative to SEMrush?
If I talk about newbies, then surely it is good for SEMrush competitor analysis. But, for SEO experts and digital marketers, it doesn't really par with SEMrush.
Pros
Provides all LSI and long-tail keywords at a place
The keyword brainstorming feature is definitely a significant feature for getting keyword suggestions
A free trial of the SEO tool is available
You can save and download keyword lists
Cons
Manual keyword difficulty analysis
Limited keyword searches per day
4. KWFinder
KWFinder is also a free SEMrush Alternative for Keyword Analysis developed by Mangools. KWfinder is a superb choice for newbies who have a low budget to start their blogs.
It also allows you to find relevant keywords with a single click.
Besides Search Volume, CPC, and Keyword Difficulty, it also provides you Google trends for that keyword. This is a plus point of KWFinder that shows you whether your keyword is catching the audience's eyes or not. A visualization of the interest of the audience for a particular keyword definitely helps your blog's SEO strategy.
Apart from these features, it also shows you a table with the top 10 URLs on Google SERP, so that you can do deeper keyword analysis.
Though KWfinder offers a free trial, you get a few searches on the trial plan.
👉 A good practice to do Keyword research with a limited budget is to use different tools and then come out with the best keyword.
How do you think of KWfinder is a Semrush free alternative?
It's better to check the advantages and disadvantages of KWfinder in comparison with SEMrush.
Pros
Available with a free trial and a $29.90/month subscription
You can use it without creating an account
Show the top 10 results of Google SERP
Cons
It offers only 200 keyword suggestions per search
Keyword Gap Analysis is missing as available in SEMrush
SEMrush Competitors for Domain Analysis
Though, Keyword Magic Tool is the major feature that attracts users to it. But, we can't deny the fact that it has plenty of other features too. SEMrush Domain Analysis feature provides you a comprehensive data that is needed to improve your blog's SEO (Search Engine Optimization).
Let's explore some tools that can be used as alternatives to SEMrush.
10 Best SEMrush Competitors & Alternatives in 2022
5. Serpstat
Serpstat is also one of the best SEMrush alternatives that offer most of the features that SEMrush provides.
However, it is cheaper than SEMrush but provides you with keyword research and domain analysis. Though we have a list of alternatives to the SEMrush keyword analysis tool, why not look at Serpstat as a challenger for domain analysis?
Serpstat provides you with Domain and Page URL analytics besides keyword research. You just need to put the domain name in the column and hit enter.
It shows you the monthly traffic of that website, the total number of keywords for which it is ranking, and the site's search engine visibility.
You can visit the top pages of the website by using Serpstat's menu options.
Domain analysis is incomplete without backlink analysis. As it is one of the key factors that is necessary for ranking a website. Serpstat provides you all features that a domain analysis tool should have.
Serpstat: Best SEMrush alternative. Why?
It provides most of the same features that SEMrush provides at a low cost. To know more, look at the pros and cons of Serpstat against SEMrush.
Pros
Provides a lot of keyword suggestions at a cheap price
Free trial available
Cons
Not a deep analytics as of SEMrush
SEMrush has strong web traffic analytics
6. Searchmetrics
Many of you are well aware of Ahrefs, Moz, and Ubersuggest, we use these tools for Keyword Research and domain analysis.
Searchmetrics is also an SEO tool used for domain analysis. It is relatively unknown to other tools still; it is a great alternative to SEMrush.
Just put your domain name and within seconds it'll show you a detailed domain analysis. Searchmetrics will generate a comprehensive SEO report of your domain showing your blog's SEO visibility on desktop and mobile.
Besides this, it shows your blog's paid and organic search visibility.
The best part of Searchmetrics domain analysis is that it generates the entire report on a single page. You can analyze your blog's backlinks, organic traffic, and top competitors with a single click.
It's quite a known fact that the free version will not provide you with all the detailed analytics. Still, you can analyze major parts of your blog needed for search engine optimization.
Do you think Searchmetrics is the best challenger to SEMrush?
Check out its pros and cons for a deeper understanding.
Pros
Provides domain analysis report on a single page
Free version available
Cons
Less in-depth domain analytics as compared to SEMrush tool
Only basic research tools are available
7. SpyFu
SpyFu is another Alternative to SEMrush.
If you are looking for SEMrush to spy on your competitors, then SpyFu could be a better choice. As its name suggests, it is one of the best tools for competitor analysis. Though, it is useful for keyword research too.
By using SpyFu you can spy on your competitor's domain to find some hidden gems he's using. It brings out the top organic and paid keywords list of your competitor's blog with estimated profit.
What makes SpyFu one of the best SEMrush contenders?
Just like SEMrush competitive analysis, it delivers the best analysis of your competitor's domain
Performs ultimate analysis of your competitor's keyword
More affordable than SEMrush
Besides all these features, it provides you with estimated clicks for keywords and thus estimates PPC profit for that keyword.
You can do a lot of competitor analysis by knowing which keywords they are ranking, what is their traffic source, their backlink profiles, etc.
Pros
Most advanced competitor analysis features
More affordable to use
Unlimited data exports
Ultimate keyword research
Cons
Mainly focused on competitor analysis
Slightly fewer data as compared to SEMrush
Paid SEMrush Alternatives
Maybe you are looking for SEMrush alternatives, not just for saving money, but there could be some other reasons too.
You might have taken SEMrush free trial and didn't find it up to the mark for your projects.
Don't worry! If budget is not a problem for you, then some paid SEMrush alternatives are also available.
Let's explore some of the best paid SEMrush contestants. They could be cheaper, costly, or just as costly as SEMrush.
8. MOZ
Moz is the name that is known to everybody who deals in digital marketing and search engine optimization. It provides a lot of SEO tools that help in enhancing your blog's visibility on Google or any other search engine.
MOZ developed the famous search engine optimization metric – "Domain Authority" (DA).
We know the tool for its effectiveness in Keyword Research, Link Analysis, Domain Analysis, Page Optimization, and many more.
Moz Pro comes first when talking about its user-friendly interface for beginners. Moz Pro is an SEO tool that is quite similar to SEMrush in terms of its features and can be one of the best SEMrush competitors.
Moz offers many free SEO tools like link explorer, keyword explorer, Moz bar, etc, but with limited features. And the best part is that these can be used with no Moz Pro account.
Link Explorer shows you the number of inbound, external, and linking domains, page authority (PA), and domain authority (DA). These features help you understand where are you lagging in terms of SEO and on which part you should focus.
The Page Optimization feature helps you improve your blog's SEO performance. It tells you the issues that are hurting your blog and outranking it against your competitors.
Thus, it can be said that Moz Pro is a full alternative to SEMrush.
Pros
Free SEO tools
Beginner-friendly interface
Powerful Keyword Research and Domain analysis
Trusted and used by SEO experts
Cons
It takes time to retrieve the data
Advanced features of the tool are a bit expensive
9. Ahrefs
Next, we have Ahrefs, which is undoubtedly the best paid SEMrush alternative.
The tool is gaining more popularity among other SEO tools and many Pro Bloggers are using it for SEO purposes. If you know the industry even a little, then you know it ranks at the top among other SEO tools that can replace Semrush.
It doesn't even offer similar functions to SEMrush but is also offered at a similar price. As the "SEMrush Pro" plan starts at $119.95/month and the "Lite" plan of Ahrefs starts at $99/month.
One of the best features that both tools offer is "Disavow Links". The feature is more helpful in case you are having a critical link pointing to your site. It simply detects that low-quality critical link and makes your site Google penalty-free.
The Site Audit feature simply tells you where you should work on your site to improve its performance. It shows the issues that hurt your site's health.
All these features show the higher competitiveness of Ahrefs than others.
What makes Ahrefs a better SEMrush Alternative?
Though both of the tools have similar features with similar prices. Ahrefs offers a feature that lags in SEMrush and that is an SEO toolbar extension for Chrome and Firefox.
Well, most bloggers preferably take time in content creation and they simply want some SEO metrics visible while doing content research.
In such a case, this SEO toolbar proves beneficial as it shows search metrics like monthly volume, CPC, keyword difficulty, and the number of backlinks on Google SERP results.
This helps bloggers quickly analyze the keyword competition and search volume of the particular keyword.
Pros
SEO toolbar extension for Chrome and Firefox
In-depth site explorer feature
Almost a dollar cheaper than SEMrush
Cons
We can use it only for one user at a time, there is no option to add more users
10. SEO Powersuite
At last, we come to a SEMrush alternative which is desktop-based software. It helps you monitor your backlinks, and competitor analysis, track your keywords' ranking, and site audits.
Actually, SEO Powersuite is a pack of four different tools: Link Assistant, Rank Tracker, SEO Spyglass, and Website Auditor. As the name suggests, all the tools have their dedicated tasks.
If you want to spy on your competitor's blog, then you can use SEO Spyglass to monitor his backlink profile. Rank Tracker helps you determine the rank of your keywords. However, the Website Auditor helps you improve your site's performance by analyzing your website.
Link Assistant helps your monitor your blog's good and bad links. It helps you in detecting bad-quality links and simply remove them.
Pros
It offers 4 tools in a package with a lifetime deal
Ultimate keyword analysis
Audits your site for any penalty
In-depth backlinks report
Cons
It is a desktop software, thus requires a huge download to use it
👉 SE Ranking Tool: Should You Try It?
Final Words: SEMrush Competitors & Alternatives
All the SEMrush alternatives discussed here offer the best features and are quite similar to SEMrush. But we all have different needs at different times. So, it is necessary to explore each function of the alternatives to SEMrush so we can use them at the time we need them.
As there are some prominent features in these competitors that are sufficient for you instead of purchasing the whole subscription of SEMrush.
In my view, Ahrefs wins the battle!
Apart from Ahrefs, SE Ranking is an all-in-one SEO tool you may use in place of SEMrush to get excellent results.

👉 Check 14-day free trial of SE Ranking
Quick Tip: Most of the SEO tools discussed here offer free trials. You must use them before concluding.
However, it totally depends on you what features you want for your blog's SEO at a time and that is why we explored these alternatives to SEMrush.
Which SEMrush Alternative (Free or Paid) is your favorite one? Please share your views in the comment section.
👉 If you liked the article, please, don't forget to share it.