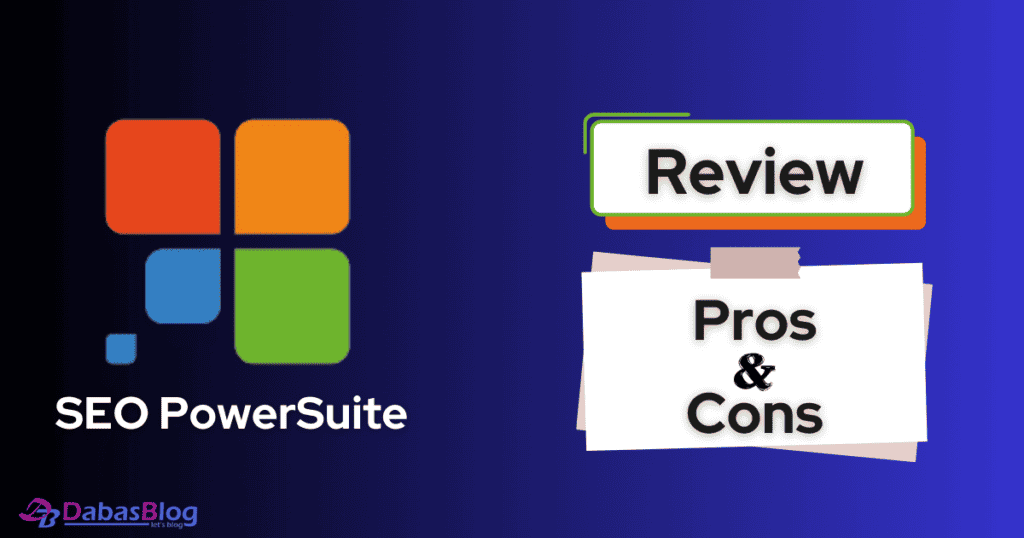 Hey there, welcome to the detailed SEO Powersuite Review 2023.
Over the last three years, I've immersed myself in the dynamic world of SEO, experiencing its ever-evolving landscape. This journey has been a thrilling adventure filled with algorithmic twists, keyword strategies, and endless optimization experiments. Along the way, I've assessed countless SEO tools, seeking the elusive game-changer we all crave.
Today, I'm thrilled to introduce you to a standout in my SEO arsenal: SEO PowerSuite. With my extensive background in the field, I understand the daunting task of selecting the right SEO software amidst a sea of options. That's why I've decided to provide unbiased, in-depth, and hands-on reviews of critical SEO tools.
In this review, we'll explore the SEO PowerSuite ecosystem—Rank Tracker, WebSite Auditor, SEO SpyGlass, and LinkAssistant. We'll unveil their potential and highlight areas for improvement.
Your time is valuable, and choosing the best SEO tool can make or break your digital success. Reading this review is your shortcut to unlocking the full potential of the SEO software, propelling your online presence to new heights. Don't miss out on the insights that can transform your SEO strategy.
Are you ready to take your online visibility to new heights?
Let's dive in!
Pros and Cons
Quick Verdict
If you're an SEO enthusiast who is serious about getting results, SEO Powersuite is definitely for you.
Though it is a comprehensive SEO toolkit offering four powerful tools to optimize online presence, I like Website Auditor the most.
You might think that it's too expensive for you at this stage, but it's actually not. I grabbed the SEO Powersuite lifetime discount (which comes twice a year) that offers me a flat 82% OFF and now it renews at $109 annually.
Though it helps you build a robust SEO strategy, it becomes difficult to find everything in all the different modules of the software.
It's a dedicated search engine optimization tool that works on 4 basic pillars to boost your blog SEO.
Who is it for?
a blogger who wants to find profitable keywords to rank higher
an SEO professional who wants to build a robust SEO strategy to beat his competitors
a digital marketing agency that wants to send white label SEO reporting to its clients
someone who wants to dominate the search engine rankings
looking for a totally cloud-based SEO tool
not committed to implementing its recommendations
SEO Powersuite Review
What is SEO Powersuite?
SEO PowerSuite is a comprehensive SEO toolkit offering four powerful tools to optimize online presence.
Rank Tracker — checks your target keywords rank on various search engines and helps you find potential keywords by analyzing their keyword difficulty
WebSite Auditor — checks your website for critical on-page issues and helps you with content optimization
SEO SpyGlass — helps you check backlinks pointing to a domain
LinkAssistant — helps you automate the process of backlink outreach
It provides advanced features such as local SEO capabilities, competitor analysis tools, and content optimization assistance.
With competitive pricing plans and exemplary customer service, it is the go-to choice for users looking to maximize their search engine rankings.
Key Benefits of Using SEO Powersuite
🚀 All-in-One SEO Arsenal: No more juggling multiple tools. SEO PowerSuite offers a comprehensive toolset, covering every aspect of SEO, from keyword research to backlink monitoring. It's your one-stop-shop for optimization.
🎯 Precision Keyword Research: Say goodbye to keyword guesswork. The toolkit equips you with powerful keyword research tools to identify high-value keywords, giving you a clear roadmap for content creation and optimization.
📊 In-Depth Competitor Analysis: Crush the competition with detailed competitor insights. Discover their strategies, uncover their backlinks, and identify gaps you can exploit to rise above them in search rankings.
🔧 Technical SEO Made Simple: Tackle technical SEO issues effortlessly. It helps you identify and fix site errors, ensuring your website is search-engine-friendly and primed for higher rankings.
📈 Track Your Progress: Stay in the know with real-time keyword tracking. Monitor your keyword rankings and gauge the effectiveness of your strategies, so you can make data-driven decisions.
🌐 Local SEO Domination: For local businesses, SEO PowerSuite is a game-changer. Optimize your local search presence, manage citations, and boost your visibility where it matters most—right in your community.
🔍 In-Depth Backlink Analysis: Uncover the power of quality backlinks. SEO PowerSuite helps you find and assess backlink opportunities, ensuring your link-building efforts drive results, not penalties.
💡 Actionable Reports: Impress your clients or your team with professional, customizable reports. Deliver insights and progress in a clear, digestible format that showcases your SEO prowess.
💪 Unleash Your SEO Potential: Whether you're an SEO novice or a seasoned pro, SEO PowerSuite empowers you with the tools and insights needed to take your online presence to new heights. No more struggling in the dark; it's time to shine in the search results.
In a digital landscape where visibility is key, SEO PowerSuite is your ultimate ally. It doesn't just offer features; it addresses your pain points, equipping you with the knowledge and tools to conquer the SEO challenges that stand in your way.
Say hello to improved rankings, increased organic traffic, and a stronger online presence—all at your fingertips with SEO PowerSuite.
How is it different from competitors?
Let's explore how SEO PowerSuite stands out from the crowd.
🎯 One-Time Payment: SEO PowerSuite's pricing model is a breath of fresh air compared to other tools, which often involve monthly subscriptions. With SEO PowerSuite, you pay a one-time fee for the software, ensuring cost-effectiveness in the long run. This is particularly beneficial for small businesses and freelancers looking to manage their budgets efficiently.
🔍 In-Depth Backlink Audit: While other SEO tools also offer robust backlink research, SEO PowerSuite goes the extra mile by allowing you to uncover backlink opportunities through link prospecting. This is especially valuable for proactive link building and outreach strategies.
💡 In-Depth On-Page SEO: SEO PowerSuite's WebSite Auditor delves deep into on-page SEO analysis, providing actionable insights into how you can improve your website's performance. SEO PowerSuite's focus on on-page optimization is more comprehensive and user-friendly for beginners.
🌐 Local SEO Focus: For businesses with a local presence, SEO PowerSuite's focus on local SEO optimization sets it apart. It offers specialized tools for managing local citations, ensuring your business excels in local search results.
SEO PowerSuite's versatility and cost-effectiveness make it a standout choice for users looking for a powerful and flexible SEO toolkit.
What does my experience say about the toolset?
What do I like?
Areas for improvement
SEO PowerSuite Features
SEO PowerSuite has emerged as a comprehensive SEO toolkit, offering four main tools that cater to various aspects of search engine optimization. These tools include:
Each tool is designed to help you gain a competitive advantage and dominate the digital landscape.
Utilizing SEO PowerSuite can enhance a user's backlink profile, bolster keyword strategy, optimize internal links and boost high-quality traffic, which ultimately leads to outperforming competitors.
Users can get access to SEO PowerSuite's powerful tools without any time limitations through its free version, which requires only a name and an email address. With its user-friendly interface and comprehensive set of features, this software suite has become an indispensable asset for those looking to optimize their online presence and achieve higher search engine rankings.
Rank Tracker
Rank Tracker in SEO PowerSuite offers comprehensive keyword research, tracking, and analysis, including keyword gap analysis and Google account syncing for organic keyword harvesting. As an essential element of SEO, keyword research helps you identify the most suitable keywords to focus on for optimization.
Rank Tracker simplifies the process of rank tracking, making it easy to monitor a website's performance across various search engines like Google, Bing, and Yahoo. It achieves this by offering features like competitor research for keyword ideas, keyword filtering for focusing on the best organic traffic-driving keywords, and generating rank-tracking reports.
Furthermore, it supports over 570 search engines and allows you to specify your target location down to the street address, making it a user-friendly SEO tool for both beginners and seasoned professionals.
WebSite Auditor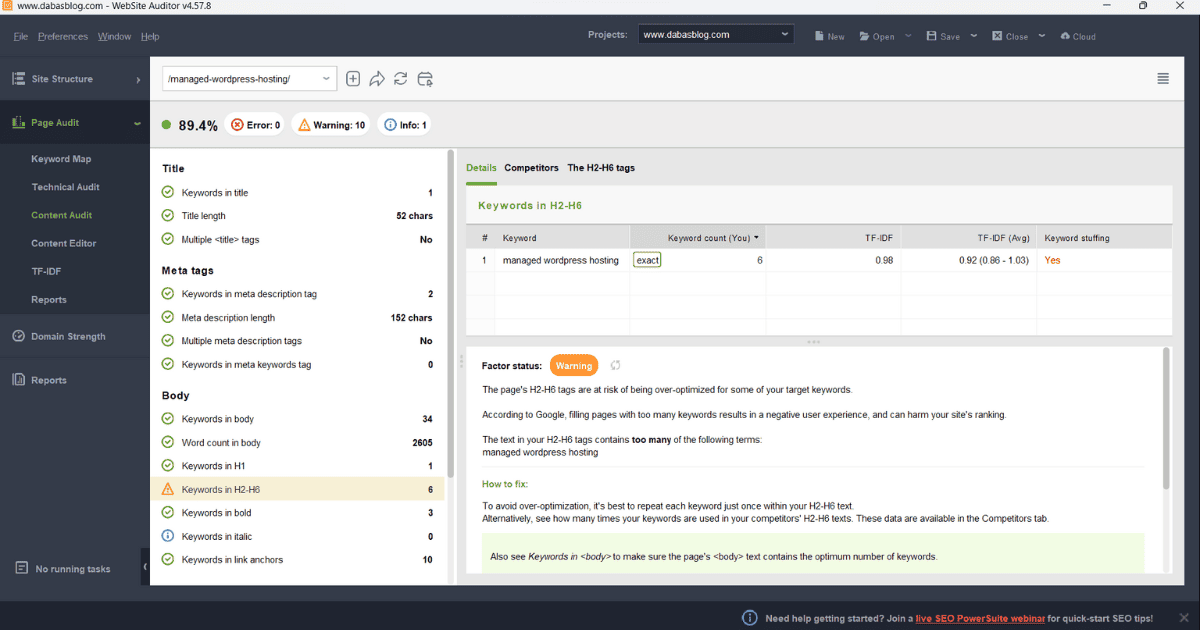 WebSite Auditor in SEO PowerSuite is designed to help users identify and resolve website issues, optimize internal link structure, and enhance on-page SEO. Equipped with advanced content optimization and technical audit features, this tool evaluates elements that could potentially affect your search rankings, such as your site's robot.txt, and provides instructions on how to rectify any issues found.
In addition to technical site audits and page optimization tasks, WebSite Auditor also offers the following features:
Visualization tool for generating interactive site maps that display both general and detailed structures of your site, along with the various connections between your pages
User-friendly nature
Feature-rich design
Regular updates
WebSite Auditor has established itself as a vital tool for improving website performance and optimizing on-page SEO.
SEO SpyGlass
SEO SpyGlass provides comprehensive backlink analysis, competitor comparison, and penalty risk assessment, allowing users to construct a robust and secure backlink profile. By analyzing your competitors' backlinks and identifying those you may not have, you can gain valuable insights into their strategies and work towards outranking them.
The Link Intersection feature in SEO Spy Glass helps users identify backlinks shared among certain domains, allowing them to observe what their competitors are receiving that they may not have. Furthermore, Penalty Risk in this module enables you to assess the backlinks originating from potentially hazardous websites by analyzing their respective Penalty Risk score.
With its powerful capabilities, Spyglass in the PowerSuite has become an essential tool for building a strong and safe backlink profile.
LinkAssistant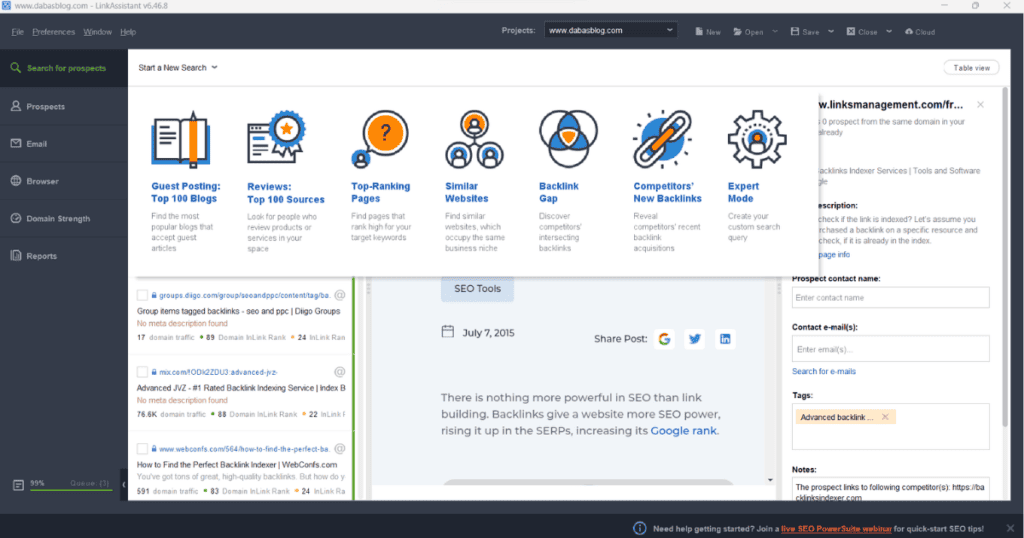 Link building is an essential aspect of SEO, and utilizing a backlink assistant like Link Assistant can streamline the process by finding relevant prospects, automating outreach, and monitoring link performance.
This tool generates a comprehensive list of websites related to your niche and offers the "look for prospects" feature, enabling users to search for prospects using relevant keywords.
To facilitate outreach, LinkAssistant provides customizable email templates, the ability to verify email addresses, and options to personalize messages using tags.
With its extensive range of quality metrics, including page/domain authority, Alexa rank, domain age, and social shares, Link Assistant helps you identify the most valuable links to pursue, ensuring your link-building efforts yield the best results possible.
Advanced SEO PowerSuite Features
In addition to the core tools, SEO PowerSuite also offers advanced features that cater to specific needs, such as:
Local SEO capabilities for brick-and-mortar businesses
Competitive analysis tools for gaining a strategic advantage
Content optimization assistance for better search engine rankings
We'll examine these advanced features in detail and explore how they can elevate your SEO efforts.
Local SEO Capabilities
Local SEO capabilities in SEO PowerSuite help businesses target specific locations and improve their local search rankings. By configuring local search engine rankings tracking in Rank Tracker, users can easily monitor their website's performance in different locations, ensuring they reach their target audience effectively.
With a focus on optimizing online presence for local search results, local SEO involves:
Increasing local traffic and visibility
Optimizing Google My Business profiles
Engaging on social media
Identifying local keywords
Creating NAP citations
Improving online visibility for physical locations
Businesses can efficiently target their desired audience and control their local market by utilizing the local SEO capabilities of SEO PowerSuite in their SEO campaign.
Competitor Analysis Tools
Competitive analysis in SEO PowerSuite enables users to:
Analyze and outrank their competition by uncovering their backlink and keyword strategies
Gain a competitive edge
Make informed decisions about their own SEO tactics
Scrutinize the strategies of other market players
SEO PowerSuite offers a range of competitive analysis tools, including competitor keyword research, competitor SERP analysis, and competitor backlink audit. By utilizing these tools, users can gain valuable insights into their competition's strategies and work towards outranking them in search engine results.
Content Optimization Assistance
Content optimization assistance in SEO PowerSuite includes:
Tools, software, and services to enhance the quality and efficacy of content
Guidelines for optimization
Assistance for various objectives, including search engine optimization (SEO), audience engagement, and goal attainment.
The benefits of content optimization assistance include enhanced content visibility in search engine results, increased audience engagement, and assistance in achieving specific objectives. The content optimization tools and insights provided by SEO PowerSuite enable users to craft engaging, high-quality content that not only ranks well in Google but also resonates with their target audience.
Whether you're an individual or working as an agency, the tool is helpful in running a fruitful SEO campaign.
SEO PowerSuite Pricing & Packages
SEO PowerSuite offers three pricing plans catering to different user needs and budgets:
Forever Free Plan: Provides access to all key functionalities, but users are unable to save their projects with history or export any data obtained from the software. This plan is ideal for those looking to test the waters and gain a basic understanding of what SEO PowerSuite has to offer.
Professional Plan: Offers advanced features such as scheduled SEO tasks, white-label reporting, and unlimited data storage. This plan is suitable for small to medium-sized businesses and individual SEO professionals.
Enterprise Plan: It is a value for money plan designed for larger agencies and businesses with multiple users. It includes all the features of the Professional Plan, along with additional features like search safety settings, custom workspaces, and priority support.
For users who require more advanced features and functionality, the Professional Plan, priced at $299 per year, is the optimal choice. This plan is suitable for webmasters and website owners who don't require substantial data processing and client report generation. With its comprehensive set of features and affordable pricing, the Professional Plan offers great value for money.
The Enterprise version, priced at $699, offers all the features of the Professional Plan, as well as the capability to export PDF reports and generate SEO reports for clients. This plan is perfect for both small and large SEO agencies, web design/development, and digital marketing companies. It allows SEO specialists to easily export stats and customize reports for their customers.
SEO PowerSuite's variety of pricing plans and features ensures a perfect fit for a wide range of users, catering to their specific needs and budgets, making it a value for money suite.
Ease of Use & Compatibility
SEO PowerSuite is designed to be user-friendly, with an intuitive interface and helpful tutorials and guides to ensure users get the most out of the software. Its compatibility with Windows, Mac, and Linux operating systems makes it accessible to a wide range of users, regardless of their preferred platform.
The seamless user experience and compatibility across various operating systems provided by SEO PowerSuite ensure that users can concentrate on enhancing their online presence and achieving higher search engine rankings, without any distractions from technical errors or platform limitations.
Customer Support & Community
SEO PowerSuite is committed to providing exceptional customer support to its users. They offer comprehensive support options, including email, chat, and a dedicated Facebook group, ensuring that users have access to assistance when needed. The SEO PowerSuite User Group on Facebook is a valuable resource for users to ask questions, share insights, and learn from fellow users and experts alike.
In addition to its excellent support options, SEO PowerSuite has a reputation for going above and beyond for its users. When there were issues with the Rank Tracker tool not providing accurate information, they took the necessary steps to rectify the issue and offered a complimentary 6-month extension to their yearly Rank Tracker subscription as an apology for the inconvenience.
Exceptional customer support and dedication to user satisfaction set SEO PowerSuite apart from the competition, making it a top choice for seasoned SEO professionals.
Real User Testimonials
Real user testimonials highlight the effectiveness and value of SEO PowerSuite, with many praising its comprehensive features and ease of use. Users have reported significant improvements in their search engine rankings, increased traffic, and overall satisfaction with the software suite.
Users also appreciate the software's user-friendly interface, intuitive design, and exemplary customer service, making SEO PowerSuite a popular choice among both beginners and experienced professionals alike. SEO PowerSuite, being one of the most comprehensive and effective SEO tools available today, has amassed numerous positive testimonials and comes highly recommended by its users.
Conclusion
SEO PowerSuite, with its comprehensive toolkit and advanced features, has proven itself to be an invaluable asset for digital marketers and website owners.
Its user-friendly interface, compatibility across various operating systems, and exceptional customer support make it a top choice for those looking to optimize their online presence and dominate the digital landscape.
If you're ready to take your SEO efforts to new heights, SEO PowerSuite might just be the game-changer you've been searching for.
SEO PowerSuite Alternatives
When compared to alternatives like Semrush, Ahrefs, SE Ranking, and Accuranker, SEO PowerSuite showcases its competitive edge in terms of features, pricing, and support options. With an annual subscription starting at $596, SEO PowerSuite is more cost-effective than Semrush's $129.95 monthly fee and offers more features.
In terms of support options, SEO PowerSuite provides a greater variety than both Accuranker and SE Ranking, ensuring users have easier access to assistance and feedback when needed. Furthermore, SEO PowerSuite offers a wider range of features than its competitors, making it a more comprehensive and powerful SEO tool.
In conclusion, SEO PowerSuite stands out from its alternatives, offering a comprehensive suite of features, competitive pricing, and extensive support options. As a result, it has become the go-to choice for many users looking to optimize their online presence and achieve higher search engine rankings.
Frequently Asked Questions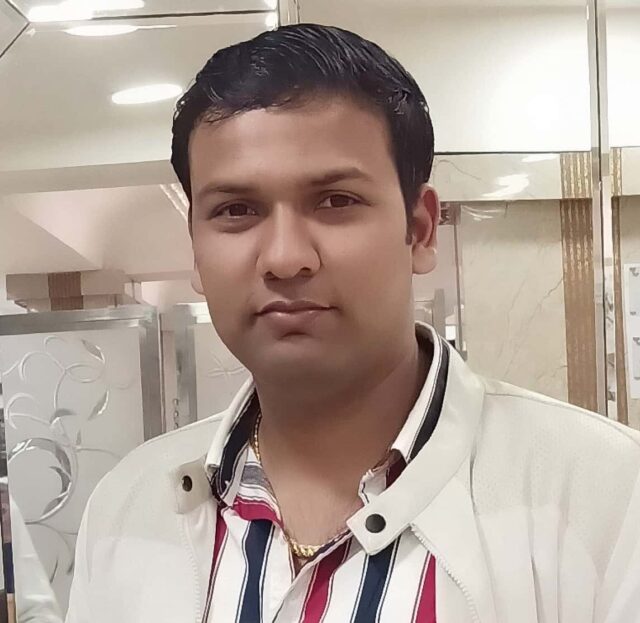 About Author
Nitin Dabas is your SEO guide. Expert in keywords, on-page SEO, and link-building, he has boosted rankings for countless clients. Read his blog and join his success stories.