Anyone who's ever had the desire to start a blog knows the general concept of it. But the road to a successful blog is not always easy.
It's natural for a human to err. An Amateur Blogger makes many blogging mistakes in his career.
If you're a new blogger, I'm sure; you have also made many mistakes.
Don't worry!!
It's very common among amateur bloggers when starting up any project, even though I also did.
However, it is a must for them to learn from these mistakes, or else they won't succeed. But many amateur bloggers don't even know what mistakes they are committing.
Many times you analyze yourself by putting a question- Why my blog post is not ranking instead of doing all necessary SEO?
The reason is the most awful amateur blogging mistakes that New Bloggers do while starting their blogs.
These blogging mistakes should be avoided if you want to survive online.
Here in this article, I'm introducing you to the Top 13 mistakes that an Amateur Blogger makes. These mistakes can ruin your blog if you don't fix them.
Trust me, you'll surely get to know about which mistakes you were doing in negligence of. Definitely, you'll get the solutions too.
What you'll get after reading this article?
One thing that is surely going to happen with you guys after reading this amateur blogging guide- you'll not do any more mistakes as you did before. However, you'll get to know how to fix those amateur blogger mistakes you did.
You'll get a better direction to run your blog efficiently and profitably.
Now, let me allow you to put some terrible mistakes that an amateur blogger makes.
You'll never succeed with these Amateur Bloggers Mistakes!
1. Using Free Resources
While starting any project, we have the tendency not to invest too much.
That's the reason we choose free resources as our priority. But, it's the fact that you can not make money using everything for free.
👉 How To Start A Blog For Free in 2023?
Free Domain
This is the biggest mistake of an Amateur Blogger he uses a Free Domain for his blog. Every new blogger commits this mistake at the start of his blogging career. On the other side, it's the truth that only a Custom Domain can give your blog exposure.
It may be the case that you've started earning from the free domain, but at last, choose a custom domain for building the brand.
A custom domain builds trust among the audience that every blogger wants. Also, you can build a brand only by using a custom domain. So, it's indeed necessary if you want to go around in the future with blogging.
If you are committing this mistake, then you should avoid this as there are many benefits of using a custom domain.
So, I recommend every Amateur Blogger use a custom domain for his blog. You can register a custom domain for your blog with any Domain Name Registrar like Namecheap, GoDaddy, BigRock, etc.
Free Web Hosting
The second biggest mistake that Amateur Bloggers make is that they use free hosting or cheap hosting for their blogs. If you're doing the same mistake, then please wake up your mind!
If you think you can sustain your blog in the long run by using free or cheap hosting, my friend, your blog is at stake!
For example, if you are using Blogger.com to run your blog, then you do not get this customization & optimization that good hosting offers.
Above all, if you're using cheap hosting, then you may face downtime on your site anytime. The server will go down if your traffic spikes. So, you require good hosting for your blog to run smoothly.
You've to keep in mind that every venture needs some investment. If you fear that investment, then you cannot dream big. There are many excellent companies that offer the best hosting to host your blogs like Siteground, A2 Hosting, Bluehost, GreenGeeks, etc.
If you want a free custom domain for your blog, you may choose a good paid hosting like Bluehost and get a free custom domain for a year.
I've written the hosting reviews on some of them. You may check the plans of these web hosting providers and can choose what suits your need.
Top 13 Amateur Blogger Mistakes That Won't Let You Succeed
2. Ignoring the Blog Design
At the start of their blogging career, many amateur bloggers do not understand the value of Blog Design. They think that blog layout doesn't matter in Search Engine Optimization. If you are also thinking the same, then please change your mindset guys!
The First Impression Is The Last Impression!
A Good blog design positively scales up SEO, and a poor layout of your blog may bring down your site.
In the initial phase of blogging, many bloggers don't understand professionalism as a result, we see many Amateur blogs. The same mistake I did in my initial days of blogging. I also choose free themes over premium themes. But, I want you guys to avoid this mistake. As I faced the adverse effects of free themes.
I recommend you guys choose a theme that is SEO optimized and has an impressive layout. Now, I'm using the KadenceWP Theme theme on this blog, which is the fastest, most lightweight, and most highly customizable theme I have ever found. Other lightweight and fast WordPress themes are GeneratePress, AstraWP, Genesis, etc.
I have written a detailed review of the GeneratePress theme that may help you in exploring it.
Why I am saying to have that Good Design helps in SEO?
Just imagine that if you open a site that you don't find worthy to look at just because its layout is not good. The site where you don't find a clear navigation area to follow the blog posts.
Will you open it again?
NO!! Everybody does the same, they don't open those sites again.
When Google or any search engine notes that users avoid that site, it marks a clear sign to them that the site is not user-friendly. As a result, Google downranks those sites and doesn't show them as a good ranking.
The second thing is free sites are not SEO optimized. What does it mean?
Actually, a site that is schema optimized has a significant chance to outrank its competitors.
What is Schema?
Simply, you can understand it as tags that show the search engines what the particular site or webpage is about.
Thus, Google algorithms understand those tags and provide that web page a good ranking on the search engines.
One more importance of using premium themes is that they update regularly for bug fixing. This feature is indeed necessary for your blog's reputation and security. Also, many new options come around when you get a theme update.
So, how important is Blog Design, and how ignorant newbie bloggers are regarding this?
I recommend you guys avoid these amateur blogger mistakes and choose a good theme for your blog.
You can choose any of the good themes available in the market, i.e., GeneratePress, Astra, Genesis, etc.
Also read- GeneratePress vs Astra: Who Wins the Battle?
3. Neglecting the SEO
SEO (Search Engine Optimization) is the major parameter of ranking any blog on search engines. But, many new bloggers often neglect it and keep on writing regardless of a proper SEO technique.
Writing only for the money, not for the users!
Money is an important aspect of our life. But making efforts to keep only money in mind doesn't fulfill your needs.
Ignoring the importance of SEO is the next mistake that an Amateur Blogger does.
Remember one thing SEO is optimizing your blog for search engines. Simply it means, your blog can achieve a good rank on Google, if and only if you well optimized it for Google.
Many amateur bloggers don't understand its value, which often results in the closing of those amateur blogs.
So, how can you optimize your blog for search engines?
I marked the importance of SEO but now it's time to understand how can you do SEO to get a good rank on Google. There are many factors that affect Search Engine Optimization (SEO). But the most important one is proper keyword research.
Yes!! It is the most important factor that amateur blogger often forgets about. Just think about a second that you write a blog post doing no keyword research. What would you have been writing in that post? Can it be the one that the users are searching for?
A big NO!! It may be, but the chance is very low.
Now think that you have written a blog post on How to feed the cats? You have done proper research while writing this blog post and you know which keywords are being targeted by the users. You can add those keywords to your post and it helps Google to find that the post is more relevant to the query that users are searching for.
As a result, Google presents your post on the first page if you fully optimized it for that specific keyword.
You can use tools like SEMrush, and SE Ranking, for keyword research.
So this is the most important amateur blogger mistake that is killing your blog. Of course, you can get rid of these mistakes.
But the question is how to deal with these top 3 Amateur Blogger mistakes?
I want to give detailed reasons why you aren't succeeding in blogging. Just pay heed to the following:
Never think that you can reach the top without investing in the project. Yes, everything needs investment to succeed, and the same is with blogging. You always pick up a good hosting and custom domain to start up your project.
Don't underestimate the value of a good Blog Design. Yes, a good layout has a positive impact on search engines and it helps reduce your blog's bounce rate.
Never neglect SEO. Without search engine optimization, you can't achieve your goals. So, it is a must to pay attention to SEO and understand what is changing in it with time. So that you can build a blog that can adapt to the change in Google algorithms with effective SEO strategies.
Remember the Evolution theory of Charles Darwin- One has to change according to nature if he has to survive.
What Amateur Blogger Mistakes Are Killing Your Blog?
4. Copied Content
Of course, writing content is a tough job. But you can't copy the content of others just for the sake of increasing your blog content. This is not only irresponsible and shameful but also can encounter you with unexpected copyright issues.
Many amateur bloggers often copy other bloggers' posts and think that now they can easily rank on Google. But it is not the formula to outrank your competitors.
You put copied content on your blog and Google immediately picks it up as copied content and can de-index your blog. This is the reason you often scream about why my blog posts are not ranking on Google?
How Google can find it?
The simple answer is just to write 1-2 lines of the blogs in inverted commas ("_______") and see the magic. Google immediately put the matter of copied content in Plagiarism.
So, what is Plagiarism? It simply means copying someone else's content. You can check your content for plagiarism by using the plagiarism checker tools online.
So, if you are also one of those bloggers who is unknowingly committing the same mistake, then please be aware! This practice can kill your blog.
If you find someone copying your content, you can simply file a DMCA complaint against him and Google will take further necessary action.
5. Not planning your content
Another mistake, that is most common amongst amateur bloggers. Yes, being inconsistent and not planning your content is the next mistake that you should avoid.
When starting any blog, we just write a blog post immediately and next in 5-6 days, and the next after 20 days. This should not happen if you want to get success in blogging. You should regularly update your blog posts.
Just analyze one thing, if you went to a web page you find it informative. You'll definitely go there for more information in the coming days. Now, if you don't find the blog updated, will you go there again?
NO!!
That's the reason Google loves content that updates regularly. If you regularly update your blog content for the users. Definitely, you will see an increase in traffic because it improves your blog ranking on Google.
So you should regularly update your blog content. Follow some of the best bloggers and analyze their blogs with what they have written. This will give you an idea to write. But, beware of copying the content, you just have to get an idea.
The second thing is to find the problems in your niche that users are trying to find out.
You can try Quora to find the problems, as it has a huge user database and daily you can find out many queries that request answers. This will help you write a blog post about that problem.
In this way, you can write blog posts regularly and update old content when requires.
6. Ignoring Social Media
This is the mistake that I often see in many amateur blogs. They just write the content and think that their job is over. But it is not such simple guys.
If you are also committing such mistakes that often an amateur blogger does, then please avoid them.
Blog distribution is also equally important. You can not forget that social media that can help you get your targeted visitors. Content distribution or sharing on social media channels plays an important role in it.
What is Social Sharing or Content Distribution?
Content distribution is the strategy that immediately comes into play when you finished writing your blog post. Blog distribution helps you in getting targeted visitors for your blog when you share your blog post on dedicated groups on social media platforms.
Your blog post can go viral if you followed an excellent strategy in the social sharing of your content.
Amateur Blogger Mistakes that your SEO Gurus won't tell you
The strategy can include noting the time when your profile on a particular social media channel gets exposure.
You just have to share your blog posts at different times on social media platforms and note the time when it gets more visitors. This gives you an idea of when your targeted visitors be active on that social media platform.
Next time you publish your blog post, just share it at that time and get a targeted audience for your blog.
If you find it difficult to share your blog posts on social media channels, you may go with Semrush Social Media Monitoring Tool.
This is the technique that many SEO experts use and get benefit from it. Now, it is your turn to prove it beneficial for yourself, too.
7. Too Broad Vision
Having a broad vision is good. But, initially, blogging, focuses on a single niche.
There are many bloggers who are operating multi-niche blogs but for a newbie, it would not be the right decision.
I have seen many amateur blogs focusing on a variety of niches to earn from every corner, but coming out to nothing.
Don't Sail in Two Boats at the Same Time!
You must have heard the quote. If you do so, then your boat will get drowned. There is a huge team behind those multi-niche blogs to run. If you, as an amateur blogger, focus on multi-niche then, it would not be beneficial for you.
So my advice is to focus on a single niche at a time.
3 Ideas you can steal from Amateur Blogger Mistakes
8. Ignoring List Building
The most common and biggest mistake that an Amateur Blogger makes is Not Building The Email List from Day 1.
Though I was lucky in this case. I started building a list as soon as I started this blog and I still continued it. But I know many of my friends who are now repenting for not doing so.
This is my personal advice to all newbie bloggers to build an email list immediately. Why am I saying this?
There is a major benefit to using an email list. After building the email list, you'd have a database of targeted users who are interested in what you have published. So, in the future, whenever you share your blog post, you can send them an email to look at it.
Thus, you can nurture your blog traffic, and obviously, it convinces them to buy from you.😍
Also read- Convertkit Pricing 2023: Which Is The Best Plan For You?
You get control over your audience which email you should send to which type of subscribers. You can use automation to provide your audience with a dedicated email course.
Email converts better!
So, I recommend you work on it immediately. What email marketing tools you can use?
There are many email marketing tools available, and you can choose what best fits you. Some of the best tools for email marketing are- Convertkit, Aweber, Active Campaign, MailChimp, etc. These offer a free trial, you may try them.
It is a mistake that many amateur bloggers do, but you can avoid it. In this way, you can prevent yourself from making such amateur bloggers' mistakes.
Top 13 Amateur Blogger Mistakes That Won't Let You Succeed
9. Not Linking to Others
Whenever newbies start a blog, their primary goal is to outrank their competitors. Of course, it should be. But thinking about it only can't help your blog to rank easily.
Do you share other bloggers' content that you liked most?
Probably No! But you should share it.
Why?
Because it builds a good connection between you and your fellow blogger. How can it be helpful to you? Well, in any business, follow the give-and-take principle.
When you share others' posts, you become visible to them. The fellow blogger too will share your blog post on his platforms. As a result, you get huge visitors to your blog too.
You may use linking back to other bloggers' posts that apply to yours. Well, this is a brilliant strategy for Search Engine Optimization. Some bloggers deny giving an external link to others' blog posts. But it helps in SEO.
Actually, Google takes it as a sign that your blog links to some higher authority blogs of the same niche. Thus, it improves your blog presence on Google SERP. You should follow this principle and see the magic that begins!
10. Building Backlinks like a spammer
Of course, it is necessary for you to build backlinks for your blog. But, make it legitimately, or else you may face adverse effects such as Google penalties.
Yes, most unprofessional bloggers have a misconception that by building more backlinks they can rank their blogs easily.
Many amateur bloggers think it is the only way to SEO. Yes, it is the technique used in Search Engine Optimization, but it is not the only one.
Just imagine with the beginning of a new blog you started building a huge amount of backlinks daily.
Does it sound good to you?
For me, it is a poor signal! For an initial couple of months, your focus should be on creating quality content. You may build some backlinks in the meantime, but not a huge one.
Just remember one thing! The huge backlinks in the starting may bring good traffic and ranking to your blog, but it will be temporary. You should have to focus on your content first, then backlinks.
If you are among those amateur bloggers who do so, then please avoid it.
👉 How To Index Backlinks Quickly?
How Amateur Blogger Mistakes Made Me A Better Blogger
Here are some of the Amateur Blogging Mistakes I did in the beginning. You'll get to know how these mistakes can make you a better person, too. Well, exactly not mistakes but learning from these mistakes. 😎
11. Poor Writing Style
For a Non-English person, it's always a tough task to improve his grammar.
Most amateur bloggers always make this mistake. They immediately start publishing posts irrespective of the language they are targeting.
Always remember that blogging is not the field where you can publish anything and get succeed. If you are focusing on a targeted audience, then you must have a command of their language too.
Well, English is a language that is spoken all over the world. If you are targeting a worldwide audience, then you must use the English language with no grammar mistakes.
If you do so, then irrespective of how well-optimized your content is, you will not get a proper audience. They will surely come to your blog because of SEO, but will immediately bounce back. The reason is simple, your blog didn't convince them to stay.
If you are good at SEO but face difficulty while writing, then you may use Grammarly. It is a tool that is designed specially to remove grammar mistakes. You can use its premium version to write error-free blog posts.
It allows you to test your writing skills by giving a free version too. We may note that you'll have limited checking in the free version.
12. No "About Me" Page
Amateur Blogger ignorantly does this mistake. The "About Me" page is more important than you think. People want to know who they're listening to or reading to.
It builds your reputation, too. Not only it is helpful for your readers but from the perspective of SEO as well. Google also wants to know who is the author of the blog.
Many amateur bloggers try to make money without building a reputation and trust in the community. Just think about how can you convince the audience to convert into a customer without having a reputation?
No! You can't. This is the reason that many of the newbie bloggers don't get any sales because they want to purchase from somebody they trust.
You may engage the audience to your About Me page by adding a story of yours, like how you started blogging, what is your goal, your education, etc. It builds trust among the audience and ultimately improves your reputation in the online world.
If you are an Affiliate Marketer, then it is indeed necessary for you to use the "About Me" page. It improves your credibility with the audience that is converting to the customers.
You may keep your "About Me" page short by providing some information about your personal life, achievements, goals, etc.
13. Scared Of Taking Risk
Do you fear taking risks? If yes, then it is difficult for you to outrank your competitors.
I also used to fear taking risks. In blogging, I used to fear doing experiments on my blog. That was the biggest mistake that I did. There is a popular Hindi proverb-
Jab Jaago Tabhi Savera
Means, Better Late Than Never.
The same happened to me. I started doing experiments on my social media strategies, SEO techniques, ON-Page, and OFF-Page strategies. And these really helped me in blogging.
Also, you must have to change yourself according to your surroundings if you want to survive. So, the experiment is the only thing that can help you succeed.
Amateur Bloggers follow the same old SEO strategies because they fear failure.
What it does? It hinders them from experimenting on their blogs. They fear making YouTube videos, podcasts, etc.
They should know that those only climbs who fall. You may fail, but it is the failure that motivates you to do some huge to forget that failure.
In the same way, they fear investing in some paid SEO tools because of losing money. But my friend, when you don't use your time and money, how can you motivate yourself to do something bigger?
So, I recommend every new blogger stop fearing taking risks. It always hinders the path to your success.
Start implementing what you learned today! Action-takers are the ones who succeed in their career.
Just take action. If something goes wrong, you have the option to re-do it. So, stop being afraid of failure and implement every single learning.
Wrapping Up- Amateur Blogging
These were some mistakes that most amateur bloggers make. For a newbie blogger, it must be known to him so that he can avoid the mistakes that can harm his blog.
You should learn from others, not by committing the same amateur mistakes.
Hope you get to know about the mistakes that amateur bloggers make. Please analyze yourself and avoid these mistakes to become a better blogger.
What amateur mistakes you were doing?
Please share your thoughts in the comment box.
If you get to feel it is valuable, then please share it with others. 🙂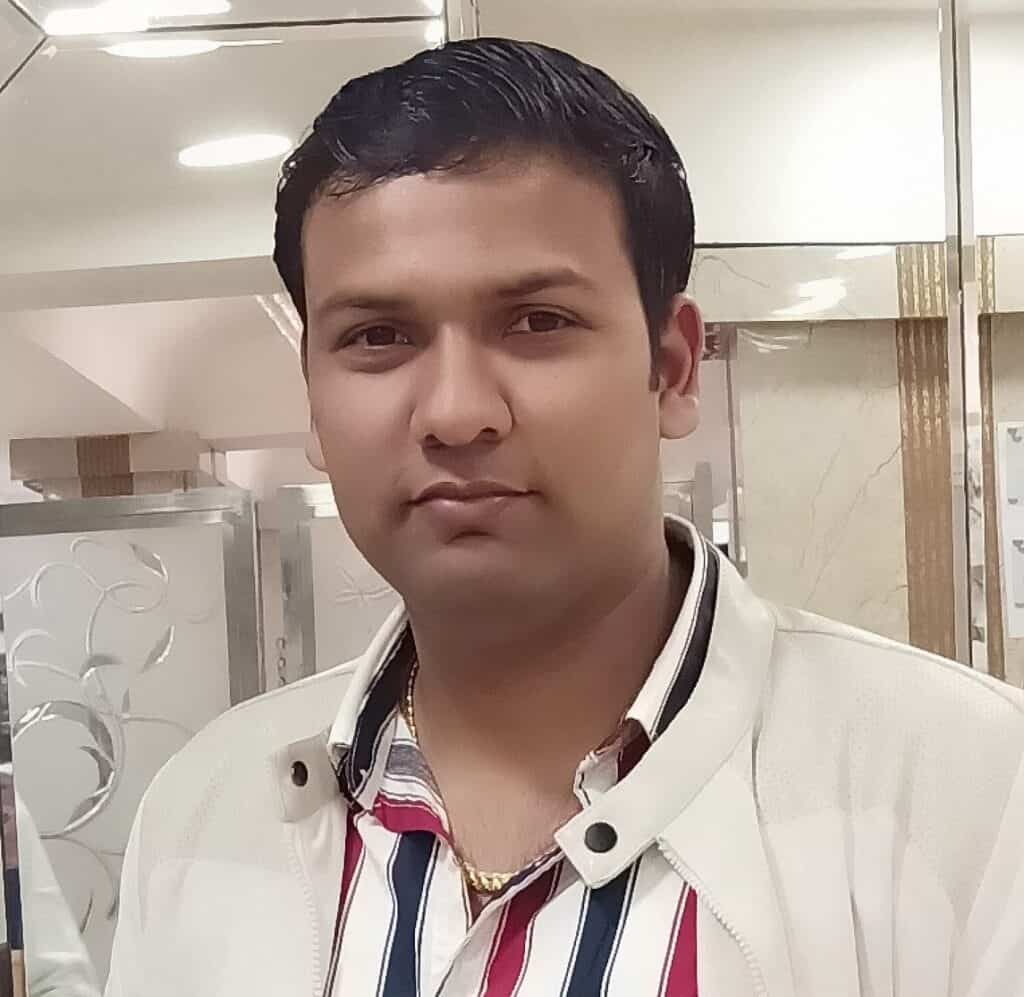 About Author
Nitin Dabas is a professional blogger from India. He is the founder of DabasBlog & SEOSachet. He is an SEO and content marketer who writes about Blogging, SEO, WordPress, and Online Marketing with the aim to help fellow bloggers get succeed in blogging.