Since I started using the Rank Math SEO plugin, I am very excited about this Rank Math review.
For many years Yoast SEO dominated in this field but now we have another WordPress SEO plugin that is better than Yoast SEO. It is the Rank Math plugin.
It is not only me who's saying this, but 80% of SEO experts also found it better.
I personally used Yoast SEO for a long time and switched to Rank Math Pro last year. So, how is Rank Math SEO better than Yoast SEO?
This will be easy for you if you read this extensive review of Rank Math.
In this review, I'll show you how it works, its features, and how to set it up. Along with these, we'll compare Rank Math vs Yoast SEO and get to know how it is better than the Yoast SEO plugin.
Rank Math Review: Introduction
Rank Math is a robust SEO plugin developed to optimize On-Page SEO performance. In this plugin, you get many options to optimize your content for Google or other search engines.
It provides you with an idea of how well you optimize your content by showing your SEO score.
If you've used any other SEO plugin like Yoast SEO, SEOPressor, All-in-one SEO Pack, etc. then you already know how important an SEO plugin is!
It is a freemium plugin that has both a free and a paid version.
Why Rank Math SEO?
Rank Math plugin lays down a perfect foundation for your ON-Page SEO. While comparing it with Yoast SEO, I've found it-
faster
easier
cheaper
accomplish better results
These are the prime reasons that forced me to switch from my existing SEO plugin to Rank Math Pro. In this review, you'll get many more reasons to select this plugin over others.
Rank Math SEO Review 2023: Is it better than Yoast?
How Does It Work?
It basically works on prime aspects needed to optimize your ON-Page SEO score. Let's get to know what are those prime aspects-
So, this is the work area of the plugin that it primarily works on. But, there are a lot of other parameters that RankMath optimizes.
Some of those are SEO titles, meta description, Image SEO, 404 monitors, Instant Indexing, Sitemap, Woocommerce, Analytics integration, etc.
With the help of this Rank Math review, you can figure out each of them in detail to optimize your site in the best way.
SEO Title & Meta Description
Optimizing the SEO title and meta description should be the foremost task for any search engine optimization strategy. It helps web crawlers to optimize your content by telling them what your content is all about.
Look at the image given below for a better understanding:
The upper box denotes the search snippet, i.e. how your site appears in the search results for a particular keyword.
Below is the SEO title that appears in the results for a search query. Always keep in mind the SEO title should not be over 60 characters. The reason for this is a long title is not visible in search results and an incomplete title does not convince visitors to click.
Next is the permalink for your article. It should be short for easy optimization and should contain your focus keyword.
Now is the meta description. Web crawlers read this meta description to offer you a rank in search results. So, always add a meta description that is relevant to your content, and don't stuff it with keywords. It should provide value to the readers too, as is visible on the search results and users read it to get an idea of what is inside this article.
Focus Keywords
The focus keyword is the main keyword for which you optimize your article.
In this plugin, you can optimize your content for up to 5 focus keywords, for which you have to pay in the Yoast SEO plugin.
👉 Grammarly Review 2023: Is Grammarly Premium Worth It?
Now comes the prime aspects that are often ignored by us, but Rank Math keeps you aware always. Let's look at them in detail-
Basic SEO
So, here you can see what are the prime areas where the deep analysis of the RankMath SEO works.
We must include the focus keyword in the SEO title, meta description, and URL of the article. You may already know this, but do you know they should find the focus keyword in the first 10% of the content?
Here comes this SEO plugin that doesn't forget what we need for search engine optimization.
Along with this, write a detailed article to have more chances to rank high on Google as every search engine, like an article that is well furnished and contains detailed information.
Additional SEO
This feature of the plugin includes parameters that are ignored if we don't use an SEO plugin.
It detects if you have used the focus keyword in the heading or subheadings. It keeps your URL length short to optimize the article easily.
Along with this, it keeps you reminded of linking to other relevant chief authority sites. Interlinking always boosts up other posts on your site, the plugin also analyzed this.
The image SEO feature of the plugins reminds you to add Alt Text to the images.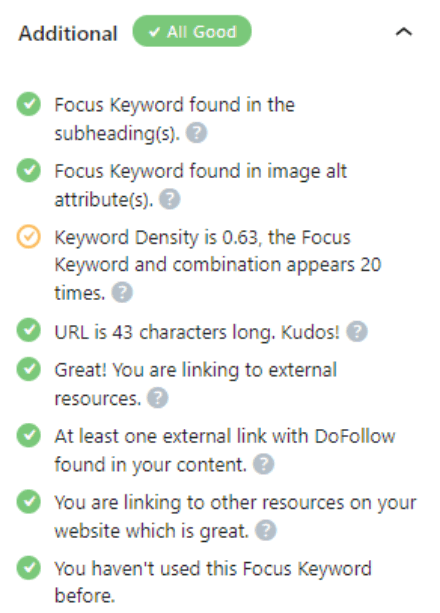 Search engine bots don't understand images, that's why Alt Text is added to them in order to optimize them easily. Alt Text is basically a target keyword.
Keyword density is always a matter of debate, as there is no limit to how much keyword density should be. Rank Math SEO optimizes your content in the best way by limiting your keyword density to not over 2.5%.
Title Readability
The SEO title affects a lot of your performance on SERPs. So, how can you improve your Title Readability, so that it can optimize for the top results?
This area of the plugin helps you in optimizing your title. A good SEO title should contain at least a number, a power word, and sentiments in it, along with the focus keyword.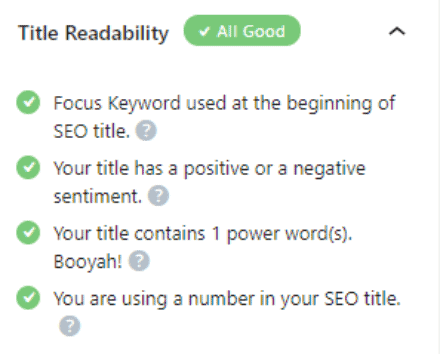 Content Readability
I also discussed content readability in Basic SEO. There is something that you get in this content readability column.
You should always use brief paragraphs because a long paragraph puts a negative impact on the reader and he ignores your article if you write it in long paragraphs. Along with this, use a Table of Contents plugin to divide your content into different sections.
We should know, we use that images and videos in the content to give it much exposure and it provides a lot of what a text can't.
This detailed review has explained all the prime factors on which the plugins work. On the analysis of all these parameters, the Rank Math plugin gives you an SEO score out of 100. The more score you get, the more SEO-friendly article you have.
How to set up the Rank Math SEO Plugin?
Let's look at how to configure the Rank Math plugin. This extensive Rank Math review provides you all information about the plugin. Just follow the steps to configure this SEO plugin.
👉 Use the Rank Math Setup Wizard
👉 Import data from other SEO plugins
Using Rank Math Setup Wizard
As soon as you install and activate the plugin, you get a message to use its configuration wizard. It involves a few steps-
Step #1. Create your account
This is the very first step that you can't skip. RankMath asks you to create a free account on its platform if you want to use the full features of the plugin.
I know that it's not always convenient to create an account on external platforms, but connecting your account allows you to use Rank Math API to run detailed tests on your site.
Once you connect your account with it, it asks you to configure Rank Math settings in any of the following three ways: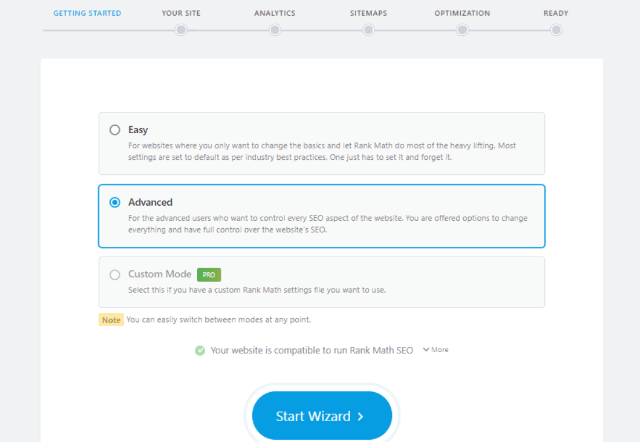 Well, I'd recommend the "Advanced" option if you want to get the most benefit from RankMath.
After this, it will ask the basic questions about your site as given in the picture below-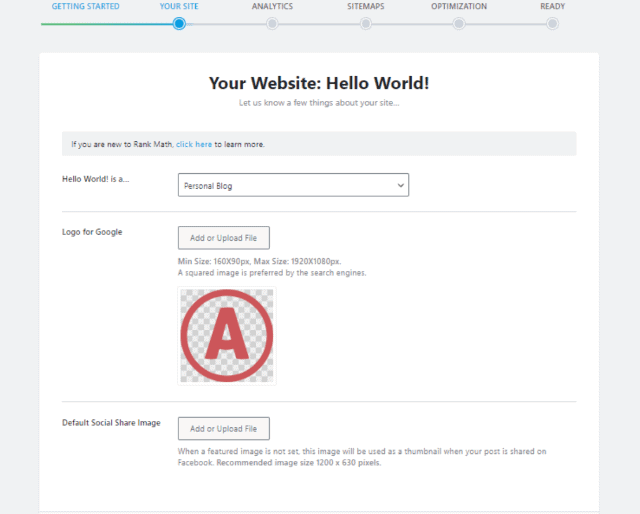 Rank Math SEO Review 2023: Is it better than Yoast?
Step #2. Connect to Google Services
In the next step, you can easily connect your account with Google Search Console and Google Analytics. Believe me, it is quite easy-going and ultimately you'll be blessed to connect them both.
If you have not created accounts on Google Search Console and Analytics, I'd recommend you create one quickly to get some valuable features that you can't ignore.
As soon as you connect to Google services, you are asked about permissions to use. Kindly allow them to complete the process.
Step #3. Sitemap
Now, the plugins will ask you to create an XML sitemap for your website. This step is extremely important, as you are going to start the indexing process.
Rank Math allows you to generate an XML sitemap that will help Google bots to index your website content. Along with content, you are allowed to include images too in the sitemap.
Step #4. Optimization
Here comes another important feature of the plugin that allows you to noindex empty categories and tags archives.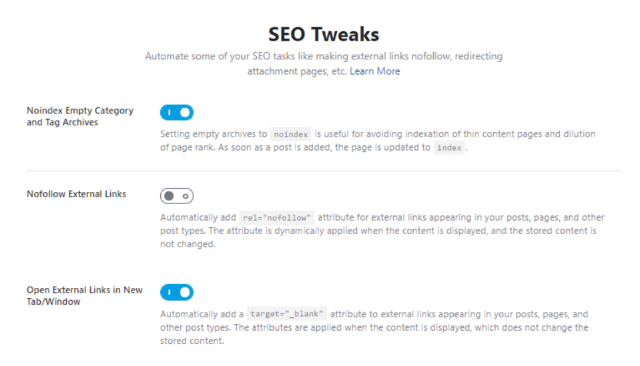 Along with these, you are allowed to nofollow all external links automatically by selecting the option. Well, in most cases you won't want to nofollow all external links, so you may leave it turned off.
One more feature that you get in SEO tweaks is to open the external link in a new tab.
In the last step, Rank Math will ask you to enable automatic updates, so I'd recommend enabling it.
Advanced Options and Schema Markup
In the advanced section, you will first see the option of Role Manager.
This option simply allows you to assign the roles to Admin, author, contributor, etc. to manage the setting of this SEO plugin.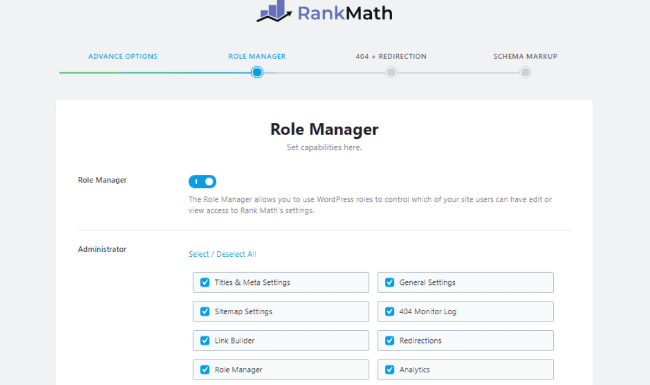 You may enable it if your site is having multiple editors or contributors.
404 Monitor
This is indeed a prominent feature that the plugin provides. It is really annoying to see your visitors go away because of the 404 Page Not Found error.
By enabling this option, you get to know how many times a 404 error hits on your site and if it hits, you can use redirection to redirect the users to another live page.
Schema Markup
Finally, you get the option to Schema Markup. I strongly recommend using it as it helps in the quick indexing of your web content.
In most cases, you need a separate plugin to add schema to your website, but it's inbuilt into this plugin which makes it different from others.
Import Data From Other SEO Plugins
As I said earlier, you'll get to know about everything in this detailed review.
If you are using another SEO plugin and want to switch to Rank Math PRO like me, then this is the best option for you.
To access this option, you need to go to RankMath> Status and Tools>Import & Export.
For example, if you have been using Yoast SEO, then you can fetch all SEO details from that plugin, and Rank Math will simply analyze the setting and synchronize it accordingly.
How to use Rank Math for SEO?
Well, till now we have configured this SEO plugin. You can manually set up every individual setting on your own, and this guide may help you.
Now it comes to using Rank Math for SEO purposes. Let's see how to improve your search engine optimization using this plugin-
Running SEO Analysis
Analyzing Google Analytics Insights
Rank Math SEO Score
Rank Math Schema
Running the SEO Analysis
This is the foremost task that should be done in order to the pursuance of search engine optimization. This feature will run a site-wide analysis of your site and provide you with errors if any.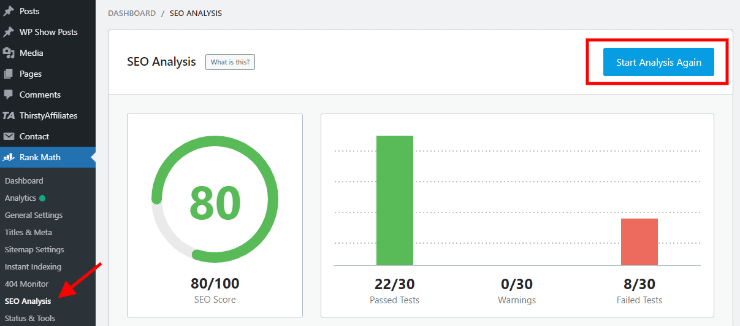 Here you can see that this site needs improvement and below there you will find results that are causing the issues and how to fix them.
So by fixing these performance issues, you can improve your website's SEO score. This site-wide SEO audit is performed by many paid tools that, if offered in the Rank Math for free.
Google Analytics Insights
Google Analytics is a free tool offered by Google that you can use to enhance your blog SEO.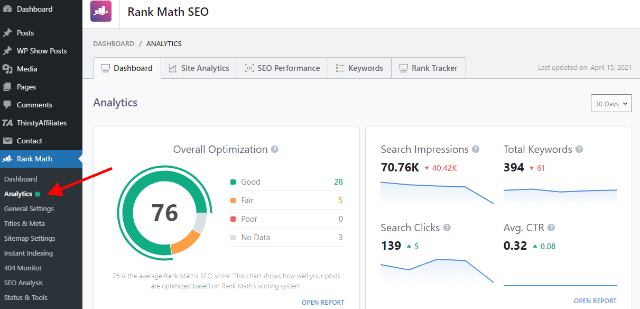 Here you can use Analytics insights that show which keyword is getting more search impressions and clicks. In this way, you can improve that keyword and can boost the keywords that are lagging behind.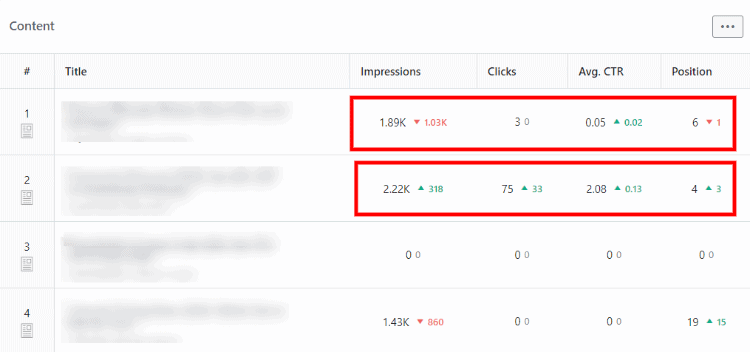 This feature allows you to find out keywords on which your site is ranking and thus you can improve their rankings and also can find out keyword gaps.
👉 SE Ranking Review 2023: The Detailed Analysis!
Rank Math SEO Score
As discussed earlier, Rank Math SEO's prime aspects suggest you create content that pars with basic SEO parameters.
If you follow its parameters, you get a good SEO score that helps in easy optimization and quick indexing of the post.
In the below picture, you get the SEO score of two posts, and you can easily compare them both.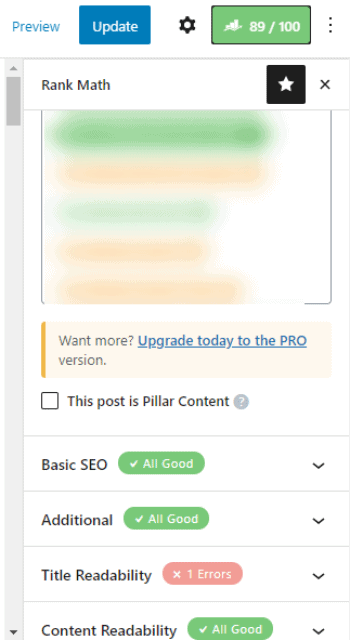 So if you efficiently use the parameters, you can get a good SEO score and outrank your competitors.
Rank Math Schema
Well, Google is moving fast to the rich results on SERPs. So, the importance of structured data is more than ever.
First, understand what Schema is?
Basically, the schema is a set of tags that are assigned to web pages and posts of your website. These help in the way search bots read your content and easy representation of your webpage on Google SERPs.
You must use Schema markup on your website. Well, if you are using the RankMath SEO plugin, there is no need to install any plugin, especially for adding the schema.
You may access it via Rank Math>Titles & Meta>Posts.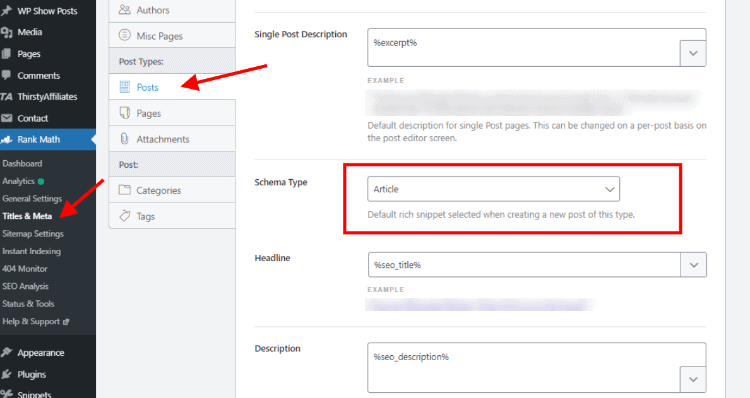 If you want to use a separate Schema on each page you may use the Schema generator that is offered to you while editing.
So, adding schema to your content increases its chance of easy and quick indexing.
Rank Math SEO Review: Free vs Pro
Basically, this RankMath review explains the free version of the plugin. But, it comes with a Pro version too that is more advanced in terms of features and usage. You'll be provided with a detailed Rank Math Pro review soon.
Though the Rank Math free version offers everything that is needed by a premium SEO plugin, there is a lot that is waiting for you in the Pro version.
The trust that Rank Math built among its users made them immediately choose Rank Math Pro, as it is more advanced and cheaper than other SEO plugins.
Let's now compare how Rank Math Pro takes over it-
| Features | Free | PRO | Business |
| --- | --- | --- | --- |
| Keyword Rank Tracker | ⨉ | ✓ | ✓ |
| Tracked Keywords | ⨉ | 500 | 10,000 |
| Advanced Schema Generator | ⨉ | ✓ | ✓ |
| Speakable Schema | ⨉ | ✓ | ✓ |
| Google Trends Integration | ⨉ | ✓ | ✓ |
| Google News SEO Sitemap | ⨉ | ✓ | ✓ |
| Image SEO PRO | ⨉ | ✓ | ✓ |
| 20 Pre-defined Schema Types | ⨉ | ✓ | ✓ |
| Google Data Fetch Frequency | 7 Days | 3 Days | 3 Days |
| Track Top 5 Winning Keywords | ⨉ | ✓ | ✓ |
| Track Top 5 Winning Posts | ⨉ | ✓ | ✓ |
| Track Top 5 Losing Keywords | ⨉ | ✓ | ✓ |
| Track Top 5 Losing Posts | ⨉ | ✓ | ✓ |
| Check Ranking Keyword Position for Each Post | ⨉ | ✓ | ✓ |
| Automate Image Captions | ⨉ | ✓ | ✓ |
| Custom Schema Builder | ⨉ | ✓ | ✓ |
You get many more features like SEO & Schema on Automation, Exclusive Facebook Club, Advanced Technical SEO, Dedicated Premium Support, etc.
Content AI
Content AI is a feature that eliminates the need for premium AI content writing tools.
As you know, GPT-3 based writing assistant tools suggest keywords you should include in your articles. So, it is a prominent feature of the plugin that helps you to create an article that is well-equipped with all related terms.
With the PRO version of Rankmath, you get 15 Content AI credits.
It tells you the word count, heading count, link count, and images that you should include in your article.
Further, you can see the Google trends of the focus keywords in the Pro version of the RankMath plugin.
Rank Math Pricing
Rank Math vs Yoast SEO
They launched Yoast SEO in 2010 while Rank Math was started in 2018. For years, Yoast SEO was the only choice for WordPress SEO.
Though RankMath is new as compared to Yoast, it was in development for several years. SEO experts from MyThemeShop developed it.
Now let's compare Rank Math vs Yoast-
| Features | Rank Math | Yoast SEO |
| --- | --- | --- |
| Plugin size | 2.85 MB | 7.18 MB |
| Lines of code | 51.3k | 87.2k |
| Advanced Google Analytics Integration | ✓ | ⨉ |
| Advanced Schema Generator | ✓ | ⨉ |
| Speakable Schema | ✓ | ⨉ |
| Import schema from any website | ✓ | ⨉ |
| Keyword Rank Tracker | ✓ | ⨉ |
| Google News SEO Sitemap | ✓ | ✓ |
| Google Video SEO Sitemap | ✓ | ✓ |
| WooCommerce SEO PRO | ✓ | ✓ |
| Check Ranking Keywords for Each Post | ✓ | ⨉ |
| Track Top 5 Winning Keywords | ✓ | ⨉ |
| Track Top 5 Losing Keywords | ✓ | ⨉ |
| Custom Schema Builder | ✓ | ⨉ |
| Import Redirections Data via CSV file | ✓ | ⨉ |
| Advanced HowTo Schema | ✓ | ⨉ |
| Mark Cloaked Links as External Links | ✓ | ⨉ |
| Automate Image Captions | ✓ | ⨉ |
| Focus Keyword | ✓ | ✓ |
| Strip Category Base | ✓ | ✓ |
| Price | $59 | $199 |
So, this is the basic comparison between Yoast and Rank Math.
Rank Math not only provides more features but also is cheaper than Yoast. It is a robust and revolutionary plugin that is easy to use and, as per modern SEO requirements.
While Yoast offers you to optimize only a single keyword, in Rank Math you get multiple keywords to optimize.
For a new blog, I strongly suggest Rank Math SEO as it offers premium features free of cost. So, if you're planning to use an SEO plugin and are confused between Rank Math vs Yoast, then here is the comparison.
👉 Rank Math is a clear winner.
Here is the price comparison of Rank Math vs other SEO Plugins–
Frequently Asked Questions
👉 5 Most Reliable Paraphrasing Tools
Final Verdict
So far in this Rank Math Review, you have analyzed every aspect of the plugin. Now it is quite easier for you to decide if it is the best SEO plugin or not!
Search engine optimization is all about the strategy to keep your site up to date with the latest changes in search algorithms. This plugin has every feature needed to optimize your website and along with these, it has features that save you from spending extra money on SEO tools to analyze your keywords.
It doesn't matter if you are a beginner or an expert in the field, the Rank Math plugin is a brilliant companion for everybody.
I think I have answered your every query in this extensive review. If you have any follow-up doubts, feel free to contact us.
If you are a Rank Math user, share your experience in the comments section.
👉 If you found this Rank Math review helpful, please, don't forget to share it.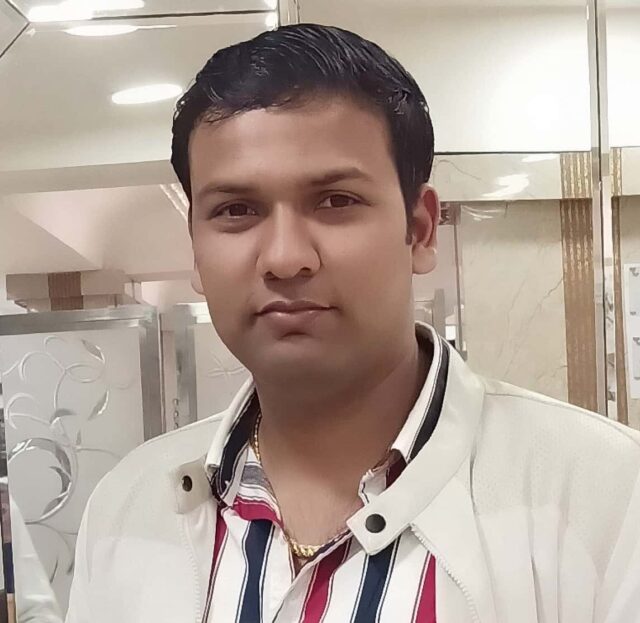 About Author
Nitin Dabas is your SEO guide. Expert in keywords, on-page SEO, and link-building, he has boosted rankings for countless clients. Read his blog and join his success stories.