Semrush vs SimilarWeb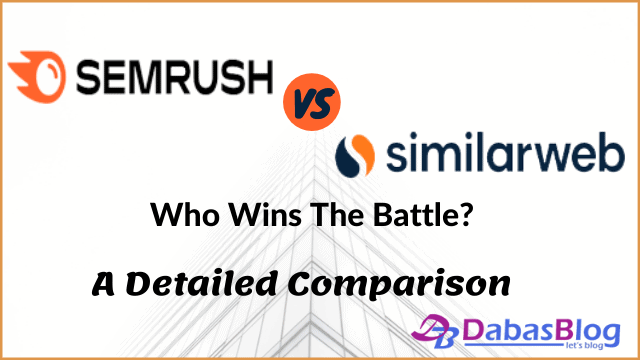 Are you confused between Semrush vs SimilarWeb? Though both tools are highly reputable, each one offers you unique features. Both the tools have satisfied users who recommend these as value for money.
Read this article to decide which one is the best tool for your business.
Grab the free trial 👇
You can't defeat your enemy if you are not aware of his strengths or yours. SEO tools help us in analyzing our and our competitors' websites to be ready for the battle.
Though it's not such a simple task to choose the best SEO tool, we have a bunch of tools available online. An agency can pick up a few good SEO tools to analyze the client's websites, but an individual really thinks first before investing in any tool.
Semrush and SimilarWeb are two of the most respected tools used by many SEO experts.
I know it's difficult to pick up the best tool. Well, both tools have their unique features and strengths.
In this article, I'll compare Semrush vs SimilarWeb and help you decide which tool is the best for your business.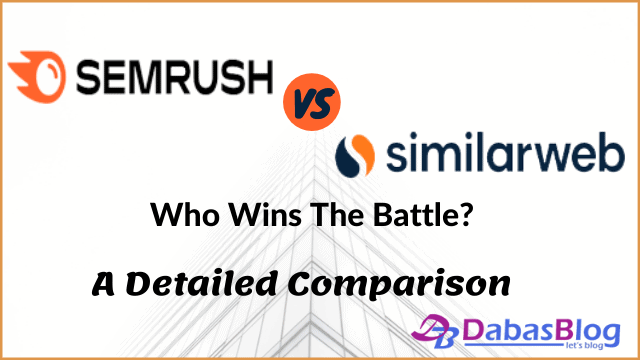 Semrush vs SimilarWeb: Which Tool is Better?
One thing that I found after using both tools is that Semrush is a great tool for bloggers, affiliate marketers, PPC advertisers, content marketers, and, of course, SEO experts. While SimilarWeb targets mainly website analysis.
So, who wins the battle?
Let's judge by evaluating specific features like accuracy, data, pricing, etc.
Features
Semrush
Semrush is an all-in-one SEO tool that lets you analyze your traffic, keywords, backlinks, and website audit and helps your marketing team in content marketing and social monitoring.
All these features are available in just a single subscription. Besides this, you get recommendations on how to optimize your website in a better way to expand your organic reach.
SimilarWeb
While SimilarWeb is more focused on providing insights into website traffic analytics. Content marketing and social monitoring features are absent in this tool.
Winner: Semrush clearly wins in this case.
Wait!
Don't decide so fast. There is much more uncovered about the tools. Let's explore the tools in depth to decide which will best suit your business.
Semrush vs SimilarWeb: Who Wins the Battle?
Data Collection
If you are investing in a tool, then it is more important to know from where they collect data and how accurate is it.
Semrush
They built Semrush on the keyword database and artificial intelligence algorithms. It has the largest keyword database, which gives you access to 20B keywords and 40T backlinks.
They developed their crawling systems to hunt several versions of search engines and gather the data sets.
They regularly update their keyword database to make it more robust and large.
SimilarWeb
SimilarWeb scans the web pages we visit broadly. It assists its web crawlers to get more data when we install the SimilarWeb extension, add-ons, or apps.
So, it builds over its database while we surf the internet.
It is also the fact that these can not access all the information present on the web. However, using them for our projects assists us to improve our website presence.
Winner: Both are more or less similar in data collection.
Is Semrush Better Than SimilarWeb?
Explore the article and decide which is the best tool for your online business.
Traffic Analytics
Traffic analysis of any website shows you how much traffic it is receiving and what are the sources of traffic. You can use this strategy to find out how much traffic your competitor is getting from various sources.
So, it is very important to use a tool that shows a wide range of traffic analytics with more accuracy. Let's compare SimilarWeb vs Semrush and find out which one is better.
Semrush
Semrush, the most renowned tool in the market, gives you insights into how your website is getting traffic. It shows you not only various channels but also the top-performing pages of the website.
The more specific and in-depth analytics help you understand a website's nature, where it is boosting, and where some improvement is needed.
You get to know from which country you are getting huge traffic and for which country you need to improve. Besides it, Semrush provides you more powerful analytics by offering insights into bounce rate and avg. visit duration.
As shown in the picture above, you can analyze your top traffic sources, i.e. organic, direct, or referral. Besides this, you can get to know what are the top destinations and which version of your website gets more hits.
Along with these, the tool helps you in advertising research for any domain.
SimilarWeb
On the other side, SimilarWeb also provides insights into your web analytics but in a more specific way. As you can see that it also provided data like total visits, bounce rate, avg visit duration, etc. However, it has built a user interface that provides you traffic distribution on the same page as from which device you are getting more visitors.
Besides the common features included in both tools, you get a category-specific rank in SimilarWeb traffic analytics that shows how well your website is performing in a particular category.
One of the most beneficial features that I found in SimilarWeb is the Branded vs Non-Branded organic search. Yes, you can now analyze how many organic users are searching your website using your brand name and how many are coming using keywords.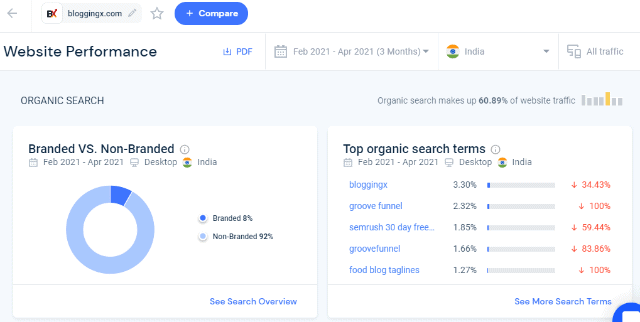 Using SimilarWeb you can also get to know how many visitors are coming from display ads and emails.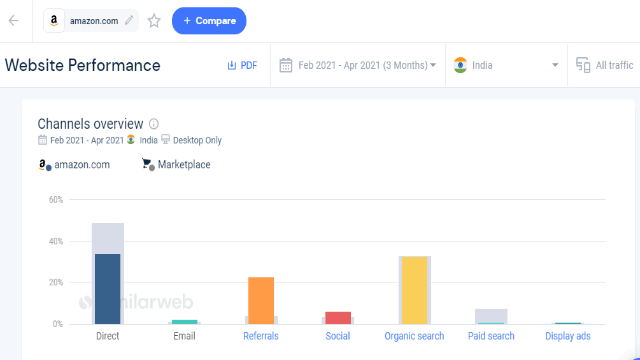 Winner: SimilarWeb wins as it provides more detailed traffic analytics.
Keyword Research
While investing in a tool, you definitely want the maximum features in a single tool. Keyword research is a crucial factor that affects search engine optimization. An SEO tool is incomplete without the functionality of keyword analysis.
Let's compare SimilarWeb vs Semrush based on keyword research:
Semrush
Semrush has the largest keyword database in the world. It shows a variety of keywords targeted at local destinations, countries, channels, etc.
Semrush comes with a great tool that is specifically designed for keyword research, i.e. Keyword Magic Tool.
Just look at the following keyword analysis to know what it offers in its keyword research feature.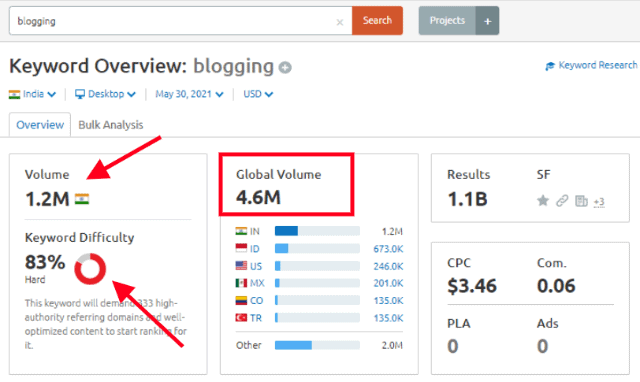 Here, you can see that it offers all essential metrics on a single page. It's quite simple, just enter your seed keyword and it gathers all related keywords from its database and provides them to you.
It provides you a distribution of keyword searches across the globe, so it helps you to target a specific keyword for a targeted destination. Keyword difficulty score helps you analyze how competitive it is to rank on Google.
For more detailed analysis, you can use its Keyword Magic Tool.
Keyword Magic Tool empowers your keyword research by offering more options to provide you more precise and accurate results.
You may set filters to go for more specific keyword data. Besides this, keyword gap analysis offers you the opportunity to find keywords for which your competitors are ranking, but you are missing them.
SimilarWeb
SimilarWeb also allows you to do keyword research and competitive analysis. It has a Keyword Generator tool just similar to Semrush Keyword Magic Tool.
Just enter your main keyword and it will provide you with a list of related keywords. It shows you the search volume of keywords along with metrics like clicked results vs non-clicked results.
But one thing that you should notice is that I have searched for the term "blogging" in India and it shows only 20K results that we can't digest. Simply, this means that it does not have a good database size that can help us discover more related keywords.
Well, this doesn't mean it is not a suitable tool, it has many other features too. One feature that is quite essential in terms of keyword research is Keyword Gap Analysis.
Using the tool, you can discover the keywords where you are lagging behind your competitors. It shows a variety of tabs that provide you all keywords of your competitor, his winning keywords, losing keywords, etc.
This tool gives you the opportunity to target those keywords that your competitor is targeting, but you aren't.
So, we've analyzed both tools and probably you found the best one.
Winner: Semrush clearly wins the battle when it is keyword research.
Accuracy
Accuracy really matters when using an SEO tool for the sake of getting excellent results. As both tools use more or less similar algorithms for data collection, we can't deny estimated discrepancies.
That means you will see different data in Google Analytics rather than Semrush and SimilarWeb analytics.
Still, we have to rely on these tools to get the best possible relevant data to improve our web performance.
Winner: The accuracy of both tools is quite good and similar to each other.
Pricing
The pricing model is to be considered an important aspect when choosing a tool. So far, we have explored all crucial features of both tools and now dive into their pricing plans.
Semrush Plans & Pricing
All the above features are available in a single plan of the Semrush pricing system. You just need to choose the best plan that works for your business.
You get a 7-day Semrush free trial for evaluating the tool in which you get access to all premium features.
Grab the free trial 👇
SimilarWeb Pricing
SimilarWeb offers a free version of the tool with limited features. However, you need to contact their team for a premium package.
Besides this, you need to purchase the database of different countries separately. It has no fixed or transparent pricing plans. You may try its free version to evaluate the tool.
Grab the free trial 👇
Winner: Semrush wins the pricing battle as SimilarWeb has no transparent pricing and individual plans are quite expensive.
Quick Comparison: Semrush vs SimilarWeb
Here is a quick comparison between the two tools:
| Features | Semrush | SimilarWeb |
| --- | --- | --- |
| Keyword Research | ✓ | ✓ |
| Keyword Database | 20B | Unknown |
| Backlinks Database | 40T | ⨉ |
| Position Tracking | ✓ | ⨉ |
| Competitive Research | ✓ | ✓ |
| Display Ads Monitoring | ✓ | ✓ |
| Social Media Monitoring | ✓ | ✓ |
| Keyword Gap Analysis | ✓ | ✓ |
| On-Page SEO | ✓ | ⨉ |
| Local SEO | ✓ | ⨉ |
| Writing Assistant | ✓ | ⨉ |
| Website Audit | ✓ | ⨉ |
| Backlinks Monitoring | ✓ | ⨉ |
👉 Semrush vs SE Ranking: Which is the Best Tool?
Frequently Asked Questions
Verdict
You have explored and analyzed the features of both tools so far. Though both tools are great for competitive analysis, Semrush offers in-depth data regarding keyword research, backlinks, and site audit.
SimilarWeb is good for agencies who require large analytics data to analyze their websites. While Semrush is the first choice for bloggers, affiliate marketers, individuals, and even for agencies.
So, I pick up Semrush to be value for money as it provides an all-in-one solution to your every query. Its features like keyword magic tool, backlinks audit tool, website audit, and competitive research are highly demanded and more accurate.
I can not stop you from purchasing SimilarWeb or Semrush, it's totally your decision, but I recommend Semrush over SimilarWeb.
Have you used any of the tools? If yes, please share your experience.
👉 If you find the comparison of SimilarWeb vs Semrush useful, don't forget to share it with others.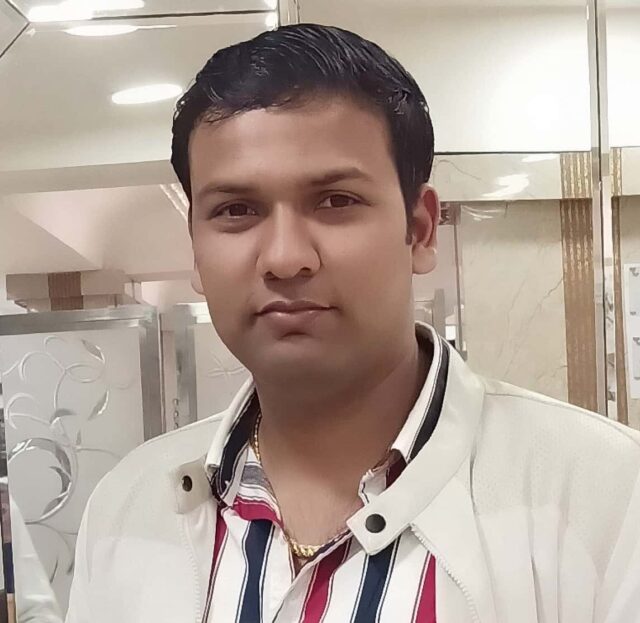 About Author
Nitin Dabas is your SEO guide. Expert in keywords, on-page SEO, and link-building, he has boosted rankings for countless clients. Read his blog and join his success stories.