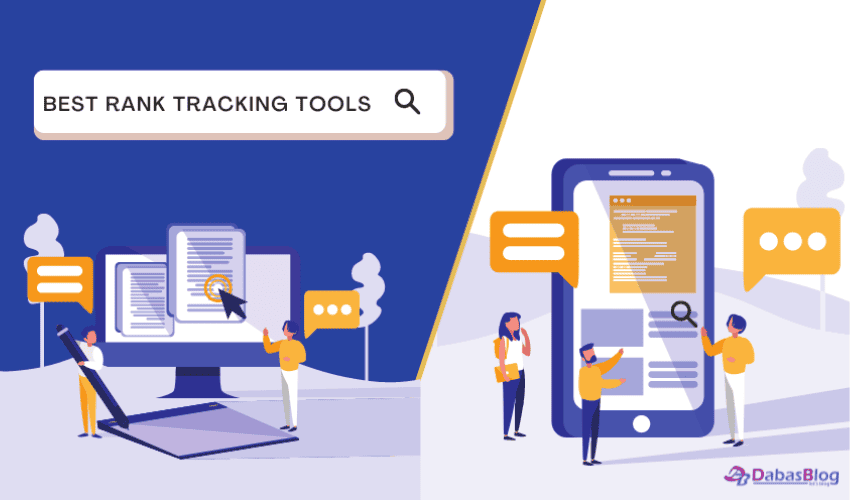 Searching for the best rank tracking tools to boost your SEO efforts in 2023?
Look no further! Here you will find the handpicked list of top keyword rank tracking tools.
Equipped with these cutting-edge keyword monitoring tools, you'll gain a competitive edge by uncovering hidden opportunities and capitalizing on emerging trends. They empower you to monitor your website's SEO performance, conduct in-depth competitor analysis, and extract valuable insights that shape your SEO roadmap.
So, get ready to embark on a journey through this exclusive compilation of the best rank-tracking tools.
Are you excited?
If you are in a hurry, here is the list else explore each tool in detail in the next sections.
| Rank Tracking Software | Pricing |
| --- | --- |
| SE Ranking | $39/month |
| Semrush | $119.95/month |
| Ahrefs | $99/month |
| AccuRanker | $129/month |
| Rank Tracker (SEO Powersuite) | $299/month |
| ProRankTracker | $13.5/month |
| Nightwatch | $32/month |
| Wincher | $39/month |
| Serpstat | $69/month |
| SERPWatcher | $49/month |
10 Best Keyword Rank Tracking Software For SEO Experts in 2023
How Do You Use Rank Tracking Tools To Grow Your Business?
If you are a marketer and not tracking your keyword rankings, you are missing a key element of your marketing process.
Rank tracking software helps you identify which keywords are performing well and which ones need improvement. By analyzing this data, you can optimize your content to improve your organic traffic and ultimately grow your business.
Keyword ranking is a valuable asset for all content marketers. Top marketers use SERP tracking tools to monitor their keywords ranking and make adjustments accordingly. With the help of these keyword tracking tools, you can easily monitor the performance of your keywords and make necessary adjustments to improve your SEO strategy.
To improve your keyword ranking, you can-
update the content by adding a few more paragraphs, images, or infographics
build some more backlinks to improve the page authority
These are two important aspects that are needed to improve your keyword ranking and ultimately grow your business.
To monitor your website's ranking in search engine results pages, you need a reliable rank tracking tool. Such software lets you track where your site ranks for your target keyword.
Tracking your keywords position is only half of the battle. The other half is to monitor the keywords ranking, and then make adjustments in accordance with your changes.
Though there are so many keyword rank trackers available, it is quite challenging to choose the best one. But, you need not worry!
Here are the top 10 keyword rank tracking tools. Let's go through them one by one.
10 Best Rank Tracking Tools
I handpicked the 10 best tools to monitor your keywords rank to help content marketers in their daily tasks.
1. SE Ranking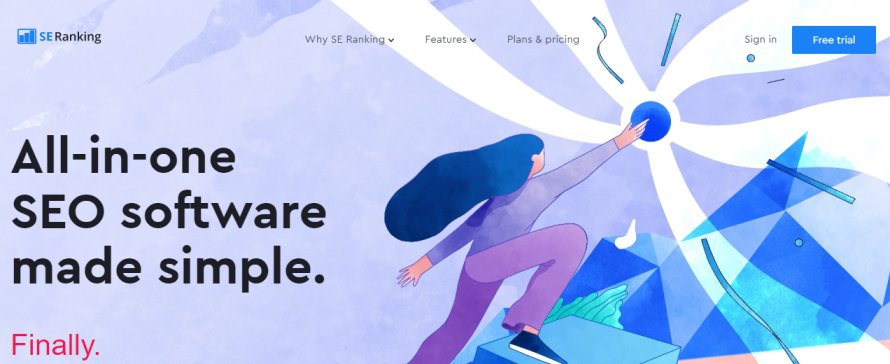 SE Ranking is an SEO tool similar to Semrush that provides you with numerous metrics needed for your SEO project. It includes keyword research, competitor research, keyword rank checker, and website audit along with white label reporting.
With this all-in-one optimization tool, you can easily track your website's performance and analyze your competitors' strategies using their intuitive dashboard.
The interface of the tool is quite user-friendly that shows you a clear graph of your keywords' rank change. That's why it is one of my favorite keyword rank tracking tools with great functionality.
Additionally, it shows you which search snippets your keywords are ranking and shows you the total search visibility percentage of your keywords.
You may have a question like how to track my keywords ranking on Google Mobile?
This software allows you to track your keyword ranking over Google search, Yahoo, Bing, and Yandex along with their mobile search engines. It alerts you every time your keywords rank changes.
You can easily integrate your SE Ranking account with Google Search Console to get data directly from Google.
It makes this SEO tool one of my best SERP tracking tools.
We know SE Ranking for its exact keyword ranking details and that's why it is listed among the 10 best rank tracking tools.
So, if you are looking for the best tool to check website ranking, then the SE Ranking tool is for you.
Just like SEMrush, you have to create a project here to monitor your keywords' position. But, why would you use SE Ranking software?
I think there is no need to go anywhere else if you have an affordable rank tracker tool that checks for your keywords position on Google SERP and provides you with accurate data. Of course, SE Ranking is the solution for you.
Apart from this SE Ranking SERP Analyzer helps you in understanding the Google algorithms to beat your competitors and outrank them.
Just sign up here for SE Ranking Discount and use Promo Code- DABASBLOG to get a flat 10% off.
SE Ranking Pricing– $39/monthly
Learn more in our SE Ranking review.
---
2. Semrush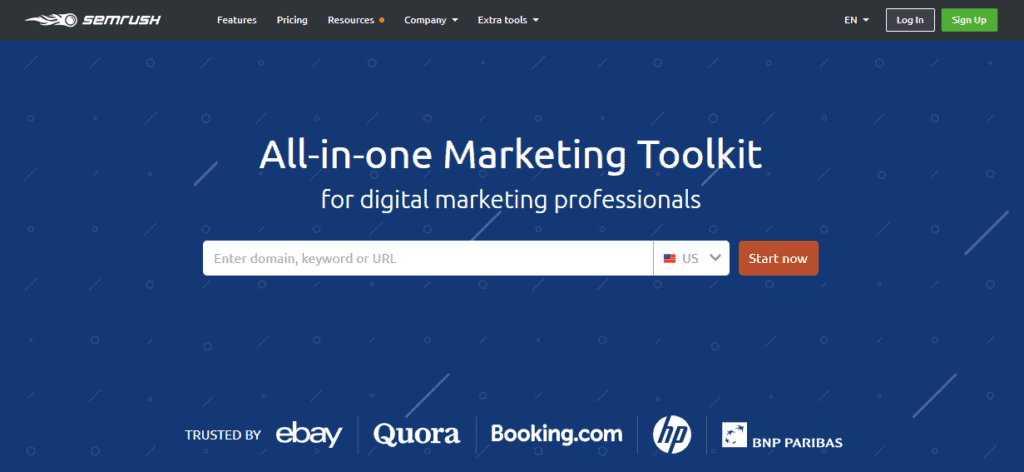 SEMrush is an all-in-one SEO toolkit for SEO enthusiasts. Its key features are keyword research and competitor analysis. However, along with these features, it is used for many other purposes including implementing effective SEO strategies.
Semrush is one of the best keyword position tracker tools available in the market. It is the first choice for many SEO experts.
Among many other attractions of the tool, the position tracker is also a prominent feature of SEMrush that allows you to track the updated rank of your prime keywords.
👉 SEMrush free trial [2023]: Experience SEMrush free to boost SEO
Keyword Rank Checker
You simply have to create a project in SEMrush to check your keywords' ranking position by its position tracking tool.
There are 3 SERP tracking tools in SEMrush–
Position Tracking– It tracks the keyword's position daily
Sensor– It tracks the volatility of the search engine and monitors the update of Google's algorithmsa
Ranks– It shows domain visibility with paid and organic keywords
SEMrush Pricing – It starts at $119.95 monthly (get a 7-day SEMrush free trial)
---
3. Ahrefs
Ahrefs is another SERP tracker tool that is not only limited to keyword rank tracking but has a lot of other features as well.
Many of you must have found SEMrush as the first choice by many SEO experts, but in addition, Ahrefs also got mentioned by them as one of the best SEO tools.
Though Ahrefs is best known for its backlinks analysis feature, however, it has emerged with a vast keyword database to be the best keyword rank tracker tool.
The keyword rank tracking feature of Ahrefs automatically finds out the top keywords of the entered URL and starts showing their updated ranking on SERPs.
So, just analyze top positions and SERP features to boost your keywords ranking.
They also offer Ahrefs Webmaster Tools where you can track your keywords position along with historical data but with limited features.
However, to use the full-fledged features of the tool along with its keyword position tracker, you can start with its 7-day trial.a
Ahrefs Pricing– It starts at $99 monthly and a 7-day trial at $7.
---
4. AccuRanker
Unlike other SEO tools, AccuRanker is a dedicated keyword rank checker tool that delivers the best results.
AccuRanker provides you the most up-to-date keyword rank details. Along with keyword rank tracking, it provides you with some more features, like competitor analysis, keyword performance analysis, etc.
You can easily integrate the tool with Google Analytics and Search Console data. With the help of AccuRanker, you can easily track your keywords position on Google, Bing, Yahoo, YouTube, Baidu, and Yandex.
As AccuRanker is a highly dedicated SERP tracking tool, you get a clean dashboard for keyword rank tracking.
If you are interested in this keyword rank checker, then it is available with a 14-day free trial.
AccuRanker Pricing– It starts at $109 monthly and $99/month if you choose the annual plan.
---
5. Rank Tracker (SEO PowerSuite)
Rank Tracker is one of the robust toolsets that SEO Powersutie provides. It is a dedicated keyword position checker tool that gives you insights into your top-ranking keywords.
If you want to find low-hanging fruits, you can use this tool as it offers you unlimited keyword rank tracking.
You can check the position of your keywords on desktop and mobile SERPs with a flexible rank tracking frequency i.e. monthly, weekly, or daily.
The key factor of SEO Powersuite Rank Tracker is that it offers rank tracking without any limit on the number of keywords or websites.
Rank Tracker offers you the following metrics-
Desktop & Mobile Ranking
Local Rank Tracker
Tracking SERP Features
Check SERP history
Keyword Ranking Reports
White Label SEO Reports
Along with Google, you can check your keywords rank on Yahoo, Bing, Youtube, Yandex, and more. You can easily integrate your Rank Tracker account with Search Console and Google Analytics to get more authentic insights into your keywords.
Rank Tracker Pricing– It starts at $299 annually or you can wait for the SEO Powersuite Deal which offers you up to 85% off for a lifetime. You may read this article for more information on the SEO Powersuite Sale.
---
6. ProRankTracker
ProRankTracker is a devoted keyword rank checker tool. Though there are many rank tracker tools, it is a tool that offers you reliable keyword rank tracking.
The tool claims 100% accurate SERP rank tracking. You can improve your SEO progress with lots of data visualizations and charts that it provides. Along with this, the dedicated keyword position checker sends you automatic rank-tracking reports.
If you're an agency, you can boost your business by offering white-label reports of rank check to your clients. ProRankTracker is a highly recommended keyword rank checker tool for agencies.
Key features of ProRankTracker-
Daily rank check updates
Unlimited historical rank check data
Local rank checking
White label reports
API Access
ProRankTracker Pricing– It starts from $13.5 monthly
---
7. Nightwatch
Nightwatch.io is a dedicated keyword rank tracker that shows you the exact position of your keyword on the SERPs.
It provides you with daily rank changes of your keywords along with their search volume data. It allows you to perform a website audit and gives you all the necessary ideas to fix the errors.
The graphical representation of the tool is a plus point that makes it one of the best keyword rank trackers available.
Nightwatch.io Pricing– It starts at $32 monthly ( get a 14-days free trial here)
---
8. Wincher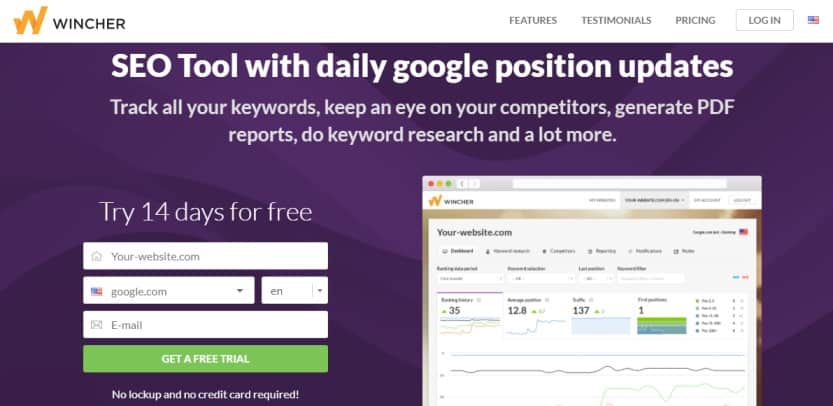 Wincher is also one of the best keyword rank-checking tools available in the market. It is specially dedicated to Google Rank Tracking.
You can use Wincher for the competitor analysis, it sends you a notification if your competitors rank up and dominate over you for a given keyword.
You simply have to add domain and keywords for competitive analysis and that's it.
If you are a WordPress user, then you can use the Wincher Rank Tracker plugin to monitor your keywords ranking. You can get your keyword rank tracking reports in a pdf format that makes it easy for you if you want to give a presentation.
The only downside of the Wincher Rank Tracking tool is that it is especially for Google and can not be used for Yahoo and Bing rank tracking.
For the best Google keyword rank tracker, you can use Wincher's 14-day free trial.
Wincher Pricing– It starts at $11.7 monthly or 10 Euros per month.
---
9. Serpstat
Serpstat is an all-in-one SEO platform like Semrush and SE Ranking. Apart from other SEO tools, it also provides you with a robust keyword rank checker tool.
Serpstat shows you which SERP features drive more traffic to your website. In addition to checking the SERP ranking of your website, it also compares your website with your competitors.
Key features of Serpstat-
Daily rank check updates
Paid keyword rank tracking
Local rank checking
White label reports
API Access
---
10. SERPWatcher

SERPWatcher is a SERP tracking tool developed by Mangools. The developer is well known for its SEO tools and here they provided an affordable keyword rank tracker tool.
The tool is well-designed to provide you a detailed position-tracking tool that monitors your keyword ranking at Google, Bing, Yahoo, etc.
It provides you daily keyword position updates along with features like keywords suggestion, competitors' keyword spying, etc. SERPWatcher as the name suggests tracks your keyword's position at different major search engines.
SERPWatcher Pricing– It starts at $29.90 monthly (get a 10-day free trial here)
---
10 Best Keyword Rank Checker Tools
The Best Way To Utilize A Keyword Rank Tracker
So, now you have got to know about many keyword rank checker tools, but how to utilize them to get the best results?
Yes! You have to utilize them efficiently to optimize your keywords.
How do I check my keyword ranking? Here is something you should know –
First, choose any of the tools mentioned here and create a project
Now add your main keywords in it just after you published the content around them
Now from the next day monitor your keyword ranking in the different search engines
Suppose, you find a keyword that is ranking on the 2nd page, it's an excellent opportunity for you to put utmost efforts to push the keyword to the 1st page
Well, this can be difficult if you don't monitor the position changes of your keywords
👉 10 Best SEMrush Competitors & Alternatives in 2023
---
Frequently Asked Questions
---
Best Rank Tracking Tools
The world of SEO is constantly evolving, and staying ahead of the competition requires the right tools and strategies. With our carefully curated list of the 10 best rank-tracking tools for experts, you now have the power to take your SEO efforts to new heights in 2023.
With the right rank tracking software in your arsenal, you'll have the necessary resources to adapt to algorithm updates, track your progress, and ensure that your SEO efforts yield long-lasting results.
Remember– Tracking your keywords' position on Google is the first step in understanding how your business is doing.
If you can't track your keywords, you may struggle to make sense of your success and failure. To ensure you are able to accurately track your keywords, we highly recommend using a SE Ranking tool.
It is not only the best rank tracker but an all-in-one SEO tool that comprises modules needed for search engine optimization.
However, you may choose any of the tools mentioned in the list. This list is not the only one that is out there, but it is one that we are confident will help you immensely.
What are the tools you are using for your keyword position tracking?
Does it deserve the mention in the list of best rank tracking tools?
Please share it in the comments section.
I hope you liked this article on the Best Keyword Rank Tracking Tools. If you have any questions about these tools, please don't hesitate to reach out to us at nitin@dabasblog.com
Thank you for reading. We would love to hear from you!
And please, don't forget to share it.
---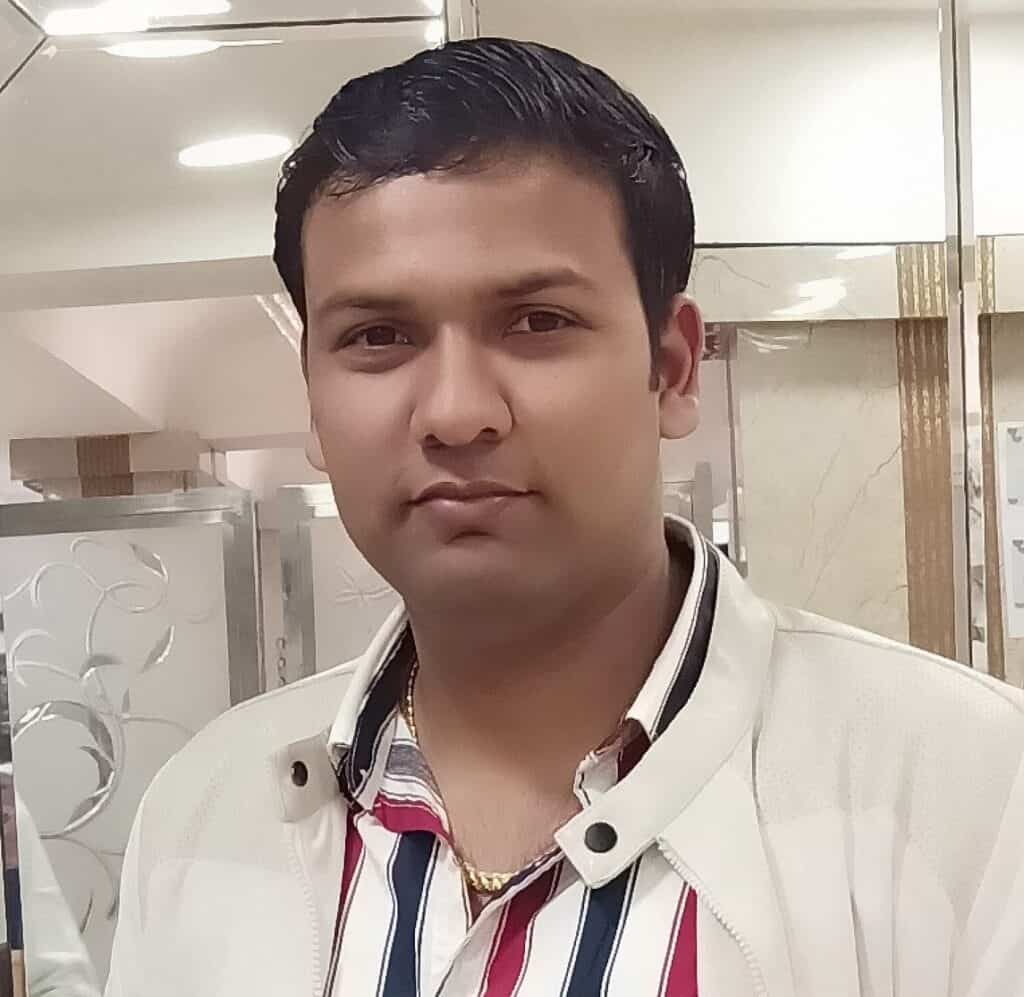 About Author
Nitin Dabas is a professional blogger from India. He is the founder of DabasBlog & SEOSachet. He is an SEO and content marketer who writes about Blogging, SEO, WordPress, and Online Marketing with the aim to help fellow bloggers get succeed in blogging.