Are you looking for a tool that can help you find profitable long-tail keywords in your niche?
Long Tail Pro is a powerful tool used by many SEOs to generate long-tail keyword ideas. Besides this, you can use it to track your keywords position and backlinks analysis.
One of the important topics that I never covered in my blog is how to do keyword research. Obviously, it's a challenging task if you don't have a premium keyword research tool.
In this Long Tail Pro review, you'll find how to generate profitable keyword ideas for your project.
Keyword research is the base of any SEO strategy. After reading this review, the foundation of your project will be robust, as keyword analysis won't be a tough task for you.
Earlier, I shared a detailed analysis of the SE Ranking keyword research tool, but Long Tail Pro can do much more than that.
Let's dive into LongTailPro review and analyze this long-tail keyword research tool.
Long Tail Pro Review 2023: The Best Keyword Analysis Tool
Long Tail Pro is a premium keyword research tool recommended by many SEO experts. Earlier it was only a desktop tool, but now you can access its cloud version too, which is most recommended.
This premium keyword research tool starts at $47/month but you can save a flat 30% using this special discounted link.
I'd recommend you sign-up for their free 7-day trial to evaluate the tool. If you find it valuable, then use the above link for a 30% discount.
This Long Tail Pro review will help you in analyzing the tool and finding out profitable keyword ideas.
One reason that always keeps LongTailPro on my resource list is that you don't have to be a master in keyword research to use the tool. The keyword difficulty that it suggests will help you determine the exact keyword competitive level.
Read this post to know how to activate the Long Tail Pro 30% OFF deal.
What will you learn in this Long Tail Pro review?
What are long tail keywords?
Why long tail keywords are important?
How to find long tail keywords easily?
What should be the perfect keyword research strategy?
How to find easy-to-rank keywords in your niche?
What are long-tail keywords?
Keywords are key phrases or terms that you type while searching for anything on the internet. Simply, the words you type on Google or other search engines are keywords.
Now, these keywords are mainly of two types-
Short Tail Keywords: These are keywords of a single word or a maximum of two words. For example- Shoes, Men Shoes, etc. These are often competitive and have a high search volume.
Long Tail Keywords: These are those keywords that contain more than 3 words. For example- The best shoes for men are under $100. Obviously, these have comparatively lower search volume but these are less competitive and easy to target.
Why should you focus on long-tail keywords?
You often heard of targeting only long tail keywords in the beginning.
But, why?
Let's understand it easily. Suppose, you start a new website. Now, in the beginning, it has no backlinks, no authority, and less content.
Now, you want to write content on a highly popular keyword. But the keyword is highly competitive though.
Let's take an example- "Shoes". No doubt, it has a huge search volume. But look at its competitive level.
In this scenario, you have two options: to pick it up and start writing or search for its variations that have less competition.
#1. If you choose the first option, it is nearly impossible for you to rank on this keyword. The reason is that there are already many high-authority sites ranking for that keyword that have tons of backlinks, content, and authority.
So, targeting such keywords is just a waste of time if you have just started your website.
#2. Now, if you search for its variations, you may find a few other less competitive keywords and easy to target. Let's look here in the picture below-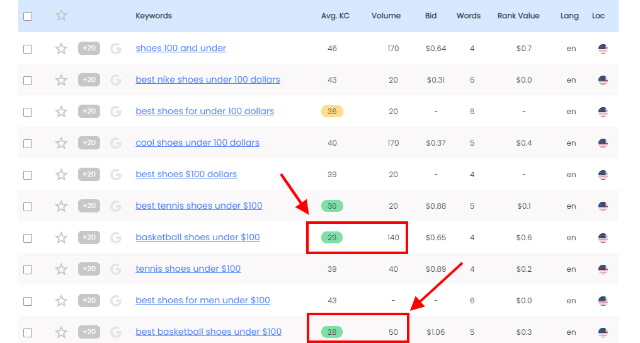 This keyword has comparatively fewer searches, but there are high chances of ranking for this keyword and getting some hits.
That's why it is always said to target and focus on long-tail keywords.
👉 How to Start a Blog in 2023?
Does it worth the hype?
I'm using Long Tail Pro for the past 6 months and have seen significant growth in the search rankings of my keywords.
Just answer a simple question of mine!
What do you want from an SEO tool?
In my opinion, I want an SEO tool that can perform keyword research, competitor analysis, website audit, and backlinks monitoring. These are the basic features that an SEO tool should have.
No doubt, these features are available in many other tools. But, the question is how much are they reliable?
Can you trust the data that they are providing to you? There are some tools like Semrush, Ahrefs, and SEO Powersuite, but they are too expensive to use.
Long Tail Pro is a tool that is a veteran in this field and provides accurate data at a reasonable price.
Above all, the keyword research feature of the tool is outstanding!
There are some features of the tool that you should try right now-
Generate keyword ideas for your project easily.
Export the keywords list to MS Excel.
Importing the keywords list is quite easy.
Create multiple projects (help you in setting up specific campaigns for different projects).
Find easy-to-rank keywords specifically for your domain.
Get your keywords ranked on different search engines.
Group your keywords for different campaigns.
Monitor the backlinks of your website.
Check your website for errors using the Website Audit feature.
How to use Long Tail Pro to find keyword variations?
To find profitable keywords for your project, you should have a subscription to LongTailPro, if you are new to it, grab a flat 30% discount using this discounted link.
Now, as you have got this premium keyword research tool, it's time to find long-tail keywords.
Let's start it.
When you head over to the dashboard, you'll see this interface.
Simply, click on Keyword Research. You'll get this type of interface.
Now, click on Add Project to get started.
Simply, name your project. Let's say it- Mobile Phones.
Now you will see the following interface that asks you to enter the seed keywords and domain name.
You may just start by entering the seed keyword and get different keyword ideas at once.
#1. Before entering the focus keyword, you should add your domain name to get the exact keyword competition that your domain can compete with.
So, add your domain in the field marked 1.
#2. This field shows normal keyword difficulty that the tool thinks is fine for every domain. But, if you add your domain name here, it will be changed according to your domain name.
It basically depends on how many backlinks your domain has and what is its authority.
When I entered my domain name, it got changed and now it is indicating that I should target the keywords that have keyword competitive scores up to 36.

#1. Now, as you have entered your domain name, now enter the seed keywords in the field marked at number 1.
You may enter up to 5 keywords at a time to get suggestions.
#2. This field allows you to get a maximum of 400 suggestions per keyword.
This means if you entered 2 seed keywords, you will get 800 keyword suggestions. Well, there is no need to allow 400 suggestions as it will eat up your keyword limit.
I recommend you allow only 20 suggestions per keyword.
#3. You will be definitely looking for target keywords for your project. Simply, target the language and country using this tab.
After entering all the entities, simply click on the Retrieve button, and you get the following keyword suggestions.
By doing this, you can get a variety of different keyword suggestions for your project and choose the best one.
How to find Easy Rank Keywords using LongTailPro?
So, now you understand how to find keyword ideas using a long-tail keyword research tool. But, you have to put a little extra effort to find easy-to-rank keywords.
How to find profitable keywords using Long Tail Pro?
Well, first you should get different ideas using AnswerThePublic.com and then pick up some of the keywords and make a list to find the best keywords from them.
Now create a new project as discussed earlier in this long tail pro review and enter your seed keywords.
Everything is the same as you did above, except for filter options.
Yes, just below the seed keywords, you have to select Advanced Options to filter your keyword research.
Let's say, you have entered 100 in the minimum monthly searches and left the maximum tab blank. What would happen?
It will show you results in which all the keywords above 100 monthly searches will be shown up to maximum searches. It would save your unnecessary keywords from the keywords limit.
As a result, you'll get a variety of long-tail keywords that are obviously profitable as the keywords are transactional. This means every keyword is starting with the Best.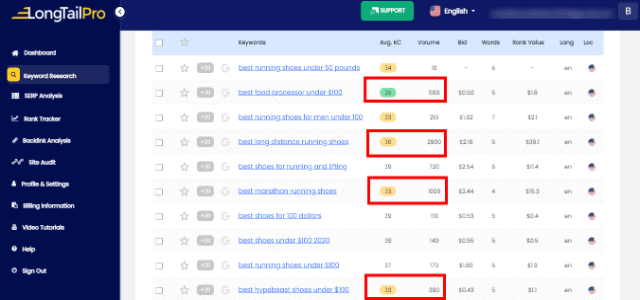 Here is the list of profitable keywords that you can easily export to your excel spreadsheet.
All the keywords that are highlighted are those which can be easily targeted as the keyword competitive score is analyzed by domain strength.
So, in this long tail pro review, you learned how to use long tail pro and find profitable and easy-to-rank keywords.
Benefits of Long Tail Pro Keyword Research Tool
Finding Long Tail Keywords
Keyword Research is the best feature of this tool. I've used many other tools for keyword analysis but I can proudly say that I have LongTailPro in my arsenal.
You can analyze multiple keywords and hundreds of suggestions in a go.
Competitive Analysis
Using this feature, you can spy on your competitor's website.
It allows you to enter a domain or URL to spy. Simply enter the details and get the keywords list on which your competitor is ranking.
Rank Tracker
You can easily track keywords position of multiple keywords in a go.
Without keeping an eye on your progress you can not lead the industry. So, to outrank your competitors, it is necessary to track the ranks of your keywords.
LongTailPro's keyword rank checker allows you to check your keywords' position on Google, Bing, and Yahoo.
You can monitor keyword rank tracking on daily basis in different countries.
Backlinks Analysis
Backlinks analysis provides you an opportunity to strengthen your website's authority.
How?
Simply, enter any of your competitor's domain names in the backlink analysis box and get a list of backlinks and referring domains he has.
You can monitor how many backlinks you lost or created in the past few days.

The backlinks monitoring tool is indispensable to improving your website's ranking on Google.
Website Audit
To be always on top, it is necessary to check your site for errors.
There could be many reasons for a ranking drop, like broken links, page loading speed, duplicate meta tags, etc.
It is not manually possible for a webmaster to check for errors manually. So, it is highly important to audit your website for issues.
Just name your project and enter your domain name, Long Tail Pro website audit tool will check for errors if any.
Improvements That Are Needed in LongTailPro
Though the Long Tail Pro is the best keyword research tool, there are some features that need improvement. I'm listing down the features that I found to be improved or added to this SEO tool.
The search volume trend is missing
The backlink monitoring tool needs improvement
Website audit could have a better interface
Long Tail Pro Review 2023: Is It The Best Keyword Research Tool?
Long Tail Pro Pricing and Support
When choosing any SEO tool, its pricing also matters. So, this long tail pro review can't be completed without its pricing details.
Long Tail Pro is much cheaper in price when compared to its competitors like Semrush, Ahrefs, etc. While others cost you about $100/month or more for the basic plan, it offers the monthly starter plan at $47/month.
You may look at the Long Tail Pro pricing table here-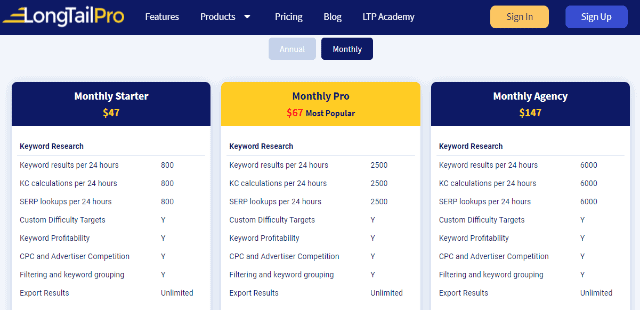 While the annual subscription of all plans concludes to-
Annual Starter– $297 after $147 saving by the company
Annual Pro– $537 after $238 saving by the company
Annual Agency– $1177 after $588 saving by the company
Long Tail Pro Discount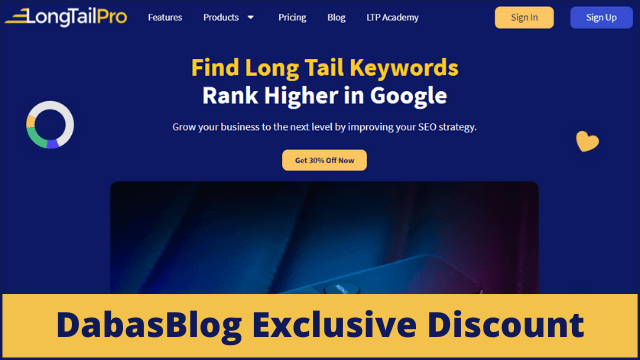 Being an official partner of LongTailPro, DabasBlog offers you the subscription at a flat 30% discount. Grab this exclusive discount now.
You can get the Long Tail Pro subscription at the following price-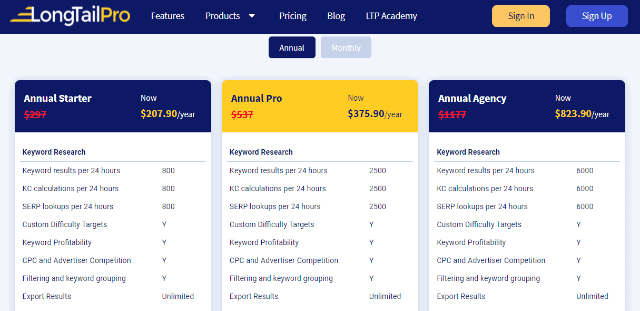 👉 Note: The 30% discount is valid on all plans, whether it is monthly or annual.
Along with their smart pricing system, their customer support is also excellent. They have SEO experts who solve your queries in no time.
Besides this, you get access to Long Tail Bootcamp video tutorials for an easy understanding of the tool.
Frequently Asked Questions
Conclusion: Should You Buy Long Tail Pro?
I tried to explore everything in this Long Tail Pro review. You got to know about each feature, its functionalities, and how to use LongTailPro to find keywords.
So, if you're a beginner, then I'd recommend you give it a try. It is far better than KWFinder, SE Ranking, and Ubersuggest.
If you are an experienced webmaster, then Long Tail Pro is worth buying if you do not have an active subscription to SEMrush, Ahrefs, etc.
Its accurate search metrics make it the number #1 alternative to Semrush.
The tool is extremely helpful in finding long-tail keywords and improving your website ranking.
Still, if you have any doubts or queries regarding Long Tail Pro, please let me know in the comment section below.
Or if you have tested the tool, please share your experience.
👉 And, please don't forget to share it.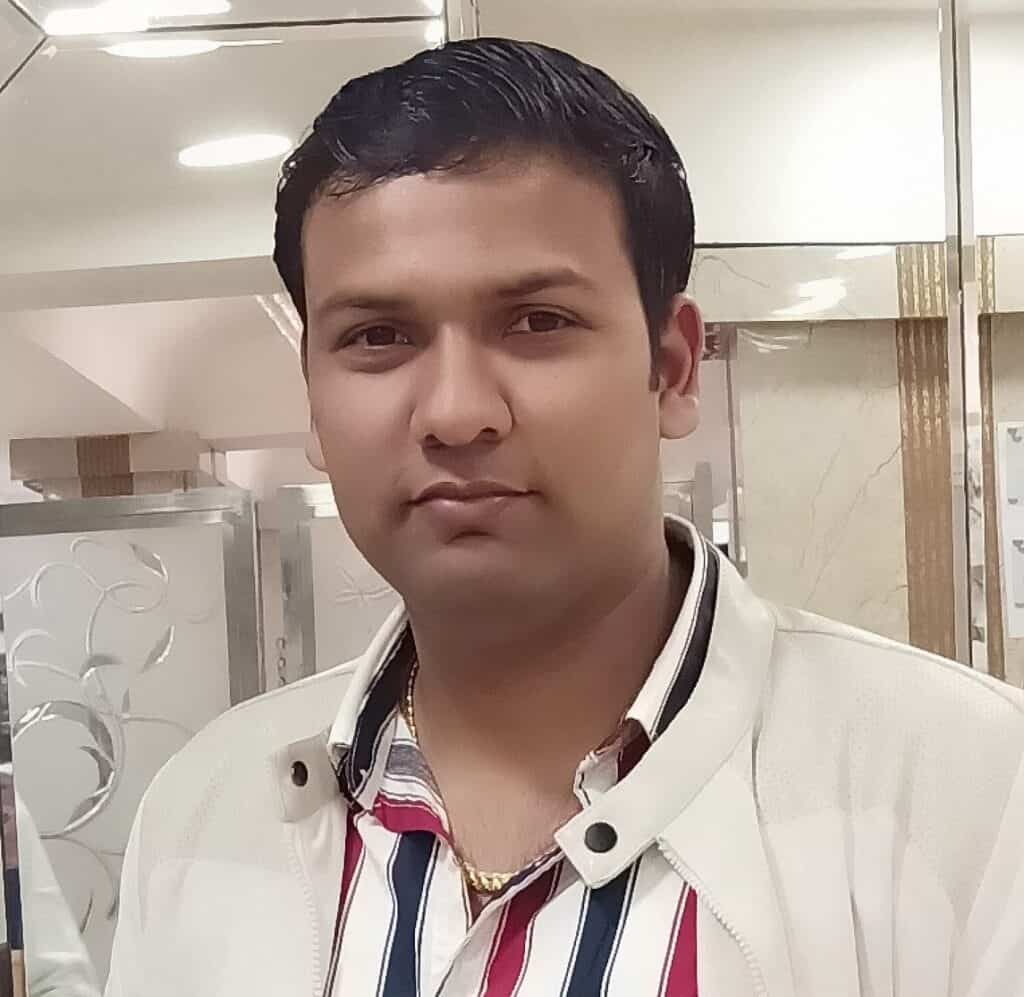 About Author
Nitin Dabas is a professional blogger from India. He is the founder of DabasBlog & SEOSachet. He is an SEO and content marketer who writes about Blogging, SEO, WordPress, and Online Marketing with the aim to help fellow bloggers get succeed in blogging.