When it comes to SEO, having the right tools in your arsenal is crucial. And one tool that consistently ranks at the top is SE Ranking.
Trusted by SEO experts and agencies worldwide, SE Ranking offers a comprehensive suite of features designed to help you optimize your website and improve your rankings.
In this blog post, we'll take a closer look at why SE Ranking is considered the number one SEO tool for professionals in the industry. We'll explore its key features, such as keyword research, competitor analysis, traffic analysis, and rank tracking. Plus, we'll discuss how SE Ranking can benefit bloggers and affiliate marketers specifically.
So if you're looking to take your SEO game to the next level, keep reading to discover why SE Ranking should be your go-to tool.
👉 Grab a 14-day free trial here!
SE Ranking Review
SE Ranking is an all-included SEO tool that is used for keyword research, competitor research, backlinks analysis, and domain audit.
When launched, it was originally a keyword rank checker tool that is now competing with SEO giants like Semrush and Ahrefs in other features as well.
SE Ranking keyword research tool is an award-winning tool that is well-known for its accurate keywords ranking and competitive research.
It claims to be an all-in-one SEO tool that delivers every feature to outrank your competitors.
SE Ranking Review 2023: Grab 14-Day Free Trial
Why use SE Ranking?
It is a tool that helps you improve your blog presence on major search engines through its core features. The tool helps you in finding low competition keywords for your content so that you can easily perform well at SERPs.
Some reasons that engage you to use the Keyword Research tool are:
Dedicated Keyword Analysis
Broad Competitive Research
Backlinks Analysis
Website Audit
Keyword Rank Tracking
SERP Analyzer
Content Marketing Module
Social Media Management
Marketing Plan
White Labeling Reports
Generating Leads
Though, there are some more reasons to opt for this tool as Marketing Plan, social media management, keyword suggestion tool, custom SEO reporting, white-label, etc.
SE Ranking Key Features
I discuss the salient features that help you in getting huge traffic and improve your blog ranking here-
Keyword Research
A keyword analysis is an important part of search engine optimization. Neil Patel's comprehensive guide describes how important is Keyword Research to rank a blog?
Well, to start with Keyword Research, first click on "Keyword Research" in the header bar. This will open the keyword research tool for you, where you can type your focus keyword and get all details about it.
You can find the details of any keyword in any targeted location by selecting targeted search engines on the drop-down menu. After selecting the search engine, just hit the "Analyze" button and get results for your focus keyword.
The keyword research tool provides you with all necessary metrics like Keyword Difficulty, Search Volume, and CPC in the keyword analysis result.
Just below these metrics, you will find some more interesting features of the tool which distinguishes similar keywords, related keywords, and low-search keywords.
Keyword research is not complete until you see the brainstorming keyword ideas. Here comes another great tool for SE Ranking, i.e. Keyword Suggestion Tool.
SE Ranking Keyword Suggestion Tool helps you in discovering relevant terms related to your focus keyword. You just need to click on view detailed report to find the keyword suggestions.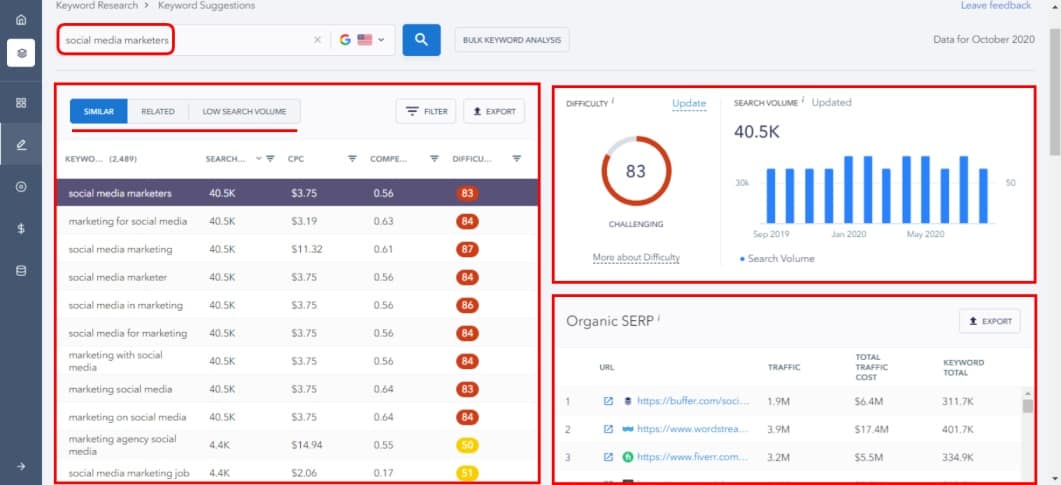 Keyword Suggestion Tool shows you all relevant keyword ideas along with search trends for better analysis. Besides this, the tool gives you an overview of Google SERPs for that keyword, where you can see the organic results for up to 200 positions.
For better keyword analysis, you should have filters to find the perfect keywords match for your content. In the keyword brainstorming tool, you get filters to choose the search volume, CPC, difficulty, and competition to get the most efficient keyword ideas.
Competitive Analysis
For competitive research, you need to click "Competitive Research" on the SE Ranking header.
Now type the domain name of your competitor in the search box, then choose the targeted country for which you need to analyze your competitor and hit the "Analyze" button.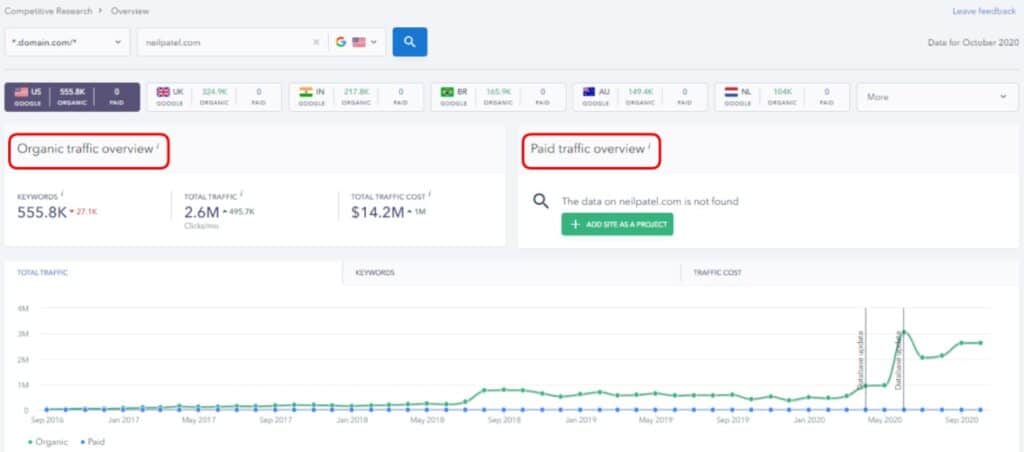 Here, in this report, you will see your competitor's spy report, along with organic and paid results.
Do you want to see which keywords your competitor is ranking on?
Just scroll down the page and see the organic keywords on which your competitor is ranking. The tool also gives you a distribution of organic keyword rankings in a tabular form.
Umm…
Competitive research is incomplete until you see all his keywords and analyze on which you can rank easily.
Yes! You can analyze all such keywords with its Competitive Research Tool. Just click on View Detailed Report and you will have all your competitor's keywords to spy on.
You can easily filter the results to get the perfect keywords by analyzing search volume, keyword difficulty, CPC, etc.
One prominent feature that may attract you is "Traffic share".
Yes! After finding the keywords, you can analyze how much traffic you can receive if you got ranked on the first page? In the above picture, you can see how much traffic share a keyword gets when it is ranked in the 4th position.
Isn't interesting?
The Competitive Research Tool shows you how much traffic your competitor is receiving and what is his profit share by analyzing the CPC and traffic of that keyword.
Another significant feature that the tool provides is Keyword Rank Checker.
Keyword Rank Checker
To sustain a good ranking on search engines, it is necessary to track your keywords' position regularly. Keyword rank tracking not only shows your keywords' position but also provides you with the opportunity to improve your blog presence.
Yes! As the name suggests, it is a great tool for providing accurate keyword ranking on major search engines.
Though it is a crucial part of search engine optimization, amateur bloggers often ignore keyword rank tracking.
With SE Ranking keyword rank tracker, you can easily track the performance of your keywords and monitor their rankings in search engine results.
You just need to create a project for the position tracker. This project will give you insights into how well your site is performing on search engines.
Just click on the Projects tab and then "Create Project".
This will open an interface where you have to fill in your project details like project name and domain name for which you want to track keywords rank.
Here, you can select up to how many positions you want to track your keywords ranking. In addition, you can select the users of the project by allowing them access to the project.
On the next page, you need to enter the keywords for which you want to track the rankings. You can enter the keywords manually or import the keywords file.
Enter the keywords here and hit the "Add Keywords" button before clicking Next.
You can track the position of the keywords on 5 search engines. Simply select the search engine and choose the country to track keywords rank.
It allows you to track keywords positions on Google, Yahoo, Bing, Yandex, and YouTube. In addition, you can choose the language and mobile search engines as well.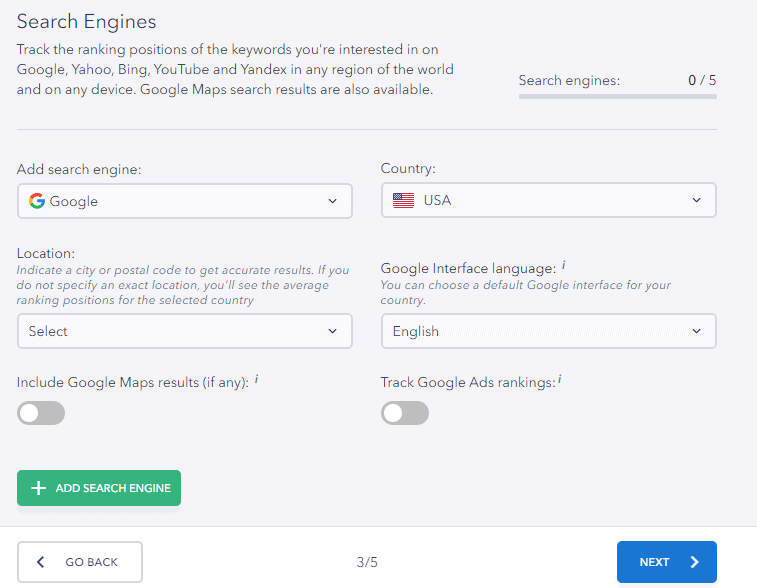 After this, add your prime competitors and click "Next". You can integrate Google Analytics and Search Console for better data representation.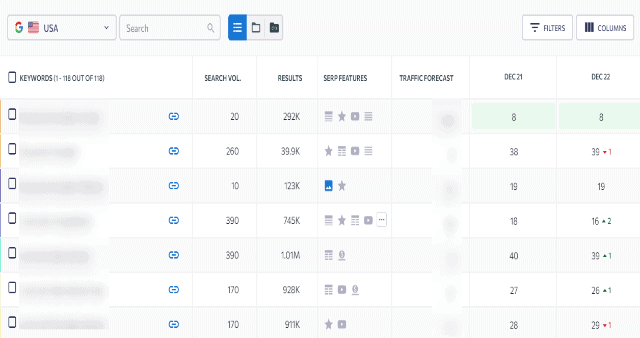 Here, you can see how the keyword rank checker tool shows your keywords' position along with their SERP features. You can analyze keyword ranking for up to the last 6 months.
So, just analyze your keywords' position and improve their ranking by building backlinks and adding quality content.
SE Ranking SERP Analyzer 2023: Is it the Best SERP Checker?
Backlinks Checker
Backlinks analysis is an important feature of any SEO software. It helps us in analyzing the backlinks of any domain. This is especially helpful in competitive analysis.
You can easily find out the backlinks of your competitors and find the link opportunities to your blog as well.
Simply, go to Backlink Checker and enter the domain name for which you want the backlinks analysis.
The backlink checker tool allows you to check for 100 domains in a month. In addition, it provides you to check the backlinks for URLs as well. Simply use the drop-down menu to select the URL instead of domain.com.
This is the interface of the backlinks checker tool that shows you total backlinks, referring domains, anchor texts, etc.
Just spy on your competitor's backlink profile and make a list of backlinks that are easy to build and are of chief authority. The filter option is quite useful in building a list of such links.
That's it. Now, build high-quality backlinks to your blog and boost your search engine ranking.
SE Ranking: The Best SEO Tool To Outrank Your Competitors
SE Ranking Pricing
Now let's look at SE Ranking Prices. It offers three types of pricing plans namely-
Essential: $55/month (750 keywords)
Pro: $109/month (2000 keywords)
Business: $239/month (5000 keywords)
SE Ranking Discount
Though it offers a flat 20% OFF on the annual subscription, you can get extra 10% discount by using our exclusive coupon code.
Promo Code- DABASBLOG10
Use the above mentioned SE Ranking discount code at the checkout to get an extra 10%OFF.
👉 If you are looking for the SE Ranking lifetime deal, then you may feel disappointed as there is no lifetime deal available right now.
SE Ranking Keyword Research Tool: Is it the right choice?
This detailed SE Ranking review has described every important feature that is needed. This is the most affordable keyword research cum domain analysis tool.
Still, confused?
Here are some pros and cons of the tool that will help you decide on the best SEO tool for yourself.
Pros
In-depth keyword analysis
Advanced competitive research
Accurate Rank Tracking
Detailed Site Audit
Simple interface that allows you to export the files
Mobile app available
14-day free trial available
Comparatively low price
Marketing Plan
White Label Reports
Social Media Management
Cons
Manual difficulty checking for some keywords in the keyword suggestion tool
Backlinks Checker is not as powerful as Ahrefs
SE Ranking Review 2023: Grab a 14-Day Free Trial
SE Ranking Competitors
It is the fastest-growing SEO Tool that is receiving good word of mouth from users. This tool offers the same features at comparatively low prices. While talking about its competitors, we can name the following tools:
To be honest with you, if you really want to know the best SE Ranking alternative, then Semrush is the tool. I have written a detailed comparison article on SE Ranking vs Semrush. You may read this for more information.
Conclusion
SE Ranking is the best SEO tool for keyword research, keyword rank tracking, detailed site audit, etc. These are the features that you get in other SEO tools also, but at a higher price that is around $99 per month, while this tool provides you with all these at a cheaper rate.
It is the all-in-one and fastest-growing SEO tool.
The robust and reliable features of this tool make it the most essential tool for SEO experts and enthusiasts.
Don't waste your time just thinking about it. Grab its 14-day free trial right now and decide for yourself.
Have you tested the SE Ranking Keyword Suggestion Tool? Please let me know about the comments.
And please, don't forget to share it.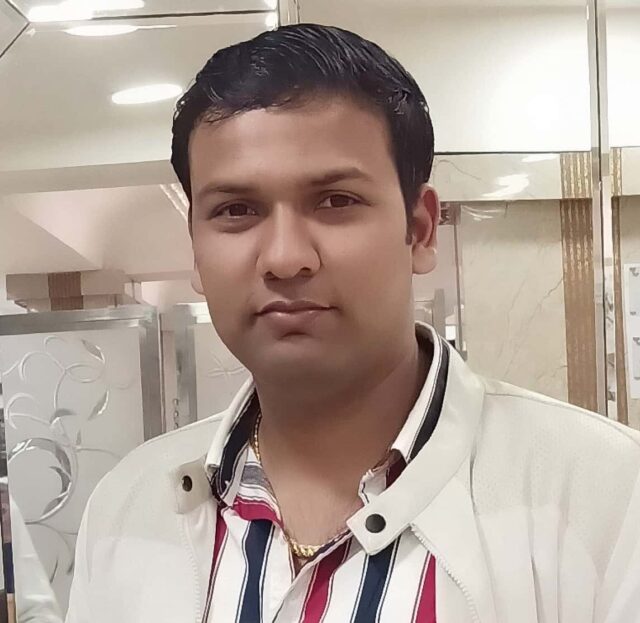 About Author
Nitin Dabas is your SEO guide. Expert in keywords, on-page SEO, and link-building, he has boosted rankings for countless clients. Read his blog and join his success stories.