Best Grammar and Punctuation Checker Tools
Probably, you are looking for the best writing assistant for your project.
But, confused!!
Just check out the 5 best grammar and punctuation checker tools that will not disappoint you.
No one ever wants to have any grammar mistakes in their content, because the first impression is most important to the readers. Sometimes, we ignore grammar and punctuation checks in a hurry.
It reflects a poor impression on our readers and, of course, has a negative impact on SEO.
Definitely, we can proofread our articles, but it takes a lot of time for humans to check for errors. A real-time punctuation checker and free online proofreading tool prove to be very helpful in this case.
If you are searching for an effective way to improve your writing skills, you can use free online proofreading tools. Of course, it helps you to improve your blog engagement.
Most content creators don't pay any heed to punctuation marks or check for commas. But, it can improve your readability score and engage more audience with your content if you write error-free content. Besides this, Google also loves flawless content which increases your chance of ranking higher.
I've compiled a list of the top 5 online punctuation correction tools to prevent you from feeling embarrassed in front of your readers.
Top Comma Checker Tools for Better Writing
5 Best Punctuation Checker & Proofreading Tools
If you are a non-English speaker, then a correct punctuation checker should be the priority for you to impress your readers. At present, there are a lot of grammar and comma checker tools available. But we can't deny that it is quite a confusing task to select the best among all other proofreading tools.
I've sorted out this hectic situation for you. Go through these 5 top grammar checker tools that help you refine your grammar.
Grammarly
If you want to improve your writing skills, it is the best tool.
Grammarly is a tool that can help you write any kind of article. Whether you are a blogger, student, or author, you can present your ideas with no grammatical mistakes.
It plays an amazing role in your presenting writing content with no silly mistakes. It helps you in publishing articles in no time, as it presents real-time grammar checking that enhances your writing speed.
It is a tool that is recommended by many authors for flawless writing. With the help of this tool, you can learn from your errors and improve your writing skills.
If you want to have a free punctuation checker, this is the best choice for you.
Price: $30 monthly or $12/month annually
Free version: Available
You may refer to this in-depth Grammarly review for a better evaluation of the tool.
Pros
Cons
You may read– Grammarly vs ProWritingAid: What's the Best Writing Assistant Tool?
---
ProWritingAid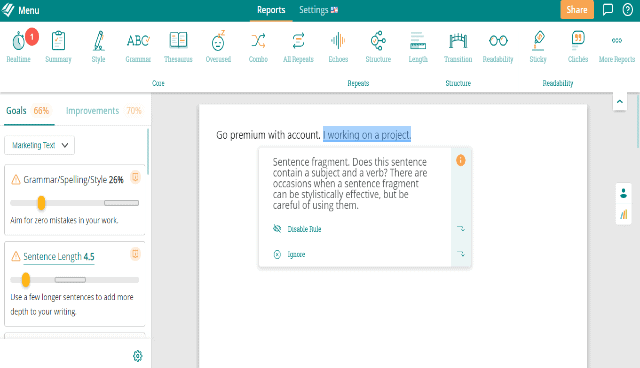 ProWritingAid is another great grammar and comma checker tool. Its style editor tool improves your writing style. It helps you to get rid of errors and grammar mistakes.
It assists you in correcting your spelling mistakes and checking for errors in your writing. With the help of ProWritingAid, you can improve your readability score by removing poor words, and duplicate words.
Impressive content not only depends on grammar but on other things also like sentence structure and perfect word choice.
It helps you express your ideas and thoughts in the best way and helps achieve more success. You may choose your writing style as formal, informal, casual, etc.
It removes grammar and spelling errors from your content and represents flawless articles. It highlights vagueness and complexity in your work which helps you to improve your writing style.
It makes your paragraph structure much better and boosts your writing skills.
You may refer to this review of ProWritingAid for better clarity of the tool.
Pros
Cons
Price: $20 monthly or $6.58/month annually
Free Trial: Available
👉 Get a flat 20% Off on the ProWritingAid premium plan using this promo code-
Discount Code- DABAS20
---
Ginger
The Ginger grammar checker tool has been around for a long time, over ten years. It is a great and the oldest writing assistant software.
With the help of this tool, you can correct any grammar mistakes while writing. Another significant achievement of the tool is its word choice and style editor. Besides this, you can use the tool for translation as well. It helps you to translate over 50 languages.
If you want to give any writing assistant a try, you may choose ginger software. It offers a free version and overall affordable than other grammar checkers and proofreading tools.
Ginger's personal trainer app is quite helpful for dyslexia students.
It's easy to integrate with Chrome, Firefox, and Safari browsers.
Pros
Cons
Price: $20 monthly or $12.48/month annually
Free version: Available
👉 5 Most Trustable Paraphraser Tools
---
WhiteSmoke
When you look for free online proofreading tools, there are many grammar correction apps available.
WhiteSmoke is another such tool that is used for grammar and punctuation checks. It is a complete proofreading tool along with a writing assistant and plagiarism checker.
When you purchase a premium plan of WhiteSmoke, you get a desktop version too. Besides this, you may use it on different browsers like Chrome, Firefox, Safari, and Opera.
There is one thing in the app that should be improved its desktop version's usage. This means the desktop version allows you to check only 10,000 characters. Yes, these are 10,000 characters, not words. This is quite a limited check that should be improved by looking at the present competition.
To know more about the tool, is it a suitable tool or just a waste of money? Just look at its pros and cons.
Pros
Cons
Price: $13.33 monthly or $6.66/month annually
Free Trial: Available
---
Linguix
The list of proofreading tools does not end and here is another AI-based writing assistant tool, i.e. Linguix. There are many questions raised daily related to grammar checks and the most common are:
How do I check my punctuation online?
Linguix is the answer to this question. Yes, it is a tool that helps you while writing by providing real-time punctuation checks. It has the largest grammar rules database of around 2000 rules.
It guides you to remove poor word usage and its style checker restores your article impressively.
Its readymade text templates make it different from other grammar checker apps. This means, if you want to write a press release, then you may try its readymade template and edit accordingly.
If you want to target a specific country, then it allows you to edit your text according to that country's language.
I've seen people talking about Grammarly vs ProWritingAid but it is a tool that is less known but efficient. If you have a query like- which sentences are punctuated correctly, check all that apply, then you should use Linguix.
Pros
Cons
Price: $18.95 monthly or $8/month annually
Free version: Available
---
Other Notable Grammar Checkers
Turnitin
Language Tool
AutoCrit
GrammarBase
PaperRater
Garrestone Punctuation Tracker
After The Deadline
Apart from the above tools, these are also some notable proofreading tools. You may use these while writing and can impress your audience with a flawless writing style.
---
Frequently Asked Questions
---
Conclusion
So, these are some of the best grammar and writing style checker tools. However, I'd recommend you manually check all grammar errors along with proofreading tools. The reason is that no online grammar checker tool is perfect and provides 100% results.
These are good when used as a companion in your writing, but don't just rely on them too much.
You may use Grammarly and ProWritingAid as writing assistants for your project. These are the most reputed and accurate grammar checker tools.
Hopefully, you liked the post and reached the conclusion of choosing the best punctuation tool for your projects.
If you love this post, please share it with others too.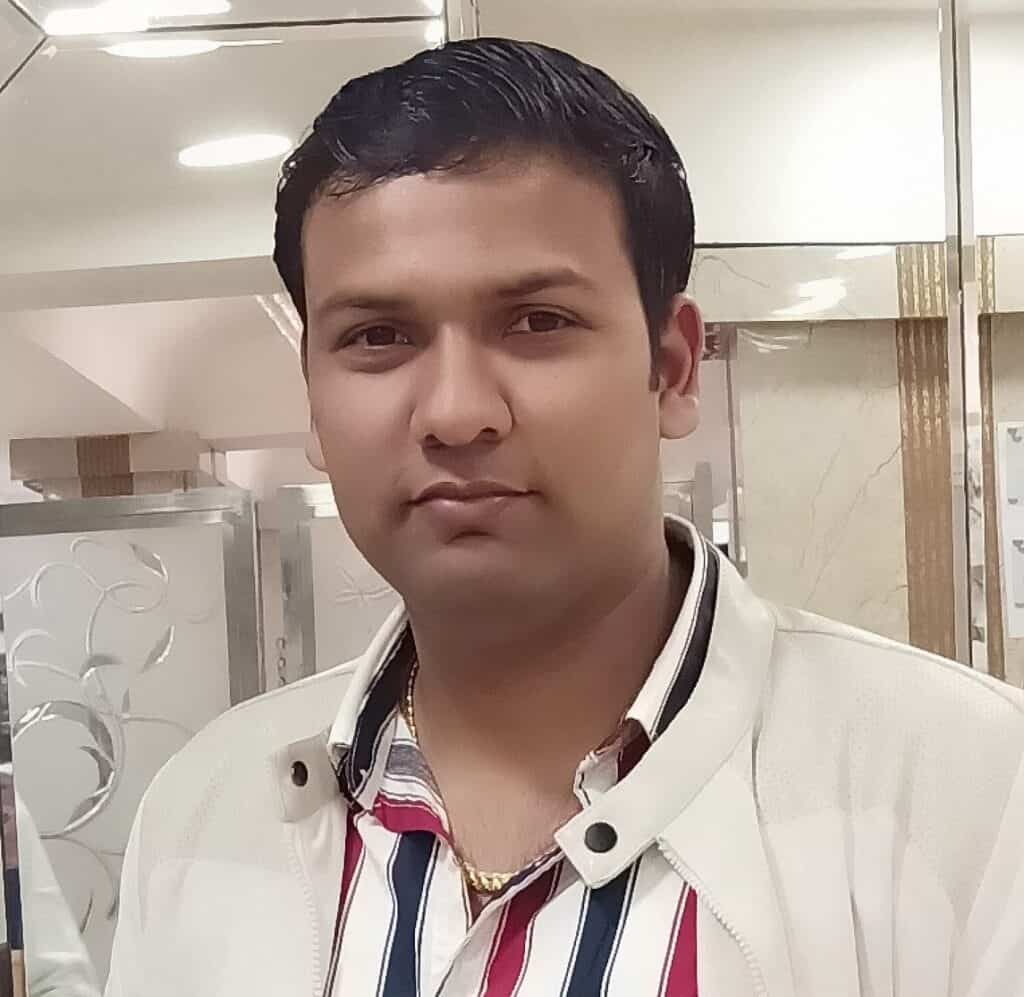 About Author
Nitin Dabas is a professional blogger from India. He is the founder of DabasBlog & SEOSachet. He is an SEO and content marketer who writes about Blogging, SEO, WordPress, and Online Marketing with the aim to help fellow bloggers get succeed in blogging.