Hello, Web Enthusiasts! Looking for the best page builder to build your site? You're in the right spot.
You are welcome to this in-depth Spectra Pro Review. As a professional blogger with 3+ years of experience, I've used a variety of online tools. But, when it comes to creating an impressive blog layout, Spectra Pro is my go-to page builder.
This review offers a comprehensive analysis of WPSpectra: Ultimate Add-ons for Gutenberg blocks. We'll review its features, test how easy it is to use and assess its uniqueness among other WordPress page builders.
Why should you invest your time in reading this?
Because I've been in your shoes, tested many page builders, and really know what works and what doesn't. Choosing the right tool is crucial for creating a website that is both functional and well-designed.
By the end of this article, you will understand what Spectra Pro offers and if it is suitable for your needs as a web creator.
Your time is valuable, and this review will help you determine if Spectra Pro is right for your WordPress journey.
Now, let's delve into the world of Spectra Pro and see if it truly stands out in the crowded realm of page builders!
Pros and Cons
Quick Verdict
If you're a dedicated web creator committed to delivering exceptional results, then Spectra Pro is the ideal choice for you.
Spectra Pro offers user-friendly blocks, which are easy to navigate. The Post Timeline truly stands out for me. It's been an invaluable tool in crafting distinctive designs for my clients.
Of course, you won't find so many awesome features in any of the competitors at such a lower price.
There is a desire among many for the inclusion of dedicated E-commerce blocks in Spectra Pro. Even without specific E-commerce blocks, its adaptability and compatibility with plugins ensure a seamless and creative online storefront design experience.
The sheer abundance of blocks may occasionally be overwhelming for complete beginners. But don't worry – Spectra Pro's Knowledge Base is here to guide you through any confusion.
If you're a web creator looking to level up your business, Spectra Pro is your secret weapon. Unleash its power and watch your online presence soar!
Don't miss out – grab Spectra Pro today!
Who is it for?
Web designer and developer who wants to create custom websites for clients
Agency owner and freelancer who needs a powerful and versatile website builder
Small business owner who wants to create a website without having to hire a professional
Anyone who wants to create a beautiful and informative website without diving into the complexities of coding
Looking for a basic plugin to help you create simple and unattractive web pages
A complete beginner, who just started using WordPress; this may be overwhelming for you
Spectra Pro Review
What is Spectra Pro?
Spectra Pro is a user-friendly WordPress block editor designed to enhance the ability of the standard WordPress Gutenberg editor. It's your go-to tool for effortlessly creating custom page designs on WordPress.
Key Features:
Drag & Drop Editor – Build pages visually with no coding needed.
300+ Templates – Add headers, footers, and layouts with a click.
Responsive Editing – Optimize pages for mobile and desktop.
Design Customization – Tailor colors, typography, spacing, shadows, and animations.
Performance Optimization – Fast load times and good scores.
WordPress Integration – Works seamlessly with themes and plugins.
Documentation & Support – Thorough learning resources.
These capabilities provide web creators with an efficient way to build stunning WordPress websites.
The drag-and-drop editor, templates, and customization options make designing faster and more flexible than coding manually. And with its performance optimizations, web creators can build pages that load quickly and rank better in search engines.
Spectra Pro is popular among web design professionals, agencies, and small business owners who use WordPress.
Key Benefits of Using Spectra Pro
Let's see how you can leverage Spectra Pro features in creating awesome blog layouts. Here are the key benefits of using Spectra Pro as your WordPress page builder:
Time Saver – With WordPress' default Gutenberg editor, you can't build a website that can attract visitors. Spectra blocks are standalone and sufficient to create a website that your audience loves within a few minutes. So, you'll have enough time to do core tasks for your business.
Create custom pages easily – Use the drag-and-drop editor to design and layout your pages without coding. This is much faster and easier than hard-coding pages.
Pixel-Perfect Design Capabilities – Tailor every element's styling like colors, spacing, typography, shadows, and animations to achieve perfect designs. You get incredible customization freedom.
Huge Library of Design Elements – Get access to over 300 design templates for headers, footers, layouts, and sections. Create professional-looking pages easily.
Optimized for Speed – Spectra Pro is specially designed to prioritize speed. Its lightweight code lets your pages load faster than other popular builders.
Seamless WordPress Integration – It utilizes WordPress best practices for seamless integration with other WordPress themes and plugins. More reliable than other standalone builders.
Responsive and Mobile-Friendly – Create responsive, mobile-optimized pages and easily preview edits on desktop and mobile.
Intuitive and Enjoyable Editor – The easy-to-use editor helps you create stunning web pages more quickly than others.
Enjoy these exclusive benefits to easily build high-performing and professional WordPress sites, surpassing other page builders' results.
How is it different from competitors?
Let's explore how Spectra Pro stands out from the crowd.
Content and Post Timeline – This is a feature that distinguishes it from other WordPress block builders. This feature is a prime feature that stands out your website from the crowd, and it is missing in other block editors.
Review and Star Ratings – Write a review and rate a product like a professional expert. You can add stars and ratings to your review to make it more authentic.
How To Block – Spectra blocks understand the importance of the How-To schema in SEO. They provide a hassle-free block that offers step-by-step guides for the How To section.
One-Click Updates – Get instant access to new blocks and features through one-click updates right in the WP admin dashboard. Other builders require manual updates.
Conditional Logic – Show/hide content based on user behavior and interactions for greater personalization. Most other builders lack conditional display options.
Price List – You get a pre-built block ready to showcase your pricing plans. You need not mess up with blocks to create a premium price list box; Spectra blocks do it for you.
Advanced Motion Effects – Parallax, scroll animations, and other advanced motion effects on any element. Most other builders offer limited motion capabilities.
900+ Google Fonts – Extensive font library compared to 200-500 Google Fonts on other popular builders.
Built-In Form Builder – Create contact and other forms without needing third-party plugins. Most other builders require additional form plugins.
Spectra invests heavily in educational content and support.
To summarize, Spectra Pro is the best drag-and-drop page builder with great speed optimization. The broader design options, customizations, and WordPress integration make it a superior option compared to others.
What does my experience say about the toolset?
Spectra Pro is the new weapon in my WordPress arsenal.
When it comes to providing an unbiased review, nothing can be more valuable than hands-on experience. Before I share my personal experience with the Spectra Pro toolset, I want to mention that I have been using this tool regularly for the past six months.
Efficiency Redefined
From the moment I first laid my hands on the Spectra Pro toolset, what struck me the most was its efficiency. I've used many tools before, but Spectra Pro is really fast and accurate at processing data. After I started using it, I quickly noticed that I spent much less time on tasks that I used to find difficult.
User-Friendly Interface
Beyond its technical expertise, what truly impressed me was Spectra Pro's user interface. Clean, intuitive, and minimalistic – it's designed for users of all proficiency levels. Even if you're a newbie, the toolset ensures you won't feel lost.
Reliable Customer Support
Lastly, I'd be amiss not to mention the toolset's excellent customer support. On two occasions, I faced minor issues (mostly due to my oversight) and reached out to the support team. Their response was prompt, and the resolutions provided were precise.
In conclusion, the Spectra Pro toolset has not just lived up to its promise but has exceeded my expectations on multiple fronts. While no tool can be deemed perfect, from my personal experience, Spectra Pro comes exceptionally close. If you're in the market for a reliable, efficient, and user-friendly toolset, Spectra Pro is worth considering.
Spectra Pro Features
Spectra Pro provides 28+ advanced Gutenberg blocks that transform your website into a mesmerizing and stunning layout.
Though it is not feasible to explore each block in this blog post, I'll explore some important blocks here:
1. Container
It is a block that you can use to lay the foundation of any block. You can use the container to create different blocks, such as an Affiliate Product Box, Information Box, or Product Review Box.

What I like the most about this container block is its flexibility. This Gutenberg block editor offers more than just a basic container block with multiple columns. It also provides a masonry grid within the container.
2. Heading
This is another important block that gives you the opportunity to highlight your text. You may use the Heading block to create a Call To Action block or to give your text an impressive look.

Like here in the above picture, I used it to highlight the heading of my blog post and to add a sub-heading below the main heading. It also allows you to add a separator between the main heading and sub-heading.
3. Image
This block is beyond my expectations. I can't just imagine that Spectra Pro can give me such an outstanding feature. Yes, as I am a huge admirer of Kadence Blocks, but it just beats them in this block.
In the video, you can see that when I hover over the image, it zooms in, fades its color, slides, and blurs. This is a feature that really fascinates me. If you have a magazine site, you'll love it for sure.
4. Buttons
Buttons block is another charming feature in the arsenal of Spectra Pro. It gives you much flexibility to add a CTA button in your content to convert your audience into customers.

You may inherit the theme color, make the link "nofollow" and open it in a new window. You may set the background color and border radius, and add the button shadow.
5. Countdown
This block is especially helpful for marketers to boost their conversion. To create a sense of urgency on your Black Friday SEO Deals page, make use of the Countdown block. This will effectively generate a fear of missing out (FOMO) among your visitors. Ultimately, you can boost your revenue.
So, if you're an affiliate marketer, this is the must-have block for you. Just set the expiry date of the sale period and create urgency among visitors to boost revenue.
6. Content Timeline
If you're an agency or a small business owner who sells their services. You may leverage this content timeline block to show a roadmap to your audience. For instance, what have you achieved yet, and what are your plans for the coming days?
This block is especially helpful for service providers to build trust among their audience.
7. Icon List
Using an icon list can improve your chances of appearing in featured snippets and make your content look organized and eye-catching.

You may use it to create an impressive Pros and Cons table as we used at the beginning of the post.
This gives your content a unique and impressive look to show content in an organized way.
8. Lottie Animations
You must have seen the animated pictures on the homepage of any website, Contact Us page, or anywhere on blogs. These are Lottie Animations that web owners use to engage the audience on their pages.
To use LottieFiles animations on your website, simply create an account on LottieFiles.com and upload your animations.
You can also build up the same engagement level using Lottie Animations of Spectra Blocks.
9. Price List
As an affiliate marketer or small business owner, you may need a pricing table to display the different pricing plans for your services.
What if you get a prebuilt pricing block to showcase your pricing plans?
Yes, Spectra Pro offers you a dedicated price list block to showcase your different pricing plans to your audience.
You just need to edit the information according to your need to captivate your readers.
10. Review
If you have Spectra Pro installed on your WordPress site, you don't need to use a separate reviews plugin to showcase your post for featured snippets.
It offers you a dedicated Gutenberg block specially for your product review post. The block is schema-supported, so you don't need to worry anymore.
Just edit the details of your roundup post and create a spectacular product review box.
11. Table of Contents
It is utmost necessary to follow Google guidelines if you need to sustain your SERP rankings. When it comes to Helpful Content Updates, it is vital to offer your readers valuable information and ensure a seamless user experience.
In such a case, you need a Table of Contents to showcase your content in an organized way so that users can easily navigate to the information they need. I highly recommend you use Spectra's Table of Contents to structure your content.
As the list doesn't end here, if you need help with any customization of any block, you may ask here.
How do I Install Spectra Blocks on my WordPress blog?
Here is a step-by-step guide to installing Spectra on your WordPress blog:
Simply open your WordPress dashboard and navigate to Plugins>Add New.
Now, type Spectra in the search box and click on the Install Now button.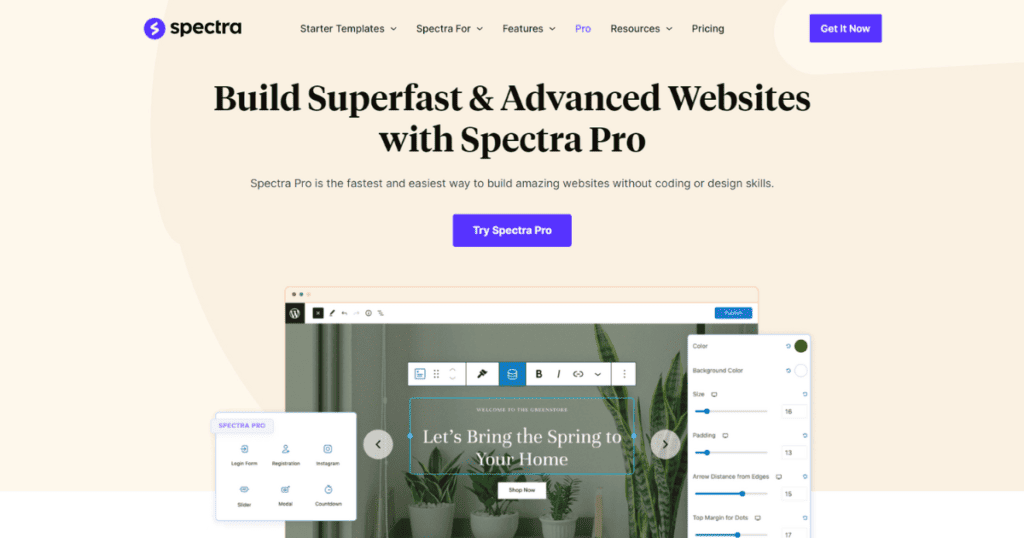 Now, click on Try Spectra Pro to get it.
Then, navigate to Plugins>Add New>Upload Plugin and upload the downloaded .zip file here to access Spectra Pro.
Spectra Pricing
Spectra has three different subscription plans: Spectra Pro, Essential Toolkit, and Business Toolkit.
Spectra Pro
Starts at $49/month and $209 for a lifetime
Used for 1 website
Access to all blocks & features
Powerful extensions
Essential Toolkit
Starts at $79/month and $419 for a lifetime
Used for 1 website
Everything in Spectra Pro
Astra Pro theme
Premium starter templates
Priority support
Spectra Pro
Starts at $149/month and $649 for a lifetime
Used for 1 website
Everything in Essential Toolkit
Project Huddle (client and Team Collaboration Tool; individually $99/year)
SureWriter (AI Writing Assistant; individually $99/year)
Skilljet Academy Membership (worth $1199)
The above-mentioned pricing plans are valid for a single website only. For 10 websites, the cost will be $59/year, $129/year, and $169/year respectively.
Verdict
As we wrap up our exploration of Spectra Pro, the question lingers: is it truly the best WordPress page builder for your online journey? Let's summarize the key takeaways:
User-Friendly Brilliance: Intuitive design for effortless page creation.
SEO Supremacy: Seamlessly integrated with WPSpectra for top-notch SEO.
Gutenberg Magic: A vast library of customizable blocks for endless possibilities.
Speed Optimization: Lightning-fast performance ensures happy users and higher conversions.
Affordable Excellence: Spectra Pro offers incredible value compared to competitors.
Now that you have a deeper understanding of Spectra Pro and its potential, the time to act is now. Whether you're a seasoned pro or just starting on your digital journey, this powerful WordPress page builder can be the key to unlocking your website's full potential.
Ready to get started?
Click the button below to explore Spectra Pro and take the next step towards a stronger, more dynamic online presence.
Spectra Pro Alternatives
While Spectra Pro offers a range of features, it's essential to consider other tools available in the market. If you're thinking of exploring Spectra alternatives, here are three popular options:
Kadence Blocks
Pros: Kadence Blocks brings an enhanced Gutenberg editing experience. It offers advanced layout options, customizable buttons, and other functional blocks that make designing easier. It's especially known for its row layout and advanced gallery features.
Cons: For those unfamiliar with the Gutenberg editor, there might be a slight learning curve. Some advanced features might be locked behind the pro version.
Best For: Users who are looking for a seamless experience with the Gutenberg editor and want advanced block customization without the bloat.
GenerateBlocks
Pros: GenerateBlocks is lightweight and highly efficient. With only a few essential blocks, it allows users to combine them to create advanced layouts. The plugin prides itself on maintaining site speed and clean code.
Cons: Its minimalistic approach might not appeal to users who want a wide variety of blocks out of the box. Some design options might require custom CSS.
Best For: Users prioritizing performance and those who appreciate building designs from fundamental blocks.
Elementor
Pros: Elementor is a powerful page builder with a drag-and-drop interface. It boasts a vast library of widgets, templates, and design options. The real-time editing experience and the ability to create any design imaginable make it a favorite among many.
Cons: Being a feature-rich tool, it might feel overwhelming to beginners. The free version is limited, and some essential widgets and templates are exclusive to the pro version.
Best For: Designers, agencies, and businesses looking for a comprehensive solution to create intricate page layouts without any coding.
FAQs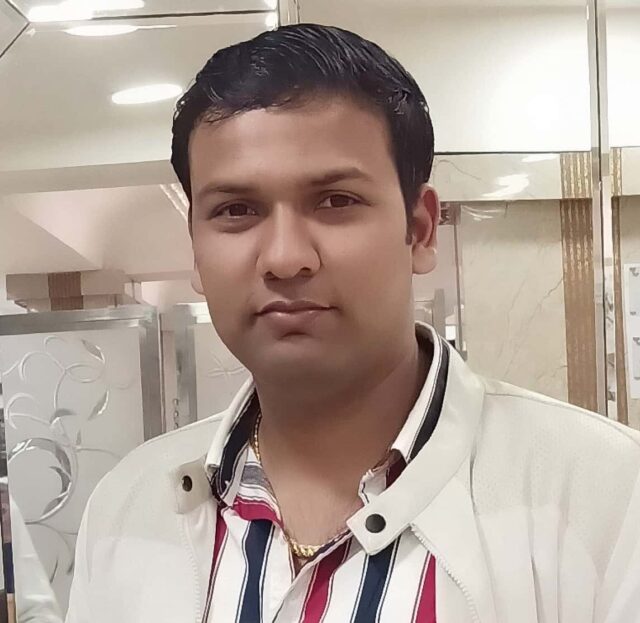 About Author
Nitin Dabas is your SEO guide. Expert in keywords, on-page SEO, and link-building, he has boosted rankings for countless clients. Read his blog and join his success stories.