Welcome to the world of SEO! As a website owner, you know that ranking high on search engine results pages (SERPs) is essential to getting more traffic, leads, and sales.
But with so many factors that influence your website's position on the SERPs, tracking your rankings manually can be time-consuming and overwhelming. That's where the SERP trackers come in. These powerful tools use advanced algorithms to help you monitor your website's performance on the SERPs, track your competitors' rankings, and identify opportunities for improvement.
With accurate and up-to-date data at your fingertips, you can make informed decisions about your SEO strategy and stay ahead of the competition.
So, if you want to stay ahead of the game and drive more traffic to your website, it's time to invest in the best SERP tracker for your needs.
You might do the best keyword research to find the perfect keywords, but you can't manage them if you don't track your keywords ranking.
Let's explore your options and take your SEO efforts to the next level!
You have a huge number of options available for the top SERP tracking software. But there are key differences in each that will help you to decide on choosing the best SERP keyword rank tracker.
In my earlier post, I shared the best ways to increase website traffic. But it is equally important to monitor your keyword ranking to analyze whether your SEO strategies are moving in the right direction or not.
What are the Best SERP Tracking Tools?
If you're in a hurry and don't want to read the post till the end, here are my top recommended SERP rank tracking tools.
These are the top SERP tracker tools in priority order-
AccuRanker
Advanced Web Ranking
Serpstat
2 Most Recommended SERP Checker Tools-
| SERP Tracker Tools | Features | Free Trial | Discount Link |
| --- | --- | --- | --- |
| SE Ranking | 200 SERP Analysis & Accurate Rank Tracking | 14 Days | Get Discount |
| AccuRanker | Monitor everything from scratch | 14 Days | Get Free Trial |
What is SERP?
SERP stands for Search Engine Results Page. It is a page that you see when you type your query into Google or any other search engine.
You'll see some differences in each search engine's SERP design.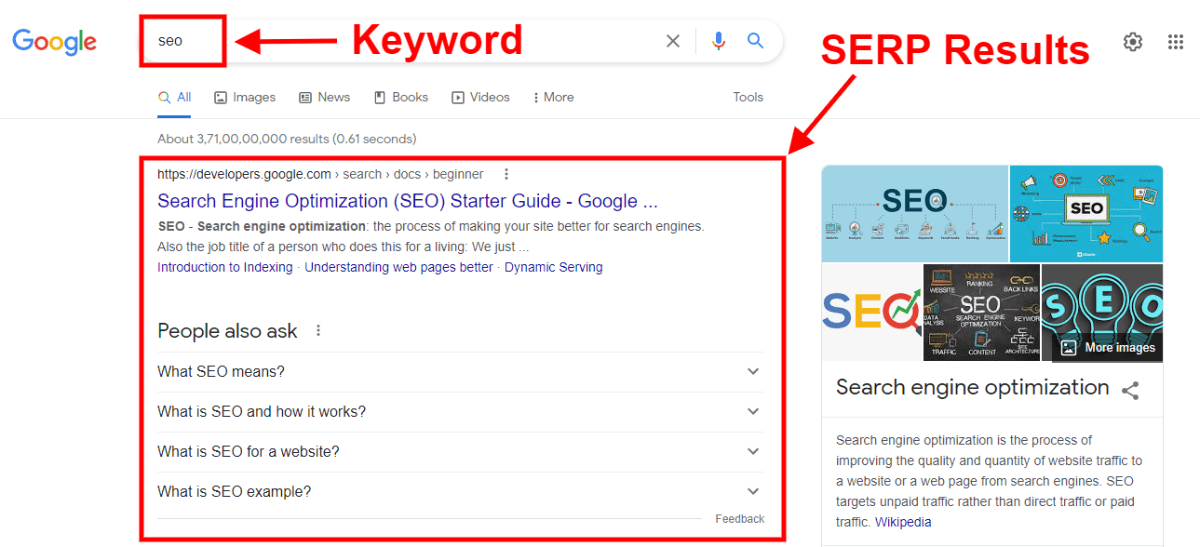 SERP includes organic search results, paid results, featured snippets, and video results. Though Google holds over 80% of the market share, we focus more on getting a higher position on Google SERP.
Top 3 Rank Tracking Tools | Best Google Rank Tracker
Why Keyword Rank Tracking is Important for You?
Keyword rank tracking is of utmost importance for SEO. You can't manage your SEO strategies if you don't track your keywords' position on SERP.
So, it is really important to have the best keyword rank checker tool. I've compiled my assertions for keyword rank checking in a listicle form-
SERP results from your ON-Page & OFF-Page SEO, so, it is really important to measure your performance if you are inclining or declining on SERPs.
A SERP tracking software ensures you stay away from black hat SEO tactics that disappear your webpage from SERP results that earlier were ranking on the 2nd or 3rd page.
An advanced rank tracker is really important to boost your website traffic. Yes, suppose if you rank on the 4th-10th page on Google SERP, you can update that article or build backlinks for that particular post to increase your search engine rankings.
An online rank-tracking tool helps you to know who your competitors are. You can steal their ranking keywords by keeping an eye on your competitor's organic keywords.
If you are running an SEO agency then it is of utmost importance to use the best SERP tracking tool to give your clients insights into your work. You can't measure such huge data without any bulk SERP checker.
I hope my assertions help you know the importance of keyword rank-tracking software.
But the main question is how to select a SERP tracking tool.
How to Choose the Best SERP Tracker?
There are a huge number of online rank-tracking tools available in the market. But you have to choose the best keyword rank checker app among them rather than picking an ineffective one.
Well, a lot of them seem similar to each other but you should focus on a few points to select an outstanding SERP tracker.
Some important factors to consider when choosing the best search engine positioning tool-
Number of Keywords
You may be an individual with a small blog or an agency with a large keyword database. But, you should always choose a SERP tracker that can check rankings of a large number of keywords.
Frequency to Monitor
Keyword rank-checking frequency really matters in the growth of an SEO. If you check your keyword's position in weeks or months, then how can you take immediate actions to grow your web traffic.
So, I recommend you choose the daily rank-tracking software over the ones that offer weekly monitoring.
Accuracy
Accuracy must be your priority when choosing SERP tracking software. Even if your keyword rank checker tool supports many features and unlimited keywords, it is worth nothing if it does not deliver accurate results.
Monitored Platforms
The brilliant SERP tracker tool must have the capability to track your keywords on different platforms like desktop, mobile, and tablet. A mobile SERP tracker is indeed necessary as most of the users are using mobiles to search their queries.
Along with this, it should be an advanced rank tracker that can monitor your keyword ranking on Google, Yahoo, Bing, Yandex, YouTube, etc.
Report Details
The best keyword rank tracker tool should deliver regular project reports that can be exported. The comprehensive report should contain all the information related to the keyword like its historical data, improved/declined keywords, etc.
Also, it should offer white labeling which is essential for digital agencies. An agency rank tracker seeks a tool that offers a white label.
Pricing
You may have noticed some tools that offer SERP tracking free of cost but they are limited to only a few keywords. To get a detailed report of your keywords position, you have to get a premium SERP tracker but it should be affordable.
Yes, obviously you will not buy a SERP tracking tool that costs too high. So, the best SERP tracker tool should be priced reasonably.
3 Best SERP Checker Tools for Accurate SEO
Now let's explore different rank checker tools and find out the best for you.
#1. SE Ranking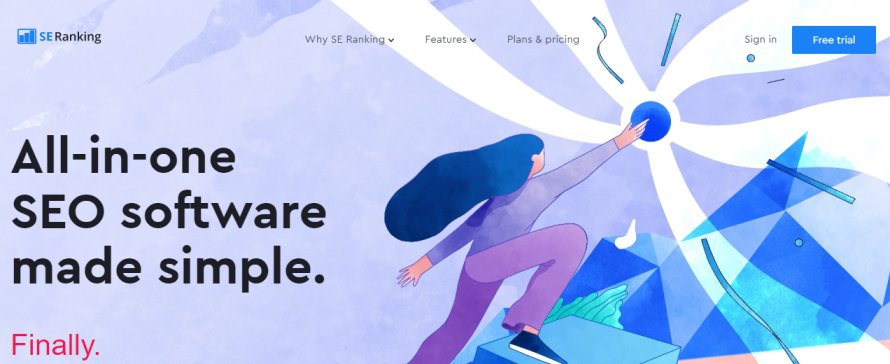 SE Ranking is not just a keyword rank tracker, in fact, it is a 360-degree SEO tool. Though in its initial phase, it was a SERP tracking tool but now it is an all-in-one SEO tool that fulfills all your SEO needs.
If you are looking for a 100% accurate keyword rank checker, then SE Ranking should be your first choice. I have personally used SE Ranking for a long time to track my keywords' position on Google. As per my experience, it is the best SERP tracking tool that offers you white-label reports for your tracked keywords.
So, if you are an agency, then no other tool can beat SE Ranking in professional reporting.
One feature that I like the most is that you can integrate it with Google search console and analytics.
It is a perfect SERP Checker tool for an individual also that provides your keywords ranking on desktop as well as mobile platforms on different locations and search engines.
Why should you use SE Ranking tool?
100% accurate search engine rankings on Google and other major search engines
It offers you much more than just keyword rank tracking, as it is a fully-featured SEO tool
It offers white-label reporting
You can track rankings up to 20k keywords
You can check keyword ranking on mobile devices using its mobile SERP tracker
You can track up to 5 keyword combinations for the price of just 1 keyword
Its daily rank-tracking software offers accurate ranking
Its flexible rankings check frequency offers you to check keywords ranking on daily basis, 3 days intervals, and weekly.
Regular reporting of keyword rank tracking
What do I like about it?
Accurate keyword rank tracking
Weekly detailed white-label report
Flexible pricing model
SERP features along with keywords position
They support tags and folders to organize keywords
Mobile SERP tracker
What they should improve?
A lot of clicks are required to track where the particular keyword ranks
The keyword rank checker is limited to only 6 months
Pricing
Essential: Daily rank tracking up to 250 keywords for $31/month (annually)
Pro: Daily rank tracking up to 1000 keywords for $71/month (annually)
Business: Daily rank tracking up to 2500 keywords for $151/month (annually)
Use promo code- DABASBLOG to get 10% OFF
👉 I use SE Ranking regularly to check my keywords ranking on daily basis. If you are ready to take a 14-day free trial, then this review of SE Ranking will be useful for you.
#2. AccuRanker
AccuRanker is a dedicated SERP tracking software that provides your keywords position fast than other keyword rank tracking tools.
If you want a dedicated best SERP checker that provides an organized report of your website's ranking, then Accuranker is the best SERP tracker for you.
Similar to SE Ranking, it also supports Google Analytics and Search Console Integration.
It lets you check the position of the keywords at any time by allowing you to manually refresh the keywords ranking report. You will be amazed to see how fast it provides updated reports.
You can track your keywords rank on Google, Baidu, Yahoo, Bing, and YouTube.
If you have clients asking for their keyword rank tracking reports, you can provide the reports with your own logo.
Why should you use AccuRanker?
Accurate keyword rank tracking
Weekly detailed white-label report
Flexible pricing model
SERP features along with keywords position
They support tags and folders to organize keywords
Mobile SERP tracker
What do I like about it?
Its intuitive design
You can star your target keywords and tag them
It is very fast and provides you on-demand ranking updates
Historical data of keywords provides you insights into how effectively you worked on a keyword
What they should improve?
The basic plan starts with 1000 keyword tracking, it should offer a plan with a lower keywords count
It should offer a cheaper plan with fewer keyword tracking
Pricing
It offers a single pricing plan that starts at $109/month for 1000 keywords to track which accordingly increases when you include more keywords to check
However, you get a flat 10% Off when you choose an annual subscription that costs you around $99/month
#3. Semrush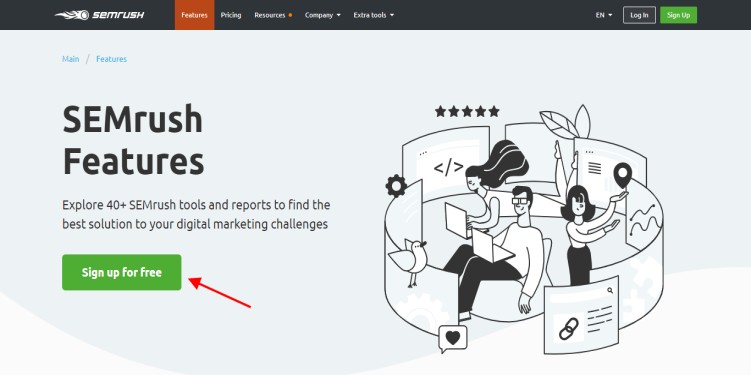 Semrush is an all-in-one SEO suite that performs all the functionalities from keyword research to marketing plans. You probably have heard of it if you are aware of digital marketing and blogging.
Keyword rank tracking is a crucial feature that it offers. It keeps on adding new features and databases in every new update. If we talk about SEO tracker, then it is the best free SERP tool available that acts as a local SERP checker.
You find the keyword position tracking feature when you create a project in Semrush.
One of the reasons that I included it in the list of best SERP tracker tools is that it gives clear insights into the top inclined/declined keywords at a place.
Why should you use the Semrush SERP tracking tool?
Accurate keyword rank tracking
Weekly detailed white-label report
Flexible pricing model
SERP features along with keywords position
They support tags and folders to organize keywords
Mobile SERP tracker
What do I like about it?
It groups together all inclined and declined keywords
The visibility index feature is more useful than the average rank tracker
Social media tracking is a feature that helps you analyze your social media marketing efforts
What they should improve?
It doesn't offer an on-demand SERP checker that should be offered to beat Semrush competitors
White-labeled reports cost too much
It should increase the area to track keywords on other major platforms like YouTube, Yahoo, Yandex, etc.
Pricing
Pro: $119.95 for 500 daily keywords to check
Guru: $229.95 for 1500 daily keywords to check
Business: $449.95 for 5000 daily keywords to check
3 Best SERP Tracking Tools for Accurate SEO
Frequently Asked Questions
Conclusion
Which is the Best SERP Tracker?
Checking your keywords' position on search engines is indeed necessary if you want to beat your competitors as a webmaster.
Whereas, to track the performance of your keywords, it is necessary to choose the best SERP tracking tool.
We hope you enjoyed our blog post on the 3 best tools to improve your rankings. We know that a lot of people have a difficult time understanding why their rankings change or what they can do to improve them.
These tools are going to provide you with all the information you need to be successful in your ranking!
I've mentioned the top 3 SERP checkers in the article, but if you want to know my personal opinion, then I'd recommend you SE Ranking tool. I've written a detailed article on SE Ranking SERP Analyzer, you should read this.
It is the best tool to know the accurate SERP position of your keywords. Whether you are an individual or an agency, it is the best SERP tracker for you which provides you white label reporting.
How to track my keywords ranking? Many times users ask this question to get the best SERP checker tool. I hope now you have got your answer.
What are the tools you are using for your keyword position tracking? Does it deserve the mention in the list of best rank-tracking tools? Please share it in the comments.
If you liked this post, then please don't forget to share it with others.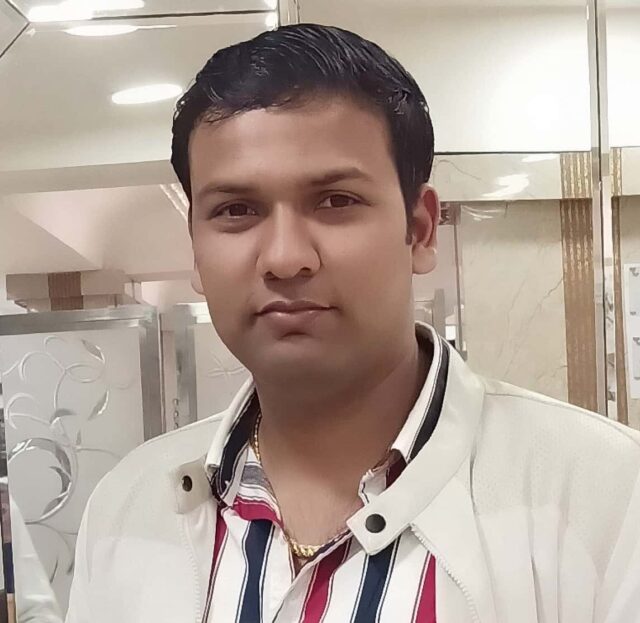 About Author
Nitin Dabas is your SEO guide. Expert in keywords, on-page SEO, and link-building, he has boosted rankings for countless clients. Read his blog and join his success stories.