Blogging is one of the best and most profitable ways to build a sustainable, passive income stream. One of the most important factors for you to consider is how to start a blog in 2023?
This blog will provide the ultimate guide to start blogging for beginners. From understanding what a blog actually is to the steps you can take to start one, this blog will provide you with step-by-step guides and strategies.
Besides, it will also teach you how to start blogging for free.
There are many things you can do with a blog to make it profitable. This blog will show you how to make money blogging in 2023.
In this detailed article, I'll guide you step by step on how to start a blog for free and make money. I've tried to put forth the most convenient way to blog. You can even start blogging having no technical knowledge or experience.
This guide takes 20 minutes to go through it.
Yes!
I know it is a little long for you to read. But I described every step needed to start a blog.
In this blog post, I'm going to go through the steps I took to start a blog and the process I currently follow.
You'll learn how to start a WordPress blog with a single-click install.
The best part of blogging is that it is not bound to any person, geography, or age. You can start writing a blog whether you are a teen or an aged person sitting anywhere in the world.
What can be better than writing a blog and earning a passive income online?
Why are you starting a blog?
People blog for various reasons and some of them are-
Share their knowledge about a particular topic or field
Want to have documentation of their thoughts
Many of them want to earn money online
How to start a blog with no money?
The reason can be anything, but Blogging is the best experience that I've ever got.
You might have been thinking it to be time-consuming, but here, you'll learn how to start a blog for beginners in 20 minutes.
Wasting no more of your precious seconds, let's enter the ultimate guide on how to create a blog step by step.
How To Create A Blog (7 Simple Steps)
#1 Step: Pick a Domain Name for your blog
#2 Step: Choose a blogging platform
#3 Step: Get started with your blog
#4 Step: Customize your blog
#5 Step: Verifying your blog to Search Console
#6 Step: Write content on your blog
#7 Step: Promote your blog
These are the 7 crucial steps that you should follow to make a profitable blog. You'll also get to learn how to start a blog on WordPress.
I discussed all these steps in this detailed guide. If you know some of these, then you can easily create your blog in 10 minutes. If you don't, then here is the step-by-step tutorial to start a blog.
How to Start a Blog for free?
One of the most common questions that often people ask on various platforms is how can I start a blog for free?
Well, there are many blogging platforms (like Blogger.com and WordPress.com) that offer you to create a blog for free. But there is something that you should know before getting started with them. It is correct that you can launch a blog for free, but they allow you to make the blog using their sub-domain.
It means when you sign up for your free blog account on their platform, then your blog name may look like yourdomain.blogspot.com or yourdomain.wordpress.com
No one would like to have a blog name like this. It is a signal of amateur blogs in the blogging community. Also, if you make a blog on a free blogging platform, then you have to follow their rules and regulations. For example, they can restrict you from displaying ads on your blog or can give you some specific ads to show.
I would recommend you avoid this and go for a WordPress Blog setup. Here, WordPress means WordPress.org which is an open-source CMS. You can install this software on any web hosting.
Of course, pay for a self-hosted blog, but it is way more customized and optimized than a free blog. If you're a serious blogger, then you should start a blog with WordPress.
Never confuse between WordPress.com and WordPress.org!
WordPress.com is a blogging platform that allows you to make a blog for free with its sub-domain. However, WordPress.org allows you to create a blog with your custom domain. WordPress.org is the CMS (content management system) that is used by many bloggers, affiliate marketers, and SEO experts in the industry.
So, these were some facts about how to start a blog for free. Now, let's dive into the guide on how to create a WordPress blog.
How To Start A Blog In 2023 From Scratch?
This comprehensive guide will be most beneficial for beginners who encounter many problems while starting up a blog. Just give some of your precious minutes to read this guide on how to start a blog and you'll have all your answers at the end.
What do you need to start a successful blog?
There is only one thing needed to start a blog, i.e. Domain Name.
If you start a WordPress Blog, these are the basic 3 requirements to make a profitable blog-
A Unique Domain Name
Good Web Hosting
Concentrated mind for 15 minutes
Yes, you read it right. These are the key requirements for starting a blog. Just start building your blog with these and open the door for making a passive income alongside.
Now, look at the complete beginner's guide on How to start a blog for business.
1. Pick Your Blog's Name and Niche
It is the first thing that is needed to create a blog- The Domain Name.
The Domain Name is the unique name that you want to give to your blog (in my case it is dabasblog.com).
And before choosing the domain name, analyze the field in which you want to create a blog. We know this field as a "Niche" in blogging terms. Your blog niche can be anything like travel, food, technology, lifestyle, movie reviews, etc. To run a successful blog, the niche should be the one you are passionate about or have in-depth knowledge of.
In simple terms, a domain name represents your blog. You should always pick a domain name related to your blogging niche because it shows your readers what your blog is about.
How to choose a perfect niche for your blog?
Choosing a perfect niche for the blog is a very crucial part of blogging. As it decides whether you have a successful blog or it will be your futile effort. Here are some key points you should remember while selecting a niche for your blog:
Make sure you always choose a niche that is more relevant to you, or you're passionate about it.
The second thing is the audience size of that niche, which means it should have some search volume. You can use keyword research tools like SEMrush, SE Ranking, Ahrefs, etc. to find out keywords. You should also analyze your competitors in the selected niche for a better start.
Last but not least is the monetization potential in that niche. You should do some research to find the monetization options in the niche you're going to target.
You may use SE Ranking Content Marketing tool to find out the best topic ideas.
How to choose a Domain Name for my blog?
You can think about it yourself and if you don't come up with an idea, then you can use some domain name generators that can help you get an idea.
We may note that the domain name should not be too long. It should not be over 10 characters for better optimization in search engines.
If you have decided on your domain name, then you need to register it to use it.
How to register a domain name for my blog?
Registration of a domain name makes it available for you to use on your blog. It is a very simple process. You can use any of the domain name registrars to register the domain name. GoDaddy, Namecheap, BigRock, etc. are the most common domain name registrars.
First, look up the domain name, and if it is available or not? If it is available, you can simply register by entering a few details and a small registration fee.
There may be a situation when the domain name you are looking for is not available. Then, you can use some variations in your domain name and then check for it.
Can I change the domain name of my blog later?
Of Course, you can change it anytime. You just have to buy a new domain and update its name servers to point them at your web server. But I highly recommend it to use the same domain for building a brand and authority for your blog.
2. Choose A Blogging Platform
Now, choose the blogging platform to host your blog. There are basically two types of blogging platforms-
Hosted Platform (Free Hosting)
Self-Hosted Platform (Paid Hosting Required)
Hosted Blogging Platforms
As I have already discussed, Hosted Blogging Platforms that allow you to create a blog for free like WordPress.com and Blogger.com. You've probably already discovered that they provide free services with certain limitations. However, to enhance your brand and build trust, it's essential to eventually consider opting for custom domain hosting.
I strongly recommend you choose a Self-Hosted Blogging Platform like WordPress.org for blogging.
Self-Hosted Blogging Platforms
A self-Hosted Blogging Platform (Content Management System) is the best platform to launch a blog. You are the boss of your blog in this system.
It provides you with more options to customize and optimize. WordPress.org is the most popular CMS that is the first choice of every blogger. The actual blogging platform, i.e. WordPress CMS, is free to use, but you have to pay for the custom domain name and web hosting. There are many options available in the Self-Hosted Blogging System apart from WordPress.org like Wix.com, Weebly.com, etc.
My strongest recommendation to my readers is to set up a WordPress Blog if you want to be a successful blogger or affiliate marketer. In this blog post, I'll show you how to start a WordPress blog?
How much does it cost to start a blog?
You can start a blog by investing some pennies (around $4-$9) in a custom domain name. The next cost that you have to pay is Web Hosting. Well, it varies from company to company. For a beginner, it ranges from $100-$150 annually, which is even offered to you at a cheaper price on Black Friday Web Hosting Deals.
There are many options available for choosing the best web hosting for your blog. Bluehost is the official recommendation by WordPress, however, you can choose it according to your need.
If you haven't purchased the domain name, then here is a good deal for you. You can choose your free domain name with A2 Hosting.
How to get a free domain with A2 Hosting? How to purchase web hosting?
Worried!! for setting up a blog with web hosting?
Here is a tutorial to sign up with A2 Hosting and start a profitable blog.
How do I start a blog?
Getting started with web hosting is a crucial part of starting a blog. Choose web hosting that is reliable and uses fewer resources to give you a prodigious output.
For a beginner to set up a new blog, I would recommend you use A2 Hosting on your blog, as it is one of the best web hosting providers. You can read a detailed A2 Hosting review here.
Many web hosting companies provide a free domain name for the first year if you register a domain name with their hosting plans. You'll get to know how to get a free domain name for your blog in the coming section.
👉How to Start a Blog in India [2023]? A Step-by-Step Guide!
How to start a blog with A2 Hosting
This section describes the entire process of starting a WordPress blog with each necessary step. Here, you will see how to sign up with A2 Hosting to get reliable web hosting and a free domain.
I've included screenshots to make it easy for you to start a blog conveniently.
Necessary Steps to start a WordPress blog-
1. Visit the A2 Hosting Website
Visit the homepage of A2 Hosting and click on the Get Started button.
2. Choose a hosting plan for your blog
So, this is going to be your first blog, so I recommend you go with the Drive plan.
You can start with the Startup plan also, but Drive Plan offers you to host unlimited websites I think you should go for. However, you can use any of your desired plans.
Don't worry! You can easily upgrade your plan to a higher plan when your blog grows.
3. Set up a domain name for your blog
Here, you see multiple options- Register a free domain or I'll use my already purchased domain. Simply click on I'll use my existing domain and update name servers.
That's it- HIT ENTER to sign up for A2 hosting with that domain name.
Each plan offers you to pick a domain name free of cost. If you have purchased no custom domain name yet, then you can use this opportunity to register the custom domain free of cost for your blog.
How to get a free domain name?
You need not do anything tricky. It is very simple. A2 Hosting provides you with a custom domain for free.
You just have to check if your desired domain name is available?
If it is available to use, then you can simply register that domain name free here. Just put the domain name in the box below and click on enter.
On the next page, you'll see your order summary.
Just check the options that you really need as it increases your bill if you check all the options.
In the order summary, you'll see the bill for 36 months. You can easily change it to 24 months or 12 months as per your needs.
You can choose the server location as per your audience. It means that if you want to target the US audience, then you should choose the servers in the USA. This means if you choose a server location nearer to your targeted audience's geography, then it'll load fast for them.
The next main option that you check is SSL. Yes, you get a free SSL certificate with A2 Hosting. Using this certificate simply converts your http://yourdomain.com to https://yourdomain.com
Google proclaimed that the sites using an SSL certificate get a good ranking on Google as it shows the trust factor to the audience.
After that, just look at your bill summary and click Continue.
On the next page, apply the promo code to get a huge discount from the company.
4. Register with A2 Hosting
After all these steps, A2 Hosting will ask you to check out but before it, they will ask for the details to register your account. Simply you'll have to fill in the required details to checkout.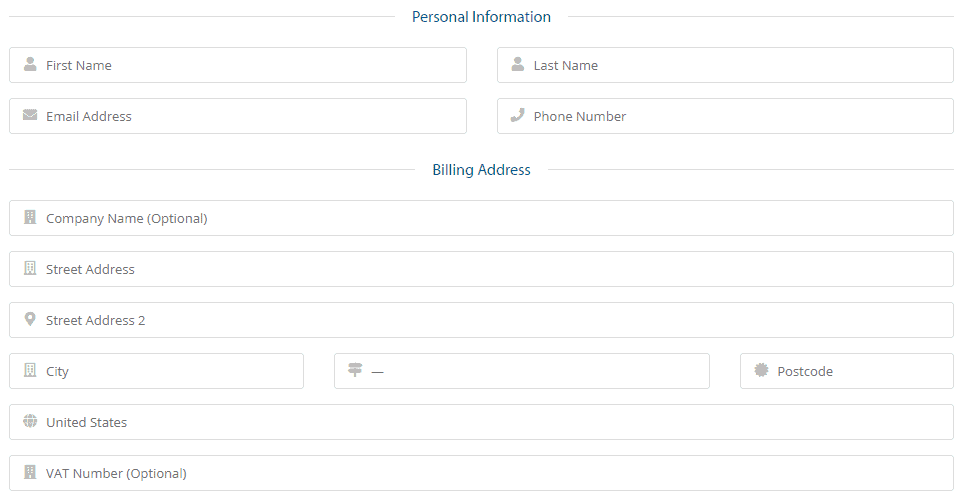 Then, you're required to fill in the payment information. You can use a Credit/Debit card, Wire Transfer, Skrill, Check, or Money order. Just fill in your payment information carefully and click on Complete Order.
That's it. Congrats!!
You have registered your account with A2 Hosting. Just check your registered email for your Login ID and password.
3. Get started with your blog
How to start a WordPress Blog?
Yes!! This is your prime question that will be answered in this section. So, you have purchased the domain name and web hosting so far. Now, it's time to start blogging on WordPress.
Go to the client area of A2 Hosting. You'll need the email id and password that you received in your email to log in. After that, go for an option named as cPanel.
In the cPanel, you'll see a box containing the SOFTACULOUS app installer. That's your destination.
Just find WordPress in this box and click it.
On the next page, you'll see a button saying Install Now. Click it and fill in the required details.
You'll see the URL of your blog where you've to install WordPress and there in the next option you'll see the directory. Just leave this directory column empty because you have to install WordPress on the root directory.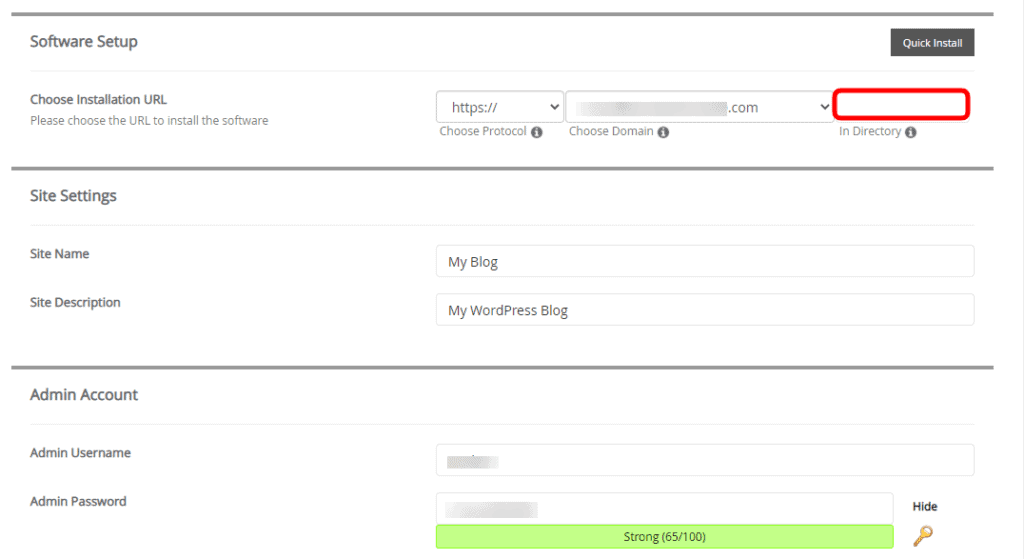 Next, you simply name your blog and generate a strong Admin username and password to log in to the back-end admin area of your blog. After this click on Install, and that's it.
Congratulations! You have set up your WordPress Blog successfully.
4. Customize your blog
Now, as you have launched your WordPress Blog, it's time to customize it. This is the first thing you should do with your blog, as a blog with an impressive layout and all features shows a successful blog.
Simply go to the admin area of your blog. The URL of your blog's admin area will look like this- yourdomain.com/wp-admin. Just go there and look at your blog's backend interface.
Now, inside your WordPress Dashboard, go to Appearance>Themes.
Here you'll see some themes that WordPress provided you free of cost. You can start your blog with the themes available. There are thousands of good themes available on WordPress.
Just have a preview of the theme, as your blog's look will depend on the theme you choose.
Your blog's theme will represent your blog to the audience, so it is far more important to choose it wisely. You should always check the ratings of the theme available at WordPress.org.
Should I choose a free theme or a premium WordPress theme?
You can easily start your blog with the free themes available on WordPress. But, I'll suggest you go for a premium theme for a robust design and security.
There are many benefits of using a premium WordPress theme, as you get full support and updates for your theme. I strongly recommend this if you want to grow your blog with no issues. No one wants to mess up with the coding to sort out the issues.
GeneratePress, Astra, KadenceWP, Genesis, and Thrive Themes are some of the best SEO-optimized themes. You can read our extensive review of the GeneratePress Premium WordPress theme.
However, it is not such that you must need a premium theme, you can easily start with a free WordPress theme.
Blog Theme Customization
So, now you have your selected theme for your blog. It's time to customize it, remember it is your theme's layout that engages users to it.
There is no doubt that content and SEO matter, but blog layout has equal importance in this context.
So, the first thing to create a blog that makes money, you've to make it a premium blog. Here, premium means it shouldn't look like an amateur blog. It should have a unique logo that is a must for brand building.
In Blog customization, I'll take an example of the GeneratePress Premium theme.
How to customize your blog's logo?
You can easily use Photoshop to design a unique logo for your blog. Well, there are many paid Logo makers also available, but the way I suggested to you is free.
So, I'm assuming that you are ready with your blog logo, now to upload it on your WordPress blog, you'll have to follow these steps-
Go to Appearance and click on Customize.
Here you'll see an option, namely Site Identity. Just click it and there you find the option to upload a logo to your blog. Simply pick the logo from your device and upload it to your blog.
You'll see an option to upload the favicon as well. That's the best part of the theme. You need not go to the coding of your theme to upload the favicon. Simply upload the favicon using the option available on the theme.
Customize your blog
Now, as you have uploaded the logo, you'll need to go for some changes in the admin area.
The very first thing that I recommend you do is to change the permalinks structure of your blog.
WordPress by default gives you a URL structure like – https://www.yourdomain.com/2022/09/sample-post/
Not only it is ugly to look at but also hard to remember. It makes your blog post URL longer which can face optimization issues. In a blog post, the URL must be short to easily optimize it for search engines. To get rid of it, follow these steps-
Go to Settings>Permalinks and change the permalinks structure from Month and Name to Post Name. By doing so, you'll have a permalinks structure like https://www.yourdomain.com/sample-post/
What do you say about this structure?
Isn't it easy to remember, good-looking, and SEO-friendly?
Of course, this URL structure will help you optimize your blog posts more easily.
After this, here comes an important part of blogging, i.e. XML Sitemaps. Yes, a sitemap is something that tells Google about what you've written on your blog and what Google bots should crawl on your blog. To do so, you'll need a plugin called Google Sitemap Generator Plugin by Arne Brachhold.
However, if you've Rank Math SEO plugin installed on your blog, then you need not install it. Rank Math SEO has an inbuilt feature of creating sitemaps.
The next step that is needed for the customization and optimization of your blog is to upload the necessary WordPress plugins.
Here is a list of recommended WordPress Plugins–
Rank Math SEO (WordPress SEO Plugin)
Akismet Anti-Spam Plugin (protects your blog from spam comments)
ShortPixel Image Optimizer (optimize your blog's images by reducing their size)
Contact Form 7 (plugin needed for your contact us page)
Social Snap (social sharing WordPress plugin)
WP Rocket (plugin needed to optimize your blog for fast loading)
All the plugins mentioned above are free to use. I highly recommended these for bloggers to use on their blogs. Though these are not the only ones you may use as per the requirement of your blog.
Congratulations! You have successfully customized your blog.
5. Connecting your blog to Google Analytics and Search Console
Now your site is ready to have content and to get shown on Google. But to make it happen, make sure it is visible to Google.
Adding your site to Google Analytics
This is the prime task that you should do when your site becomes live. By connecting your site to Google Analytics, you allow it to show you the real-time visitors on your site. This helps you analyze which content is getting good visitors and which needs some improvement.
To add your site to Google Analytics, follow these steps-
Go to Google Analytics (a free service offered by Google) and sign up for your blog using your email id.
Go to Admin section>Property>Tracking Info.
Copy the tracking code and place it on the <HEAD> of your webpage.
That's it.
The option to upload this code to the Header section varies from theme to theme. In Genesis Framework, you will find it in Customize>Theme Settings>Header/Footer Scripts while in GeneratePress you have to make a hook to add this tracking code to your site.
Verifying your blog to Google Search Console
Now you have added Google Analytics code to your blog, but how Google will know that this is a blog on its database? To do so, verify your blog (property) in Google Search Console. It is also a free service offered by Google to webmasters to optimize their blogs/sites.
Simply, go to the Google Webmaster Tools (Now, Search Console) and verify your property there. For easy verification, you can choose the URL prefix option.
Just enter your blog URL and click on Continue.
Then, on the next page, you got some methods to verify your property. Simply, pick Google Analytics to verify your property as you have already verified with Google Analytics. This makes your blog verification easy on the Search Console.
Congrats! Your blog is now verified on Google Search Console. Now, it can be optimized easily.
6. Write content on your blog
Writing the perfect content is the most crucial part of blogging.
Since you have done all the requisite jobs for starting a blog, you are ready to blog. But it doesn't mean you just start and write the content immediately.
It's time to brainstorm for proper keywords.
To write perfect content on your blog, you can't ignore keyword research.
Yes! You can write any type of content, but what's the benefit of that content if nobody searches for and reads that? This is exactly what I am trying to say.
Actually, to write the content that users search for, you need a proper strategy, and here comes the role of Keyword Research.
Keyword Research is understanding what you are writing about and which keywords the users are searching for. Pick those keywords that users search for and write content around them.
Put these keywords in your content in a legit way, keeping keyword density, not over 2%. This is a proper approach to writing content on your blog. You may use SEMrush, SE Ranking, LongTailPro, Ahrefs, Ubersuggest, etc. for keyword research. These are the best keyword research tools in the market.
👉 SE Ranking Review: Should You Try It?
Get a 10% Discount on any SE Ranking plan
🎁 Promo Code- DABASBLOG
Is it enough?
One important part I missed.
Your content writing can't be complete without particular pages on your blog. These pages are About us, Contact us, Disclaimer, and Privacy Policy. However, if you are creating an affiliate blog, then Affiliate Disclosure is equally important, disclose it on a separate page.
3 things that you should keep in mind while writing content for your blog-
Never write for Search Engines only, your primary focus should be on the audience. Google loves content that is user-friendly and ranks up that content.
Always focus on a single niche if you're a beginner. Don't sail in two boats together.
You can write commercially focused content but don't make it only commercially focused. Your prime goal should be to fulfill user intent. You should not welcome them on a page overfilled with ads and promotional content.
👇Quick Action Tip👇
Start posting at least a blog post once a week. Keep doing this consistently as Google loves blogs that are updated regularly.
How to write perfect SEO-optimized content on your blog?
Well, it totally depends on the individual and how he greets his audience with the content, but here's something you should look at.
Always write the title of your post that has the power to attract an audience.
Follow the proper keyword research strategy mentioned above.
Write your focus keywords in H2, H3, and H4 tags and bold, italicize and underline them.
Use question tags to fulfill user intent.
Write a description that fulfills your article's intent.
Write brief paragraphs and use an active voice if possible. Of course, you can write in passive voice but it should be less.
Use images in your content, as images tell more than anything else.
Interlink your blog posts to the most relevant to them.
Put at least one external link pointing to an authority site.
Write blog content about a topic that you're a genius of. Simply, provide in-depth value to your audience by writing a blog post of not less than 1500-2000 words.
Last but not least, promote the content on social channels, forums, etc.
7. Promote your blog
You can write the most beautiful, and interesting content, and your blog design is also impressive. But do you know what if nobody reads that content? Your hard work went in vain!
How do I promote my blog?
Marketing and promotional strategies come into play in this situation. Yes, your blog's success also depends on how efficiently you promote your blog and engage readers in it.
👉 30+ Infographics Submission Sites To Promote Your Content
Here are some promotional strategies that work for your blog:
Tell your friends about the post you've written and ask them to give feedback. In this way, you give your content not only exposure but also improve it.
Use Email signatures in all your emails and on social media as well. Your signature should include your Blog Name, and URL along with your name.
Be active in your bloggers' community and answer all questions that newbies demand. This not only highlights you in the community, but it builds up your authority too.
Be active on social media too. Always share your content on social channels and answer the questions that belong to your field.
Start building an email list. Yes, this is the most important part of blogging that often new bloggers ignore. Build email lists and send valuable content regularly. This brings dedicated traffic to your blog and converts better than anything else.
Guest Posting. This plays a significant role in developing your brand value. Choose some of the high-authority blogs in your niche and ask them to submit a Guest Post. In this way, not only your audience but the host blog's readers also engage in your post. This enhances your readers to a great extent.
Advertise your blog on social media and search engines to get more traffic. Though this is paid and can be ignored if you're a beginner.
All these methods promote your blog very well, but here's something that you can do to promote your content to Google as well.
Brainstorming??
Well, all the above methods bring traffic to your blog by engaging readers. But, how to engage Google in your post?
Here is a simple way.
Submit your blog to search engines
How?
Well, this includes pinging your blogs to search engines and submitting sitemaps. For submitting sitemaps, I've already mentioned the details. While, for pinging your blog posts to search engines, you can use services like pingomatic, smallseotools, totalping, pingmyurl, etc.
👉Quick Tip
To make your post easily visible to Google, you may use the URL Inspection Tool in the Google Search Console.
How to start a blog and make money?
How to make money with a blog?
This is the prime question that people ask before starting a blog. Yes, exactly "How to start a blog and make money"?
You'll get the answer to it in this section.
How to monetize your blog and make money blogging?
Basically, monetization is converting your blog activities into earnings. But we should keep in mind that Blogging is done to provide value to the readers, not only for making money.
Of course, earnings are the side output of blogging, which motivates bloggers to keep blogging. Actually, when you deal in a particular niche and provide much value to the readers, then you become well-known in the market. People ask you for reviews and suggestions. They trust you and ultimately build you a brand.
You have significant followers and visitors to your blog, which enhances your earnings at last.
Monetization methods
What can be more beneficial than blogging and earning alongside? You share your thoughts, build an audience, and ultimately earn.
Though there are many ways by which you can make money with blogging, here are some:
Running advertisements on your blog
Yes! This is the most popular and basic monetization method that bloggers often use. You can write content on your blog that attracts a vast audience. If you do so, then definitely you should try this source of income. There are many ad programs that can help you make money online through ads.
Google Adsense, Media.Net, Taboola, and Infolinks are such ad networks. Among these, Google AdSense is highly popular but strict too for its policies.
How to make money with Google AdSense?
Simply, make a blog, write content, and apply for AdSense. But, before applying to Google AdSense, follow its policies.
It should contain some necessary pages like About us, Contact us, Disclaimer, Terms, and Privacy Policies.
You must follow its content guidelines, such as no adult content, no armor or drug-related content, etc.
Clean and clearly visible blog layout.
Content must be unique.
So these were some of the main precautions that you must pay heed to while applying for Google AdSense. If you face any issues with AdSense, of course, you can use any of the Adsense alternatives.
This is one of the best and most sustainable monetization methods for bloggers. You must want to know how to make money with Affiliate Marketing?
Well, for sure you can earn a passive income with affiliate marketing, but first, you should know what is Affiliate Marketing?
What do you mean by Affiliate Marketing?
Affiliate Marketing is a process in which you help to sell out some products/services of a company and in return, they give you some commission.
How to make money with Affiliate Marketing?
Well, as you know it is a type of method where you have to promote the products/services to get money. First, you have to search for some affiliate programs and then look at their products, whether you can promote them or not? If yes, then you can promote them by writing their reviews, comparison posts, etc.
If not, then you have to search for the one that belongs to your niche and you are well aware of it.
There are several affiliate network places where you can find many affiliate programs of your niche in a single place. Some of the most popular Affiliate Network Places are ShareASale, ClickBank, JVZoo, Commission Junction, VCommission, Maxbounty, Amazon Associates, etc.
Selling your products online
If you own some of the products or services, then this is really a golden opportunity for you to sell your products/services online.
You need not pay someone to get your sales, you can easily integrate the product into your blog using some plugins, eg, WooCommerce Plugin. Just take benefit of your readership and put some of the features of the product in front of them.
You can sell your Ebook to your readers. It makes more value, you can gather your blog content and provide it in a downloadable form to your readers. You can sell it on your blog or can use Amazon also.
This is also a great way to make money with blogging. Advertisers are always willing to pay for the promotion of their products.
You can write a paid review of their product and they'll be happy to pay you for it as it brings them good sales.
Thus, it is also a good way to make money from your existing blog. But, it's not that easy to earn money like this. Your blog should have good authority and an audience to convince advertisers to pay for your sponsored posts.
If you have built trust and a brand in the market, then it becomes easier for you to make money through sponsored posts.
As you see, there are many monetization methods to earn a passive income from your blog. You can choose the best from them wisely.
👉Pro Tip
Start building an email list as soon as you begin to blog. This builds up your audience and ultimately converts the best if you start Affiliate Marketing.
Now It's Your Turn To Start A Blog!
I think this guide made you start a blog quite easily. It is a fact that creating a blog is easy but making money needs hard work and dedication.
Blogging is the future as everything is online today, and every venture that starts up today needs an online presence. So, one thing I can say for sure is that Blogging is Evergreen.
Starting a WordPress blog is affordable if you're serious about blogging. Though obstacles always hinder your path to success, it depends on you how you deal with them and goes straight to your success.
Everything that you need to start a blog is described here, now it's your turn to search for a domain and start blogging.
Just remember one thing, you are blogging for the audience so be genuine and transparent.
Wish you All The Best in your Blogging Journey!
So, this was a foolproof guide on How to start a blog.
I hope you have got all your answers related to How to Start Blog and Make Money.
This step-by-step guide should answer everything related to starting blogging. If you still face any issues while starting a blog, then don't hesitate and feel free to contact me at nitin@dabasblog.com
👉 If you like this guide, then please share it!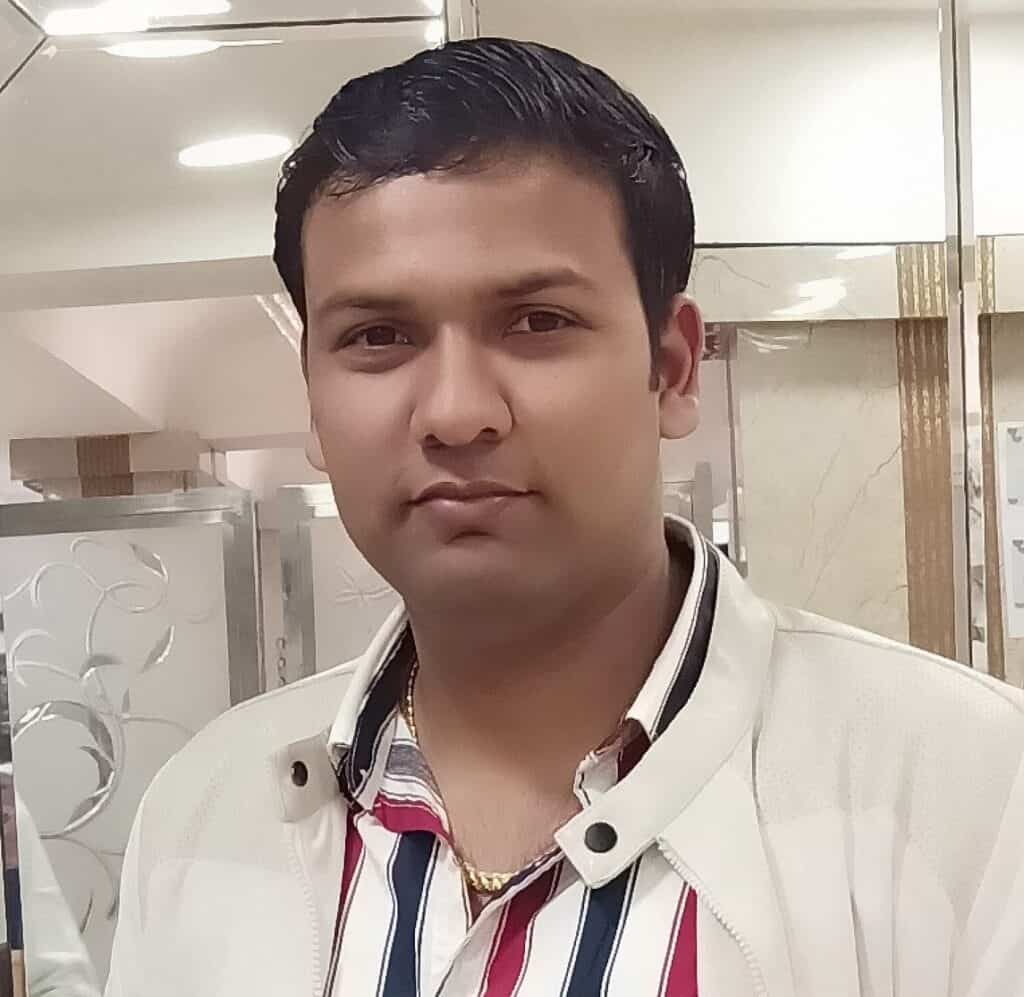 About Author
Nitin Dabas is a professional blogger from India. He is the founder of DabasBlog & SEOSachet. He is an SEO and content marketer who writes about Blogging, SEO, WordPress, and Online Marketing with the aim to help fellow bloggers get succeed in blogging.