In this digital era, you must have heard of Affiliate Marketing.
What is Affiliate Marketing?
Affiliate Marketing means earning money every time you promote the products/services and drive sales. This means you get commissions in return for driving sales to the company.
This extensive guide will help you know more about affiliate marketing and how does it work.
Wait!
Before diving into this guide, let me tell you why you should care about affiliate marketing.
Yes, passive income.
That's the reason, right?
Earn even while you sleep.
In this article, you will get to know about how to make money with affiliate marketing.
Now, let's get started!
What is Affiliate Marketing? How does it work?
Affiliate Marketing is a process of earning money by promoting a company's products/services. Every time when you drive sales to the company, they give you reward as commissions.
Basically, affiliate marketing is based on revenue sharing. If you are a producer of a product or providing services to the customers, then you can hire freelancers to boost up your sales. In return, you offer them some incentive to drive sales to your products/services.
On the contrary, if you want to make money online and have no products/services of yours, then you may use affiliate programs to make money blogging.
Simply, you have to promote the products/services of others on your blog, social media handles or YouTube, etc. to earn some commission. These commissions may range from 10% to 50% or more.
How does Affiliate Marketing work?
Link advertising is an effective tactic to generate a passive income. To understand how affiliate marketing works, you need to understand different aspects and terminologies related to it.
Product Creator
It is the seller of a product/service. You may find different names like vendor, merchant, retailer, product creator, etc. all these names give a simple meaning of seller.
The products may physical ones like household items, books, etc., or digital ones like software, services, etc.
The seller can be an eCommerce merchant who wants to sell his products and to do so, he invites affiliates to drive sales to his products. For the correlation between merchant and affiliate, the vendor needs an affiliate program.
Affiliate
The affiliate could be a freelancer, blogger, influencer, or YouTuber. This is simply a person who promotes the products or services of the vendor.
In simple terms, it is known as Publisher who writes reviews or tutorials about the seller's products. In this way, he convinces and converts his targeted audience into customers to the seller's products.
In return, the affiliate receives commissions as a reward from the seller.
👉 5 Best Ways To Earn Money Blogging [2021]
Customer
It is a consumer of any product or service. Basically, the customer looks for a product that helps to boost up his business. To find the product he may search it online or offline.
In online mode, he gets a variety of results about relevant products needed for his business. Basically, these results are published by affiliates to give more clarity to the consumer about that product. If he finds the review or tutorial useful, then he may end up buying that product from the affiliate link provided by the affiliate. This helps the affiliate earn some commission.
While in offline mode, he may visit a store for the product and there the salesman explains to him the features of the product. Similar to the online mode, if the customer is satisfied with the review provided to him, he buys the product.
Affiliate Program
Basically in digital marketing, an affiliate program is necessary to build a connection between seller and affiliate.
In simple terms, when a vendor wants to invite affiliates to increase his sales, he provides an affiliate program to the affiliates to join him. Using this program, the vendor, as well as the affiliate, get to know how many sales are driven by a particular affiliate.
Affiliate Link
An affiliate link is a link that is used to track the conversions made by an affiliate for a product. In most cases, it is very complicated to remember, so webmasters use affiliate link cloaking plugins like Thirsty Affiliate or Pretty Links to make it simple and easy to remember.
Affiliate Platform or Network Place
Finding affiliate programs may be exhausting for you. You need to visit every vendor's website to see if it has an affiliate program or not.
But at an Affiliate network place, you get to know about different affiliate programs of your niche. You just need to get approval from the Affiliate Platform and then you are ready to join all affiliate programs of your niche.
ShareASale, ClickBank, Impact, and Commission Junction are the most trusted and reputed affiliate network places.
Affiliate Marketing for Beginners
So far you got to know about what affiliate marketing means. Now, a question might be messing up your mind- how to become an affiliate marketer?
Of course, looking at the opportunities in this digital era, this question is logical. And if you are passionate about generating passive income and affiliate marketing, then I'd recommend you go ahead.
Affiliate Marketing has grown exponentially in the past couple of years and the global worth is estimated at about $15B markets till next year.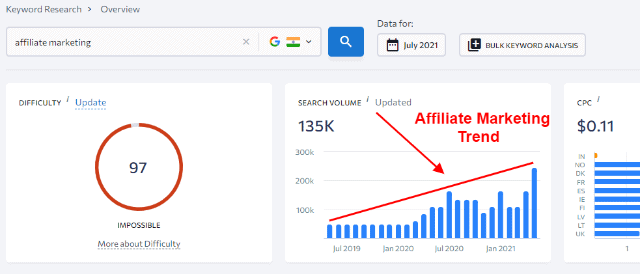 Let's dive into the topic of how to start an affiliate marketing-
How to Start Affiliate Marketing?
Trust is the foundation of Affiliate Marketing.
Building and keeping trust among your audience is the secret to be a successful affiliate marketer.
Affiliate Marketing involves some basic steps to follow that are crucial if you want to become an affiliate marketer.
Choose your niche
Decide the platform
Choose affiliate programs
Create content and spread awareness
Convert audience into customers
Choose your niche:
Well, affiliate marketing is indeed a great source of income. But, it is also true that you'll find a lot of competition at the start.
To overcome this situation, you need to narrow down your competition by analyzing your niche.
You may choose food, health, electronics, digital and physical products, etc. for promotion.
You must choose a niche with high search volume and low competition. One important thing to note while picking up a niche is that it must be monetizable. Else, all your hard work is in vain.
So, give some time to do niche research and you will come up with a fruitful niche to start affiliate marketing.
👉 Semrush Free Trial 2021: How to Get Semrush Free?
2. Decide the platform
Now as you have decided your niche, it's time to choose the platform to promote.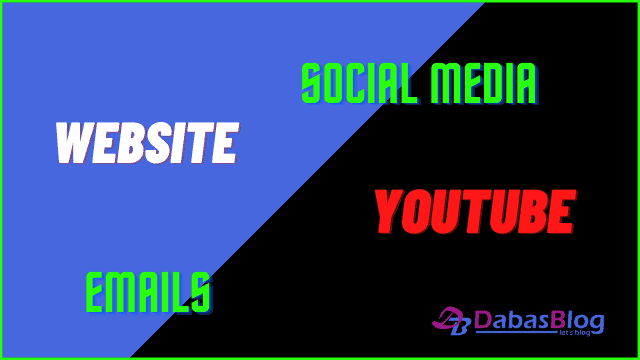 You may choose to write reviews, spreading awareness about products on social media, or giving tutorials on YouTube.
The most common medium to start affiliate marketing is blogging or YouTube. It costs relatively cheap and is easy to start. Also, the conversion rate is better than any other platform.
You just need to optimize your content for the search engines.
👉 How To Start A Blog in 2021? 6 Easy Steps To Earn Money Blogging
3. Choose affiliate programs
Affiliate programs play a key role in affiliate marketing. As of now, you're ready to start affiliate marketing, it is important to choose the best affiliate program.
You must choose high commission affiliate programs that have recurring commissions.
If you're bewildered while choosing the best affiliate program, you may consider affiliate network places to provide you different affiliate programs at a place.
4. Create content
Now, you're all set to begin your journey as an affiliate marketer.
Just start with your platform by creating content about products to spread awareness about them.
You need to keep in mind that your content must be unique and promising if you want to increase sales. It should have the power to convince the audience to test the product.
5. Convert audience into customers
After creating content, the next step is to convert your audience into customers.
For that, you need to get them clicked on the affiliate links.
Just place the affiliate links at the place where they can fit naturally. Users will read the reviews and click on the affiliate links to go to the vendor's website. In this way, you can convert the targeted audience into your customers.
How to become an affiliate marketer?

So far, you have got to know what is affiliate marketing and how does affiliate marketing works. Now, it's quite obvious to know how to becomes affiliate marketer.
First, analyze your niche and competition. Tools like Semrush, LongTailPro and SE Ranking are there to help you out.
After that, choose the product that you find suitable to promote.
Always choose a product that gives high commission among its competitors and prefer the one that offers recurring commissions.
Write down detailed review or tutorial about that product. You may use website or YouTube for promotion.
Use affiliate links within the content where they fit naturally.
Some affiliate programs allow you to use social media or email marketing for promotion, please read terms and conditions while joining any affiliate program.
That's it! The useful and promising content always converts better.
You may find this useful
👉 SE Ranking Review 2021: A Detailed Analysis of the All-in-one SEO tool
High Paying Affiliate Programs or Top Affiliate Programs
Though this post is about affiliate marketing and it is incomplete without mentioning the best affiliate programs. I said in this post that you must choose high-paying affiliate programs.
Here is a list of top affiliate programs related to the blogging niche that you should join-
Berush
Cloudways
KWfinder
LongTailPro
Serpstat
Kinsta
SpyFu
TubeBuddy
Elegant Themes
ConvertKit
ClickFunnels
Semrush
Semrush is the leading SEO tool in the industry and its affiliate program is also the first choice for many bloggers. The reason is the high recurring commission.
Though Semrush offers its affiliate programs via Berush, ShareASale, and Impact. But, its Berush program is highly popular due to its recurring payment structure.
Where ShareASale and Impact give you a flat $100 commission on each sale, Berush gives you 40% affiliate commission but it is recurring. This means, in Berush program when a customer renews his subscription, you get a 40% commission every time.
Cloudways
Cloudways is a hosting platform that allows you to select one of the two types of payment structures. One is hybrid while the other is slab-based.
The slab-based structure offers you up to $125 per sale while the hybrid structure provides you $30 per sale and a 7% lifetime commission.
So, the hybrid program of Cloudways is the best for you to earn recurring commissions.
Mangools
Mangools SEO tools are widely used by SEO experts and its KWFinder is a very popular keyword research tool.
Their affiliate program allows you to earn a flat 30% recurring commission on the sales made through your affiliate link.
You can earn about $14.7 per sale as their base plan starts at $40 per month, while on an annual plan you get about $107.6 per sale as the actual price of the annual plan is $358.8
Long Tail Pro
LongTailPro is renowned keyword research and analysis tool. The tool is widely used for finding long-tail keywords.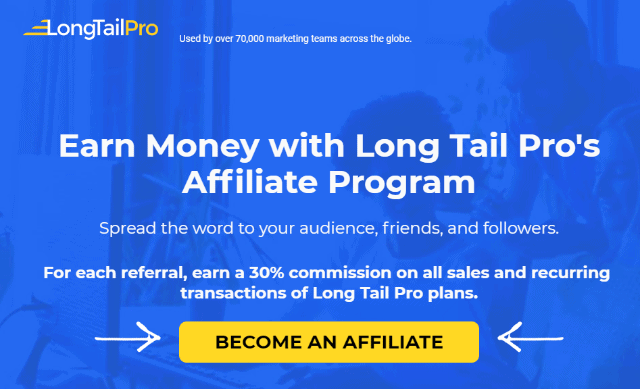 Its affiliate program also provides you a flat 30% recurring commission. You may join its affiliate program on ShareASale or PostAffiliatePro.
Click here to join the LongTailPro affiliate program.
ClickFunnels
Sales funnel is an outstanding way to increase your affiliate sales. It converts your target visitors into your loyal customers.
ClickFunnels affiliate program allows you up to 40% recurring commissions. Though initially, you get a 20% affiliate commission.
Once you hit $1000 monthly commissions, you start to get 30% commissions, and afterward, you may earn up to 40% commissions per month.
What is an example of affiliate marketing?
You may see a lot of examples of affiliate marketing in your daily life. Often people ignore what is happening around them.
Actually, 8 out of 10 vendors use affiliate programs as a marketing strategy to increase their sales.
Here are some examples of affiliate marketing-
Amazon
eBay
Trivago
AWeber
Convertkit
Berush
Leadpages
Skillshare
In your daily life, you see many examples of affiliate marketing. Just for an example, suppose you are a landlord and want to sell a part of your land. It is very difficult for an individual to search for persons who are willing to buy that land.
Instead of it, if you contact a dealer you will easily get buyers because now it is his responsibility to search for buyers.
Why will he do it?
Of course, he will get some commission from the sale. That's a real example of affiliate marketing.
Apart from it, Amazon is a very well-known example of affiliate marketing. Vendors list their items on Amazon, you get what you need and vendors got sales of their products.
What is the need for Affiliate Marketing?
Basically, affiliate marketing is a need to expand the business. It is the best marketing strategy to grow any business or to drive sales.
Neither it is time-consuming nor it costs you much. Suppose, you want to sell your products worldwide. You need to hire employees like salespeople, managers, section officers, etc. Obviously, it affects your pocket as you need to give them a salary.
On the other hand, if you invite affiliate marketers using the affiliate program of your product, you need to give them a small share from the sale of the product. In this case, you save a huge amount of money that you invested in managing your office and giving salaries to your employees.
FAQ related to Affiliate Marketing
In simple terms, What Affiliate Marketing is?
Affiliate marketing means earning a commission by driving sales to the product of the vendor. In this whole process, you promote that product and drive sales to it, in return the vendor provides you a small commission.
How do I become an affiliate?
8 out of 10 brands offer affiliate programs to invite affiliates. You may join the affiliate program of the product/service that you are confident about selling.
ShareASale, ClickBank, Avangate are some popular network places that allow you to join affiliate programs of different vendors. Just sign up there and join the affiliate program of your niche.
How to do affiliate marketing?
You start affiliate marketing, you need a platform on which you want to promote the products. It may be a website, YouTube channel, or a social media handle.
Affiliate marketing requires the best marketing strategies to compete with your competitors. You need to build trust among your audience by providing them solutions to their queries with detailed tutorials and reviews of the products.
What are the best affiliate programs?
There are many affiliate programs but it depends on your niche. As in the digital marketing niche, the best affiliate programs are Berush, LongTailPro, AWeber, Converkit, ClickFunnels, KWFinder, Leadpages, etc.
How to make money with affiliate marketing?
Affiliate marketing is a conversion-based marketing strategy. This means, you need to drive sales to the product and in return, you get small commissions from the sales.
You may visit the affiliate program model again that is mentioned above in the article. It gives you an idea of how does the affiliate program work and how to make money with it.
What is an affiliate?
An affiliate is a marketer who promotes the products of a company and recommends them to his audience. When somebody purchases the product recommended by him, he gets a commission from the vendor.
Is affiliate marketing legit?
Of course, affiliate marketing is legal. But sometimes, people misunderstand it as a Ponzi scheme like make money from home.
Actually, it is a 100% legit business model. Whenever you visit a site that has affiliate links, you'll definitely find an affiliate disclosure saying that on every purchase, the affiliate receives a small commission that won't cost you a penny.
Is affiliate marketing worth it?
Many times people ask- "Is affiliate marketing profitable?" The answer is yes!
It is profitable for both, the vendor and the affiliate. The affiliate receives commissions on each sale while the vendor saves huge money that he invests on his employees' salaries if he does not offer an affiliate program.
Is affiliate marketing easy?
There is a myth that affiliate marketing is easy and anybody can earn $10,000/month while working 1-2 hours a day.
No! It's not that easy. Of course, you can make huge money from affiliate marketing but it needs time, patience, and perseverance. You need to analyze your competitors and discover strategies that work best for you and your audience.
Niche selection plays an important role in affiliate marketing. If you choose a niche that has high competition then, it may take time for you to start earning. Also, if you choose any niche without any research, then your hard work may go in vain if it is not a money-making niche.
You may use Semrush or LongTailPro for niche research.
What is the future of affiliate marketing in the next 10 years?
Affiliate marketing has a sparkling future. In this digital era, every vendor is online so he needs affiliates to sell his products.
In simple words, Affiliate Marketing is evergreen and its demand is increasing day by day.
Even after, COVID-19 people are taking affiliate marketing as a great source of generating a passive income.
Wrapping Up
I think now you got to know what is affiliate marketing and how to start it. Now, it's time to recap what you learned. So, you can become an affiliate by following the above-mentioned steps.
But, always choose a niche that-
is monetizable
has enough audience
After that, you have to choose the affiliate programs of products related to that niche. ShareASale, Impact, and ClickBank, etc. are there to find you related affiliate programs.
You should join the affiliate program that-
is quite popular and has a huge audience
has high commissions per sale
provides recurring commission
has minimum threshold amount to release payment
I'd recommend the programs that have a feature to wire transfer your amount directly into your bank account. In this case, you save money that is deduced while transferring from PayPal, Payoneer, etc.
To start earning from affiliate marketing, you should build trust and fame among your audience. Because no one will purchase from a stranger.
For this, answer the queries of your audience. Write detailed reviews and provide step-by-step tutorials of products, so that every query of the customer is answered in it.
Affiliate marketing is a better career option to make money online.
If you have further doubts or queries, feel free to ask in the comments section.
If you like the article, please share it on social media and aware your friends about it.
👉 Sharing is Caring!