Are you tired of manually creating content for your brand?
Don't worry; Scalenut is here to help.
Scalenut is an AI-powered content tool that can save you hours of work and provide you with high-quality content in no time.
In this Scalenut Review, we will take a deep dive into Scalenut's features, including its AI templates for copywriting and SEO tools. We will also discuss how Scalenut can help marketers improve their workflow and create niche-specific content.
Additionally, we'll provide insights into Scalenut's user interface, pricing, and its pros and cons. Lastly, we will compare it to other competitors in the market.
Scalenut AI: Quick Overview
What is Scalenut?
It is an AI-powered writing tool that generates high-quality content efficiently. It offers a variety of templates for copywriting, including long-form and short-form content, email copy, social media posts, and product descriptions.
Scalenut's editing tools ensure originality with its plagiarism checker. The platform optimizes content for SEO using NLP terms and keyword research. It helps you generate organic traffic and boosts your SEO score.
How Scalenut helps marketers?
Scalenut's AI technology helps marketers by generating high-quality content ideas through personalized recommendations based on their target audience and industry. This automates the content creation process, saves time, and optimizes content for search engines, increasing organic traffic.
Using Scalenut's analytics and reporting features, marketers can track the success of their content marketing efforts effortlessly.
Scalenut Review: AI SEO Tools
Improve your website's organic traffic with Scalenut's AI SEO tools that offer keyword research and analysis capabilities. Generate content ideas and write articles on Google Docs or WordPress using Scalenut's AI capabilities.
Its user-friendly interface makes it easy for non-technical users to understand and use Scalenut's editing tools effectively.
You may connect Scalenut with Copyscape to ensure the originality of your website copy while creating quality content using Scalenut's templates for short-form or long-form content or social media posts.
Article Writer
Scalenut's AI Writer is a powerful writing tool that creates unique quality content within seconds. With customizable tone, style, and length options available, users can efficiently create long-form content for blogs or short-form social media posts.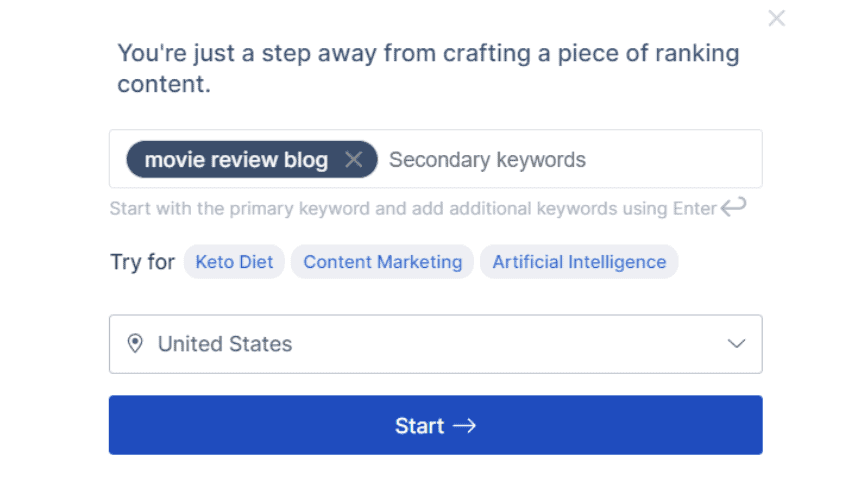 It keeps all types of On-Page ranking signals in mind while creating content for you.
It creates content getting inputs from you and gives it an SEO score based on how SEO-optimized content it is.
It uses NLP terms and SEO optimization techniques for improved organic traffic and search engine rankings. Overall, the tool is a useful AI writing assistant that can help generate quality content effortlessly.
Content Optimizer
Scalenut's Content Optimizer is an AI-powered tool that analyzes your content for optimization.
The tool is helpful for optimizing your already published content. Using advanced SEO techniques such as keyword analysis and optimization of headings and meta descriptions, the tool suggests improvements to enhance your website's search engine rankings.
The tool is user-friendly and easy to navigate through Scalenut's UI. With Scalenut's Content Optimizer, you can ensure higher organic traffic on your website.
It offers you ideas to fix the crucial errors that may lower your ranking on Google. It analyzes top URLs ranking for your target keyword and gives you suggestions of key terms that you should use in your content.
For instance, in the above picture, the AI tool suggests the relevant keywords to include within the body of content. Additionally, it fixes all types of possible issues to boost your ranking on Google.
Apart from these optimization tips, it offers you research and AI templates to assist you while finalizing your SEO-optimized content.
You can refer to your competitors' pages and add more relevant information to the content and make it better than your competitors.
Keyword Planner
Scalenut's Keyword Planner is an efficient AI-powered tool that helps you identify relevant keywords for optimizing your content.
This tool not only analyzes search patterns but also provides insights into competitor keywords and potential gaps in your keyword strategy.
By using it, you can increase your organic traffic and improve the SEO score of your website by creating optimized content that resonates with your audience.
Additionally, Scalenut's other features like AI writing tools, plagiarism checker, content optimization, and niche-specific content creation make it an excellent choice for marketers looking to boost their online presence.

Scalenut AI templates for copywriting
Its AI template writing tool is an efficient way to produce quality content without spending too much time brainstorming ideas or writing long-form articles from scratch.
The tool offers a variety of templates for different content types like blog posts or social media updates.
Additionally, Scalenut's AI assists in creating engaging headlines and subheadings, saving marketers time while still producing high-quality work. With its customization feature, it is possible to align the final product with the brand's voice and message.
Examples of Scalenut AI templates
It offers numerous templates that can be customized to meet your specific business requirements.
You can create high-quality content for various forms of content like social media posts, product descriptions, email marketing campaigns, and blog posts in no time!
Using Scalenut's NLP terms will help improve your SEO score and increase organic traffic to your website. Quick generation of quality content using cruise mode is ideal for short-form and long-form content as well. Additionally, the built-in plagiarism checker ensures originality throughout the first draft.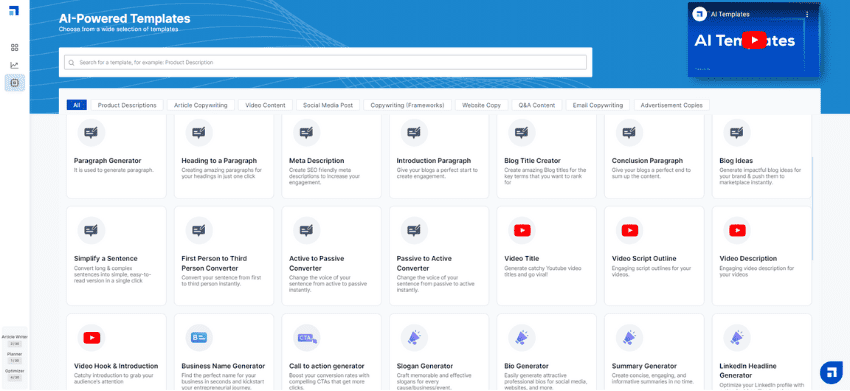 Using Scalenut for long-form content
It helps in generating high-quality, optimized long-form content quickly and efficiently. By analyzing successful content and suggesting effective structures and language, Scalenut enables writers to easily create engaging blog posts, articles, and other forms of written content.
With customizable templates for everything from social media posts to email campaigns, Scalenut makes it easy to produce quality work in less time. Plus, its SEO assistant helps optimize your writing for maximum organic traffic.
Scalenut pricing and features
Scalenut's pricing plans cater to diverse industry needs and offer a 7-day free trial with premium features. Utilizing AI capabilities, Scalenut generates premium quality content and provides optimization tools for readability and SEO.
The 3 Main Pricing Plans of Scalenut are-
Essential: $39/month
Growth: $79/month
Pro: $149/month
Users can take advantage of Scalenut's free trial and get a taste of its AI-powered content tool without any commitment.
Monthly and yearly payment options are available for those who want to continue using it after the trial period. Additional features like plagiarism checking and keyword optimization are also available at higher-level plans. It's easy to change your plan as per your needs.
Scalenut Discount Coupon
DabasBlog readers can get the benefit of an exclusive discount of 20% every month.
Yes, every month you get a flat 20% OFF by using the below-mentioned coupon code.
Scalenut Coupon Code- FOREVER20
If you find that Scalenut isn't the right fit for your needs within the first month of use, you get a money-back guarantee. To request a refund, simply contact the customer support team through email, chat, or phone. The team is available around the clock to assist with any questions or concerns you may have.
Analyzing keyword data with Scalenut
Scalenut can help enhance your website's SEO performance by analyzing keyword data. The AI-powered tool identifies relevant keywords and generates high-quality content using NLP terms.
It offers customized reporting features that allow users to analyze their website copy's SEO score and suggest improvements for optimization. With Scalenut's assistance in generating quality content, you can expect organic traffic and improved search engine ranking.
Using Scalenut for SEO purposes
Utilizing Scalenut for SEO purposes allows for an optimized blog with increased organic traffic. The AI-powered tool identifies high-volume keywords and offers insights into search intent and competition levels.
Additionally, it suggests related topics to enhance content strategy and saves time on keyword research. By utilizing Scalenut's advanced AI-powered technology, blogs can achieve higher-quality content while optimizing their SEO efforts.
Creating optimized blog posts with Scalenut
To generate quality content for your blog, use Scalenut's AI writer tools to optimize for Google and other search engines. It offers templates for long-form and short-form content across platforms such as social media, email, and more.
In addition to editing and plagiarism-checking features, Scalenut's NLP terms help analyze keyword clusters and topic clusters for organic traffic growth.
By generating content in cruise mode with Scalenut's AI copywriter app, you can automate your writing process while maintaining output quality.
Scalenut's editing tools and plagiarism checker
Scalenut's advanced editing tools use AI-powered technology to provide suggestions for improving your content. These suggestions can significantly enhance the quality of your writing by helping you make it more engaging and informative.
The plagiarism checker ensures that all content is original and free of plagiarism while allowing seamless collaboration with team members.
Scalenut's editing tools are an indispensable part of any serious writer's arsenal for generating high-quality content.
How to use Scalenut's editing tools effectively
To effectively use Scalenut's editing tools, follow these rules:
Always rephrase writing points and use crisp paragraphs that flow smoothly.
Start by running your content through the grammar and spelling check.
Review the sentence rephrasing suggestions, then use the word choice suggestions to ensure you are using appropriate terms for your audience.
Finally, run your content through the plagiarism checker to ensure it is original.
Incorporate secondary key terms like AI writer, long-form content, and SEO to generate high-quality, optimized copy.
Ensuring originality with Scalenut's plagiarism checker
Though Scalenut doesn't have its own plagiarism checker, it allows you to integrate with Copyscape to check your content for plagiarism.
It ensures originality by comparing the text with a massive database of online sources. It detects even small instances of copied or duplicated content to prevent any potential legal issues.
With its AI-powered technology and editing tools, Scalenut can save time in content creation while ensuring high-quality, original content suitable for blog posts, social media posts, product descriptions, email copy, and more.
👉Grammarly Plagiarism Checker Review [2023]: Is It Worth It?
Scalenut Competitors
When compared to its competitors in the market, Scalenut emerges as the top choice of businesses due to its many advantages.
This AI-driven content creation tool not only offers exceptional quality but also makes the entire process user-friendly with its optimized distribution system.
With its competitive pricing plans and advanced features such as optimization and editing tools, Scalenut is the ideal solution for those looking to generate high-quality content without any hassle.
Scalenut vs Surfer SEO
When comparing Scalenut to its competitor Surfer SEO, it's important to remember that Scalenut utilizes AI and machine learning capabilities for analyzing content and providing optimization suggestions.
On the other hand, Surfer SEO largely depends on data analysis and competitor research for optimizing content.
While both tools have their individual strengths, Scalenut's AI-powered technology stands out in terms of offering a comprehensive suite of features like templates for copywriting, content optimizer, keyword planner, plagiarism checker, and many more.
Scalenut vs Frase
When comparing Scalenut with Frase, both AI-powered writing tools can enhance your content strategy.
While Scalenut offers a wider range of features like quality content writing templates, NLP terms, and plagiarism checker, Frase focuses more on generating article outlines.
Scalenut's advanced AI models analyze search-query intents to generate long-form and short-form SEO-optimized content across channels like social media and emails.
On the other hand, Frase is a cost-effective solution suitable for small businesses looking to improve their organic traffic through optimized website copy or product descriptions.
Scalenut vs WriterZen
When it comes to AI writing tools, both Scalenut and WriterZen stand out from the crowd.
While Scalenut offers more advanced features such as sentiment analysis and language translation, WriterZen specializes in generating ideas for content in cruise mode.
Both tools are great for keyword research, optimization, and plagiarism detection. If you're looking to generate quality content quickly without sacrificing SEO optimization or originality, give these two apps a try!
FAQs: Scalenut Review
Scalenut is an AI-powered writing tool that can help you generate quality content easily. But before using it, you might have some questions such as what is scalenut, how it works, whether can it replace human content creation entirely, etc.
So let's dive into these frequently asked questions about this tool.
Verdict
Scalenut is an impressive AI-powered writing tool that generates quality content in seconds.
It offers a range of features and benefits for marketers and content creators. With its user-friendly interface, niche-specific content creation templates, plagiarism checker, and editing tools, Scalenut has become a popular choice among businesses looking to streamline their content creation process.
The tool's AI-powered copywriting and SEO capabilities are particularly impressive, making it a valuable asset for any marketing team.
If you're interested in trying out Scalenut for yourself, sign up for a free trial or consultation with our experts today.
Related articles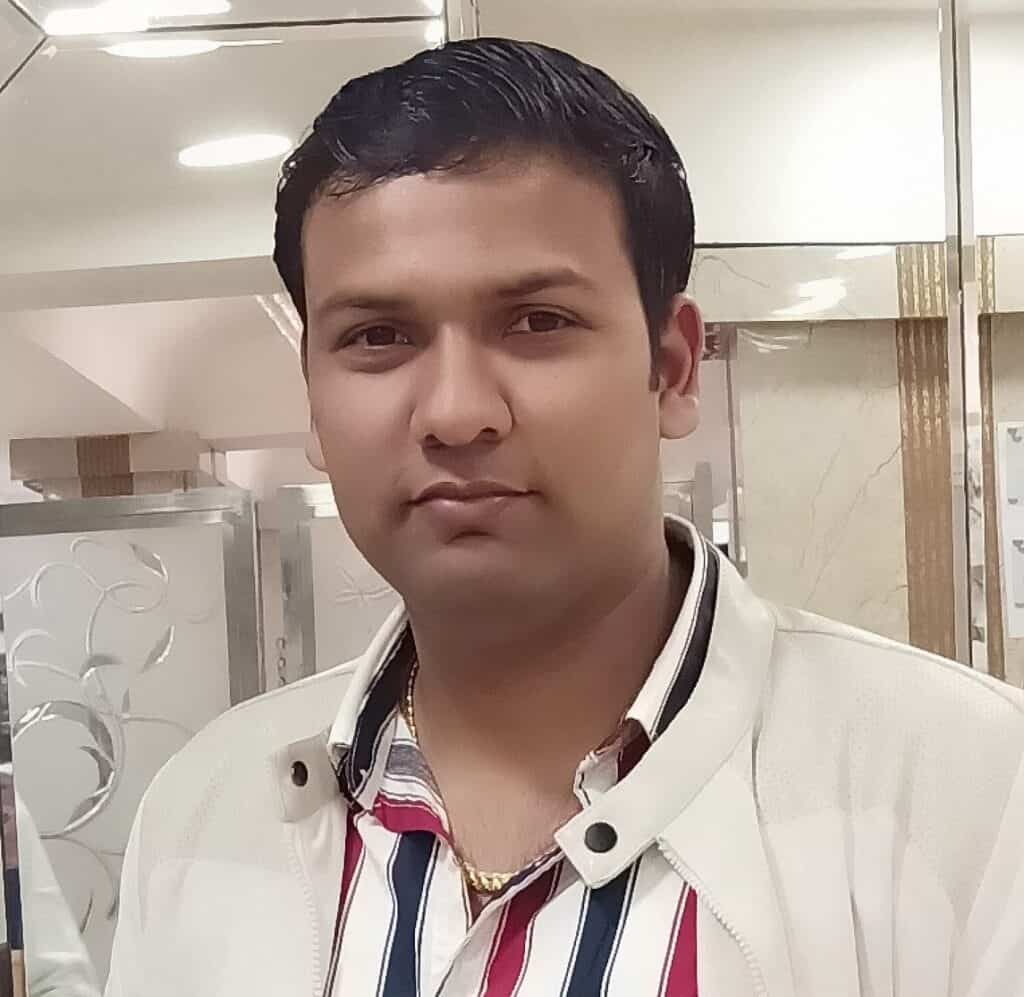 About Author
Nitin Dabas is a professional blogger from India. He is the founder of DabasBlog & SEOSachet. He is an SEO and content marketer who writes about Blogging, SEO, WordPress, and Online Marketing with the aim to help fellow bloggers get succeed in blogging.